This website uses cookies to ensure you get the best experience while browsing it. By clicking 'Got It' you're accepting these terms.
These Four People Were Sued for $30 Million After Speaking Out Against a Hazardous Waste Dump
Jun. 03, 2016 11:40AM EST
By Deirdre Fulton

After being sued for $30 million by a corporate landfill owner for "speaking their truth in order to protect their community," four residents of Uniontown, Alabama—a poor, predominantly Black town with a median per capita income of around $8,000—are fighting back.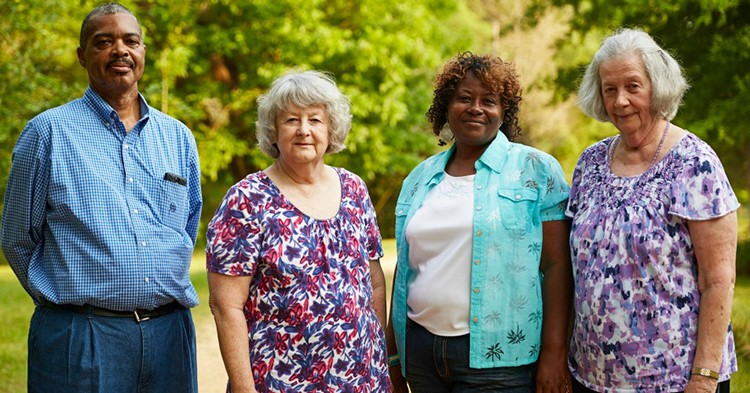 On Thursday, the American Civil Liberties Union (ACLU) asked a federal court to dismiss the defamation lawsuit against Esther Calhoun, Benjamin Eaton, Ellis B. Long and Mary B. Schaeffer—all members of the community group Black Belt Citizens Fighting for Health and Justice.
The defendants are being sued by Georgia-based Green Group Holdings for speaking out against the polluting, hazardous coal ash that the company keeps in a landfill in a residential area—a "sprawling dump" that stands as a symbol of racial and environmental injustice.
According to AL.com:
The lawsuit alleges that the Black Belt group used its web site and Facebook page "in a false and malicious manner," and that the group's president Esther Calhoun and vice president Benjamin Eaton made "knowingly false" statements to the media.
"The lawsuit focuses on comments made by visitors to the group's Facebook page relating to controversies over the landfill's activities near an old cemetery and accusations that the facility is polluting the community and oppressing local residents," Sue Sturgis wrote in April for Facing South.
Among the comments the lawsuit calls "false and defamatory" are these remarks by the group's president, Calhoun (the bold text is the Green Group Holdings' own, showing what the company objects to):
Its a landfill, its a tall mountain of coal ash and it has affected us. It affected our everyday life. It really has done a lot to our freedom. Its another impact of slavery. ... Cause we are in a black residence, things change? And you can't walk outside. And you can not breathe. I mean, you are in like prison. I mean, its like all your freedom is gone. As a black woman, our voices are not heard. EPA [Environmental Protection Agency] hasn't listened and [Alabama Department of Environmental Management] has not listened. Whether you are white or black, rich or poor, it should still matter and we all should have the right to clean air and clean water. I want to see EPA do their job.
In its filing on Thursday, the ACLU argues that the lawsuit "involves speech at the very core of the First Amendment," said Lee Rowland, senior staff attorney with the ACLU's Speech, Privacy and Technology Project.
"No one should have to face a multimillion-dollar federal lawsuit just for engaging in heartfelt community advocacy," Rowland said. "All Americans have a right to speak out against hazardous substances being dumped in their home towns and the Constitution prevents companies from using lawsuits to silence their critics."
The ACLU reports that before filing the defamation suit, a lawyer for Green Group Holdings provided the defendants with a list of demands in exchange for not suing.
That so-called "settlement proposal" would have required a full apology from each defendant; access to the group's future social media postings; and extensive details about Black Belt Citizens' membership, advocacy and communications with other environmental groups, among other things. The proposal also would have required each of the defendants to withdraw as complainants in a federal civil rights complaint filed with the EPA.
The defendants scoffed at the offer.
"Not only have Black people been expected to endure this kind of systematic racial and environmental injustice throughout our nation's history, they are expected to bear it silently or be subjected to harsh consequences just for advocating for their health and community," said Dennis Parker, director of the ACLU's Racial Justice Program. "We want to ensure that our clients don't have to face that choice in Uniontown."
Indeed, said Calhoun on Thursday: "State officials would never have allowed the landfill to be here if we were a rich, white neighborhood. They put it here because we're a poor, Black community and they thought we wouldn't fight back. But we are fighting back and we're not afraid to make our voices heard."
YOU MIGHT ALSO LIKE
New Federal Report Shows Dimock Water Was Unsafe to Drink After All
These 33 Cities Cheated on Lead Contamination Tests, Similar to Flint, Michigan
Washington State Clean Air Rule Defies Court Order
This 6-Year-Old Has a Message for People Who Are Rude to the Planet
EcoWatch Daily Newsletter
Offutt Air Force Base after flooding on March 17. U.S. Air Force / TSgt. Rachelle Blake
A regenerating stand of rainforest in northern Costa Rica. Matthew Fagan / CC BY-ND
By Matthew Fagan, Leighton Reid and Margaret Buck Holland
Tropical forests globally are being lost at a rate of 61,000 square miles a year. And despite conservation efforts, the global rate of loss is accelerating. In 2016 it reached a 15-year high, with 114,000 square miles cleared.
At the same time, many countries are pledging to restore large swaths of forests. The Bonn Challenge, a global initiative launched in 2011, calls for national commitments to restore 580,000 square miles of the world's deforested and degraded land by 2020. In 2014 the New York Declaration on Forests increased this goal to 1.35 million square miles, an area about twice the size of Alaska, by 2030.
Compassion Over Killing
By Cheryl Leahy
Do you think almond milk comes from a cow named Almond? Or that almonds lactate? The dairy industry thinks you do, and that's what it's telling the Food and Drug Administration (FDA).
For years, the dairy industry has been flexing its lobbying muscle, pressuring states and the federal government to restrict plant-based companies from using terms like "milk" on their labels, citing consumer confusion.
By Jeremy Deaton
A driver planning to make the trek from Denver to Salt Lake City can look forward to an eight-hour trip across some of the most beautiful parts of the country, long stretches with nary a town in sight. The fastest route would take her along I-80 through southern Wyoming. For 300 miles between Laramie and Evanston, she would see, according to a rough estimate, no fewer than 40 gas stations where she could fuel up her car. But if she were driving an electric vehicle, she would see just four charging stations where she could recharge her battery.
d3sign / Moment / Getty Images
Common sense should not be taken for granted when people are discussing nutrition.
A fire erupted Sunday at a petrochemical plant in Deer Park, Texas.
NowThis News / YouTube screenshot
By Andrea Germanos
A petrochemical plant near Houston continued to burn for a second day on Monday, raising questions about the quality and safety of the air.

The Deer Park facility is owned by Intercontinental Terminals Company (ITC), which said the fire broke out at roughly 10:30 a.m. Sunday. Seven tanks are involved, the company said, and they contain naptha, xylene, "gas blend stocks" and "base oil."
"It's going to have to burn out at the tank," Ray Russell, communications officer for Channel Industries Mutual Aid, which is aiding the response effort, said at a news conference. It could take "probably two days" for that to happen, he added.
The hillsides dyed orange with poppies may look like something out of a dream, but for the Southern California town of Lake Elsinore, that dream quickly turned into a nightmare.
The town of 66,000 people was inundated with around 50,000 tourists coming to snap pictures of the golden poppies growing in Walker Canyon as part of a superbloom of wildfires caused by an unusually wet winter, BBC News reported. The visitors trampled flowers and caused hours of traffic, The Guardian reported.
The Humane Society of the United States uncovered a one-year pesticide test on 36 beagles contracted by Dow AgroSciences at a Michigan lab.
The Humane Society of the United States / YouTube screenshot
A controversial pesticide test that would have resulted in the deaths of 36 beagles has been stopped, the Humane Society of the United States (HSUS) and the company behind the test announced Monday. The announcement comes less than a week after HSUS made the test public when it released the results of an investigation into animal testing at Charles River Laboratories in Michigan.
"We have immediately ended the study that was the subject of attention last week and will make every effort to rehome the animals that were part of the study," Corteva Agriscience, the agriculture division of DowDupont, said in a statement announcing its decision.