This website uses cookies to ensure you get the best experience while browsing it. By clicking 'Got It' you're accepting these terms.
These California Nuns Grow Medical Marijuana, But Their City Wants to Shut Them Down
Jan. 12, 2016 11:13AM EST
Health + Wellness
Two self-proclaimed nuns, Sister Kate and Sister Darcey, grow and sell marijuana for medicinal purposes in Merced, California. But the future of their business is now in jeopardy as the Merced City Council issued a temporary ban on marijuana cultivation after a 6-0 vote on Jan. 4.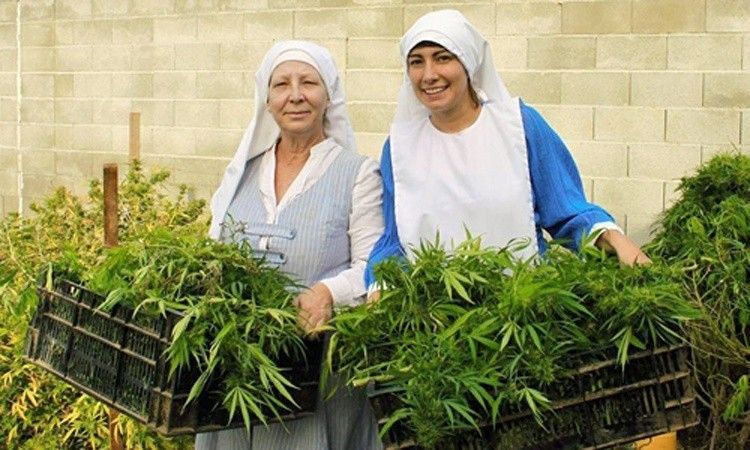 The Sisters of the Valley sell their line of medicinal salves, tonics and tinctures on Etsy. Their products, which are independently certified as organic, are high in CBD, or cannabidiol, a cannabis compound that has been shown to have significant medical benefits, and low in THC, or tetrahydrocannabinol, the better known cannabis compound with psychoactive properties.
According to the sisters, they make the medicine based on "ancient ritual," which involves turning their cannabis tinctures every morning and night, only bottling tinctures during a full moon and saying a healing prayer over every bottle and jar before it's sold.
"We make CBD oil, which takes away seizures and a million other things," Sister Kate told ABC News. "It's very high in demand from cancer patients right now. And we make a salve that's a multi-purpose salve, but we found out it cures migraines, hangovers, earaches, tooth aches and diaper rash." The salve is made from cannabis trim, coconut oil, vitamin E, lavender oil, calendula oil and beeswax.
But now, even though the sisters feel that their products are vital to their patients, they are in legal limbo. "It's frustrating to me because there are all of these people with negative attitudes about something that is truly God's gift," Sister Darcey told ABC News.
"The city council said it needs to do more research to determine the maximum number of dispensaries that should be allowed in Merced, which zones would be best for dispensaries or delivery services and if outdoor cultivation has setbacks," the Merced Sun-Star reported. "A second reading of the ordinance will be at the next meeting on Jan. 19. The ordinance becomes official 30 days later."
Merced is among dozens of municipalities in California moving to ban various aspects of cannabis cultivation, thanks to a loophole in the Medical Marijuana Regulation and Safety Act, which passed in October 2015. California voters approved medical marijuana nearly 20 years ago, but it wasn't until October that the state adopted regulations for the growth, transport and sale of cannabis. The legislation was hailed by lawmakers as "a comprehensive framework to regulate the industry," but there was one "glitch," as The San Francisco Chronicle put it.
"A provision written into the law said that if cities didn't adopt their own land use regulations for allowing medical cannabis cultivation permits by March 1, the state would assume that responsibility," The Chronicle reported. So, cities such as Merced, are enacting their own ordinances so they can retain local control on regulations.
But that March 1 date was actually a typo, the author of the bill, Assemblyman Jim Wood (D-Healdsburg), told The Los Angeles Times. The bill shouldn't have included that stipulation, or any deadline at all, he said. Wood hopes to pass emergency legislation this month to supersede efforts from lawmakers in cities like Merced.
The point may soon be moot. Merced city councilman Kevin Blake told the Merced Sun-Star that recreational marijuana is expected to be on the state ballot in November. "I give it a year or two and this may all be irrelevant," he said about the debate surrounding the local ordinance on medical marijuana.
Watch this clip from NowThis for more on the Sisters of the Valley (spoiler alert: they're fans of Bernie Sanders):
YOU MIGHT ALSO LIKE
Outraged Birders Warn Oregon Militia: 'We Are Watching Your Every Move'
This Woman Wears 15,000 Bees to Help Others Connect to Nature
Mercury-Laden Fog Swirls Over California Coastal Cities
How One Man Plans to Make Billions Selling Water From Mojave Desert to Drought-Stricken California
EcoWatch Daily Newsletter
Brown bear fishing for salmon in creek at Pavlof Harbor in Tongass National Forest, Alaska. Wolfgang Kaehler / LightRocket / Getty Images
The Trump administration has moved one step closer to opening Earth's largest intact temperate rainforest to logging.
The Democratic primary candidates take the stage during Tuesday's debate. SAUL LOEB / AFP via Getty Images
On Tuesday night, the Democratic presidential candidates gathered for what The Guardian said was the largest primary debate in U.S. history, and they weren't asked a single question about the climate crisis.
A. Battenburg / Technical University of Munich
By Sarah Kennedy
Algae in a pond may look flimsy. But scientists are using algae to develop industrial-strength material that's as hard as steel but only a fraction of the weight.
Variety of fermented food korean traditional kimchi cabbage and radish salad. white and red sauerkraut in ceramic plates over grey spotted background. Natasha Breen / REDA&CO / Universal Images Group / Getty Image
Even if you've never taken probiotics, you've probably heard of them.
These supplements provide numerous benefits because they contain live microorganisms, such as bacteria or yeast, which support the healthy bacteria in your gut (1, 2, 3, 4).
Pexels
Singapore will become the first country in the world to place a ban on advertisements for carbonated drinks and juices with high sugar contents, its health ministry announced last week. The law is intended to curb sugar consumption since the country has some of the world's highest diabetes rates per capita, as Reuters reported.
A typical adult takes around 20,000 breaths per day. If you live in a megacity like Beijing, with many of those lungfuls you're likely to inhale a noxious mixture of chemicals and pollutants.
Fred Stone holds his brown swiss cow Lida Rose at his Arundel dairy farm on March 18 after a press conference where he spoke about PFAS chemical contamination in his fields. Gregory Rec / Portland Portland Press Herald via Getty Images
By Susan Cosier
First there was Fred Stone, the third-generation dairy farmer in Maine who discovered that the milk from his cows contained harmful chemicals. Then came Art Schaap, a second-generation dairy farmer in New Mexico, who had to dump 15,000 gallons of contaminated milk a day.
Protesters attend the 32nd annual Fur-Free Friday demonstration on Nov. 23, 2018 in Beverly Hills, California. Ella DeGea / Getty Images
California Governor Gavin Newsom signed into law a bill that that bans the sale and manufacture of fur products in the state. The fur ban, which he signed into law on Saturday, prohibits Californians from selling or making clothing, shoes or handbags with fur starting in 2023, according to the AP.