These California Nuns Grow Medical Marijuana, But Their City Wants to Shut Them Down
Two self-proclaimed nuns, Sister Kate and Sister Darcey, grow and sell marijuana for medicinal purposes in Merced, California. But the future of their business is now in jeopardy as the Merced City Council issued a temporary ban on marijuana cultivation after a 6-0 vote on Jan. 4.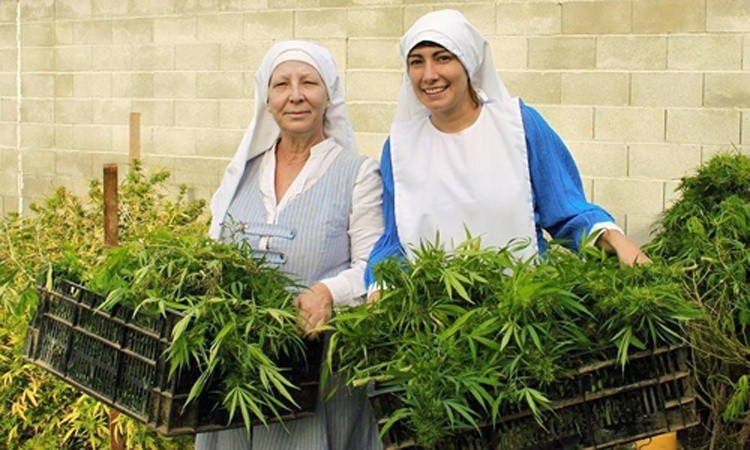 The Sisters of the Valley sell their line of medicinal salves, tonics and tinctures on Etsy. Their products, which are independently certified as organic, are high in CBD, or cannabidiol, a cannabis compound that has been shown to have significant medical benefits, and low in THC, or tetrahydrocannabinol, the better known cannabis compound with psychoactive properties.
According to the sisters, they make the medicine based on "ancient ritual," which involves turning their cannabis tinctures every morning and night, only bottling tinctures during a full moon and saying a healing prayer over every bottle and jar before it's sold.
"We make CBD oil, which takes away seizures and a million other things," Sister Kate told ABC News. "It's very high in demand from cancer patients right now. And we make a salve that's a multi-purpose salve, but we found out it cures migraines, hangovers, earaches, tooth aches and diaper rash." The salve is made from cannabis trim, coconut oil, vitamin E, lavender oil, calendula oil and beeswax.
But now, even though the sisters feel that their products are vital to their patients, they are in legal limbo. "It's frustrating to me because there are all of these people with negative attitudes about something that is truly God's gift," Sister Darcey told ABC News.
"The city council said it needs to do more research to determine the maximum number of dispensaries that should be allowed in Merced, which zones would be best for dispensaries or delivery services and if outdoor cultivation has setbacks," the Merced Sun-Star reported. "A second reading of the ordinance will be at the next meeting on Jan. 19. The ordinance becomes official 30 days later."
Merced is among dozens of municipalities in California moving to ban various aspects of cannabis cultivation, thanks to a loophole in the Medical Marijuana Regulation and Safety Act, which passed in October 2015. California voters approved medical marijuana nearly 20 years ago, but it wasn't until October that the state adopted regulations for the growth, transport and sale of cannabis. The legislation was hailed by lawmakers as "a comprehensive framework to regulate the industry," but there was one "glitch," as The San Francisco Chronicle put it.
"A provision written into the law said that if cities didn't adopt their own land use regulations for allowing medical cannabis cultivation permits by March 1, the state would assume that responsibility," The Chronicle reported. So, cities such as Merced, are enacting their own ordinances so they can retain local control on regulations.
But that March 1 date was actually a typo, the author of the bill, Assemblyman Jim Wood (D-Healdsburg), told The Los Angeles Times. The bill shouldn't have included that stipulation, or any deadline at all, he said. Wood hopes to pass emergency legislation this month to supersede efforts from lawmakers in cities like Merced.
The point may soon be moot. Merced city councilman Kevin Blake told the Merced Sun-Star that recreational marijuana is expected to be on the state ballot in November. "I give it a year or two and this may all be irrelevant," he said about the debate surrounding the local ordinance on medical marijuana.
Watch this clip from NowThis for more on the Sisters of the Valley (spoiler alert: they're fans of Bernie Sanders):
YOU MIGHT ALSO LIKE
Outraged Birders Warn Oregon Militia: 'We Are Watching Your Every Move'
This Woman Wears 15,000 Bees to Help Others Connect to Nature
Mercury-Laden Fog Swirls Over California Coastal Cities
How One Man Plans to Make Billions Selling Water From Mojave Desert to Drought-Stricken California
Bill Maher is sick of billionaires' obsession with Mars, more like "Mars-a-Lago," he said.
In a new animation produced by ATTN:, the popular talk show host of Real Time, discusses the perils of our planet, including how "climate change is killing us."
Keep reading...
Show less
Dr. Benjamin D. Santer, research scientist
A group of prominent climate scientists have written a study explicitly refuting statements made by the U.S. Environmental Protection Agency Administrator Scott Pruitt on climate data. During his Senate confirmation hearing, Pruitt claimed in a written response that satellite data shows a "leveling off" of warming over the past two decades.
Keep reading...
Show less
By David Pomerantz
The Nevada Assembly passed a bill Wednesday that would dramatically increase the growth of renewable energy in the state, but Sheldon Adelson, the casino magnate and major donor to Donald Trump, is attempting to prevent the bill from becoming law.
Keep reading...
Show less
Matt Crossick
By Yosola Olorunshola
Whether it's through fashion or protest, Vivienne Westwood is not a woman afraid of making a statement.
On May 23, she rocked up to the residence of the Archbishop of Canterbury in London with a special guest—the Grim Reaper—to issue a strong statement on the Church of England's position on fracking.
Keep reading...
Show less
By Paul Brown
The food industry and big agricultural concerns are driving climate change and at the same time threatening to undermine efforts to feed the world's growing population, according to GRAIN, an organization that supports small farmers.
Particularly singled out for criticism are the large chemical fertilizer producers that have gained access to the United Nations talks on climate change. GRAIN accuses them of behaving like the fossil fuel companies did in the 1990s, pushing false information in the hope of delaying real action on climate change.
Keep reading...
Show less
May. 24, 2017 06:55PM EST
By Sydney Robinson
President Trump has no doubt been given a long list of extravagant, elaborate gifts in his lifetime, but the gift given to him today by Pope Francis may not make it on his most favorite list.
Keep reading...
Show less
May. 24, 2017 07:17PM EST
By John Rogers
Maybe it's because I first started working on clean energy while serving in the Peace Corps he founded, or maybe it's my years of working on these issues from his home state. But I can't help thinking about the 100th anniversary of John F. Kennedy's birth, and connecting his stirring rhetoric to the energy challenges of our times.
Here's what our 35th president might have said about the challenges of energy transition and the opportunities in clean energy:
"Change is the law of life. And those who look only to the past or present are certain to miss the future."
Keep reading...
Show less
May. 24, 2017 01:47PM EST
Keep reading...
Show less


Get EcoWatch in your inbox