This website uses cookies to ensure you get the best experience while browsing it. By clicking 'Got It' you're accepting these terms.
These 6 States Want to Ban Plastic Bag Bans (Yes, You Read That Right)
Mar. 30, 2016 10:50AM EST
Plastic bags—those non-biodegradable menaces that clog up our drawers, waterways and roadways alike—have been public enemy No. 1 in many cities and even entire states which have legislated bans on these single-use pesks. But now, a growing number of pro-plastic states are spearheading bans on bag bans.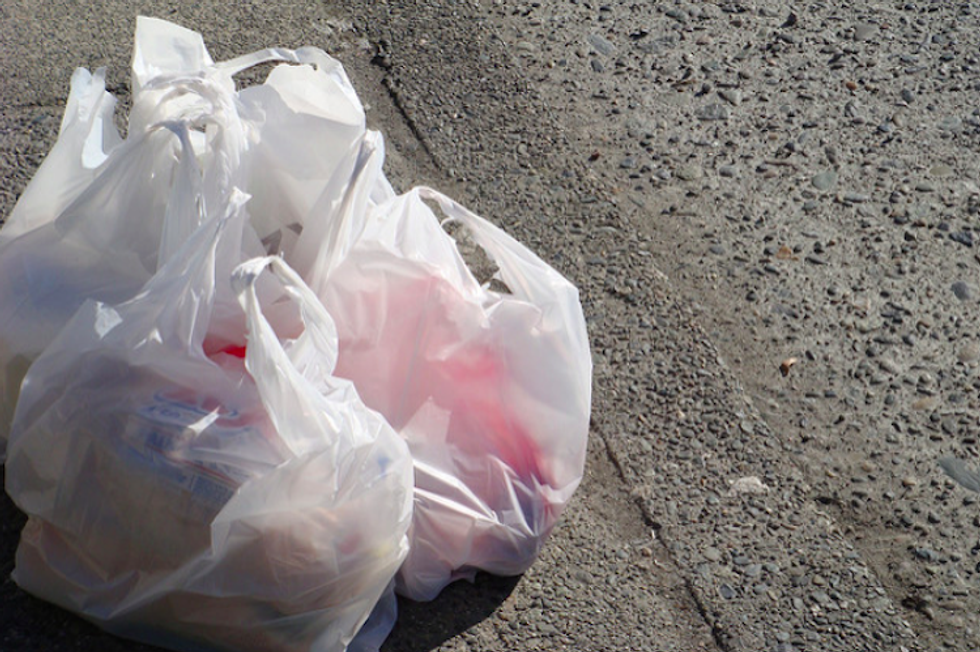 Multiple states are considering laws that will block local plastic bag bans. Photo credit: Flickr
1. Arizona
As Plastic News reported, it all started last April when Gov. Douglas Ducey (R) signed into law a measure that would stop any local government from putting any restrictions on plastic bags, bottles, foam containers, cans and boxes. State lawmakers who wanted to stop the bans argued that "excessive regulation" on bags and other disposable containers would stifle economic growth. Ducey also signed another bill that would give state legislators the right to ask the attorney general's office to investigate a local policy that is acting contrary to the state law.
2. Missouri
A bill that would have prevented cities from banning the use of plastic grocery bags passed in the House but was ultimately vetoed by Gov. Jay Nixon (D) in July. Rep. Dan Shaul (R), who sponsored the bill, had strongly opposed plastic bag bans, such as the one being considered in the city of Columbia.
"There are things that local municipalities can do to benefit their communities," Shaul said in September. "There's a whole list of things that fit in that, but I don't think prohibiting retailers from using a plastic bag is anything anyone should be restricting. It gives ultimate local control to their consumers."
3. Idaho
While no cities in the state currently enforce plastic bag bans, that detail did not stop the Senate from voting to make it illegal for local governments to impose bag bans without getting state approval first. Gov. C.L. "Butch" Otter (R) is expected to sign the bill into law any day now. According to Plastic News, Idaho is home to a major plastic film and bag factory.
4. Indiana
Gov. Mike Pence (R) signed a new state law this week that prohibits city and county officials from taxing or restricting the use of disposable plastic bags by grocery stores and other retailers, the Associated Press reported. The measure, which immediately takes effect, will stop cities such as Bloomington from considering bag restrictions.
5. Wisconsin
The state is another step closer to entirely blocking bag bans after the State Assembly "easily approved" a bill that "would strip communities of the right to ban the bags" earlier this month, MPR reported. Like Idaho, the move to pre-empt plastic bag bans comes despite the absence of such bans in any city across the state.
6. Utah
A bill from Sen. Jani Iwamoto (D) called for a state-wide 10-cent fee on single-use paper and plastic bags but the state legislature wrapped up its 2016 session without voting on the bill, according to Plastic News. However, another version is expected to return next year.
Meanwhile, the two states that have actually passed plastic bags bans are facing hurdles. California banned plastic bags outright in 2015, but opponents of the ban have qualified a referendum on the law, which will be decided this November by voters.
Hawaii also has a ban on plastic bags but certain loopholes have allowed the distribution of "reusable" bags—which are just thicker plastic bags—that could actually be worse for the environment.
YOU MIGHT ALSO LIKE 
Car Engine Cover, Fishing Net and Plastic Bucket Found in Stomachs of Dead Sperm Whales
Portland Becomes 7th City to Sue Monsanto Over PCB Contamination
10 Stunning Images Show Human's Huge Impact on the Earth
EcoWatch Daily Newsletter
General view of the empty Alma bridge, in front of the Eiffel tower, while the city imposes emergency measures to combat the Coronavirus COVID-19 outbreak, on March 17, 2020 in Paris, France. Edward Berthelot / Getty Images
Half the world is on lockdown. So, the constant hum of cars, trucks, trains and heavy machinery has stopped, drastically reducing the intensity of the vibrations rippling through the Earth's crust. Seismologists, who use highly sensitive equipment, have noticed a difference in the hum caused by human activity, according to Fast Company.
The current rate of CO2 emissions is a major event in the recorded history of Earth. EPA
At several points in the history of our planet, increasing amounts of carbon dioxide in the atmosphere have caused extreme global warming, prompting the majority of species on Earth to die out.
The "Earthrise" photograph that inspired the first Earth Day. NASA / Bill Anders
For EcoWatchers, April usually means one thing: Earth Day. But how do you celebrate the environment while staying home to prevent the spread of the new coronavirus?
Animal rights activists try to save dogs at a free market ahead of the Yulin Dog Eating Festival in Yulin city, south China's Guangxi Zhuang Autonomous Region on June 21, 2014. Jie Zhao / Corbis via Getty Images
The Great Barrier Reef, where record-high sea temperatures in February caused its most widespread coral bleaching event. JAYNE JENKINS / CORAL REEF IMAGE BANK
Tropical coral reefs are at a critical tipping point, and we've pushed them there, scientists say. Climate change may now cause previously rare, devastating coral bleaching events to occur in tropical coral reefs around the globe on a 'near-annual' basis, reported The Guardian.