These 33 Cities Cheated on Lead Contamination Tests, Similar to Flint, Michigan
At least 33 cities in the U.S. cheated when testing water for lead contamination. With these "cheats" the cities misrepresented the amount of lead in their water supply, according to a Guardian investigation.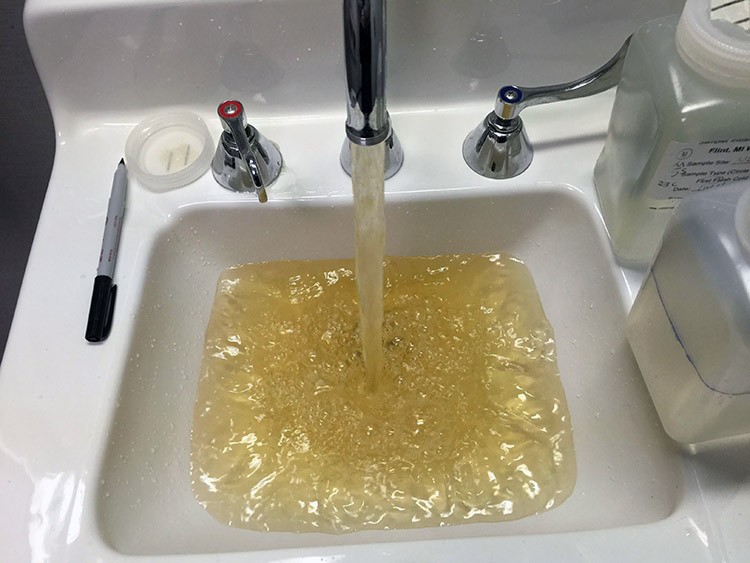 The cities span 17 states east of the Mississippi River. Eastern states were targeted in the investigation because they are most at risk for lead contamination due to aging infrastructure. A total of 43 cities supplied The Guardian with water testing samples and data.
The three "cheats" used by cities include: running the faucet for a while before collecting a sample to flush out the system; removing aerators from faucets before collecting a sample; and running the water slowly. Most of the 33 cities only used one or two of the cheats, but six used all three: Springfield, Massachusetts; Lewiston, Maine; Philadelphia, Pennsylvania; Buffalo, New York; Chicago, Illinois; and Sebring, Ohio.

Not only does this raise concern for those cities, but surrounding towns as well, The Guardian added. Several big cities sell water to almost "400 adjacent cities and towns."
Of the cheating cities, 21 used the same methods that caused the lead contamination crisis in Flint, Michigan.
"They make lead in water low when collecting samples for EPA compliance, even as it poisons kids who drink the water," Marc Edwards, a Virginia Tech scientist, told the Guardian. "Clearly, the cheating and lax enforcement are needlessly harming children all over the United States.
"If they cannot be trusted to protect little kids from lead in drinking water, what on Earth can they be trusted with? Who amongst us is safe?"
In addition to the "cheats," city officials also used sampling selection to manipulate lead level data, such as hand-picking houses and re-testing. The Guardian reported:
Documents show some authorities have also removed high-risk homes from testing or sought to obscure their dangerous lead levels. In Michigan, a department of environmental quality (MDEQ) official told the director of a town water department in a Detroit suburb called Howell to "bump this one out," referring to a sample with high lead levels, by taking additional samples. "I would suggest at least five more samples," Adam Rosenthal, an official at the MDEQ drinking water office, wrote in an email in 2008.
New Hampshire offered similar advice to water system officials in that state, advising water departments to test early so any high results could be re-tested.
"If your water system samples early in their compliance period, then time remains for you to collect a second set of samples," reads advice from New Hampshire's department of environmental services to local water systems. "This may result in a 90th percentile below action levels."

Other findings of the investigation include:
Despite warnings of regulators and experts, water departments in at least 33 cities used testing methods over the past decade that could underestimate lead found in drinking water.
Officials in two major cities—Philadelphia and Chicago—asked employees to test water safety in their own homes.
Two states—Michigan and New Hampshire—advised water departments to give themselves extra time to complete tests so that if lead contamination exceeded federal limits, officials could re-sample and remove results with high lead levels.
Some cities denied knowledge of the locations of lead pipes, failed to sample the required number of homes with lead plumbing or refused to release lead pipe maps, claiming it was a security risk.
Lead contamination hurts children the most. Exposure to high levels of lead can cause developmental problems, behavioral problems and has also been linked to a "propensity to commit violent crimes," according to The Guardian.
Flint, Michigan, and many other cities are supplying residents and schools with bottled water to avoid more potential contamination.
The U.S. Environmental Protection Agency (EPA) last updated its lead testing regulations and guidelines nine years ago. The Lead and Copper Rule provides vague guidelines for state testers.
The rule states:
If lead concentrations exceed an action level of 15 (parts per billion) ... in more than 10% of costumer taps sampled, the system must undertake a number of additional actions to control corrosion. If the action level for lead is exceeded, the system must also inform the public about steps they should take to protect their health and may have to replace lead service lines under their control.
Many of the investigated water departments claim the EPA has not issued clear guidance or testing protocols in the past.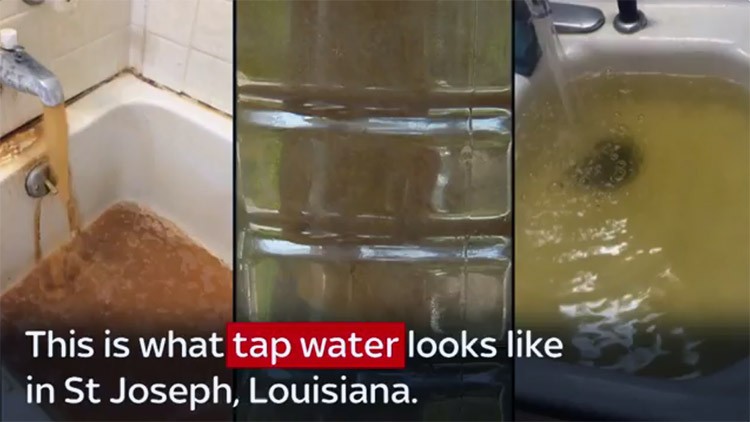 Photo credit: Sky News
In light of the Flint, Michigan, crisis, the EPA is working on "long-term revisions" to its lead and copper rule. The two main revisions include improving the effectiveness of corrosion control treatment and triggering additional actions to reduce the public's exposure to lead and copper when the corrosion control treatment is not sufficient. The revisions are expected to be released by 2017, according to The Guardian.
Some residents in Chicago, though, aren't waiting for 2017. Several homeowners are attacking the issue themselves by replacing the lead pipes leading to their homes.
Michael Kerrigan, who owns a plumbing business a few miles north of Chicago, has removed lead water pipes at 15 homes so far this year. That's the same number of jobs he did during all of last year, The Guardian reported.
"We are constantly getting calls about it, people are very aware of what's going on in the news," Kerrigan told The Guardian. "People are concerned."
But the project's price tag is creating an economic divide. Kerrigan said it could cost around $18,000 for the three-day project to replace the entire length of piping. For $10,000, part of the line can be replaced, but that brings its own problems. "The face of a lead pipe cut to join on to a copper pipe is exposed to running water and can make the contamination worse, rather than better," According to The Guardian.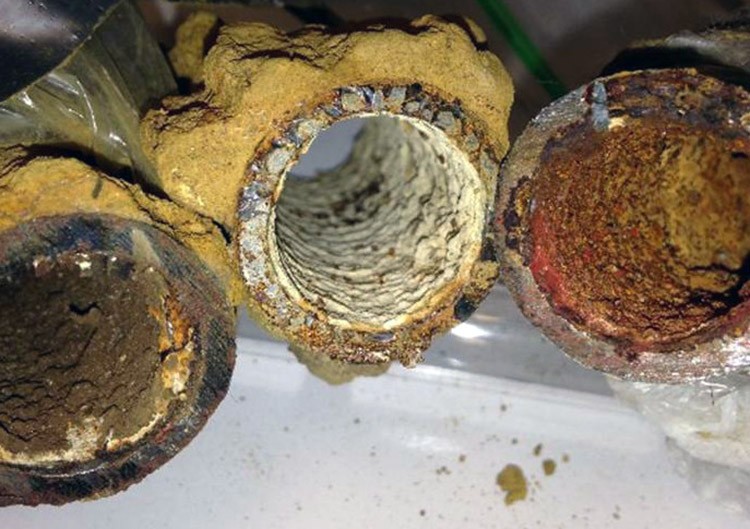 Lead from corroded pipes in Flint, Michigan. Photo credit: Siddhartha Roy, FlintWaterStudy.org
Most lower income households can't afford the full repair, let alone the partial fix.
"It's truly a question of economics, it's hard for the homeowner to afford the replacement without any assistance from the government," Michael Giglio, another plumber who operates in the Chicago area, told The Guardian. "This situation could go from smoke and smoldering to a full-on fire at any time."
An estimated 80 percent of Chicago households are served by lead water pipes.
Still, Chicago officials believe the water is safe to drink. They suggest residents run their faucets for three minutes before collecting water for use. Residents are told to keep the water in a container in the fridge for use during the day. Only cold water should be used for drinking, cooking and preparing baby formula, The Guardian reported.
YOU MIGHT ALSO LIKE
America's Lead Poisoning Problem Is Everywhere
11 Ways You Could Be Exposed to Lead in Your Everyday Life
Duke Study: Rivers Contaminated With Radium and Lead From Thousands of Fracking Wastewater Spills
Another Lead Water Poisoning Scandal Has Erupted, This Time in Ohio
Monsanto, the maker of the glyphosate-based herbicide Roundup, filed a motion June 16 in U.S. District Court, Northern District of California to reconsider the chemical's addition to California's Proposition 65 list of agents known to cause cancer.
The agrochemical giant made this move based on a June 14 Reuters investigation of Dr. Aaron Blair, a lead researcher on the World Health Organization's International Agency for Research on Cancer (IARC) committee, that classified glyphosate as a "2A probable human carcinogen" in March 2015.
Keep reading...
Show less
By Avery Friedman
Algae is often considered a nuisance, but for Sweden, the rapidly growing sea plant is now an asset.
As the Scandinavian country works to cut all of its greenhouse gas emissions by 2045, it's using algae to sop up the carbon emissions from cement.
Keep reading...
Show less
Jun. 24, 2017 01:35PM EST
By Itai Vardi
A recent intensification in protests against Williams Partners' planned Atlantic Sunrise pipeline in Pennsylvania prompted a state senator to propose legislation aimed at limiting demonstrations.
Last month, Pennsylvania Sen. Scott Martin (R-Norman) announced his intention to introduce legislation that would pass the costs of law enforcement responding to protests onto the demonstrators. Martin also helped introduce a different bill that would criminalize protests at natural gas facilities.
Keep reading...
Show less
Jun. 24, 2017 01:29PM EST
Black Shogun / iStock
The Federal Energy Regulatory Commission (FERC) released its Final Environmental Impact Statement Friday for the Mountain Valley Pipeline, a controversial 303-mile pipeline that would carry two billion cubic feet of fracked gas per day from West Virginia through Virginia.
Keep reading...
Show less
Jun. 24, 2017 01:46PM EST
Falcon PEV
The so-called "first and last mile" problem is one of the biggest hurdles with public transportation. How do you encourage more people to take Earth-friendlier commutes when their homes are miles away from the train or bus station?
One solution, as this Estonian electric scooter company proposes, is to simply take your commute with you—literally. Tallinn-based Stigo has developed a compact e-scooter that folds to the size of a rolling suitcase in about two seconds.
Keep reading...
Show less
Jun. 24, 2017 05:12PM EST
Connect4Climate
[Editor's note: I'm still in shock after hearing the news that Lucia Grenna passed away in her sleep last week. When we first met in April of 2014 at a Copenhagen hotel, I was immediately taken by here powerful presence. We spent the next couple days participating in a Sustainia climate change event where Lucia presented her audacious plans to connect people to the climate issue. I had the chance to partner with Lucia on several other projects throughout the years and work with her incredible Connect4Climate team. I was always in awe of her ability to "make the impossible possible." Her spirit will live on forever. — Stefanie Spear]
It is with a heavy heart that Connect4Climate announces the passing of its founder and leading light, Lucia Grenna. Lucia passed peacefully in her sleep on June 15, well before her time. We remember her for her leadership and extraordinary ability to motivate people to take on some of the greatest challenges of our time, not least climate change.
Keep reading...
Show less
Jun. 23, 2017 07:29PM EST
Wikimedia Commons
By Stacy Malkan
Neil deGrasse Tyson has inspired millions of people to care about science and imagine themselves as participants in the scientific process. What a hopeful sign it is to see young girls wearing t-shirts emblazoned with the words, "Forget princess, I want to be an astrophysicist."
Keep reading...
Show less
Jun. 23, 2017 01:57PM EST
www.youtube.com
By Andy Rowell
Any day now we will truly witness climate change in action. Within days at worst, maybe weeks at best, scientists predict that a huge section of the Larsen C ice shelf in Antarctica will break off into the ocean, in what is called a major "carving" event.
Keep reading...
Show less
Jun. 23, 2017 02:27PM EST
www.youtube.com
President Trump visited Cedar Rapids, Iowa on June 21 to speak to a large crowd in the U.S. Cellular Center at a political rally organized by his campaign.
As Trevor Noah noted during The Daily Show episode last night (starts at 2:25), the real reason Trump has these rallies is to "get back in front of his loyal crowds and feed of their energy." Noah believes that "Trump supporters are so on board with their dude he can say anything and they'll come along for the ride."
Keep reading...
Show less