This website uses cookies to ensure you get the best experience while browsing it. By clicking 'Got It' you're accepting these terms.
These 33 Cities Cheated on Lead Contamination Tests, Similar to Flint, Michigan
Jun. 02, 2016 02:38PM EST
At least 33 cities in the U.S. cheated when testing water for lead contamination. With these "cheats" the cities misrepresented the amount of lead in their water supply, according to a Guardian investigation.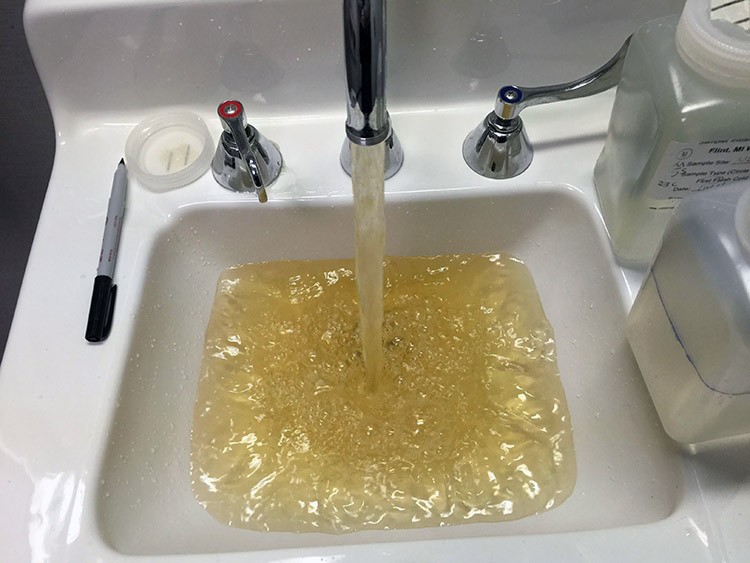 The cities span 17 states east of the Mississippi River. Eastern states were targeted in the investigation because they are most at risk for lead contamination due to aging infrastructure. A total of 43 cities supplied The Guardian with water testing samples and data.
The three "cheats" used by cities include: running the faucet for a while before collecting a sample to flush out the system; removing aerators from faucets before collecting a sample; and running the water slowly. Most of the 33 cities only used one or two of the cheats, but six used all three: Springfield, Massachusetts; Lewiston, Maine; Philadelphia, Pennsylvania; Buffalo, New York; Chicago, Illinois; and Sebring, Ohio.

Not only does this raise concern for those cities, but surrounding towns as well, The Guardian added. Several big cities sell water to almost "400 adjacent cities and towns."
Of the cheating cities, 21 used the same methods that caused the lead contamination crisis in Flint, Michigan.
"They make lead in water low when collecting samples for EPA compliance, even as it poisons kids who drink the water," Marc Edwards, a Virginia Tech scientist, told the Guardian. "Clearly, the cheating and lax enforcement are needlessly harming children all over the United States.
"If they cannot be trusted to protect little kids from lead in drinking water, what on Earth can they be trusted with? Who amongst us is safe?"
In addition to the "cheats," city officials also used sampling selection to manipulate lead level data, such as hand-picking houses and re-testing. The Guardian reported:
Documents show some authorities have also removed high-risk homes from testing or sought to obscure their dangerous lead levels. In Michigan, a department of environmental quality (MDEQ) official told the director of a town water department in a Detroit suburb called Howell to "bump this one out," referring to a sample with high lead levels, by taking additional samples. "I would suggest at least five more samples," Adam Rosenthal, an official at the MDEQ drinking water office, wrote in an email in 2008.
New Hampshire offered similar advice to water system officials in that state, advising water departments to test early so any high results could be re-tested.
"If your water system samples early in their compliance period, then time remains for you to collect a second set of samples," reads advice from New Hampshire's department of environmental services to local water systems. "This may result in a 90th percentile below action levels."

Other findings of the investigation include:
Despite warnings of regulators and experts, water departments in at least 33 cities used testing methods over the past decade that could underestimate lead found in drinking water.
Officials in two major cities—Philadelphia and Chicago—asked employees to test water safety in their own homes.
Two states—Michigan and New Hampshire—advised water departments to give themselves extra time to complete tests so that if lead contamination exceeded federal limits, officials could re-sample and remove results with high lead levels.
Some cities denied knowledge of the locations of lead pipes, failed to sample the required number of homes with lead plumbing or refused to release lead pipe maps, claiming it was a security risk.
Lead contamination hurts children the most. Exposure to high levels of lead can cause developmental problems, behavioral problems and has also been linked to a "propensity to commit violent crimes," according to The Guardian.
Flint, Michigan, and many other cities are supplying residents and schools with bottled water to avoid more potential contamination.
The U.S. Environmental Protection Agency (EPA) last updated its lead testing regulations and guidelines nine years ago. The Lead and Copper Rule provides vague guidelines for state testers.
The rule states:
If lead concentrations exceed an action level of 15 (parts per billion) ... in more than 10% of costumer taps sampled, the system must undertake a number of additional actions to control corrosion. If the action level for lead is exceeded, the system must also inform the public about steps they should take to protect their health and may have to replace lead service lines under their control.
Many of the investigated water departments claim the EPA has not issued clear guidance or testing protocols in the past.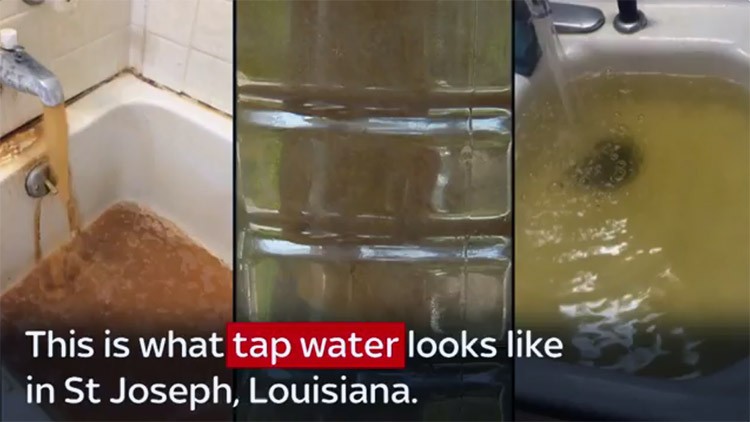 Photo credit: Sky News
In light of the Flint, Michigan, crisis, the EPA is working on "long-term revisions" to its lead and copper rule. The two main revisions include improving the effectiveness of corrosion control treatment and triggering additional actions to reduce the public's exposure to lead and copper when the corrosion control treatment is not sufficient. The revisions are expected to be released by 2017, according to The Guardian.
Some residents in Chicago, though, aren't waiting for 2017. Several homeowners are attacking the issue themselves by replacing the lead pipes leading to their homes.
Michael Kerrigan, who owns a plumbing business a few miles north of Chicago, has removed lead water pipes at 15 homes so far this year. That's the same number of jobs he did during all of last year, The Guardian reported.
"We are constantly getting calls about it, people are very aware of what's going on in the news," Kerrigan told The Guardian. "People are concerned."
But the project's price tag is creating an economic divide. Kerrigan said it could cost around $18,000 for the three-day project to replace the entire length of piping. For $10,000, part of the line can be replaced, but that brings its own problems. "The face of a lead pipe cut to join on to a copper pipe is exposed to running water and can make the contamination worse, rather than better," According to The Guardian.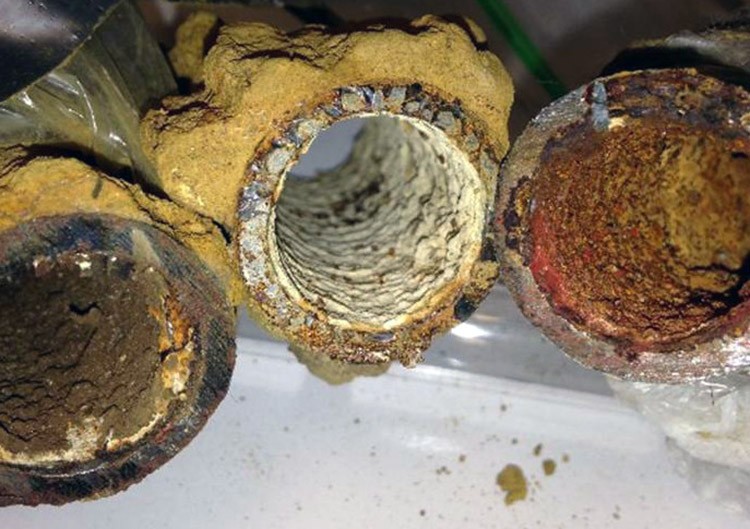 Lead from corroded pipes in Flint, Michigan. Photo credit: Siddhartha Roy, FlintWaterStudy.org
Most lower income households can't afford the full repair, let alone the partial fix.
"It's truly a question of economics, it's hard for the homeowner to afford the replacement without any assistance from the government," Michael Giglio, another plumber who operates in the Chicago area, told The Guardian. "This situation could go from smoke and smoldering to a full-on fire at any time."
An estimated 80 percent of Chicago households are served by lead water pipes.
Still, Chicago officials believe the water is safe to drink. They suggest residents run their faucets for three minutes before collecting water for use. Residents are told to keep the water in a container in the fridge for use during the day. Only cold water should be used for drinking, cooking and preparing baby formula, The Guardian reported.
YOU MIGHT ALSO LIKE
America's Lead Poisoning Problem Is Everywhere
11 Ways You Could Be Exposed to Lead in Your Everyday Life
Duke Study: Rivers Contaminated With Radium and Lead From Thousands of Fracking Wastewater Spills
Another Lead Water Poisoning Scandal Has Erupted, This Time in Ohio
EcoWatch Daily Newsletter
Sriram Madhusoodanan of Corporate Accountability speaking on conflict of interest demand of the People's Demands at a defining action launching the Demands at COP24. Corporate Accountability
By Patti Lynn
2018 was a groundbreaking year in the public conversation about climate change. Last February, The New York Times reported that a record percentage of Americans now believe that climate change is caused by humans, and there was a 20 percentage point rise in "the number of Americans who say they worry 'a great deal' about climate change."
The head of England's Environment Agency has urged people to stop watering their lawns as a climate-induced water shortage looms. Pexels
England faces an "existential threat" if it does not change how it manages its water, the head of the country's Environment Agency warned Tuesday.
Pexels
By Jessica Corbett
A new analysis revealed Tuesday that over the past two decades heat records across the U.S. have been broken twice as often as cold ones—underscoring experts' warnings about the increasingly dangerous consequences of failing to dramatically curb planet-warming emissions.
A flock of parrots in Telegraph Hill, San Francisco.
~dgies / Flickr
By Madison Dapcevich
Ask any resident of San Francisco about the waterfront parrots, and they will surely tell you a story of red-faced conures squawking or dive-bombing between building peaks. Ask a team of researchers from the University of Georgia, however, and they will tell you of a mysterious string of neurological poisonings impacting the naturalized flock for decades.
Fire burns in the North Santiam State Recreational Area on March 19. Oregon Department of Forestry
An early-season wildfire near Lyons, Oregon burned 60 acres and forced dozens of homes to evacuate Tuesday evening, the Oregon Department of Forestry (ODF) said, as KTVZ reported.
The initial cause of the fire was not yet known, but it has been driven by the strong wind and jumped the North Santiam River, The Salem Statesman Journal reported. As of Tuesday night, it threatened around 35 homes and 30 buildings, and was 20 percent contained.
Edwin Hardeman is the plaintiff in the first U.S. federal trial claiming that Roundup causes cancer. NOAH BERGER / AFP / Getty Images
A second U.S. jury has ruled that Roundup causes cancer.
The unanimous verdict was announced Tuesday in San Francisco in the first federal case to be brought against Monsanto, now owned by Bayer, alleging that repeated use of the company's glyphosate-containing weedkiller caused the plaintiff's cancer. Seventy-year-old Edwin Hardeman of Santa Rosa, California said he used Roundup for almost 30 years on his properties before developing non-Hodgkin's lymphoma.
The decision comes less than a year after a jury awarded $289 million to Bay-area groundskeeper Dewayne Johnson over similar claims. The amount was later reduced to $78 million.
"Today's verdict reinforces what another jury found last year, and what scientists with the state of California and the World Health Organization have concluded: Glyphosate causes cancer in people," Environmental Working Group President Ken Cook said in a statement. "As similar lawsuits mount, the evidence will grow that Roundup is not safe, and that the company has tried to cover it up."
Judge Vince Chhabria has split Hardeman's trial into two phases. The first, decided Tuesday, focused exclusively on whether or not Roundup use caused the plaintiff's cancer. The second, to begin Wednesday, will assess if Bayer is liable for damages.

"We are disappointed with the jury's initial decision, but we continue to believe firmly that the science confirms glyphosate-based herbicides do not cause cancer," Bayer spokesman Dan Childs said in a statement reported by The Guardian. "We are confident the evidence in phase two will show that Monsanto's conduct has been appropriate and the company should not be liable for Mr. Hardeman's cancer."
Some legal experts said that Chhabria's decision to split the trial was beneficial to Bayer, Reuters reported. The company had complained that the jury in Johnson's case had been distracted by the lawyers' claims that Monsanto had sought to mislead scientists and the public about Roundup's safety.

However, a remark made by Chhabria during the trial and reported by The Guardian was blatantly critical of the company.
"Although the evidence that Roundup causes cancer is quite equivocal, there is strong evidence from which a jury could conclude that Monsanto does not particularly care whether its product is in fact giving people cancer, focusing instead on manipulating public opinion and undermining anyone who raises genuine and legitimate concerns about the issue," he said.
Many regulatory bodies, including the U.S. Environmental Protection Agency, have ruled that glyphosate is safe for humans, but the World Health Organization's International Agency for Research on Cancer found it was "probably carcinogenic to humans" in 2015. A university study earlier this year found that glyphosate use increased cancer risk by as much as 41 percent.
Hardeman's lawyers Jennifer Moore and Aimee Wagstaff said they would now reveal Monsanto's efforts to mislead the public about the safety of its product.
"Now we can focus on the evidence that Monsanto has not taken a responsible, objective approach to the safety of Roundup," they wrote in a statement reported by The Guardian.
Hardeman's case is considered a "bellwether" trial for the more than 760 glyphosate cases Chhabria is hearing. In total, there are around 11,200 such lawsuits pending in the U.S., according to Reuters.
University of Richmond law professor Carl Tobias told Reuters that Tuesday's decision showed that the verdict in Johnson's case was not "an aberration," and could possibly predict how future juries in the thousands of pending cases would respond.
PxHere
Americans like wind turbines as neighbors, at least when compared with the alternatives.
Offutt Air Force Base after flooding on March 17. U.S. Air Force / TSgt. Rachelle Blake