These 3 Women Attend Monsanto's Annual Shareholder Meeting Demanding Answers
Three generations of women attended Monsanto's shareholder meeting Friday and presented multiple reasons why Monsanto should mitigate risks from Roundup, support labeling of genetically-engineered foods and change the direction of their business.
Anne Temple, mother and midwest leader of Moms Across America representing John Harrington of Harrington Investments, went to the meeting with Rachel Parent, 16-year-old and founder of Kids Right to Know from Canada who representing Moms Across America, and Beth Savitt, grandmother and president of the Shaka Movement of Maui representing and As You Sow.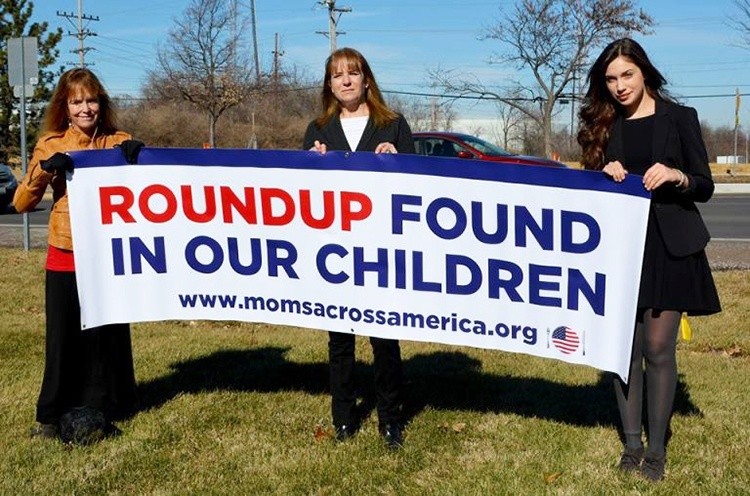 "Our loved ones are getting sick and dying at alarming rates," Temple said at the shareholder meeting. "We find however that our families' health improves when they eat organic to avoid GMOs and toxic chemicals."
In fact, Moms Across America posted this billboard in west St. Louis County, Missouri, in Creve Coeur, near Monsanto headquarters, stating just that: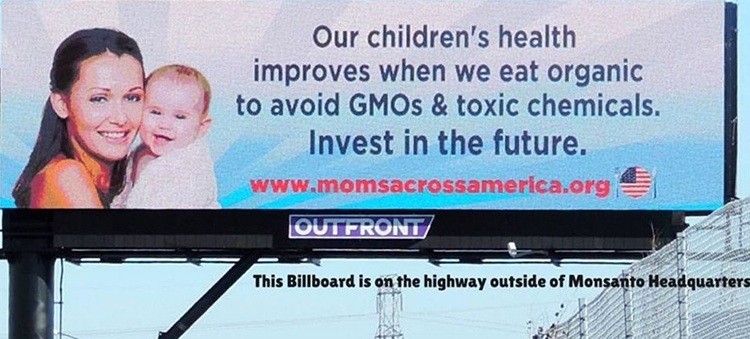 At the shareholder meeting, Parent explained that "nearly two decades after genetically engineered crops have been incorporated into our food, no long-term human health studies have been performed. However, feeding studies have been done on animals and the results are sobering: organ damage, digestive disorders, tumors, infertility and stillbirths."
Then Savitt pointed out that "the president's cancer panel of 2008 recommended the precautionary principle in relation to pesticides. Can we stop and test? Can we practice the hippocratic oath and first do no harm? That's all we are asking for."
Savitt's Shaka Movement passed a GMO moratorium in Maui, requiring that the planting of GMOs stop until safety testing is concluded that shows the chemical combinations used were safe. Monsanto spent more than $9 million to fight the passing of the moratorium, far more than would have been spent on the testing. The moratorium passed anyway, but a local judge overturned the law. Currently, an appeal is in process. The concern by the three women is that in the meantime, Monsanto is allowed to continue to poison our food, water and planet.
Savitt insists, "Maui is an open air experiment and the land and people are paying a price, our health. We assert our right to health."
John Harrington of Harrington Investments said, "It's truly amazing to me that Monsanto is allowed to continue endangering public health and safety."
The choices of Monsanto are not without repercussions, however. Monsanto has experienced heavy losses over the past year due to several factors including:
1. The increase of more than 250 super weeds on 300 million acres resisting Roundup
2. The World Health Organization's declaration that glyphosate in Roundup is a probable carcinogen
3. Growing consumer resistance
Since Zen Honeycutt of Moms Across America spoke at last year's shareholder meeting, there has been a 34 percent drop in stock value and 16 percent of the workforce will be laid off.
Although considered safe for nearly 40 years, serious evidence regarding the health risks of glyphosate in Roundup has recently surfaced, including the destruction of the gut bacteria which leads to a weakened immune system, neurotoxicity, hormone disrupting effects which can lead to endocrine disruption (birth defects and miscarriage) at very low levels, non Hodgkin's Lymphoma, breast cancer cell growth and placental cell death.
These three women went to the shareholder meeting because they do not see how Monsanto can ignore the risks associated with Roundup and knowingly continue down a path that will lead to decreased profit margins and job loss.
During the shareholder meeting, Monsanto CEO and board chair Hugh Grant extolled the virtues of GMOs and glyphosate, declaring them safe and the tools needed to solve the problem of feeding a hungry world.
Parent, who has been speaking up for GMO labels since she was 11 years old, said, "If you truly believe your GM technology is safe, if you truly believe it has the potential to feed the world, why are you treating it like a dirty little secret that can't be shown on food labels? Why, if it's such proven technology, are you fighting it, rather than promoting it?"
Grant went on to say that Monsanto is for voluntary GMO labeling and supports QR codes.
Temple pointed out that the QR code option is "discriminatory because not everyone can afford a smartphone."
Listen here to the full recording of the meeting:
YOU MIGHT ALSO LIKE
Monsanto's Glyphosate Most Heavily Used Weed Killer in History
Cancer Prevention Needs Attention Too: What if We Weren't Exposed to 80,000 Toxic Chemicals Every Day?
The Inside Story of How a University Professor Quietly Collaborated With Monsanto
Glyphosate, the main ingredient in Monsanto's widely used herbicide Roundup, will be added July 7 to California's list of chemicals known to the state to cause cancer, according to a Reuters report Tuesday. This news comes after the company's unsuccessful attempt to block the listing in trial court and requests for stay were denied by a state appellate court and California's Supreme Court.
California's Office of Environmental Health Hazard Assessment (OEHHA) announced the designation on Monday under the Safe Drinking Water and Toxic Enforcement Act of 1986, or Proposition 65.
Keep reading...
Show less
www.facebook.com
Keep reading...
Show less
Researchers from the Marine Animal Response Society examine one of the dead right whales. Marine Animal Response Society
Canadian government officials and marine biologists are investigating the mysterious deaths of six North American right whales. The endangered animals all turned up dead between June 6 and June 23 in the Gulf of St. Lawrence, off Canada's southeastern coast.
North Atlantic right whales are the rarest of all large whale species and among the rarest of all marine mammal species, with only about 450 right whales in the North Atlantic.
Keep reading...
Show less
Scott Pruitt testifies during his Senate confirmation hearing for EPA administrator, January 2017.
The U.S. Environmental Protection Agency's (EPA) chief of staff pressured the leader of its Board of Scientific Counselors to change her congressional testimony to downplay the impact of the agency's mass dismissal of scientists from the board, the New York Times reports.
Keep reading...
Show less
By Jason Mark
Sequoiadendron giganteum. That's the scientific name for the giant sequoia: the mammoth trees found in California's Sierra Nevada that are the largest organisms on Earth, and among the longest-lived. Biologists estimate that about half of all sequoias live in Giant Sequoia National Monument, a 328,000-acre preserve in the Southern Sierra Nevada established by President Clinton in 2000.
Now that national monument is in jeopardy.
Keep reading...
Show less
By Andy Rowell
Donald Trump this week is launching an "energy week," pushing the argument that the U.S. will become a net exporter of oil and gas.
The president and his cronies are talking about a new era of "U.S. energy dominance," which could stretch for decades to come. However, no one believes the president anymore.
Keep reading...
Show less
UN
By Colleen Curry
The United Nations has designated 23 new sites around the world to its World Network of Biosphere reserves—stunning natural landscapes that balance environmental and human concerns and strive for sustainability.
The forests, beaches and waterways were added to the list this year at the International Coordinating Council of the Man and the Biosphere Programme meeting in Paris earlier this month.
Keep reading...
Show less
Jun. 26, 2017 01:48PM EST
www.elysee.fr
By Andy Rowell
There is a growing feeling within European capitals that a quiet, but deeply positive, revolution is happening under Emmanuel Macron in France.
Macron's opinion poll rating is high, especially boosted in how the young French president has reacted to Donald Trump on the international stage.
Keep reading...
Show less
Jun. 26, 2017 12:32PM EST
www.facebook.com
Keep reading...
Show less