This website uses cookies to ensure you get the best experience while browsing it. By clicking 'Got It' you're accepting these terms.


The best of EcoWatch, right in your inbox. Sign up for our email newsletter!
There Will Be More Plastic Than Fish in the Ocean by 2050
Jan. 20, 2016 10:11AM EST
There will be more plastic than fish in the ocean by 2050, warned the Ellen MacArthur Foundation in a report published Tuesday. The report, The New Plastics Economy: Rethinking the Future of Plastics, was produced by the foundation and the World Economic Forum with analytical support from McKinsey & Company.
---
Every year "at least 8 million tons of plastics leak into the ocean—which is equivalent to dumping the contents of one garbage truck into the ocean every minute," the report finds. "If no action is taken, this is expected to increase to two per minute by 2030 and four per minute by 2050.
"In a business-as-usual scenario, the ocean is expected to contain one ton of plastic for every three tons of fish by 2025, and by 2050, more plastics than fish (by weight)."
Plastic production has increased 20-fold since 1964, reaching 311 million tons in 2014, the report says. It is expected to double again in the next 20 years and almost quadruple by 2050. New plastics will consume 20 percent of all oil production within 35 years, up from an estimated 5 percent today.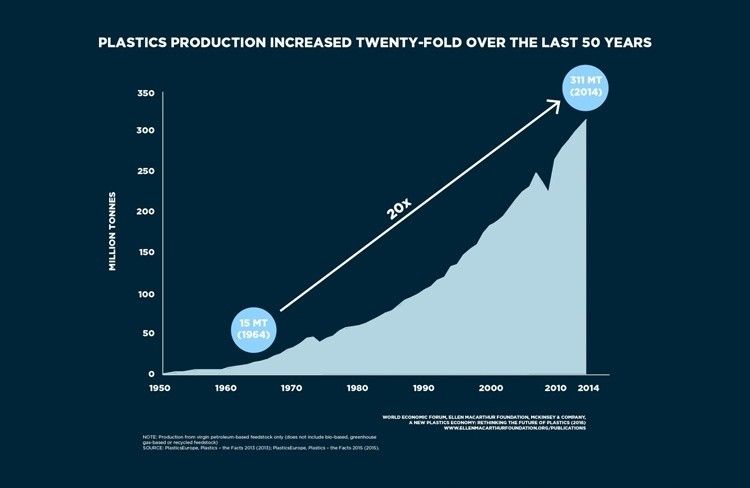 The vast majority of plastics is not effectively recycled, either, according to the report. Only 5 percent is properly recycled, while 40 percent is sent to a landfill and a third ends up in the environment, including in the world's oceans. Much of the rest is burned, which generates energy, The Guardian noted, but also causes "more fossil fuels to be consumed in order to make new plastic bags, cups, tubs and consumer devices demanded by the economy."
The report provides a first-ever "vision of a global economy in which plastics never become waste, and outlines concrete steps towards achieving the systemic shift needed," the Ellen MacArthur Foundation said.
This vision is built on applying "circular economy principles" to global plastic packaging flows, which could "transform the plastics economy and drastically reduce negative externalities such as leakage into oceans," the foundation explained. The report calls for a transition away from "today's linear 'take, make, dispose' economic model" and towards an economy that is "restorative and regenerative by design" and which altogether eliminates the concept of waste (just as there is no concept of waste in natural systems).
The report concludes that the plastics industry is not doing nearly enough to address plastic pollution.
"Plastics are the workhorse material of the modern economy, with unbeaten properties," Dr. Martin Stuchtey of the McKinsey Center for Business and Environment, who helped produce the report, said. "However they are also the ultimate single-use material. Growing volumes of end-of-use plastics are generating costs and destroying value to the industry. After-use plastics could, with circular economy thinking, be turned into valuable feedstock."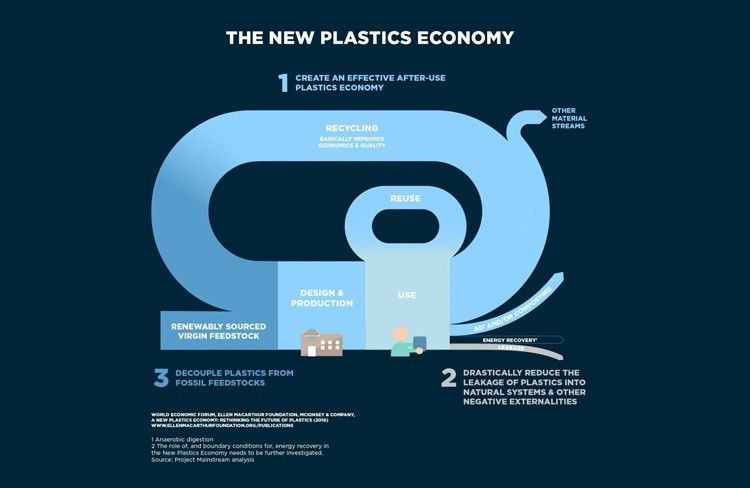 The report calls for smarter packaging, such as phasing out hard-to-recycle plastics like polyvinyl chloride and expandable polystyrene, redesigning plastic items so they can be reused better, rethinking their production methods to make recycling easier and developing compostable packing on a larger scale.
YOU MIGHT ALSO LIKE
62 Richest People on Earth Own the Same Wealth as Half the World's Population
EcoWatch Daily Newsletter
Denali national park. Domen Jakus / Flickr / CC BY-NC 2.0
By Stephanie Gagnon
Happy National Parks Week! This year, between April 20 and 28, escape to the beautiful national parks — either in person or in your imagination — and celebrate the amazing wildlife that calls these spaces home.
fstop123 / iStock / Getty Images Plus
At EcoWatch, our team knows that changing personal habits and taking actions that contribute to a better planet is an ongoing journey. Earth Day, happening on April 22, is a great reminder for all of us to learn more about the environmental costs of our behaviors like food waste or fast fashion.
To offer readers some inspiration this Earth Day, our team rounded up their top picks for films to watch. So, sit back and take in one of these documentary films this Earth Day. Maybe it will spark a small change you can make in your own life.
Sesame, three months old, at Seal Rescue Irleand.
Screenshot / Seal Rescue Ireland Instagram
On Friday, Seal Rescue Ireland released Sesame the seal into the ocean after five months of rehabilitation at the Seal Rescue Ireland facility. Watch the release on EcoWatch's Facebook.

Beer packs of Guinness will now come in a cardboard box. Diageo

By Jordan Davidson
Guinness is joining the fight against single use plastic. The brewer has seen enough hapless turtles and marine life suffering from the scourge of plastic.
Maskot / Getty Images
People of all ages are spending more of their day looking at their phones, computers and television screens, but parents now have another reason for limiting how much screen time their children get — it could lead to behavioral problems.
Rapper and comedian Lil Dicky released a 7-minute climate change awareness song and video today, ahead of Earth Day on Monday, with proceeds going to the Leonardo DiCaprio Foundation.
Pexels
By Eoin Higgins
The New York City Council passed the world's "largest single carbon reduction effort that any city, anywhere, has ever put forward" on Thursday afternoon, marking a major milestone in the fight against the climate crisis.