This website uses cookies to ensure you get the best experience while browsing it. By clicking 'Got It' you're accepting these terms.
There Will Be More Plastic Than Fish in the Ocean by 2050
Jan. 20, 2016 10:11AM EST
There will be more plastic than fish in the ocean by 2050, warned the Ellen MacArthur Foundation in a report published Tuesday. The report, The New Plastics Economy: Rethinking the Future of Plastics, was produced by the foundation and the World Economic Forum with analytical support from McKinsey & Company.
---
Every year "at least 8 million tons of plastics leak into the ocean—which is equivalent to dumping the contents of one garbage truck into the ocean every minute," the report finds. "If no action is taken, this is expected to increase to two per minute by 2030 and four per minute by 2050.
"In a business-as-usual scenario, the ocean is expected to contain one ton of plastic for every three tons of fish by 2025, and by 2050, more plastics than fish (by weight)."
Plastic production has increased 20-fold since 1964, reaching 311 million tons in 2014, the report says. It is expected to double again in the next 20 years and almost quadruple by 2050. New plastics will consume 20 percent of all oil production within 35 years, up from an estimated 5 percent today.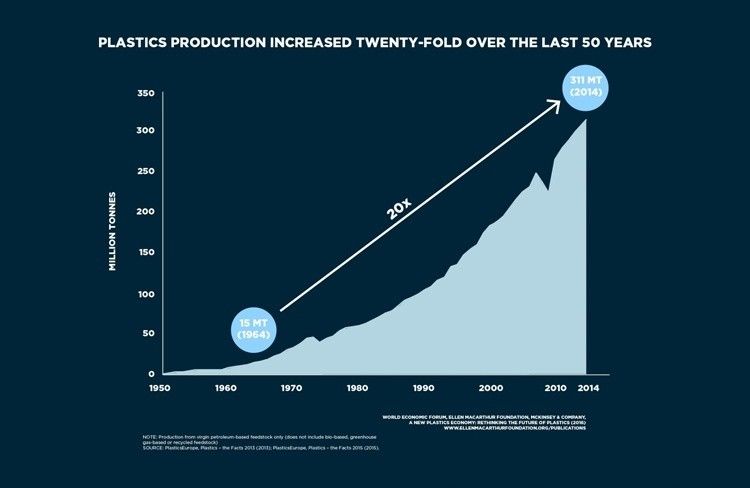 The vast majority of plastics is not effectively recycled, either, according to the report. Only 5 percent is properly recycled, while 40 percent is sent to a landfill and a third ends up in the environment, including in the world's oceans. Much of the rest is burned, which generates energy, The Guardian noted, but also causes "more fossil fuels to be consumed in order to make new plastic bags, cups, tubs and consumer devices demanded by the economy."
The report provides a first-ever "vision of a global economy in which plastics never become waste, and outlines concrete steps towards achieving the systemic shift needed," the Ellen MacArthur Foundation said.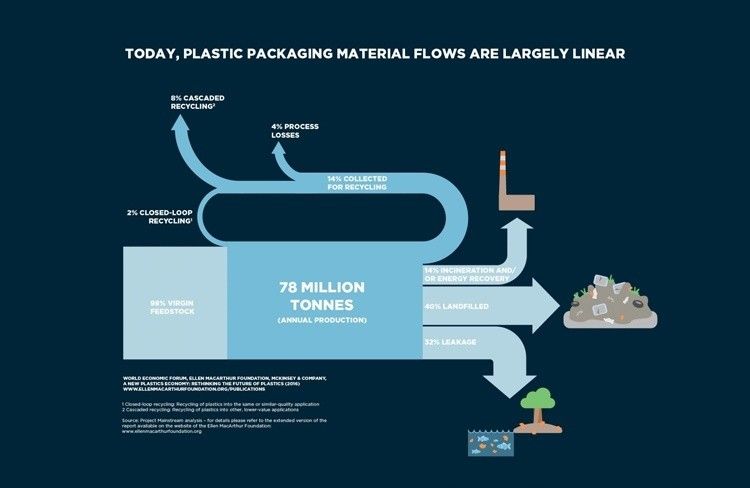 This vision is built on applying "circular economy principles" to global plastic packaging flows, which could "transform the plastics economy and drastically reduce negative externalities such as leakage into oceans," the foundation explained. The report calls for a transition away from "today's linear 'take, make, dispose' economic model" and towards an economy that is "restorative and regenerative by design" and which altogether eliminates the concept of waste (just as there is no concept of waste in natural systems).
The report concludes that the plastics industry is not doing nearly enough to address plastic pollution.
"Plastics are the workhorse material of the modern economy, with unbeaten properties," Dr. Martin Stuchtey of the McKinsey Center for Business and Environment, who helped produce the report, said. "However they are also the ultimate single-use material. Growing volumes of end-of-use plastics are generating costs and destroying value to the industry. After-use plastics could, with circular economy thinking, be turned into valuable feedstock."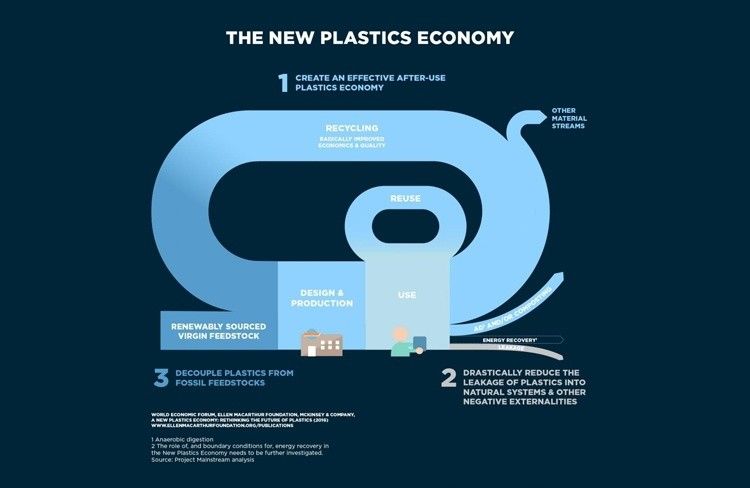 The report calls for smarter packaging, such as phasing out hard-to-recycle plastics like polyvinyl chloride and expandable polystyrene, redesigning plastic items so they can be reused better, rethinking their production methods to make recycling easier and developing compostable packing on a larger scale.
YOU MIGHT ALSO LIKE
62 Richest People on Earth Own the Same Wealth as Half the World's Population
EcoWatch Daily Newsletter
Variety of fermented food korean traditional kimchi cabbage and radish salad. white and red sauerkraut in ceramic plates over grey spotted background. Natasha Breen / REDA&CO / Universal Images Group / Getty Image
Even if you've never taken probiotics, you've probably heard of them.
These supplements provide numerous benefits because they contain live microorganisms, such as bacteria or yeast, which support the healthy bacteria in your gut (1, 2, 3, 4).
Pexels
Singapore will become the first country in the world to place a ban on advertisements for carbonated drinks and juices with high sugar contents, its health ministry announced last week. The law is intended to curb sugar consumption since the country has some of the world's highest diabetes rates per capita, as Reuters reported.
A typical adult takes around 20,000 breaths per day. If you live in a megacity like Beijing, with many of those lungfuls you're likely to inhale a noxious mixture of chemicals and pollutants.
Fred Stone holds his brown swiss cow Lida Rose at his Arundel dairy farm on March 18 after a press conference where he spoke about PFAS chemical contamination in his fields. Gregory Rec / Portland Portland Press Herald via Getty Images
By Susan Cosier
First there was Fred Stone, the third-generation dairy farmer in Maine who discovered that the milk from his cows contained harmful chemicals. Then came Art Schaap, a second-generation dairy farmer in New Mexico, who had to dump 15,000 gallons of contaminated milk a day.
Protesters attend the 32nd annual Fur-Free Friday demonstration on Nov. 23, 2018 in Beverly Hills, California. Ella DeGea / Getty Images
California Governor Gavin Newsom signed into law a bill that that bans the sale and manufacture of fur products in the state. The fur ban, which he signed into law on Saturday, prohibits Californians from selling or making clothing, shoes or handbags with fur starting in 2023, according to the AP.
By Simon Evans
During the three months of July, August and September, renewables generated an estimated total of 29.5 terawatt hours (TWh), compared with just 29.1TWh from fossil fuels, the analysis shows.
A demonstrator waves an Ecuadorian flag during protests against the end of subsidies to gasoline and diesel on Oct. 9 in Quito, Ecuador. Jorge Ivan Castaneira Jaramillo / Getty Images
Protesters block the road outside Mansion House in London during an XR climate change protest. Gareth Fuller / PA Images via Getty Images