There Will Be More Plastic Than Fish in the Ocean by 2050
There will be more plastic than fish in the ocean by 2050, warned the Ellen MacArthur Foundation in a report published Tuesday. The report, The New Plastics Economy: Rethinking the Future of Plastics, was produced by the foundation and the World Economic Forum with analytical support from McKinsey & Company.
---
Every year "at least 8 million tons of plastics leak into the ocean—which is equivalent to dumping the contents of one garbage truck into the ocean every minute," the report finds. "If no action is taken, this is expected to increase to two per minute by 2030 and four per minute by 2050.
"In a business-as-usual scenario, the ocean is expected to contain one ton of plastic for every three tons of fish by 2025, and by 2050, more plastics than fish (by weight)."
Plastic production has increased 20-fold since 1964, reaching 311 million tons in 2014, the report says. It is expected to double again in the next 20 years and almost quadruple by 2050. New plastics will consume 20 percent of all oil production within 35 years, up from an estimated 5 percent today.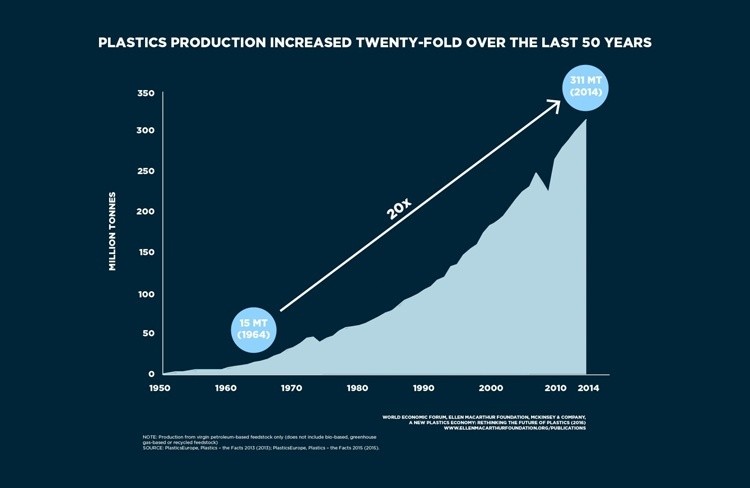 The vast majority of plastics is not effectively recycled, either, according to the report. Only 5 percent is properly recycled, while 40 percent is sent to a landfill and a third ends up in the environment, including in the world's oceans. Much of the rest is burned, which generates energy, The Guardian noted, but also causes "more fossil fuels to be consumed in order to make new plastic bags, cups, tubs and consumer devices demanded by the economy."
The report provides a first-ever "vision of a global economy in which plastics never become waste, and outlines concrete steps towards achieving the systemic shift needed," the Ellen MacArthur Foundation said.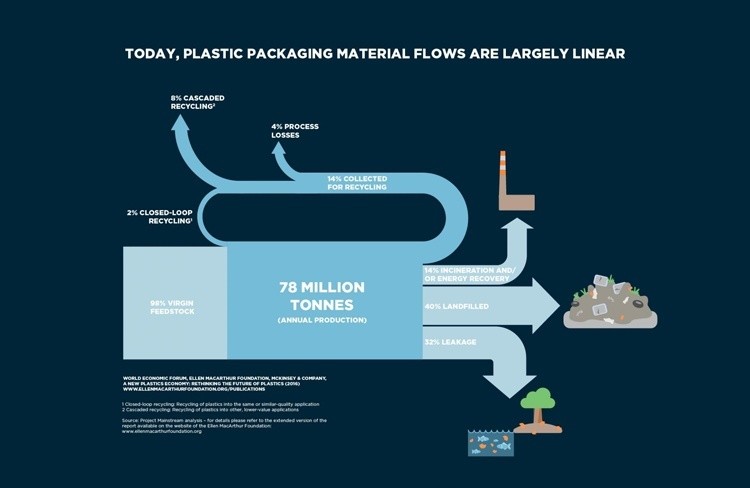 This vision is built on applying "circular economy principles" to global plastic packaging flows, which could "transform the plastics economy and drastically reduce negative externalities such as leakage into oceans," the foundation explained. The report calls for a transition away from "today's linear 'take, make, dispose' economic model" and towards an economy that is "restorative and regenerative by design" and which altogether eliminates the concept of waste (just as there is no concept of waste in natural systems).
The report concludes that the plastics industry is not doing nearly enough to address plastic pollution.
"Plastics are the workhorse material of the modern economy, with unbeaten properties," Dr. Martin Stuchtey of the McKinsey Center for Business and Environment, who helped produce the report, said. "However they are also the ultimate single-use material. Growing volumes of end-of-use plastics are generating costs and destroying value to the industry. After-use plastics could, with circular economy thinking, be turned into valuable feedstock."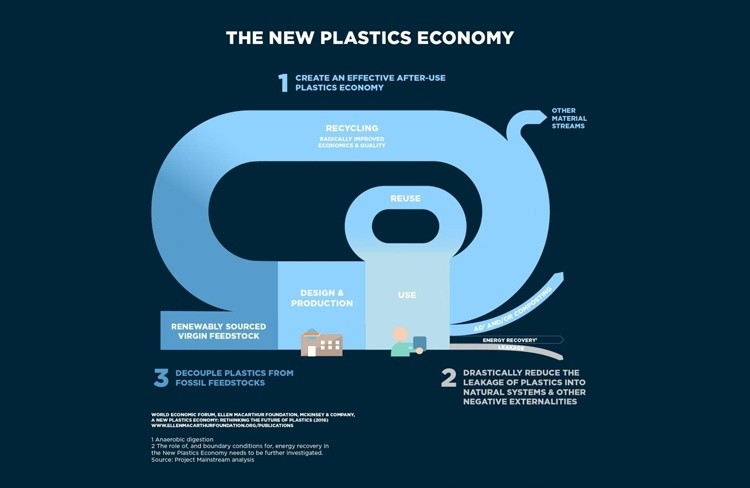 The report calls for smarter packaging, such as phasing out hard-to-recycle plastics like polyvinyl chloride and expandable polystyrene, redesigning plastic items so they can be reused better, rethinking their production methods to make recycling easier and developing compostable packing on a larger scale.
YOU MIGHT ALSO LIKE
62 Richest People on Earth Own the Same Wealth as Half the World's Population
Bill Maher is sick of billionaires' obsession with Mars, more like "Mars-a-Lago," he said.
In a new animation produced by ATTN:, the popular talk show host of Real Time, discusses the perils of our planet, including how "climate change is killing us."
Keep reading...
Show less
Dr. Benjamin D. Santer, research scientist
A group of prominent climate scientists have written a study explicitly refuting statements made by the U.S. Environmental Protection Agency Administrator Scott Pruitt on climate data. During his Senate confirmation hearing, Pruitt claimed in a written response that satellite data shows a "leveling off" of warming over the past two decades.
Keep reading...
Show less
By David Pomerantz
The Nevada Assembly passed a bill Wednesday that would dramatically increase the growth of renewable energy in the state, but Sheldon Adelson, the casino magnate and major donor to Donald Trump, is attempting to prevent the bill from becoming law.
Keep reading...
Show less
Matt Crossick
By Yosola Olorunshola
Whether it's through fashion or protest, Vivienne Westwood is not a woman afraid of making a statement.
On May 23, she rocked up to the residence of the Archbishop of Canterbury in London with a special guest—the Grim Reaper—to issue a strong statement on the Church of England's position on fracking.
Keep reading...
Show less
By Paul Brown
The food industry and big agricultural concerns are driving climate change and at the same time threatening to undermine efforts to feed the world's growing population, according to GRAIN, an organization that supports small farmers.
Particularly singled out for criticism are the large chemical fertilizer producers that have gained access to the United Nations talks on climate change. GRAIN accuses them of behaving like the fossil fuel companies did in the 1990s, pushing false information in the hope of delaying real action on climate change.
Keep reading...
Show less
By Sydney Robinson
President Trump has no doubt been given a long list of extravagant, elaborate gifts in his lifetime, but the gift given to him today by Pope Francis may not make it on his most favorite list.
Keep reading...
Show less
By John Rogers
Maybe it's because I first started working on clean energy while serving in the Peace Corps he founded, or maybe it's my years of working on these issues from his home state. But I can't help thinking about the 100th anniversary of John F. Kennedy's birth, and connecting his stirring rhetoric to the energy challenges of our times.
Here's what our 35th president might have said about the challenges of energy transition and the opportunities in clean energy:
"Change is the law of life. And those who look only to the past or present are certain to miss the future."
Keep reading...
Show less
May. 24, 2017 01:47PM EST
Keep reading...
Show less


Get EcoWatch in your inbox