This website uses cookies to ensure you get the best experience while browsing it. By clicking 'Got It' you're accepting these terms.


The best of EcoWatch, right in your inbox. Sign up for our email newsletter!
The Yin and Yang of Cancer and Climate Change
Sep. 07, 2015 10:24AM EST
Climate
Almost all of what we hear about cancer comes from our usual western perspective. Things like how smoking can increase the likelihood of developing the condition and how eating vegetables can reduce the chances. However, if we look at cancer from a different view, we begin to see that what's happening within us is also happening in the world around us.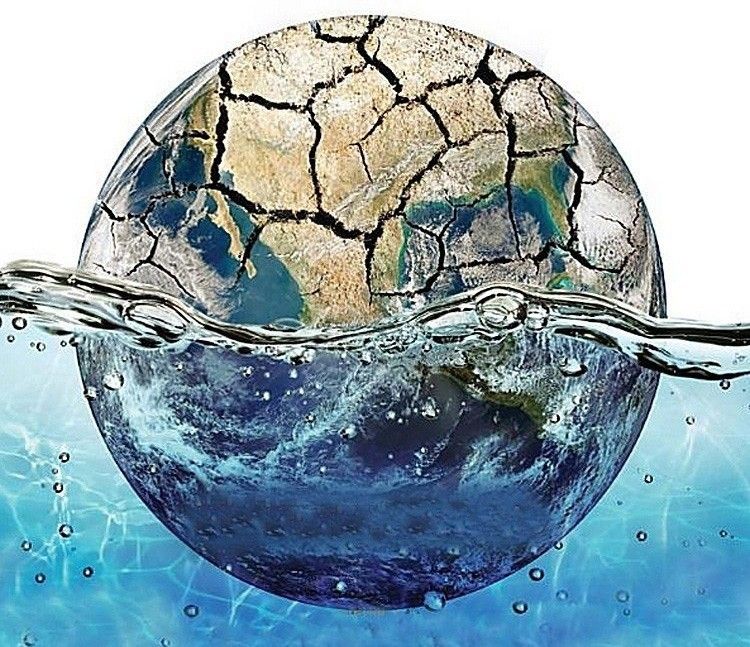 According to the American Cancer Society, for those of us now living in the U.S., one in two men and one in three women will be diagnosed with cancer. And one in four men and one in five women will die from the condition. With a population of about 310 million, that's 125 million cancer diagnoses and 72 million deaths.
Along with these extraordinary rates of cancer, there are voluminous amounts of data that demonstrates clearly that the climate is destabilizing. For several decades, the Intergovernmental Panel on Climate Change has been documenting the worldwide research that shows conclusively that the planet is warming from the gases we're releasing. More recently, data also indicates that the ability of the planet to maintain its coolant is also being affected.
Climate research now demonstrates that the well-documented warming is happening as the ability of forests and oceans to sequester greenhouse gases has been compromised. As we are losing the cooling affects of trees through deforestation, the oceans may have reached their saturation point in how much greenhouse gas they can absorb. In looking at the condition of the climate and the rates of cancer through the holistic lens of Chinese medicine, we can begin to see that rather than being two separate issues, they are similar issues happening at different scales.
For several thousand years, eastern medicine has understood the world holistically. In the treatment room, all of our organs are connected and the physical, mental and emotional parts of our lives are interrelated. Similarly, it recognizes that we are part of the world around us and that what happens within us is a reflection of what happens in nature. Looking at cancer and climate change from this larger vantage point, we can begin to see how both conditions have the same underlying cause.
Looking again at information provided by the American Cancer Society, all cancers start because abnormal cells grow out of control and can spread around the body. From my clinical experience treating people with a cancer diagnosis, the root cause of cancer fits well with the Chinese medicine diagnosis of Yin deficient heat.
Heat corresponds to over activity in organs and cells, which causes both the abnormal growth and the movement around the body. Yin is associated with water and fluids and is our internal coolant. When our internal heat increases, it can cook off our fluids, as would a pot of water left on a hot stove. Yin deficient heat means that our internal condition is inflamed both from the increased warmth and from the decrease of coolant.
Looking at the condition of the climate, Yin deficient heat is a very good description of what's happening globally. The planet is warming—indicating heat. And the ability of the planet to keep things cool through the effects of oceans and forests is decreasing—indicating Yin deficiency. Rather than being two issues, the overstimulation of our cells internally and the rapid warming of the planet externally are mirroring each other.
In our era of climate change, with 40 percent of Americans projected to be diagnosed with cancer, an essential question is: Where is this increasing heat and decreasing Yin coming from? The answer is in how we see the world and as a result, how we live our lives. Fundamental to Chinese medicine is the understanding of Yin and Yang. As mentioned, Yin is associated with coolant and it's also about quiet, peace, doing and having less, the small and the old. The other side of the Yin/Yang circle is about heat, being loud and active, doing and having more, the loud and aggressive and the new—all of this is associated with Yang.
Just as the planet and our cells are overheating, we often value the new over the old, doing over non-doing and more over less. And just as the cooling effects of forests and oceans are decreasing and our Yin decreases internally, we often value the loud over the quiet, the big over the small and the aggressive over the peaceful. The condition of the planet, the condition of our internal environment and our cultural assumptions all speak to the same condition—too much Yang and too little Yin.
An essential part of the deeper remedies to treat the incredible rates of cancer and our rapidly destabilizing climate is to revalue the Yin in all parts of our lives. The Yin of slowing down, doing less, wanting less and being quiet and peaceful internally. This contentment makes us less susceptible to buying more than we need, thereby reducing emissions. The cooling affect of Yin also reduces our heat internally, treating the root causes of conditions like cancer as well.
Brendan Kelly is the author of The Yin and Yang of Climate Crisis: Healing Personal, Cultural and Ecological Imbalance with Chinese Medicine. The co-founder and co-owner of Jade Mountain Wellness, where he currently practices acupuncture and herbalism, he has also been actively involved with local, regional and national environmental issues for 25 years.
YOU MIGHT ALSO LIKE
David Suzuki: How Nature Benefits Human Health
5 Ways to Prevent and Treat Cancer
Humans to Blame for Catastrophic Drought in California, Scientists Say
EcoWatch Daily Newsletter
Christine Zenino / Wikimedia Commons / CC BY 2.0

The 18th century St. Catherine of Alexandria church is seen after its bell tower was destroyed following a 6.3 magnitude earthquake that struck the town of Porac, pampanga province on April 23. TED ALJIBE / AFP / Getty Images
At least 16 people have died, 81 are injured and 14 are still missing after an earthquake struck Luzon island in the Philippines Monday, according to the latest figures from the National Disaster Risk Reduction and Management Council, as the Philippine Star tweeted Tuesday.
Climate change activists gather in front of the stage at the Extinction Rebellion group's environmental protest camp at Marble Arch in London on April 22, on the eighth day of the group's protest calling for political change to combat climate change. TOLGA AKMEN / AFP / Getty Images
Pexels
By Alina Petre, MS, RD (CA)
Veganism refers to a way of living that attempts to minimize animal exploitation and cruelty. For this reason, vegans aim to exclude all foods containing meat, poultry, fish, eggs, dairy and honey from their diet (1).
American farmers use chlorpyrifos, a pesticide tied to brain and nervous system issues, on crops such as apples, broccoli, corn and strawberries. Stephanie Chapman / Flickr / CC BY 2.0
By Jessica Corbett
In a ruling welcomed by public health advocates, a federal court on Friday ordered the Trump administration to stop stalling a potential ban on a pesticide linked to brain damage in children, giving regulators until mid-July to make a final decision.
fstop123 / iStock / Getty Images Plus
At EcoWatch, our team knows that changing personal habits and taking actions that contribute to a better planet is an ongoing journey. Earth Day, happening on April 22, is a great reminder for all of us to learn more about the environmental costs of our behaviors like food waste or fast fashion.
To offer readers some inspiration this Earth Day, our team rounded up their top picks for films to watch. So, sit back and take in one of these documentary films this Earth Day. Maybe it will spark a small change you can make in your own life.
NASA
By Shuchi Talati
Solar geoengineering describes a set of approaches that would reflect sunlight to cool the planet. The most prevalent of these approaches entails mimicking volcanic eruptions by releasing aerosols (tiny particles) into the upper atmosphere to reduce global temperatures — a method that comes with immense uncertainty and risk. We don't yet know how it will affect regional weather patterns, and in turn its geopolitical consequences. One way we can attempt to understand potential outcomes is through models.
Maria Gunnoe Flight, courtesy of southwings.org
By Julia Conley
Green groups on Saturday celebrated the latest federal ruling aimed at preventing President Donald Trump from rolling back environmental regulations that were put in place by his predecessor.