This website uses cookies to ensure you get the best experience while browsing it. By clicking 'Got It' you're accepting these terms.
The World's Oceans Are in Peril
Aug. 23, 2015 10:00AM EST
The world's oceans—covering nearly two-thirds of the Earth's surface, and on which much of human life depends—are under severe pressure, a new report says.
Overfishing has dramatically reduced fish stocks. The thousands of tonnes of rubbish dumped in the oceans wreak havoc on marine life, while climate change is warming and acidifying them, putting them under further stress.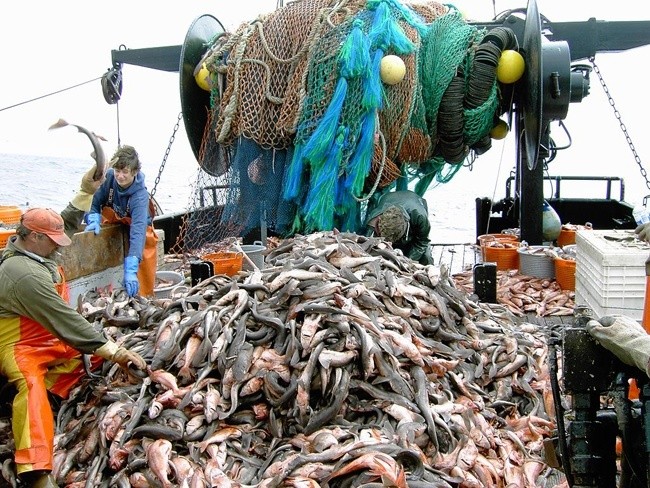 These are the sobering conclusions of a wide-ranging study of the Earth's ecosystems by the Worldwatch Institute, a U.S.-based organization widely rated as one of the world's foremost environmental think-tanks.
"Our sense of the ocean's power and omnipotence—combined with scientific ignorance—contributed to an assumption that nothing we did could ever possibly impact it", says Katie Auth, a researcher at Worldwatch and one of the authors of the report.
"Over the years, scientists and environmental leaders have worked tirelessly to demonstrate and communicate the fallacy of such arrogance."
Decadal Doubling
More than 50 percent of commercial fish stocks are now fully exploited with another 20 percent classified as over-exploited, the report says, while the number of dead zones—areas of the ocean depleted of oxygen and incapable of supporting marine life—has doubled in each decade since the 1960s.
The oceans play a key role in absorbing vast amounts of greenhouse gases and slowing the warming of the atmosphere.
The report says: "… Evidence suggests that as the ocean becomes saturated with CO2, its rate of uptake will slow, a process that has already begun."
Sea surface temperatures are rising, putting marine systems under pressure and causing fish and sea bird populations to migrate to colder areas.
Worldwatch says there must be big cutbacks in fossil fuel emissions: "If emissions continue at current levels, ocean acidity in surface waters could increase by almost 150 percent by 2100, creating a marine environment unlike anything that has existed in the past 20 million years."
The Worldwatch report, State of the World 2015, examines a range of sustainability issues. It says the goal of continued economic growth—an economic doctrine which has prevailed only since the 1950s—is a threat to the sustainability of multiple ecosystems.
The world's resources—whether its fossil fuels or water resources—cannot go on being plundered. Changes in climate—in particular the prevalence of drought in some of the world's main food-producing regions—is threatening the planet's ability to feed itself.
The report concludes: "There is no question that scholars and scientists who study the human economy, the earth and the interactions between them are drawing profoundly troubling conclusions…
"It is time for homo sapiens sapiens to live up to its somewhat presumptuous Latin name, and grow up."
YOU MIGHT ALSO LIKE
Take the #LessIsMore Climate Pledge
NOAA: July Was Hottest Month Ever Worldwide
The Drought in California Is So Bad the Ground Is Literally Sinking
EcoWatch Daily Newsletter
In tea, food, or just on your windowsill, embrace the fragrance and fantastic healing potential of herbs.
By Ana Santos Rutschman
The world of food and drug regulation was rocked earlier this month by the news of a change in leadership at the Food and Drug Administration. Commissioner Scott Gottlieb resigned and will step down in early April. His temporary replacement is Dr. Ned Sharpless, director of the National Cancer Institute.
MartinPrescott / iStock / Getty Images
On Wednesday the U.S. Environmental Protection Agency (EPA) announced the first 20 chemicals it plans to prioritize as "high priority" for assessment under the Toxic Substances Control Act. Given the EPA's record of malfeasance on chemicals policy over the past two years, it is clear that these are chemicals that EPA is prioritizing to ensure that they are not properly evaluated or regulated.
Strawberries top the Environmental Working Group's "Dirty Dozen" list of U.S. produce most contaminated with pesticides. DANIEL LEAL-OLIVAS / AFP / Getty Images
Which conventionally-grown fruits and vegetables in the U.S. are most contaminated with pesticides? That's the question that the Environmental Working Group answers every year with its "Dirty Dozen" list of produce with the highest concentration of pesticides after being washed or peeled.
A drilling rig in a Wyoming natural gas field. William Campbell / Corbis via Getty Images
A U.S. federal judge temporarily blocked oil and gas drilling on 300,000 acres of federal leases in Wyoming Tuesday, arguing that the Bureau of Land Management (BLM) "did not sufficiently consider climate change" when auctioning off the land, The Washington Post reported.
Mizina / iStock / Getty Images
Oats are widely regarded as one of the healthiest grains you can eat, as they're packed with many important vitamins, minerals, and fiber.
JPMorgan Chase building in New York City. Ben Sutherland / CC BY 2.0
By Sharon Kelly
A report published Wednesday names the banks that have played the biggest recent role in funding fossil fuel projects, finding that since 2016, immediately following the Paris agreement's adoption, 33 global banks have poured $1.9 trillion into financing climate-changing projects worldwide.
Sriram Madhusoodanan of Corporate Accountability speaking on conflict of interest demand of the People's Demands at a defining action launching the Demands at COP24. Corporate Accountability
By Patti Lynn
2018 was a groundbreaking year in the public conversation about climate change. Last February, The New York Times reported that a record percentage of Americans now believe that climate change is caused by humans, and there was a 20 percentage point rise in "the number of Americans who say they worry 'a great deal' about climate change."