This website uses cookies to ensure you get the best experience while browsing it. By clicking 'Got It' you're accepting these terms.
The World Is Going Solar
Jul. 15, 2014 01:49PM EST
Renewable Energy
The world is going solar. According to new data released by the Fraunhofer Institute, in the first half of 2014, renewable energy, like solar power, accounted for almost 31 percent of all electricity produced in Germany. In fact, solar power generation was up 28 percent during the first half of 2014, compared to the same time last year.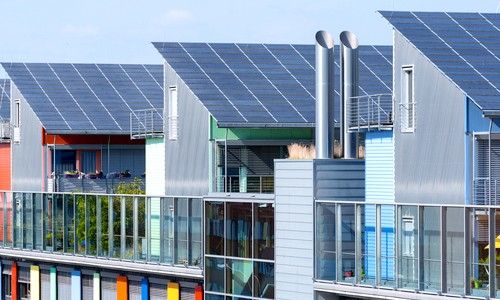 Photo credit: Shutterstock
For the first time ever in Germany—the cloudiest country in western Europe—solar power and other forms of renewable energy created more energy and electricity production than dirty coal. And, in June, Germany set a solar power record, using solar power to generate 50 percent of overall electricity demand for part of a day. 
While Germany is relying heavily on renewable energy today to help fight global warming and climate change, it has had a pretty standard energy evolution. In the 18th century, Germany was burning wood. In the 19th century, it was burning coal. In the 20th century, it was burning oil. Today it's getting electricity from solar and renewables. 
That's a typical evolution for a developed country (that's not controlled by the financial interests of Big Oil). But what if the dozens of developing countries across the globe, that are still stuck in the 18th century and that still rely on burning wood for energy, jumped directly to renewable energy and leapfrogged the whole carbon cycle? 
Can you imagine how that would transform the fight against global warming and climate change? Well, that's exactly what's going on right now in rural India. 
Right now, there are nearly 400 million people across India without electricity, with the majority of those people living in rural areas of the country. They're forced to rely on candles, kerosene and burning wood to light their homes and to do basic things like cooking. The stunning lack of reliable energy production in one of the world's fastest growing countries led the new Indian Prime Minister, Narenda Modi, to call for every home across India to be able to run at least one light bulb by 2019 with the help of solar power. He didn't call for more coal to be burned, or for more oil wells to be dug. He called for solar power. 
That's where companies like Simpa Energy come in. Simpa Energy offers Indians a pay-as-you-go model for solar power, allowing even the poorest Indians in the most rural of areas to have access to clean, green solar power. Simpa Energy customers use their cell phones (which even the poorest of the population have) to purchase a pre-paid code from Simpa, which they then type into a box connected to a solar panel array on their house. Instantly, their home lights up, and they have access to clean and green energy for cooking, cleaning, reading and anything else. 
Right now, Simpa Energy, which was started just three years ago, has nearly 2,000 customers (a customer being one household) and that number is growing by the day. The company projects that its solar power will be reaching 75,000 people across India by the end of this year. But Simpa isn't the only company bringing affordable solar power to India. 
Companies like OMC Power are building "mini" solar power plants in communities across India that are capable of powering large cell phone towers, and are marketing battery-powered LED lanterns. OMC delivers those lanterns to its customers each day, and comes back the following morning to collect the lanterns, and recharge them using the mini solar power plants. This service costs Indians just $2 per month.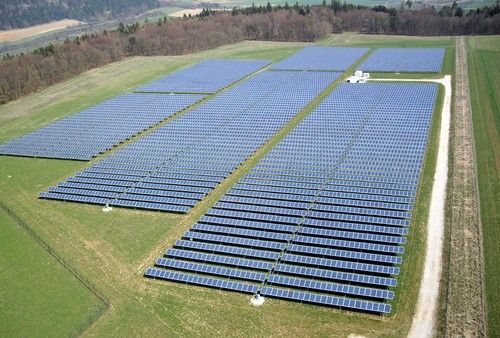 Photo credit: Shutterstock
And there are still other companies that are distributing smaller solar power generators and systems—some that are pocket-sized—across India. A recent report by the International Energy Agency found that it would only cost $48 billion a year to provide universal access to modern energy (renewable forms of energy) to poor people across the world. And, that same report found that there needs to be a $12 billion per year additional investment in mini-grid renewables, like the solar power systems that are expanding across India. 
Speaking about the financial challenges facing solar and other forms of renewable energy going forward, Rupesh Shah, a vice president at Simpa Enegy, told Think Progress that, "We're at a certain scale now that we require a different level of investment. We were able to get by in the first couple of years with grants and things like that, but now we need more commercial capital."
And Justin Guay, associate director of the International Climate Program with the Sierra Club, said, "What is desperately needed is public institutions to step in and provide loan guarantees and other forms of risk-taking capital that can help unlock the investment that's required to really take this from a relatively distributed, small-scale approach to something that really takes on energy poverty and is able to eliminate this problem once and for all."
The bottom-line is that solar power and other renewable forms of energy are the energy of today and of the future, in both developed and developing nations. Not coal. Not oil. Not natural gas. And as the richest country in the world, we need to finally embrace that fact, and lead the world in investing more in these clean and green energies that will be powering our country into the future. 
Each year, Big Oil receives $500 billion in government subsidies. Can you imagine what would happen if that $500 billion went to investing in developing renewable sources of energy instead? Despite what Big Oil executives and their cronies in Washington might say, going green isn't just a choice. It's reality. 
It's the only option we have if we want to save the human race from a climate disaster. So, let's start treating it like that, by investing in a secure energy future for America, and the rest of the world.
EcoWatch Daily Newsletter
Pixabay
By Lisa Wartenberg, MFA, RD, LD
Pears are sweet, bell-shaped fruits that have been enjoyed since ancient times. They can be eaten crisp or soft.
Photon-Photos / iStock / Getty Images Plus
The desert of Australia's Northern Territory has the iconic Ayers Rock, but not much else. Soon, it may be known as home to the world's largest solar farm, according to the Guardian.
Golde Wallingford submitted this photo of "Pure Joy" to EcoWatch's first photo contest. Golde Wallingford
EcoWatch is pleased to announce our third photo contest!

A Boeing 737-800 BCF (Boeing Converted Freighter) is marked "Prime Air" as part of Amazon Prime's freight aircraft during the 53rd International Paris Air Show at Le Bourget Airport near Paris, France on June 22. Mustafa Yalcin / Anadolu Agency / Getty Images
It's Prime Day! The day when thousands of increasingly absurd items are discounted so deeply that you suddenly need items you never knew existed. Yes, I do need a hotdog shaped toaster next to me while I watch this Fast & Furious seven movie box set! And I need it in my house today!
By Peter Sinclair
The weather in many areas across the U.S. has been – and certainly throughout America's heartland was for much of the past winter and spring – frightful.
There's a short window between when a tick bites and when it passes on bacteria or virus.
MSU Ag Communications, Courtesy Dr. Tina Nations, CC BY-ND
By Jerome Goddard
When it comes to problems caused by ticks, Lyme disease hogs a lot of the limelight. But various tick species carry and transmit a collection of other pathogens, some of which cause serious, even fatal, conditions.

tomosang / Moment / Getty Images
By Jessica A. Knoblauch
Say goodbye to one of the dreamiest things about childhood. In the Midwest, fireflies are dying off.
A new Climate Emergency Fund contains more than $625,000 which will go to grassroots climate action groups like Extinction Rebellion and students who have organized weekly climate strikes all over the world. @ExtinctionR / Twitter
By Julia Conley
Heeding the call of grassroots campaigners, several wealthy philanthropists announced Friday a new fund that will raise money for climate action groups around the world.