This website uses cookies to ensure you get the best experience while browsing it. By clicking 'Got It' you're accepting these terms.
The Volkswagen Hippie Bus Is Back and Now It's Electric
Jan. 06, 2016 12:49PM EST
Business
Volkswagen just might win back some fans since its emission scandal with its latest announcement. The car company unveiled two electric car concepts, the e-Golf Touch and the much-anticipated Budd-e microbus, Tuesday during the keynote address on the eve of the 2016 Consumer Electronics Show.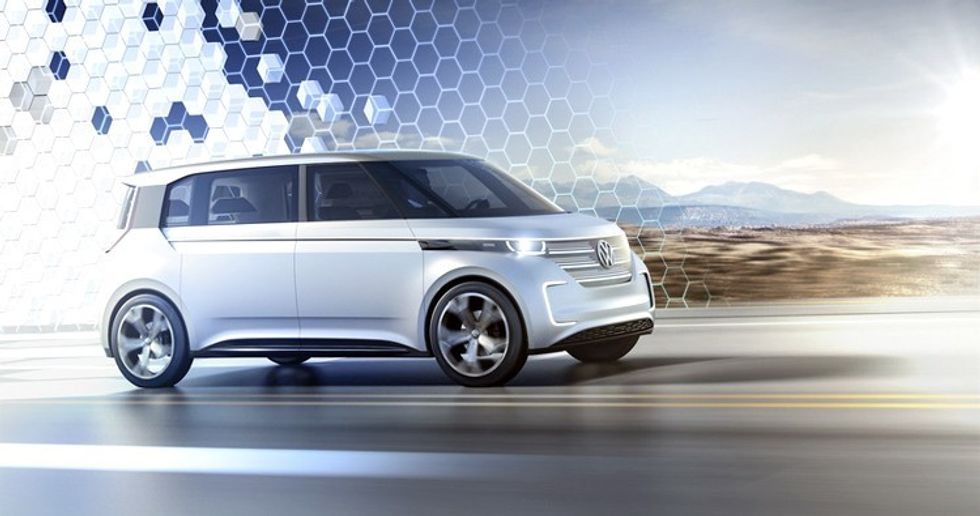 "We want to create a new encounter of mobility," Dr. Herbert Diess, chairman of the Volkswagen Passenger Cars brand, told the audience during his keynote speech. Diess briefly addressed the emissions scandal, but spent most of his time highlighting the unique features of the two all-electric vehicles.
The Budd-e microbus, which received the most attention, has a 101 kilowatt-hour battery (for comparison, Tesla's premier battery is a 90 kilowatt-hour pack), can reach a top speed of 93 miles per hour and boasts a range of 373 miles on a single charge. However, The Verge noted, "you'd likely be looking at well under 300 miles, which is still pretty good for a car that doesn't actually exist yet."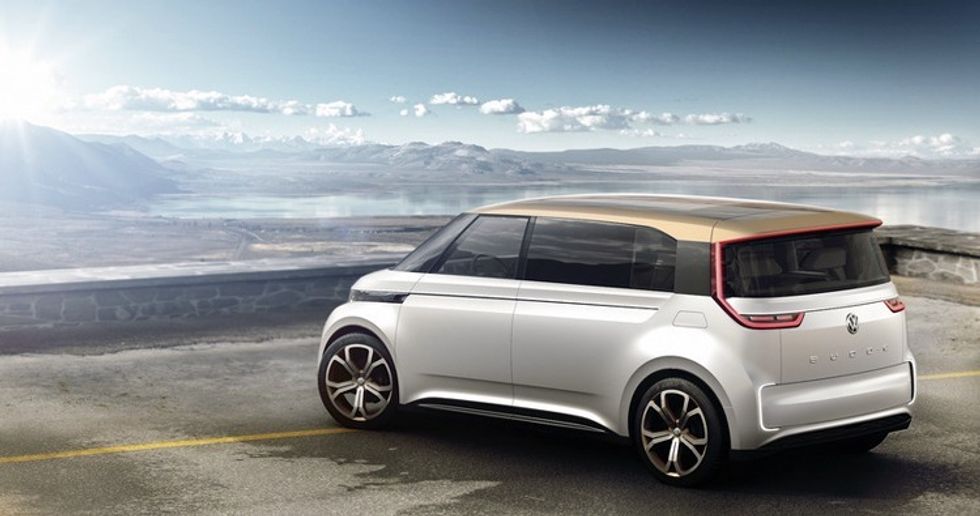 TechCrunch's Sarah Buhr had this to say about the Budd-e:
The Budd-e, a pint-sized version of the company's legendary hippie van looked almost Tron-like as it glowed in the dark onstage—as if to let us know we're now in the future. It also stayed true to what seems to be the automotive theme of the Consumer Electronics Show this year—connection to everything on command. The Budd-e will let you know if a visitor is at the front of your house, what's in your fridge and "make sure your robot cleaner is ready" before you get home, according to one LG exec who came onstage during the presentation.
The car is also equipped to handle package pickup and delivery with a built-in drop box in the back where a delivery person can drop off and pick up packages wherever your car is parked.
Budd-e also seems to be adherent to "the force." The handleless car doors will automatically open at the command of your voice. Diess demonstrated this onstage as the driver inside said politely, "Hello Budd-e, please open the passenger door."
With this concept car, Volkswagen hopes to further integrate your smart car and your smart home—something other car companies are working on too.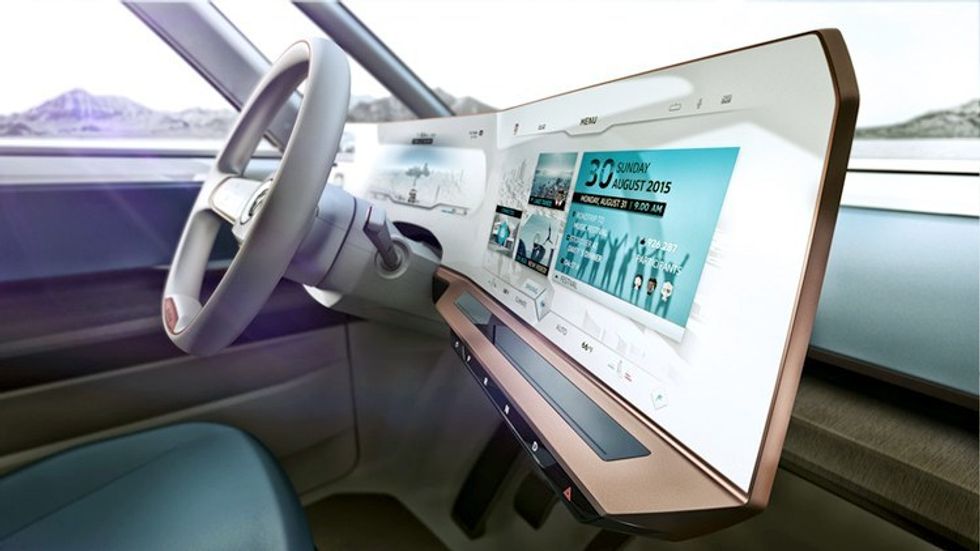 Tech fans loved the car's hyper-connectivity and its other advanced features. "The system is also able to recognize which occupant is giving the commands and react accordingly," Mashable's Nick Jaynes noted. "If, for instance, someone sitting in the left rear seat says, 'It's too hot here,' BUDD-e can immediately lower the temperature in that passenger's zone. How cool (or hot, rather) is that?," Jaynes gushed.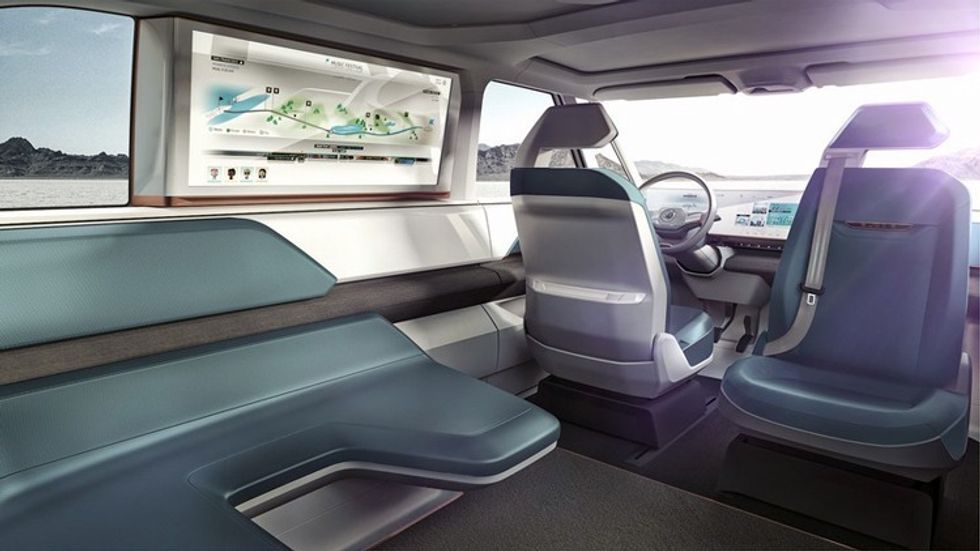 Volkswagen has already attempted two re-releases of the iconic hippie van (2001 and 2011), but neither of them went into production. People (like Jaynes) are optimistic this time, though, because they think, amid the turmoil of the emissions scandal, Volkswagen might fast-track a car like Budd-e into production for an eco-friendly fresh start.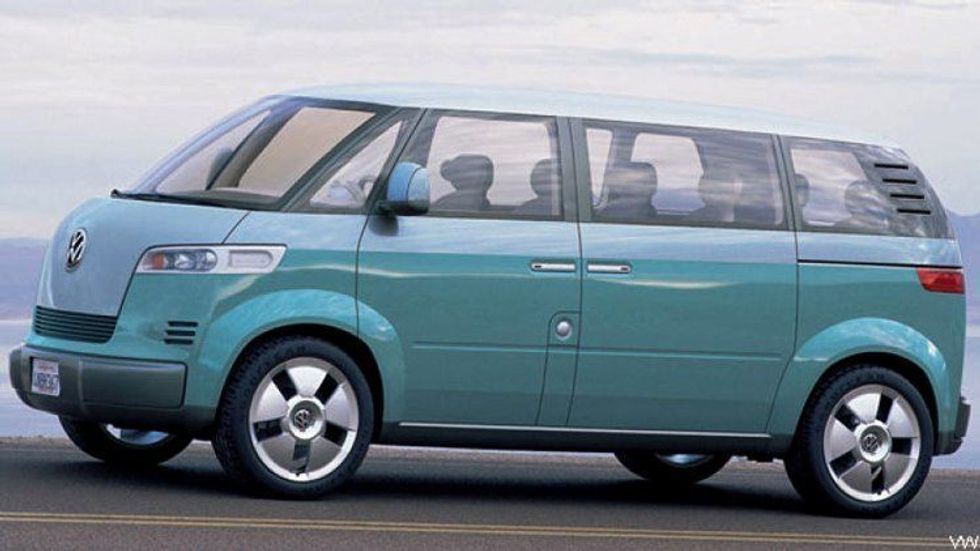 While the e-Golf Touch didn't get as much hype, it was still a crowd pleaser.
TechCrunch's Sarah Buhr had this to say about the car:
The e-Golf Touch is an updated version of the Golf R Touch concept car Volkswagen showcased last year. But this one is electric, comes with a 9.2-inch touchable dashboard resembling an iPad, and is compatible with Apple CarPlay, Android Auto and MirrorLink.
One of the cool things about the e-Golf is the personalization. Different drivers can set preferred driving features in the cloud and upload them onto the tablet dashboard.
Gestures like the waving of your hand can control things like volume and the e-Golf is WiFi-enabled and equipped with phone charging outlets in the front and rear seats of the car. Should no Internet connection be available, the car is also equipped with a USB Type-C port.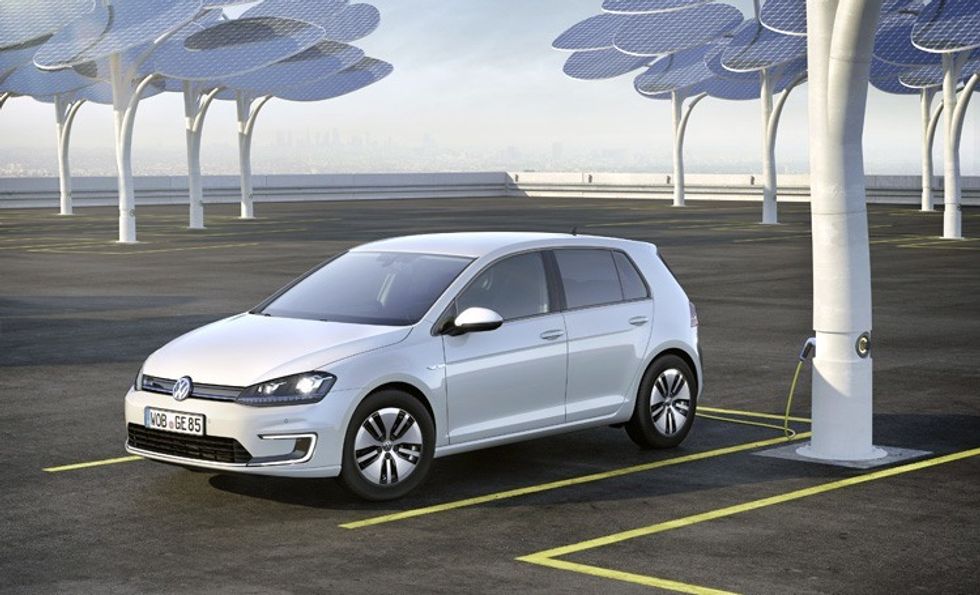 Diess also told the crowd that Volkswagen is moving towards automated driving. "Volkswagen is rapidly entering the digital world, utilizing machine learning and mapping," he said. The company has partnered with Mobileye, a vision technology company with an advanced driver assistance system that is developing self-driving technology.
Autonomous technology got a boost in the public eye this year when Tesla announced it updated its fleet of vehicles to make them semi-autonomous. But whether or not Volkswagen pursues all of this remains to be seen.
Like Faraday Future's much-talked about concept car, it's a "potential future direction of the brand," Volkswagen said in a press release.
Watch Chris Ziegler from The Verge talk about all the cool features of the Budd-e concept car:
YOU MIGHT ALSO LIKE
Germany's Superhighway for Bikes Could Take 50,000 Cars Off the Road Every Day
Feds Sue Volkswagen in Diesel Emissions Scandal
World's First Solar-Hydrogen Residential Development Is 100% Self-Sustaining
Elon Musk Signs Open Letter Proposing Radical Fix to VW's Emission Scandal
EcoWatch Daily Newsletter
Farm waste being prepared for composting. USDA / Lance Cheung

By Tim Lydon
Can the United States make progress on its food-waste problems? Cities like San Francisco — and a growing list of actions by the federal government — show that it's possible.
Pexels
By C. Michael White
More than two-thirds of Americans take dietary supplements. The vast majority of consumers — 84 percent — are confident the products are safe and effective.
The common giant tree frog from Madagascar is one of many species impacted by recent climate change. John J. Wiens /
EurekAlert!
The human-caused climate crisis could cause the extinction of 30 percent of the world's plant and animal species by 2070, even accounting for species' abilities to disperse and shift their niches to tolerate hotter temperatures, according to a study published this week in the journal Proceedings of the National Academy of Sciences.

SolStock / Moment / Getty Images

By Tyler Wells Lynch
For years, Toni Genberg assumed a healthy garden was a healthy habitat. That's how she approached the landscaping around her home in northern Virginia. On trips to the local gardening center, she would privilege aesthetics, buying whatever looked pretty, "which was typically ornamental or invasive plants," she said. Then, in 2014, Genberg attended a talk by Doug Tallamy, a professor of entomology at the University of Delaware. "I learned I was actually starving our wildlife," she said.