This website uses cookies to ensure you get the best experience while browsing it. By clicking 'Got It' you're accepting these terms.
The Ultimate in Off-Grid Transportation: Mini-Fleet-in-a-Box
Feb. 14, 2016 10:48AM EST
Current Motor, an Ann Arbor, Michigan-based electric vehicle (EV) and solar charging station manufacturing company, is taking transportation completely off the grid.
The company's Mini-Fleet-in-a-Box, comes with four of the company's electric cargo motorcycles nestled inside a mobile solar charging stations, meaning energy-independent, emission-free rides.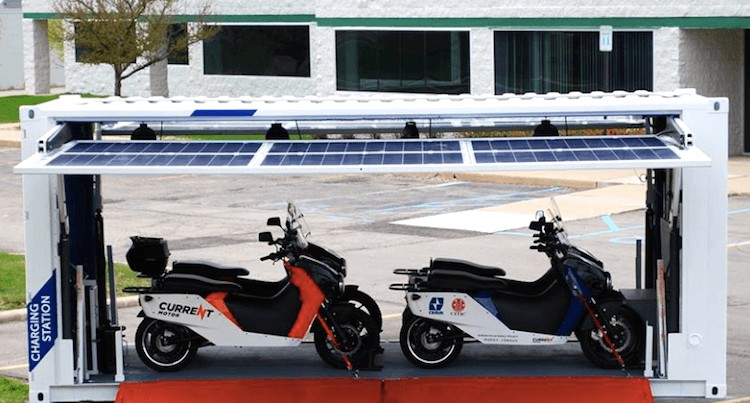 The "Mini-fleets-in-a-Box" is comprised of four electric cargo motorcycles and a patent-pending solar charging station. Photo credit: Current Motor
"Current Motor's Mini-fleet-in-a-Box uses 100 percent renewable, clean, solar generated electricity to charge our zero emissions Electric Cargo Motorcycles, making them among the most sustainable fleet options available," Current Motor executive chair Lauren Flanagan said in a statement. "Current Motor green Mini-fleets are turnkey and self-contained, and literally work out of the box upon delivery to customer sites."
The patent-pending Nb Solar Charging Station is shaped like your standard ISO shipping container. On board is a 22-kilowatt-hour battery and an array of solar panels that can generate up to 2.4 kilowatts (kW) of renewable energy over 24 hours.
The stations provide 8 kW of 120/220 AC power from five charging ports, and come equipped with on board GPS, custom telemetry and radio communications. It can also be customized for commercial applications.
As for the bike, the company's Nb Electric Cargo Motorcycle is powered by 24 70Ah Lithium Ion Manganese Phosphate batteries and has a top speed of 70 mph. Made with high strength niobium micro-alloyed steel, the bike can carry up to 450 lbs., has no belts or gears and can go up to 50 miles per charge. The company says that four of these motorcycles can be fully charged in 5 hours by the Nb Solar Charging Station.
Besides simple transportation, the product is ideal for emergency situations or natural disasters when fossil fuels or power sources aren't readily available. According to Xconomy, "the intended customers are those in the developing world where fuel is expensive or hard to come by, remote mining operations, large global manufacturers, the military, and medical or rescue operations."
Current Motor, which makes all of its products in Michigan, also won the 2015 Michigan MobiPrize in October 2015. Jurors awarded the product for "[providing] an energy independent solution that improves access to remote locations, provides first responder support and helps the mining sector have more sustainable operations."
Current Motor is backed by early stage angel fund BELLE Capital, the State of Michigan and other private equity investors, and has raised $3.4 million to date, Xconomy reported.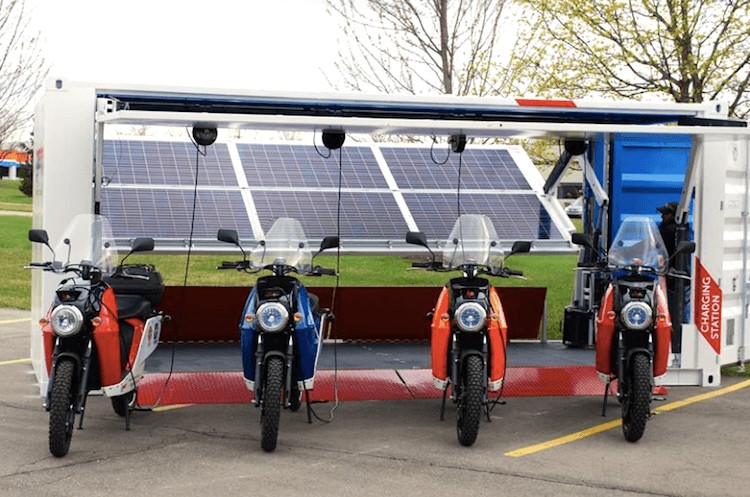 When you're riding on sunshine that means no gasoline costs. Photo credit: Current Motor
"It's a green solution that literally works out of the box," Flanagan, who is also co-managing director at BELLE Capital told Xconomy.
"The doors of the shipping container open almost like flower petals, with the solar panels on the inside," Flanagan said. "You leave it open during the day to charge the batteries and close it up at night. When it's fully open, it has a 22-foot wing span. It's also very mobile—you can put it on a ship, truck, or helicopter and easily move it from place to place."
It's unclear when we'll actually see the product on the market but Flanagan told Xconomy that the company will accelerate its commercialization efforts and plans to raise more capital to expand its sales team. They have "big customers" in Brazil and China already, she added.
Check out the video below to see the charging station and bikes in action.
YOU MIGHT ALSO LIKE 
World's First Cactus Biogas Plant Opens in Mexico
MIT Students Win Elon Musk's Hyperloop Design Competition
This Solar Road Will Provide Power to 5 Million People
Elephant Grass and Prairie Switchgrass: Second Generation Biofuels to Power American Cars
KarinaKnyspel / iStock / Getty Images
2018 saw a number of studies pointing to the outsized climate impact of meat consumption. Beef has long been singled out as particularly unsustainable: Cows both release the greenhouse gas methane into the atmosphere because of their digestive processes and require a lot of land area to raise. But for those unwilling to give up the taste and texture of a steak or burger, could lab-grown meat be a climate-friendly alternative? In a first-of-its-kind study, researchers from the Oxford Martin School set out to answer that question.
Three scissor-tailed flycatcher fledglings in a mesquite tree in Texas. Texas Eagle / CC BY-NC 2.0
By Gary Paul Nabhan
President Trump has declared a national emergency to fund a wall along our nation's southern border. The border wall issue has bitterly divided people across the U.S., becoming a vivid symbol of political deadlock.
PeopleImages / E+ / Getty Images
By Daniel Ross
Hurricane Florence, which battered the U.S. East Coast last September, left a trail of ruin and destruction estimated to cost between $17 billion and $22 billion. Some of the damage was all too visible—smashed homes and livelihoods. But other damage was less so, like the long-term environmental impacts in North Carolina from hog waste that spilled out over large open-air lagoons saturated in the rains.
Hog waste can contain potentially dangerous pathogens, pharmaceuticals and chemicals. According to the state's Department of Environmental Quality, as of early October nearly 100 such lagoons were damaged, breached or were very close to being so, the effluent from which can seep into waterways and drinking water supplies.
This picture taken on May 21, 2018 shows discarded climbing equipment and rubbish scattered around Camp 4 of Mount Everest. Decades of commercial mountaineering have turned Mount Everest into the world's highest rubbish dump as an increasing number of big-spending climbers pay little attention to the ugly footprint they leave behind. DOMA SHERPA / AFP / Getty Images
China has closed its Everest base camp to tourists because of a buildup of trash on the world's tallest mountain.