This website uses cookies to ensure you get the best experience while browsing it. By clicking 'Got It' you're accepting these terms.


The best of EcoWatch, right in your inbox. Sign up for our email newsletter!
The Truth Behind the BP Oil Spill Exposed in 'The Big Fix'
Nov. 13, 2011 07:07AM EST
The Big Fix Opens in NYC Dec. 2 - 8 at AMC Lowes Village 7
A Wide Coalition of Environmental Advocates will Gather for 7 Nights of Awareness and Talk with the Filmmakers and Audience after each 6 p.m. Screening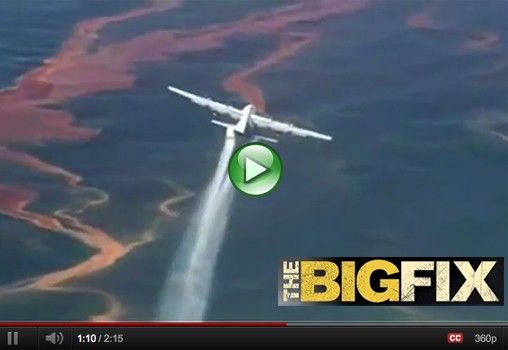 by Paul E. McGinniss
The BP Deepwater Horizon rig exploded on April 20, 2010. Most of us thought the spill was cleaned up and the problem went away. Unfortunately, to a large extent, the event has been supplanted in the media and mass consciousness by other news stories and events from around the world.
After watching the documentary The Big Fix, it is hard to conclude that things are so rosy down in the Gulf. In fact, the bottom line message from this well-documented film, produced and directed by Josh Tickell and Rebecca Harrell-Tickell, is that the BP oil spill in the Gulf never went away and the oil is still spilling. And to top it off, the chemical dispersant, Corexit, which is still being used to clean up the oil, is an extremely toxic substance. The film reports that Corexit is wreaking havoc on the health of the people and marine life in the Gulf.
When you watch how the the Gulf residents captured in The Big Fix have been affected by Corexit and the spill, beware, it is both heart wrenching and frightening. When you see Gulf residents driven to tears by this environmental tragedy, you want to cry with them. Rebecca, herself, was seriously sickened by Corexit during their filming in the Gulf.
When you listen to eco-activist, Jean-Michel Cousteau, son of champion of the seas Jacques-Yves Cousteau, state so emotionally in the film, "We're being lied to," you realize the truth about the Gulf oil spill is being covered up.
When Josh and Rebecca emailed me to say they were opening The Big Fix in NYC at the AMC Loews Village 7, 66 3rd Ave., on Dec. 2 - 8 and wanted to create 7 Nights of Awareness in the theater, I immediately jumped on board. The purpose for the 7 Nights of Awareness is to divulge the truth about what's going on in the Gulf, in addition to stimulating a dialog that will foster positive action and create solutions which will help our planet become less dependent on fossil fuels and sustainable.
Despite the negative events depicted in the film, the filmmakers make a point to highlight an endearing bayou local. He wears a yellow t-shirt and dons a Mardi Gras-like necklace across his tanned neck while installing solar panels on the metal roof of his modest home. Tickell narrates at the end and urges the audience to "unite and take a stand" and deal with the truth, and get on with implementing clean energy solutions that are at hand. Tickell concludes the film by asking, "In a struggle for true justice and a better world, where do you stand?"
To date, the inspiring and passionate people and groups that have come on board for the 7 Nights of Awareness which happens each night after the 6 p.m. screening, include, NYC-based Fabien Cousteau, grandson of Jacques and son of Jean-Michel Cousteau, and founder of Plant A Fish; Rocky Kistner, Natural Resources Defense Council; Stefanie Penn Spear, founder and executive director of EcoWatch.org; Justin Bloom, Marc Yaggi and colleagues from Waterkeeper Alliance; Dan Miner, founder of Beyond Oil NYC; New Orleans native and NYC-based architect, Drew Lang; Paul Mankiewicz, The Gaia Institute; Margaret Lydecker, Green Drinks NYC; Denise Katzman, EcoEdifier and Anti-Fracking activist; Stephen Del Percio, GreenBuildings NYC; Lyna Hinkel, 350.org NYC; Peter Fleischer, Empire State Future; David Braun, co-founder of United for Action and the National Grassroots Coalition, and a key member of the Gasland team; Clare Donohue, Sane Energy Project; Hilary Baum, Director of Baum Forum and founding Coordinating Director of Food Systems Network NYC; Leah Barber, Interdependence Movement, and Pamela Lippe, Earth Day NY.
For more information about the 7 Nights of Awareness, email me at paul@7nightsofawareness.com. Visit TheNewYorkGreenAdvocate.com where this review was originally posted.

For more information about the film, click here.
EcoWatch Daily Newsletter
Did you know that more than a third of food is wasted or thrown away every year? And that only 25 percent of it would be enough to feed the 795 million undernourished people in the world? That's why today is Stop Food Waste Day, a chance to reflect on what you can do to waste less of the food you buy.
Stop Food Waste Day is an initiative of food service company Compass Group. It was launched first in the U.S, in 2017 and went global the year after, making today it's second worldwide celebration.
Flames and smoke are seen billowing from the roof at Notre-Dame Cathedral on April 15 in Paris, France. Veronique de Viguerie / Getty Images
When Paris's Notre Dame caught fire on April 15, the flames threatened more than eight centuries of culture and history. The fire evoked shock, horror and grief worldwide. While the cathedral burned, French President Emmanuel Macron expressed determination to rebuild what the French regard as a sacred site.
An artist's impression of NASA's InSight lander on Mars. NASA / JPL-CALTECH
Scientists have likely detected a so-called marsquake — an earthquake on Mars — for the first time, The National Aeronautics and Space Administration (NASA) announced on Tuesday.
Hero Images / Getty Images
Across the political aisle, a majority of American parents support teaching climate change in schools even though most teachers currently do not.
By Andrea Germanos
Lawyer and visionary thinker Polly Higgins, who campaigned for ecocide to be internationally recognized as a crime on par with genocide and war crimes, died Sunday at the age of 50.
She had been diagnosed with an aggressive cancer last month and given just weeks to live.
The Anopheles stephensi mosquito, which carries malaria. CDC / Jim Gathany
The world's first malaria vaccine was launched in Malawi on Tuesday, NPR reported. It's an important day in health history. Not only is it the first malaria vaccine, it's the first vaccine to target any human parasite.