This website uses cookies to ensure you get the best experience while browsing it. By clicking 'Got It' you're accepting these terms.
Arsenic. Cadmium. Chromium. Radon. Lead. These are just a few of the toxins used in hydraulic fracturing, commonly known as fracking, a controversial drilling process to retrieve oil and natural gas from shale deposits under the surface of the Earth.
Concerns about the process have been mounting, as studies have linked it to a host of environmental and public health problems, from increased infant mortality and low birth weight babies to the release of cancer-causing radioactive gas, contamination of drinking water and earthquakes. Fracking also releases methane, which is a far more potent greenhouse gas than carbon dioxide.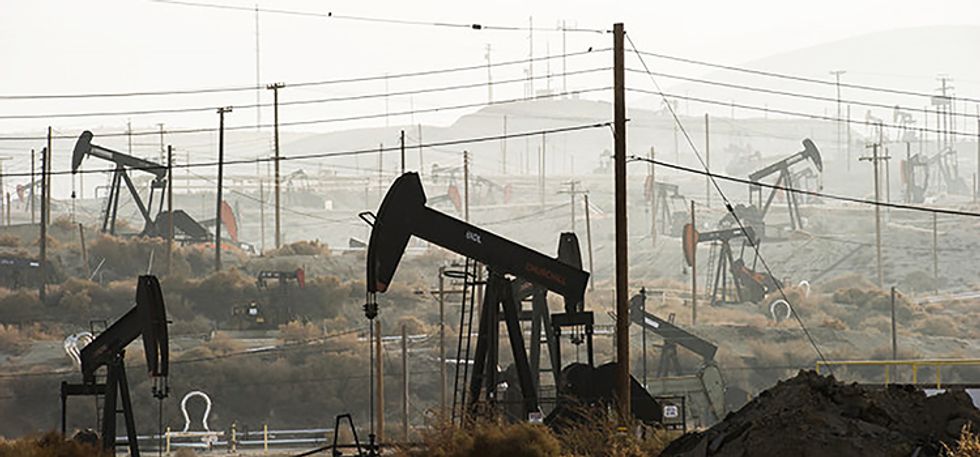 According to a 2015 report by the nonprofit FracTracker Alliance, there are at least 1.7 million fracked wells across the U.S., with the most in Texas, Kansas and Oklahoma, each with more than 200,000 wells. (Prior to 2009, Oklahomans experienced an average of two earthquakes a year; these days, there are two every day).
Yet proponents of fracking argue that it has contributed to the nation's economic health. A 2015 study by the National Bureau of Economic Research found that the drilling boom fueled by fracking technology added around 725,000 jobs between 2005 and 2012.
The issue has become a political hot-button issue. While Republicans are generally all for it, fracking has polarized Democrats, with New York Gov. Andrew Cuomo signing a bill to ban it in the Empire State, while presidential contender Hillary Clinton gives it her tentative support, with some added regulations.
While supporters have described fracking as a bridge to renewables (since it burns cleaner than coal, though the methane released by the process may in fact make fracking worse than coal), fracktivists say it's a costly and dangerous distraction from what the nation should be doing on the energy front: moving toward a low-carbon future based on renewables.
"Natural gas is no 'bridge,' no transition to renewables," wrote Josh Fox, activist and filmmaker known for his Oscar-nominated 2010 documentary, Gasland. "It's a whole new fossil fuel regime that would have dire consequences ... for the climate."
Indeed, there are significant pros and cons, making fracking a highly controversial issue. The infographic below, created by 911Metallurgist.com, dissects the details of fracking.

YOU MIGHT ALSO LIKE
5 Huge Climate Success Stories 10 Years After the Release of Al Gore's 'An Inconvenient Truth'
Faced by Falling Oil Prices and Plunging Profits, Big Oil Invests in Renewables
Global Wave of Resistance to Keep Fossil Fuels in the Ground Escalates
EPA Finalizes Methane Emissions Rules, New Regs Fail to 'Stop Dangerous Methane Leaks From Existing Fracking Wells'
EcoWatch Daily Newsletter
Coldplay is releasing a new album on Friday, but the release will not be followed by a world tour.
Ash dieback is seen infecting a European ash (Fraxinus excelsior) in Bottomcraig, Scotland, UK on Aug. 10, 2016.
nz_willowherb / Flickr
Scientists have discovered a genetic basis to resistance against ash tree dieback, a devastating fungal infection that is predicted to kill over half of the ash trees in the region, and it could open up new possibilities to save the species.
Truth in Action is a day-long global conversation on the climate crisis and how we solve it. The Climate Reality Project
Former Vice President Al Gore kicked off 24 hours of climate talks in the U.S. and 77 other countries around the world Wednesday night.
Activists highlighted the climate emergency outside Scottish Government headquarters at St Andrew's House in Edinburgh on Oct. 13, 2017. Usage of the term "climate emergency" spiked in 2019, according to Oxford Dictionaries.
By Jessica Corbett
Climate advocates and experts celebrated Oxford Dictionaries' announcement Wednesday that "climate emergency" is the Oxford Word of the Year 2019.
By Kieran Cooke
There could be a way of countering one key aspect of the climate emergency by making much greater use of a widely-available plant: bamboo building.