This website uses cookies to ensure you get the best experience while browsing it. By clicking 'Got It' you're accepting these terms.
The Tar Sands Oil Spill That Can't Be Stopped
Jul. 23, 2013 10:55AM EST
Energy
By Andy Rowell
This disaster has been years in the making, but finally the reality of tar sands mining may be hitting home.
According to an article in the Canadian Star, underground tar sands operations have resulted in four separate oil spills that have been leaking over the last six weeks. The spills have been on-going since May, with some 26,000 barrels of bitumen mixed with surface water having been removed, including over 4,500 barrels of bitumen.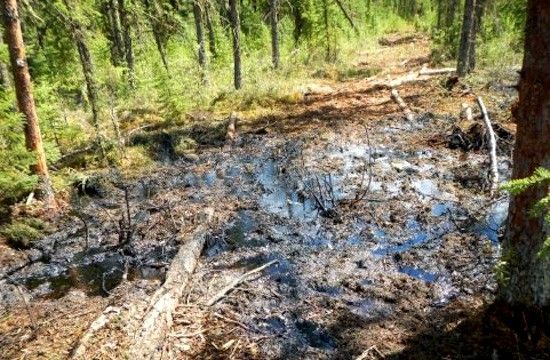 The paper points out that the spills—although relatively small—cast doubt on the safety of underground extraction methods.
And indeed they do: if you think about BP's catastrophic disaster in the Gulf, at least there was a traditional well-head that the company could plug. But no such thing exists for the tar sands.
The company responsible, Canadian Natural Resources Limited, uses an in situ or underground extraction method of extracting the oil, which is called "cyclic steam stimulation."
This involves injecting thousands of gallons of boiling hot, high-pressure steam into deep underground reservoirs. This in turn liquefies the bitumen and creates cracks through which the bitumen flows. It is then pumped to the surface. The problem is that it that the company has created fractures from the oil reservoir reaching the surface that they did not expect. Oil has been flowing to the surface at different sites.
The company has so far failed to stop the latest spill which has killed dozens of animals such as beavers and loons as well as contaminating a lake and local forest. The latest spill has contaminated at least 40 hectares.
The paper quotes one scientist saying that everybody in the company is concerned and the government "is freaking out about this. We don't understand what happened. Nobody really understands how to stop it from leaking, or if they do they haven't put the measures into place."
"This is a new kind of oil spill and there is no 'off button,'" Keith Stewart, an energy analyst with Greenpeace who also teaches at the University of Toronto, told the paper. "You can't cap it like a conventional oil well or turn off a valve on a pipeline."
"You are pressurizing the oil bed so hard that it's no wonder that it blows out," adds Stewart. "This means that the oil will continue to leak until the well is no longer pressurized."
And that could be months.
This problem could get more common as in situ tar sands extraction is expected to account for 40 percent of Canada's oil sands production by 2020.
Meanwhile, tomorrow, the UK Tar Sands Network—which is leading the anti-tar sands fight in the UK—will release a new info-graphic website that showcases two possible future energy scenarios for 2035: the one we are currently headed for which would result in runaway climate change; and one without fossil fuels.
"We're standing at a crossroads," said Jess Worth, from the UK Tar Sands Network. "It's time for humanity to make a choice. Do we sit back and allow fossil fuel companies and oil-friendly governments to dig, drill and frack us into a dark and dirty future? Or do we stand together with communities around the world to stop these extreme energy projects, and head down a different path?"
Visit EcoWatch's TAR SANDS page for more related news on this topic.
——–

EcoWatch Daily Newsletter
Protesters gathered outside US Bank and Wells Fargo locations around the U.S. to protest investment in the Dakota Access Pipeline on Dec. 1, 2016. This photo is from a protest outside US Bank in south Minneapolis, Minnesota.
Fibonacci Blue / CC BY 2.0
By Jake Johnson
As a growing number of states move to pass laws that would criminalize pipeline protests and hit demonstrators with years in prison, an audio recording obtained by The Intercept showed a representative of a powerful oil and gas lobbying group bragging about the industry's success in crafting anti-protest legislation behind closed doors.
Reposted with permission from our media associate Common Dreams.

DESIREE MARTIN / AFP / Getty Images
Wildfires raging on Gran Canaria, the second most populous of Spain's Canary Islands, have forced around 9,000 people to evacuate.
Wolves in Mount Rainier, Washington. Ron Reznick / VW Pics / Universal Images Group via Getty Images
The last four members of an embattled wolf pack were killed in Washington State Friday, hours before the court order that could have saved them.
Aerial view of lava flows from the eruption of volcano Kilauea on Hawaii, May 2018. Frizi / iStock / Getty Images
Hawaii's Kilauea volcano could be gearing up for an eruption after a pond of water was discovered inside its summit crater for the first time in recorded history, according to the AP.
Plateau Creek near De Beque, Colorado, where land has been leased for oil and gas production. Helen H. Richardson / The Denver Post / Getty Images
By Randi Spivak
Slashing two national monuments in Utah may have received the most attention, but Trump's Interior Department and U.S. Forest Service have been quietly, systematically ceding control of America's public lands to fossil fuel, mining, timber and livestock interests since the day he took office.
Global SO2 Emission Hotspot Database / Greenpeace
A new report by Greenpeace International pinpointed the world's worst sources of sulfur dioxide pollution, an irritant gas that harms human health. India has seized the top spot from Russia and China, contributing nearly 15 percent of global sulfur dioxide emissions.
The huge surge this year in Amazon deforestation is leading some European countries to think twice about donations to the Amazon Fund. LeoFFreitas / Moment / Getty Images
By Sue Branford and Thais Borges
Ola Elvestrun, Norway's environment minister, announced Thursday that it is freezing its contributions to the Amazon Fund, and will no longer be transferring €300 million ($33.2 million) to Brazil. In a press release, the Norwegian embassy in Brazil stated:
Gina Lopez, the Philippine secretary of the environment, at a meeting with residents affected by a mine tailing disaster. Keith Schneider
Gina Lopez, a former Philippine environment secretary, philanthropist and eco-warrior, died on Aug. 19 from brain cancer. She was 65.