This website uses cookies to ensure you get the best experience while browsing it. By clicking 'Got It' you're accepting these terms.
The Story of Broke Helps Build a Better Future
Nov. 08, 2011 07:28AM EST
Insights + Opinion

On Nov. 8, the new Story of Stuff Project movie—The Story of Broke: Why There's Still Plenty of Money to Build a Better Future—was released.
The concept for this new movie was born, quite frankly, of frustration.
You and I both know that a better future is possible—that we can make Stuff in ways that are safe and healthy and fair. We know that clean energy and non-toxic chemicals exist. As a matter of fact, I just spent a few days with a group of Sustainability Engineers in Australia who know how to build everything from buildings to whole cities that conserve energy and water and reduce pollution, while also facilitating a strong community life.
In fact, many better alternatives have been around for decades. Amory Lovins laid out a plan for a clean energy revolution when I was in grade school, which was more than a few years ago! Janine Benyus's brilliant call for remaking our materials economy with biomimicry—technologies that mimic nature, rather than destroy it—was published a decade ago.
So, why does today's resource-consuming, pollution-spewing, toxic-laden dinosaur economy keep chugging on despite all the safer, cleaner and cheaper alternatives?
One key reason is that we're propping it up with our taxes, funneling billions of dollars more into this dinosaur economy than into the better alternatives.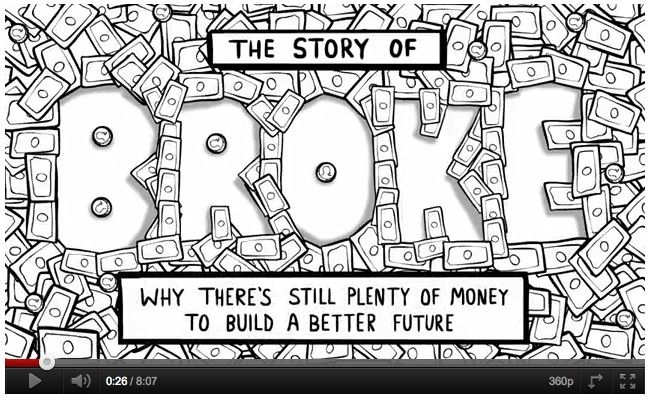 Every year, you and I pitch some of our money into the shared public trough. The idea is that our governments use this money for the public good—for public safety, education, environmental protection and helping those in need. Some public money also gets used to help businesses—to encourage job creation or spur technological innovation, for instance. Now, while I'm all for the government using our shared money to help businesses that help us all, that's not always what happens.
In our new movie, we outline numerous examples of the dumb choices our elected leaders have been making with our money: handing out tax breaks for oil companies reaping record profits; building public roads that only go to one place—a new Walmart; granting permits to mine public lands at prices set in 1872; and offering public insurance for corporations doing risky things, like building nuclear reactors.
The truly frustrating thing about this is that we're constantly told our governments are broke, that there's no money to invest in a better future.
As we point out in the movie, that's bull.
You see, we're not really broke—our public money has just been hijacked. And I'm convinced that by working together, we can get it back.
It's high time we gave a leg up to the kinds of cleaner, healthier industries we need for the century ahead. Its time we put our money behind businesses that will help build a better future. Then, finally, we'll see all these fabulous solutions move off the drawing board and into the world.
To watch the The Story of Broke: Why There's Still Plenty of Money to Build a Better Future, click here.
For more information on The Story of Stuff Project, click here.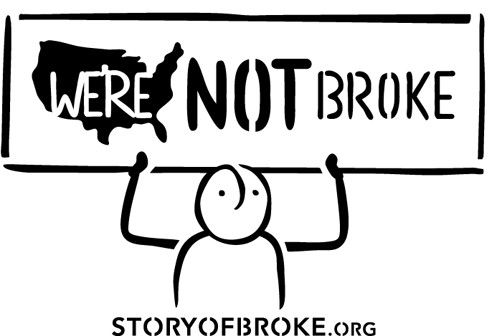 EcoWatch Daily Newsletter
Oil palm plantations in northeastern Borneo, state of Sabah, Malaysia. Recently planted oil palms can be seen in the bright green grassy areas and a tiny bit of natural rainforest still struggles for survival farther away. Vaara / E+ / Getty Images
A fuel truck carries fuel into a fracking site past the warning signs Jan. 27, 2016 near Stillwater, Oklahoma. J Pat Carter / Getty Images
By Jessica Corbett
For more than three decades, the U.S. government has mismanaged toxic oil and gas waste containing carcinogens, heavy metals and radioactive materials, according to a new Earthworks report — and with the country on track to continue drilling and fracking for fossil fuels, the advocacy group warns of growing threats to the planet and public health.
European Union blue and gold flags flying at the European Commission building in Brussels, Belgium. 35007/ iStock / Getty Images Plus
Newly adopted guidelines set forth by the European Commission Tuesday aim to tackle climate change by way of the financial sector. The move comes to bolster the success of the Sustainable Action Plan published last year to reorient capital flows toward sustainable investment and manage financial risks from climate change, environmental degradation and social issues.
Prime Minister Justin Trudeau delivering remarks to supporters at a Liberal Climate Action Rally in Toronto, Ontario on March 4. Arindam Shivaani / NurPhoto / Getty Images
Canadian Prime Minister Justin Trudeau announced Tuesday that his government would once again approve the expansion of the Trans Mountain pipeline, which would triple the amount of oil transported from Alberta's tar sands to the coast of British Columbia (BC).
An exhausted polar bear wanders the streets of Norilsk, a Siberian city hundreds of miles from its natural habitat. IRINA YARINSKAYA / AFP / Getty Images

An exhausted, starving polar bear has been spotted wandering around the Siberian city of Norilsk, Reuters reported Tuesday. It is the first time a polar bear has entered the city in more than 40 years.
Bumblebees flying and pollinating a creeping thyme flower. emeliemaria / iStock / Getty Images
It pays to pollinate in Minnesota.