This website uses cookies to ensure you get the best experience while browsing it. By clicking 'Got It' you're accepting these terms.

Solar companies like GRID Alternatives are changing lives, and Solar Energy Industries Association captured it on film during a job fair at Solar Power International in Anaheim, California in September.
The U.S. solar industry employs 174,000 Americans nationwide, but this number is so much more than a piece of data. This number represents the people who are directly behind an energy revolution, whose stories encapsulate the very essence of solar's character.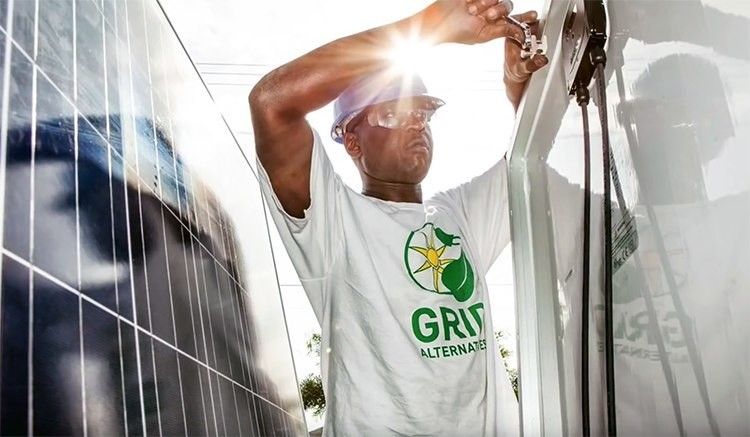 When it comes to both ethnic and gender diversity, the solar industry surpasses the oil, gas and coal industries. Photo credit: GRID Alternatives
174,000 are transforming America.
The solar workforce is diversifying our nation's power grid—through the rooftops of your homes, your community's solar gardens, churches and businesses and through your utility's large-scale solar plants.
Their work updating America's electric grid with 21st century technologies, like solar, is offering consumers more choices and diversifying our power sources.
But what 174,000 does not immediately represent is the growing diversity of people behind the number. According to The Solar Foundation's most recent jobs census, solar is for everyone.
When it comes to both ethnic and gender diversity, the solar industry surpasses the oil, gas and coal industries. For example, at 16.3 percent, the solar industry's employment rate for Latino or Hispanic individuals is three percentage points higher than the entire U.S. employment rate for Latinos or Hispanics. Women also account for 21.6 percent of the solar industry's total workforce.
With the demand for solar energy now higher than ever, the workforce is projected to grow by more than 36,000 jobs by the end of the year alone. And the industry is ramping up its training and recruitment opportunities to ensure its workforce continues to be as diverse as its consumers.
In fact, the solar industry is committed to becoming the most diverse energy sector in the nation, as Americans from all walks of life take advantage of the benefits of solar and its cascading price tag.
Solar already employs a higher percentage rate of veterans than the total U.S. workforce, but the industry upped the ante this spring by committing to having 50,000 U.S. veterans working in solar by 2020.
But the industry cannot keep its commitment to provide well-paying jobs for more Americans if Congress makes a wrong decision on a looming federal policy. The solar investment tax credit (ITC) provides a 30 percent tax credit to commercial and residential solar users, which has helped the solar industry crack 22 gigawatts for the first time in history this summer.
Under the policy, total U.S. solar capacity is expected to double over the next two years. But if the ITC is allowed to expire from its current levels on Dec. 31, 2016, 100,000 jobs could be lost nationwide.
There is more work to do, and more Americans who are eager to help solar drive America to its new clean energy future. Tell Congress 174,000 isn't enough.
YOU MIGHT ALSO LIKE
Don't Let Wall Street Leave You Behind: It's Time to Divest From Fossil Fuels
26% of the World Will Run on Renewables by 2020, Says IEA
Koch Brothers + 11 Other Special Interest Groups Wage War on Solar
Bloomberg Analysis: It Has Never Made Less Sense to Build Fossil Fuel Power Plants
EcoWatch Daily Newsletter
Large food companies are following in the footsteps of fast-food restaurants such as Burger King and KFC by offering meat alternatives. Getty Images
By Elizabeth Pratt
Hormel, Kellogg's, and Kroger are among the large companies now planning to offer "fake meat" products at grocery stores.
Experts say the trend toward plant-based meats coincides with consumers' desires to eat less meat.
However, experts urge consumers to closely check package labels as a product isn't necessarily healthy just because it's described as plant-based.
In grocery stores and fast-food outlets around the U.S., a revolution is taking place.
Colombia rainforest. Marcel Oosterwijk / CC BY-SA 2.0
Many of us think of the Amazon as an untouched wilderness, but people have been thriving in these diverse environments for millennia. Due to this long history, the knowledge that Indigenous and forest communities pass between generations about plants, animals and forest ecology is incredibly rich and detailed and easily dwarfs that of any expert.
picture-alliance / Newscom / R. Ben Ari
By Wesley Rahn
Plastic byproducts were found in 97 percent of blood and urine samples from 2,500 children tested between 2014 and 2017, according to a study by the German Environment Ministry and the Robert Koch Institute.

Pexels
Medically reviewed by Daniel Bubnis, MS, NASM-CPT, NASE Level II-CSS
Hot yoga has become a popular exercise in recent years. It offers many of the same benefits as traditional yoga, such as stress reduction, improved strength, and flexibility.
Lara Hata / iStock / Getty Images
By SaVanna Shoemaker, MS, RDN, LD
Rice is a staple in many people's diets. It's filling, inexpensive, and a great mild-tasting addition to flavorful dishes.
An image of the trans-alaskan oil pipeline that carries oil from the northern part of Alaska all the way to valdez. This shot is right near the arctic national wildlife refuge. kyletperry / iStock / Getty Images Plus
The Trump administration has initialized the final steps to open up nearly 1.6 million acres of the protected Alaskan National Wildlife Refuge to allow oil and gas drilling.