This website uses cookies to ensure you get the best experience while browsing it. By clicking 'Got It' you're accepting these terms.
The Role of the Worm in Recycling Wastewater
Apr. 23, 2016 09:24AM EST
Business
Water, as we all know, is a terrible thing to waste. But for businesses that go through a lot of water—dairy farmers, wineries and sewage plants—vast quantities of wastewater is an unfortunate byproduct.
But since 1995, Chilean company BioFiltro has recycled more than 28 billion gallons of water to date with this humble organism: the worm.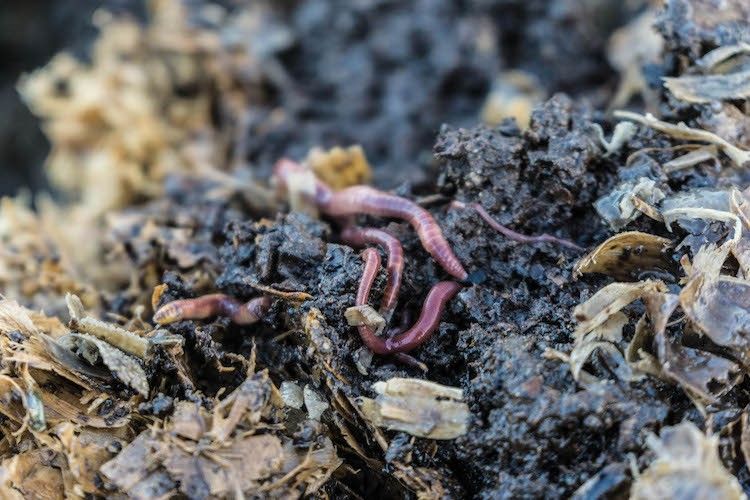 Red worms remove up to 99 percent of wastewater contaminants in four hours in the BIDA System.
The worm's invaluable contribution to crop health goes all the way back to Charles Darwin, who detailed their digestive capabilities in his 1881 book, The Formation of Vegetable Mould Through The Action of Worms.
BioFiltro's BIDA System is a closed-loop biological wastewater treatment system. The worm-and-bacteria powered process can remove up to 99 percent of Biological Oxygen Demand (BOD) and Total Suspended Solids (TSS) and 70-90 percent removal of nitrogen, oil and grease in four hours, according to BioFiltro's regional manager Mai Ann Healy.
Healy told EcoWatch that "most other treatment systems require days, if not weeks, to achieve these results."
BioFiltro currently has 129 facilities installed in six countries. They process the wastewater from the Chilean Air Force Base on Antarctica as well as the Atacama Desert, which is the driest desert in the world. The company is currently constructing plants in California to serve the needs of food processors, wineries, waste haulers and sanitary waste, Healy said.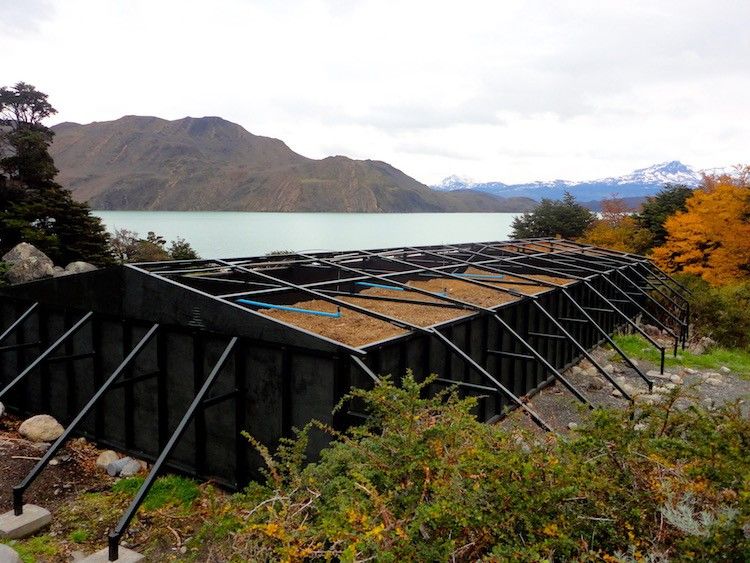 The BioFiltro plant in Torres del Paine National Park in Patagonia, Chile.
Recently, the company teamed up with Fetzer Vineyards to become the first winery the U.S. to use the system to process 100 percent of its wastewater. The Mendocino, California-based winery will use "billions" of earthworms to process its winery wastewater during the 2016 harvest season, a press release states. In doing so, Fetzer will accrue energy savings up to 85 percent over current wastewater treatment technologies.
Healy took the time to answer a few of EcoWatch's questions via email.
EcoWatch: What makes worms so good at filtering wastewater?
Healy: Worms in and of themselves are not great at filtering wastewater. Rather, worms target the solids (or TSS) and break this waste down in their stomachs. Their excrement (worm castings) are rich in microbial activity.
This bacteria is aerobic, or needs air to function, and the burrowing earthworms create air channels throughout our system thereby bringing air to these tiny soldiers and creating an optimum living environment. This symbiotic relationship between worms and bacteria is what powers our systems, as the bacteria target the BOD of wastewater, the worms target the TSS and nitrogen.
Ultimately, our BIDA System converts wastewater into a reusable asset and contaminants into nutritious fertilizer onsite.
EcoWatch: Can I drink worm-filtered water?
Healy: You cannot drink the water that comes straight out of our system. In the wastewater world, the term is primary, secondary and tertiary filtration. Our systems as a stand-alone provide secondary filtration. Water from secondary filtration can be reutilized for select agricultural purposes but not human consumption. Water for human consumption must have tertiary filtration which is a disinfection process.
EcoWatch: Who started the company and why?
Healy: The first commercial scale plant was installed in 1995 by our chief technology officer, Alex Villagra. He first started studying the ability of worms to digest waste and wastewater while he was studying at the University of Chile and accredits his continued interest to the fact that "oftentimes the answers to the world's most complex problems are right in front of us—products of billions of years of research and development, mother nature shows us, through her natural processes and designs, that she does know best."
Villagra spent many years going through iterations of design, bacteria and worms. In 2010, Villagra teamed up with Matias Sjogren and Rafael Concha, all three of whom are engineers, to form what is now BioFiltro. The mission was to scale and globalize this revolutionary approach as all three are inspired to show the world how natural processes are capable of not only treating wastewater in a more efficient way, but also procuring a safer environment for future generations.
EcoWatch: Why are earthworms/microbes ideal for winery wastewater?
Healy: Winery wastewater is rich in sugars—worms and bacteria love sugar. The amount of worms present in our system is related to the wastewater quality—facilities that discharge water high in sugars, proteins, and fats (so wineries, milk/cheese/ice cream plants, slaughterhouses) have a very dense worm population.
EcoWatch: Are there really billions of worms in Fetzer's system?
Healy: We have some systems that achieve worm densities of 12,000 worms per cubic yard and that's not counting all the microscopic biology present. Fetzer's system will have billions of worms and bacteria working tirelessly to reduce waste.
EcoWatch: How big or deep is the BIDA System? What does inside of it?
Healy: The layers are described here but essentially our BIDA System is an open-top structure, typically made out of concrete (concrete floor, 4 walls, open top). The layers, from bottom to top, are 1. drainage basins placed on the floor which create an air chamber; 2. geotextiles; 3. river cobble; 4. wood shavings. The size depends on how many gallons will be applied per day as well as the contaminant level—the dirtier the water, the larger our system.
When BioFiltro commissions a plant, we inoculate the wood shavings with a specific mix of worms and bacteria. Our systems are modular and scalable, so we can serve the needs of an individual household up to mega food processors. Our largest facility is a 2 million gallon per day food processor in Chile.
EcoWatch: What kind of maintenance does it require?
Healy: Our telemetry system is constantly monitoring various water quality parameters so that BioFiltro can ensure optimum system performance. Major maintenance tasks are executed by BioFiltro and consist of removing the worm castings. Over time, the top layer turns into castings (worm poop), which is a natural and highly nutritious fertilizer, and the castings must be harvested to keep the system aerobic. When we do this, we simply replenish with a layer of fresh wood shavings. Occasionally BioFiltro must also separate and remove worms from the system as they multiply exponentially.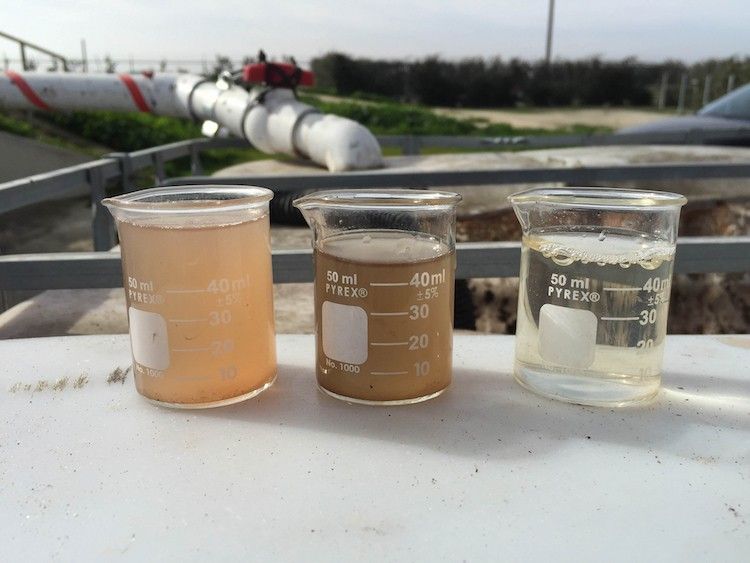 BioFiltro's treated wastewater can be reutilized for certain agricultural purposes.
EcoWatch: What makes the BIDA System unique? What are some of the advantages of using it?
Healy: It's energy-efficient. We use up to 95 percent less energy than traditional wastewater technologies to deliver the same, if not better, quality effluent. Many dischargers could spend hundreds of thousands of dollars, if not millions, each year just to power the aerators used to clean their water. Fetzer, for example, is expecting to reduce its energy consumption by 1 million kWh each year as a result of implementing our system.
It's natural. Our standalone BIDA System does not require the use of any chemicals. It's also virtually odor-free as we process the wastewater within approximately four hours of being discharged from the client's facility.
It's sludge-free. Since our worms and bacteria digest everything there is no sludge, which is a typical byproduct of wastewater treatment. The only "byproduct" of our system is the nutritious castings which are actually a highly sought-after value-added product.
It's simple to operate. We design our system with the client in mind and, thanks to our telemetry monitoring system, can provide a largely hands-off wastewater treatment solution. The client can therefore focus on their core business while our system runs automatically and mostly autonomously.
The BIDA System is a decentralized closed system. By offering a complete wastewater treatment system that is easy to operate, we empower rural clients and communities who otherwise would have no access to fresh water. For example, we have a site in Patagonia, in Torres del Paine National Park, which is inaccessible by car and needs to treat its water so that it does not pollute the beautiful landscape around it. There, we enable them to responsibly care for their site. In other communities, we empower those with limited access to recycle water for agricultural purposes.
EcoWatch: What are the goals of the company?
Healy: The goal is to prove that this natural process, a product built on 21 years of R&D, offers the best solution to wastewater technology. We have treated more than 28 billion gallons of wastewater. Our motivation is to implement water filtration systems that reduce dependency on freshwater sources while improving the environment in which our clients operate.
YOU MIGHT ALSO LIKE
One of the World's Largest Hospitality Chains to Grow Its Own Vegetables at 1,000 Hotels
Costco Lends Money to Farmer to Buy More Land to Meet Growing Demand for Organics
3 Solar Ovens That Give You the Power to Cook With the Sun
World's First Plastic Fishing Company Wants to Rid the Oceans of Plastic Pollution
EcoWatch Daily Newsletter
A timber sale in the Kaibab National Forest. Dyan Bone / Forest Service / Southwestern Region / Kaibab National Forest
By Tara Lohan
If you're a lover of wilderness, wildlife, the American West and the public lands on which they all depend, then journalist Christopher Ketcham's new book is required — if depressing — reading.
Somalians fight against hunger and lack of water due to drought as Turkish Ambassador to Somalia, Olgan Bekar (not seen) visits the a camp near the Mogadishu's rural side in Somalia on March 25, 2017. Sadak Mohamed / Anadolu Agency / Getty Images
World hunger is on the rise for the third consecutive year after decades of decline, a new United Nations (UN) report says. The climate crisis ranks alongside conflict as the top cause of food shortages that force more than 821 million people worldwide to experience chronic hunger. That number includes more than 150 million children whose growth is stunted due to a lack of food.
Golde Wallingford submitted this photo of "Pure Joy" to EcoWatch's first photo contest. Golde Wallingford
EcoWatch is pleased to announce our third photo contest!

Eduardo Velev cools off in the spray of a fire hydrant during a heatwave on July 1, 2018 in Philadelphia. Jessica Kourkounis / Getty Images
By Adrienne L. Hollis
Because extreme heat is one of the deadliest weather hazards we currently face, Union of Concerned Scientist's Killer Heat Report for the U.S. is the most important document I have read. It is a veritable wake up call for all of us. It is timely, eye-opening, transparent and factual and it deals with the stark reality of our future if we do not make changes quickly (think yesterday). It is important to ensure that we all understand it. Here are 10 terms that really help drive home the messages in the heat report and help us understand the ramifications of inaction.
Senator Graham returns after playing a round of golf with Trump on Oct. 14, 2017 in Washington, DC. Ron Sachs – Pool / Getty Images
Lindsey Graham, the South Carolina Senate Republican who has been a close ally of Donald Trump, did not mince words last week on the climate crisis and what he thinks the president needs to do about it.
A small Bermuda cedar tree sits atop a rock overlooking the Atlantic Ocean. todaycouldbe / iStock / Getty Images Plus
By Marlene Cimons
Kyle Rosenblad was hiking a steep mountain on the island of Maui in the summer of 2015 when he noticed a ruggedly beautiful tree species scattered around the landscape. Curious, and wondering what they were, he took some photographs and showed them to a friend. They were Bermuda cedars, a species native to the island of Bermuda, first planted on Maui in the early 1900s.
krisanapong detraphiphat / Moment / Getty Images
By Grace Francese
You may know that many conventional oat cereals contain troubling amounts of the carcinogenic pesticide glyphosate. But another toxic pesticide may be contaminating your kids' breakfast. A new study by the Organic Center shows that almost 60 percent of the non-organic milk sampled contains residues of chlorpyrifos, a pesticide scientists say is unsafe at any concentration.
The compound of German chemicals and pharmaceuticals giant Bayer in Berlin. ODD ANDERSEN / AFP / Getty Images
U.S. District Judge Vince Chhabria announced his ruling in San Francisco on Monday.