The Pope vs. The Donald + Other Conservatives
Sep. 18, 2015 11:45AM EST
Climate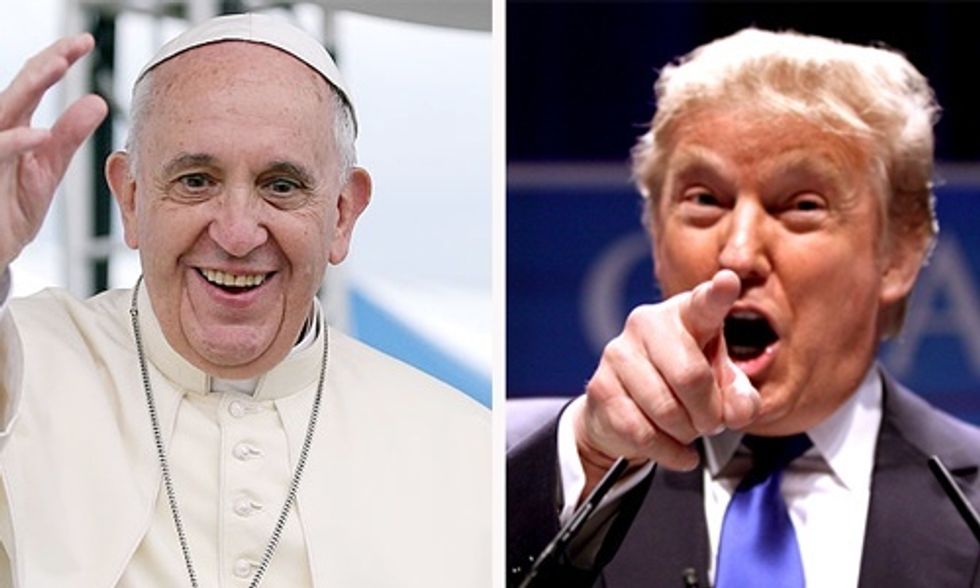 Many news outlets report that Catholics are "clearly jazzed" about the Pope's visit and recent polling from Pew Research Center finds that nine in 10 U.S. Catholics have a favorable view of him. He's even popular among other religious groups and even atheists. But not everyone is thrilled about Pope Francis' visit to the U.S. While many eagerly await his address to the UN General Assembly in New York and his speech in front of Congress, some are less than enthused with the holy leader. When asked at a rally last night if he plans to meet with the Pope when he visits, Donald Trump had this to say: "Well, the Pope believes in global warming, you do know that."
The Pope vs The Donald—during his US visit Francis will tout #immigration and call for compassion toward #migrants http://t.co/AI1jWvLhp8

— Social Justice (@Social Justice)1442085434.0
It's no surprise that the Donald isn't ecstatic about the pontiff's first-ever visit to the U.S. Last month, the real-estate-mogul-turned-presidential-candidate told CNN he would "scare the Pope" in response to his critique of the free market by telling him "ISIS wants to get you." Trump has been a vocal climate denier for years, calling global warming a "hoax" and a concept "created by and for the Chinese in order to make U.S. manufacturing non-competitive."
When asked about his views on climate change yesterday by MSNBC, Trump said, "I consider climate change to be not one of our big problems. I consider it to be not a big problem at all. I think it's weather. I think it's weather changes. It could be some man-made something, but you know, if you look at China, they're doing nothing about it. Other countries, they're doing nothing about it. It's a big planet."
His statement echoes the remarks of Florida Sen. Marco Rubio, Wisconsin Gov. Scott Walker and New Jersey Gov. Chris Christie, who all reluctantly addressed the issue at the second GOP presidential primary debate on Wednesday night.
"We're not going to destroy our economy the way the left-wing government we're under wants us to do," said Rubio. And Christie added, "We shouldn't be destroying our economy in order to chase some wild left-wing idea that somehow, us, by ourselves are going to fix the climate." Walker chimed in that the Obama administration's policies aimed at addressing carbon pollution would kill manufacturing jobs in his state and elsewhere in the U.S.
And the GOP presidential candidates aren't alone. Ahead of Pope Francis' visit to Philadelphia, the Independence Hall Foundation and conservative think tank The Heartland Institute hosted a Constitution Day press conference yesterday challenging the Pope's views on "global warming and the nature of capitalism."
The Independence Hall Foundation is a nonprofit that seeks to "promote the values embodied in the Declaration of Independence, the United States Constitution, and the Bill of Rights." In 2012, The Economist called The Heartland Institute "the world's most prominent think tank supporting skepticism about man-made climate change."
"We seek to bring awareness to the American community-at-large, and Catholics in particular, that the teachings of Pope Francis, outside the spiritual realm, need to be questioned and debated before gaining acceptance," said the groups in a statement. "The Pope is the spiritual leader of the Roman Catholic Church.  He is not a temporal leader, scientist or  economist—and certainly not infallible regarding issues relating to science and the economy."
In April, the Heartland Institute sent a delegation to the Vatican as a "prebuttal" to the Vatican's "Climate Summit." They urged the Pope to realize that "humans are not causing a climate crisis on God's green Earth."
"What is environmentalism but nature worship?" said Gene Koprowski, marketing director of the Heartland Institute, told Philly News. Participants at the rally yesterday called Pope Francis' encyclical "paganism," "anti-American and dangerous" and "unholy lies."
"The Pope does seem to be enamored with solutions that are not pro-American in the slightest," said Dom Giordano, a radio talk-show host. It's not shocking that the Pope has drawn criticism from conservatives in recent months. He has taken a more liberal stance on a number of hot button issues, including same-sex marriage and abortion. But his strongest stance may just be on the need to act on climate change and reform our modern capitalist system. In recent months, he has blamed blamed modern materialism for turning the planet into "an immense pile of filth" and called on the rich and powerful to "care" for the Earth. He even went so far as to say that acting on climate change is "essential to faith."
As for the Pope's visit to Congress—which will be the first time ever that a Pope addresses the U.S. Congress—feelings are somewhat mixed among conservatives. Yesterday, 11 Republicans called for climate action ahead of Pope Francis' visit, introducing a resolution that put the climate challenge in the broader context of conservation, stewardship, innovation and conservatism.
But at least one conservative will be skipping the Pope's speech. Rep. Paul Gosar (R-AZ) told The Hill Francis' calls to combat the effects of climate change remind him of a "leftist politician." Gosar, a Catholic, was initially very excited to hear that the Pope would be speaking to Congress. But when he heard media reports that the Pope would focus on climate change during his report, he balked.
"If the Pope stuck to standard Christian theology, I would be the first in line. If the Pope spoke out with moral authority against violent Islam, I would be there cheering him on. If the Pope urged the Western nations to rescue persecuted Christians in the Middle East, I would back him wholeheartedly. But when the Pope chooses to act and talk like a leftist politician, then he can expect to be treated like one," Gosar wrote in an op-ed for Townhall.com.
While The Hill reports that lawmakers have promised "Congress will be on its very best behavior" during the Pope's visit, Gosar is staging a "public boycott" of the papal speech. "If the Pope wants to devote his life to fighting climate change then he can do so in his personal time," Gosar wrote. "But to promote questionable science as Catholic dogma is ridiculous."
YOU MIGHT ALSO LIKE
Koch Brothers: Apocalyptical Forces of Ignorance and Greed, Says RFK Jr.
It's Official: Summer 2015 Hottest Ever in Recorded History
Senate to Vote on DARK Act Banning States From Requiring GMO Labels on Food
11 Congressional Republicans Call for Climate Action Ahead of Pope Francis' Visit
EcoWatch Daily Newsletter