This website uses cookies to ensure you get the best experience while browsing it. By clicking 'Got It' you're accepting these terms.
The Other World Food Day Prize
Oct. 15, 2014 07:07AM EST
Food
Norman Borlaug, often referred to as the father of the Green Revolution, called for a World Food Prize to be established just after he was awarded the Nobel Peace Prize in 1970. His intention was to lift up, more frequently than the venerable Nobel committee could, those who have devoted their careers to alleviating global hunger and therefore contributing to a more peaceful world.
Indeed, hunger is often cited as one of the root causes of conflict and war. Calling attention to hunger—and its constant companion poverty—as inextricably linked to peace does certainly warrant a prize that continually puts these issues in the spotlight. The tragedy of the World Food Prize is that since 1987, when the prize was first awarded, the laureates—with a very few exceptions—have been primarily scientists that have advanced food as a commodity and not as a basic human right. This week the World Food Prize is once again being awarded to a plant scientist, Dr. Rajaya Sajaram, for his development of numerous prodigious wheat varieties that have been spread around the world to the benefit of "small and large-scale farmers."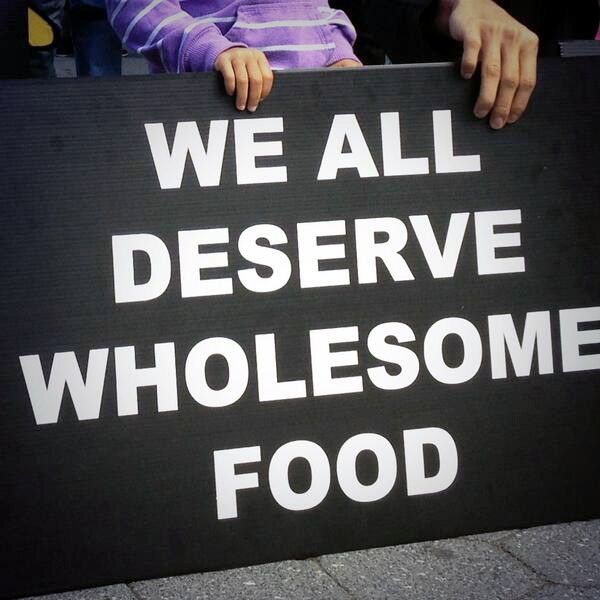 Yet, privileging food as a commodity to be bought and sold on the exchange floors of Chicago and New York has led to considerable damage to the natural environment and to our health. Not to mention that world hunger has reached the staggeringly high estimate of nearly one billion people, with more spikes than declines in the past few decades, according to the U.N. Food and Agriculture Organization.
Production agriculture is the source of at least 14 percent of green­house gas emissions, depends on unsustainable fossil fuels and is the consumer of 70 percent of the world's an­nual freshwater supply. Climate change is in part a direct result of this profit-driven recipe for efficiency and scale in agricultural production. And, like the sorcerer's apprentice, no longer able to control what he has summoned by his spells, climate change is making our Earth inhospitable to food production through an increasing prevalence of drought followed by monsoons. And what is the response historically to a dwindling access to natural resources among rural communities in particular? Hunger and conflict.
How does a prize meant to honor those who fight hunger and bring about peace reward the very science, technology and methods that are degrading our planet, our health and our ability for generations to come to feed ourselves?
Enter the Food Sovereignty Prize as a foil to the message perpetuated by the World Food Prize that industrial agriculture is necessary to feed the world. In 2009, a group of non-governmental and community-based organizations, spurred on by the world food crisis that hit headlines around the globe, banded together to form what is now called the U.S. Food Sovereignty Alliance and established an alternative prize to recognize the quiet champions producing food in a way that puts people and their basic needs and rights to be nourished first.
The Food Sovereignty Prize has for six years running been awarded to peasants and small farmers who, despite the billions of dollars pouring in to support big agri-business and food and farm policies that prop up food as a commodity and result in land grabs by multi-national companies, are growing food for their families, communities and local markets. These leaders are organizing their communities to reclaim their right to determine how their food is grown, and who benefits from it.
Why should peasants and small farmers be heralded as formidable foes against hunger? The majority of the food that people around the world eat—70 percent—is produced by peasants and small farmers on medium to small tracts of land and is consumed within 100 miles of where it was grown. The narrative put out by the World Food Prize that an industrial agribusiness model, requiring billions of dollars of investment in scientific research, is necessary to feed the world is false.
Not only are peasants and small farmers currently growing the majority of consumable food in the world, but food production worldwide already provides 1.5 times enough food to feed everyone on the planet. That's enough to feed 10 billion people, the population peak we expect by 2050. It's clearly not a question of production keeping up with population as the World Food Prize narrative suggests.
For the first time since activists, farmers and organizers came together to establish the Food Sovereignty Prize, it is being awarded in a public ceremony in Des Moines, Iowa the same week and city where the World Food Prize laureate is traditionally honored. The Food Sovereignty Prize ceremony will take place at the Iowa Historical Building at 7 p.m. on Oct. 15 and will be live streamed.
This year's prize goes to two awardees—the Union of Agricultural Work Committees (UAWC) of Palestine, and Community to Community Development/De Comunidad a Comunidad (C2C) of Bellingham, WA. Both organizations, founded and led by farmers, are being honored for their work to advance the rights and food sovereignty of communities without legal protections to the right to food and the right to land. Both organizations exemplify that people, not profits, should be at the center of the discourse on ending hunger and healing the environment.
UAWC has been engaged in humanitarian and justice work for decades in an effort to empower stateless Palestinian farmers, both men and women, who face geo-political challenges to accessing land and water in order to produce food for their families and communities. The UAWC has organized and supports 21 committees in the Gaza Strip and 26 in the West Bank. Together these committees of peasants work to protect farmers' rights to land, organize women's collectives and cooperatives that create opportunities for sustainable livelihoods, ensure access to water for food production through cisterns and grey water reuse, and to promote seed sovereignty through the development of the strongest seed bank in the region.
Community to Community Development/De Comunidad a Comunidad, a founding member of the U.S. Food Sovereignty Alliance, is led by and works with farmworker communities, including youth, in Washington State. C2C organizes farm worker cooperatives, primarily around producing value-added goods, but also works to access land for community gardens. They are a member of the Domestic Fair Trade Association. Notably, over the past year, C2C has worked with a group of farmworkers who organized themselves at Sakuma Berry Farms because they were not being paid, the housing provided to them was poor, and discipline measures were harsh. In addition, the workers (some of whom had worked at Sakuma for many years), were going to be replaced by guest workers coming on H2A visas. This is the first major farmworker struggle related to the guest worker program impacting farm workers here and is raising important issues. The farmworker union, Familias Unidas por la Justicia, has won numerous legal battles with C2C but their struggle continues.
By lifting up these organizations among the countless others around the world fighting for the right to a dignified life, the Food Sovereignty Prize is redirecting the public discourse around ending hunger from one that focuses on industrial-scale food production to one that focuses on social justice.
This year's 2014 Borlaug Dialogue international symposium, held each year in conjunction with the World Food Prize ceremony, is putting the following question front and center: The Greatest Challenge in Human History: Can We Sustainably Feed the 9 Billion People on our Planet by the Year 2050?"
We already know the answer to that. Yes, we can. With food sovereignty framing the policies and practices that map out the pathway to a just society rooted in self-determination and democratic principles, community-led responses to climate change, equitable distribution and access to land and water for fishing and farming, and—finally—science and technology in service to building resilient communities and led by the experiential knowledge of peasants, we will repair the planet and create the capacity for healthy food production and consumption for generations and generations to come. Peace begins, not when the hungry are fed, but when the people have achieved food sovereignty.
Tristan Quinn-Thibodeau contributed to the reporting and writing of this article.
YOU MIGHT ALSO LIKE
Can Organic Agriculture Reverse Climate Change?
Barriers to Sustainable Farming Put Burden on World's Poor
Reducing Meat and Dairy Consumption Important for Healthy People and Planet
EcoWatch Daily Newsletter
Protesters gathered outside US Bank and Wells Fargo locations around the U.S. to protest investment in the Dakota Access Pipeline on Dec. 1, 2016. This photo is from a protest outside US Bank in south Minneapolis, Minnesota.
Fibonacci Blue / CC BY 2.0
By Jake Johnson
As a growing number of states move to pass laws that would criminalize pipeline protests and hit demonstrators with years in prison, an audio recording obtained by The Intercept showed a representative of a powerful oil and gas lobbying group bragging about the industry's success in crafting anti-protest legislation behind closed doors.
Reposted with permission from our media associate Common Dreams.

DESIREE MARTIN / AFP / Getty Images
Wildfires raging on Gran Canaria, the second most populous of Spain's Canary Islands, have forced around 9,000 people to evacuate.
Wolves in Mount Rainier, Washington. Ron Reznick / VW Pics / Universal Images Group via Getty Images
The last four members of an embattled wolf pack were killed in Washington State Friday, hours before the court order that could have saved them.
Aerial view of lava flows from the eruption of volcano Kilauea on Hawaii, May 2018. Frizi / iStock / Getty Images
Hawaii's Kilauea volcano could be gearing up for an eruption after a pond of water was discovered inside its summit crater for the first time in recorded history, according to the AP.
Plateau Creek near De Beque, Colorado, where land has been leased for oil and gas production. Helen H. Richardson / The Denver Post / Getty Images
By Randi Spivak
Slashing two national monuments in Utah may have received the most attention, but Trump's Interior Department and U.S. Forest Service have been quietly, systematically ceding control of America's public lands to fossil fuel, mining, timber and livestock interests since the day he took office.
Global SO2 Emission Hotspot Database / Greenpeace
A new report by Greenpeace International pinpointed the world's worst sources of sulfur dioxide pollution, an irritant gas that harms human health. India has seized the top spot from Russia and China, contributing nearly 15 percent of global sulfur dioxide emissions.
The huge surge this year in Amazon deforestation is leading some European countries to think twice about donations to the Amazon Fund. LeoFFreitas / Moment / Getty Images
By Sue Branford and Thais Borges
Ola Elvestrun, Norway's environment minister, announced Thursday that it is freezing its contributions to the Amazon Fund, and will no longer be transferring €300 million ($33.2 million) to Brazil. In a press release, the Norwegian embassy in Brazil stated:
Gina Lopez, the Philippine secretary of the environment, at a meeting with residents affected by a mine tailing disaster. Keith Schneider
Gina Lopez, a former Philippine environment secretary, philanthropist and eco-warrior, died on Aug. 19 from brain cancer. She was 65.