This website uses cookies to ensure you get the best experience while browsing it. By clicking 'Got It' you're accepting these terms.
The Oberlin Project
Dec. 01, 2011 06:40PM EST
Renewable Energy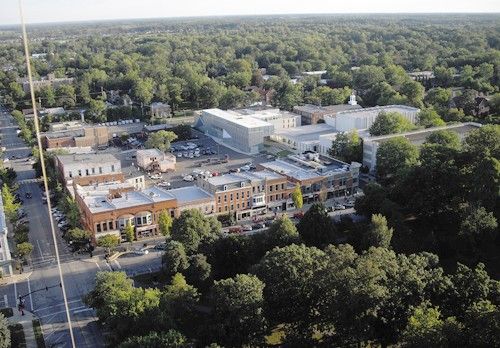 Despite the demise of federal climate change legislation, cities across the nation continue efforts started under the 2009 federal stimulus act to revitalize their communities and make them sustainable. One of the most inspiring examples is right here in Ohio.
The Oberlin Project is a collaboration among the City of Oberlin, Oberlin College, the city's municipal electric utility, as well as community and business stakeholders, to make Oberlin, Ohio the greenest little city in the U.S. and a national model for sustainable economic development. In the process, the project hopes to revitalize the ailing local economy, equip local residents with the green skills needed to do the work and create an educational laboratory for younger generations.
This effort builds off nationally-renowned environmental educator David Orr's past success in creating the first-of-its-kind "living building" that still wins architectural and sustainability awards a decade later. The Adam Joseph Lewis Center was designed by nearly 250 students and 20 design-group members charged to do no harm in the world.
The Oberlin Project applies this same high-road approach to community-wide green development. It recognizes that past practices of the conventional energy economy and low-road economic development strategies that produce vast amounts of waste, leave workers unemployed or earning low wages, communities impoverished, residents dependent on fossil fuels imported from out of state and the environment polluted. This project seeks to forge a new way forward. An approach that balances the three E's of sustainable development— economic development, environmental integrity and social equity—by driving demand for clean energy while leveraging green investments in a way that maximizes their value to the community.
The aggressive goals of the Oberlin Project require a holistic approach that addresses all energy-using and emissions-producing sectors. An inventory of the city's energy use and greenhouse gas emissions identified the need to reduce emissions from electric power generation, green the community's commercial and industrial sector, develop a more sustainable transportation system and promote energy saving opportunities for residents. Participating stakeholders are divided into working groups and challenged to develop sustainability strategies to achieve these goals.
In Ohio, half of all carbon emissions come from the electric power sector. One of Oberlin's greatest assets, however, is its community-owned electric utility that operates in the best interest of its citizenry rather than for profit maximization. Oberlin Municipal Light & Power is on track to secure 90 percent of its energy from local renewable energy resources by 2015—largely from landfill gas captured and turned into useful energy.
Doing so will not only significantly reduce the community's emissions, it will also stabilize customer rates, promote greater self reliance on local energy sources, keep the community's energy dollars in the region, and supply green power to local residents and businesses. Manufacturers located in Oberlin can tout that products are made with green power and a low carbon footprint. It's this kind of commitment to sustainability that convinced GreenField Solar, a designer of high-tech solar photovoltaic cells that also capture solar thermal energy, to move to Oberlin.
The local government and its anchor institution, Oberlin College, also plan to lead by example. The city and the college are analyzing their energy usage, setting goals to increase renewable energy generation, promoting energy efficiency, and developing green, local and efficient purchasing standards. The City of Oberlin completed a climate action plan, the Oberlin public school district is studying the concept of a consolidated, green school building and the Oberlin public library has undergone a green retrofit. Oberlin College is hoping to secure two megawatts of solar energy, has adopted campus building standards and is investigating geothermal heat pumps to replace the college's coal-fired heating plant, among other things.
To promote greater sustainability of Oberlin's transportation system, Oberlin College is developing a13-acre green arts district in the town square and planning a 20,000 acre greenbelt around the community to grow the market for local foods and explore other agricultural opportunities such as biogas. This effort is based on two key smart-growth principles— reinvestment in downtown, Main Street and existing infrastructure to create a vibrant town center, and preservation of natural land, in part by promoting agricultural activities and supporting efforts to process rural resources.
Visions of a multi-modal transportation system that could include electric vehicle infrastructure, light rail, street cars, bike- and pedestrian-friendly streets and car-sharing services are being discussed. Innovative ideas to green the commercial and industrial sector, such as ecoindustrial parks, are on the table, as is a city-scale home retrofit program to promote energy savings for residents.
Keep your eye on this exciting project as it develops. If it can be done in a small town of 8,000 residents, where resources are limited, it can be done anywhere.
For more information, contact Amanda Woodrum at awoodrum@policymattersohio.org.
EcoWatch Daily Newsletter
Tuna auctions are a tourist spectacle in Tokyo. Outside the city's most famous fish market, long queues of visitors hoping for a glimpse of the action begin to form at 5 a.m. The attraction is so popular that last October the Tsukiji fish market, in operation since 1935, moved out from the city center to the district of Toyosu to cope with the crowds.

gmnicholas / E+ / Getty Images
Kristan Porter grew up in a fishing family in the fishing community of Cutler, Maine, where he says all roads lead to one career path: fishing. (Porter's father was the family's lone exception. He suffered from terrible seasickness, and so became a carpenter.) The 49-year-old, who has been working on boats since he was a kid and fishing on his own since 1991, says that the recent warming of Maine's cool coastal waters has yielded unprecedented lobster landings.
Aerial view of lava flows from the eruption of volcano Kilauea on Hawaii, May 2018. Frizi / iStock / Getty Images
Hawaii's Kilauea volcano could be gearing up for an eruption after a pond of water was discovered inside its summit crater for the first time in recorded history, according to the AP.
The Eqip Sermia Glacier is seen behind a moraine left exposed by the glacier's retreat during unseasonably warm weather on Aug. 1 at Eqip Sermia, Greenland. Sean Gallup / Getty Images
hadynyah / E+ / Getty Images
By Johnny Wood
The Ganges is a lifeline for the people of India, spiritually and economically. On its journey from the Himalayas to the Bay of Bengal, it supports fishermen, farmers and an abundance of wildlife.
The river and its tributaries touch the lives of roughly 500 million people. But having flowed for millennia, today it is reaching its capacity for human and industrial waste, while simultaneously being drained for agriculture and municipal use.
Here are some of the challenges the river faces.
By Jake Johnson
As a growing number of states move to pass laws that would criminalize pipeline protests and hit demonstrators with years in prison, an audio recording obtained by The Intercept showed a representative of a powerful oil and gas lobbying group bragging about the industry's success in crafting anti-protest legislation behind closed doors.
Reposted with permission from our media associate Common Dreams.

DESIREE MARTIN / AFP / Getty Images
Wildfires raging on Gran Canaria, the second most populous of Spain's Canary Islands, have forced around 9,000 people to evacuate.