This website uses cookies to ensure you get the best experience while browsing it. By clicking 'Got It' you're accepting these terms.
The Next Chapter in Colorado's Water Supply Crisis
Aug. 22, 2013 03:33PM EST
A proposed Colorado State Water Plan has been put forward by water developers on the East Slope of Colorado who claim to represent the growing Denver area metropolis from Pueblo to Colorado Springs to Denver to Loveland and Greeley. The developers created a draft document, Filling The East Slope Municipal Water Supply Gap, that lays out a stunning array of dam, pipeline and reservoir schemes that would basically re-route endangered rivers across Colorado, pointing all of their last free-flowing water to the Denver area.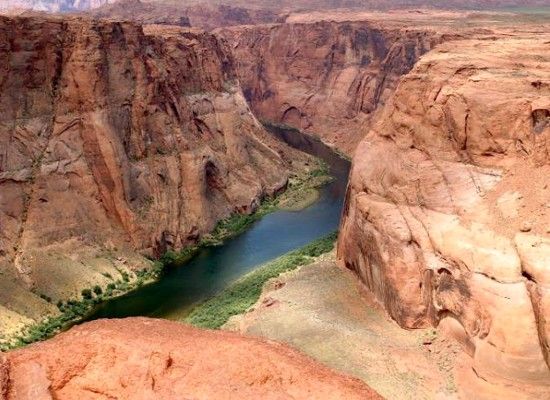 The proposed plan is in response to a May 2013 Executive Order, in which Gov. Hickenlooper (D-CO) mandated the creation of a Colorado State Water Plan. Prior to the order, in his January State of the State address, Gov. Hickenlooper soundly endorsed water conservation, not new dam and pipeline projects, when he said, "Every discussion about water should start with conservation."
Openly defying Gov. Hickenlooper, the draft document from the water developers endorses every proposed dam and reservoir project on the East Slope, including extremely controversial projects such as the Northern Integrated Supply Project (NISP), the Windy Gap Firming Project and the Moffat Collection System Project. All of these projects would further drain and destroy the Colorado River. NISP and other projects would also drain and destroy the Cache la Poudre River of Northern Colorado.
"This water developer plan further destroys Colorado's rivers to fuel and subsidize population growth and fracking in Denver region from Pueblo to Greeley," said Gary Wockner, director of Save the Poudre and a river activist in the Southwest U.S. "The plan also basically endorses billions of dollars in public debt and paves over tens-of-thousands of acres farms when easier, faster, cheaper alternatives have already been put forward."
In addition to endorsing all proposed projects, the plan lays out a spaghetti-like maze of diversion and pipeline schemes all across the state, with the end-point of every pipeline being the rapidly growing Denver metropolitan area. Water that used to flow in the South Platte River to Nebraska; in the Arkansas River to Kansas; and in the Green, Yampa, Gunnison and Colorado Rivers to Utah, Nevada, Arizona and California, all gets re-routed to Denver and the East Slope. Over a million acre feet of water could be diverted, most of it from the Colorado River system. And, these diversions completely ignore the severe drought and climate change that just last week forced the U.S. Bureau of Reclamation to curtail Colorado River flows downstream to Nevada, Arizona and California.
"Just laying out this scheme of diversions and pipelines on a map enflames the political chaos around the Colorado River water supply crisis," said Wockner. "This water developer plan openly and publicly defies Governor Hickenlooper's directive to 'start every discussion about water with conservation' and would basically ignite the next water war in the Southwest U.S. Will Governor Hickenlooper let his State Water Plan get hijacked?  Or will he keep his word and start with conservation?"
The draft plan was created by Roundtable members from the South Platte River, Arkansas River and Metro-Denver areas. These members are not accountable to the public and have only token membership from the environmental community. In fact the 50-person South Platte Roundtable has zero environmental members and a mere two out of 50 members representing hunting or fishing groups; the other 48 members represent cities and farm ditch companies. The members of the Roundtables actually did a "self poll" to decide what they thought so they could create the draft document. 
"When you ask people who make their living off of dams, reservoirs and pipelines what they want to do, they want to build more dams, reservoirs and pipelines–there's no surprise in this silly poll," said Wockner. 
But, other actual scientific polls in Colorado paint a very different picture, like one in January 2013, which showed that 76 percent of Colorado citizens believe that conservation and reducing waste is the right path forward, and a poll done by the State of Colorado itself, which showed that citizens prioritize conservation and environmental needs first and second, respectively, as important steps to take in addressing water supply challenges.
"The Roundtable members simply don't represent the public," Wockner said. "Further, they have proposed massive new dams, diversions and pipelines, but have not addressed the impact on the environment or restoring healthy flows to the public's rivers at all."
The draft plan currently has been sent out for review to all Roundtable members.
The environmental community has put forward alternatives to the new projects, including an alternative for the Cache la Poudre River, A Better Future For the Poudre River: Alternative to the Northern Integrated Supply Project, which lays out a broad array of solutions including conservation, efficiency, recycling and water sharing agreements with farmers. The devastation to farmland if NISP gets built is discussed in a technical document. 
Visit EcoWatch's WATER page for more related news on this topic.
——–
EcoWatch Daily Newsletter

georgeclerk / E+ / Getty Images
By Jennifer Molidor
One million species are at risk of extinction from human activity, warns a recent study by scientists with the United Nations. We need to cut greenhouse gas pollution across all sectors to avoid catastrophic climate change — and we need to do it fast, said the Intergovernmental Panel on Climate Change.
This research should serve as a rallying cry for polluting industries to make major changes now. Yet the agriculture industry continues to lag behind.
Edwin Remsburg / VW Pics / Getty Images
Botswana, home to one third of Africa's elephants, announced Wednesday that it was lifting its ban on the hunting of the large mammals.
"The Ministry of Environment, Natural Resources Conservation and Tourism wishes to inform the public that following extensive consultations with all stakeholders, the Government of Botswana has taken a decision to lift the hunting suspension," the government announced in a press release shared on social media.
Pxhere
By Richard Denison
Readers of this blog know how concerned EDF is over the Trump EPA's approval of many dozens of new chemicals based on its mere "expectation" that workers across supply chains will always employ personal protective equipment (PPE) just because it is recommended in the manufacturer's non-binding safety data sheet (SDS).
By Grant Smith
From 2009 to 2012, Gregory Jaczko was chairman of the Nuclear Regulatory Commission, which approves nuclear power plant designs and sets safety standards for plants. But he now says that nuclear power is too dangerous and expensive — and not part of the answer to the climate crisis.
A lake in Rocky Mountain National Park. Brett Walton / Circle of Blue
By Brett Walton
When Greg Wetherbee sat in front of the microscope recently, he was looking for fragments of metals or coal, particles that might indicate the source of airborne nitrogen pollution in Rocky Mountain National Park. What caught his eye, though, were the plastics.
Gabriele Holtermann Gorden / Pacific Press / LightRocket / Getty Images
In a big victory for animals, Prada has announced that it's ending its use of fur! It joins Coach, Jean Paul Gaultier, Giorgio Armani, Versace, Ralph Lauren, Vivienne Westwood, Michael Kors, Donna Karan and many others PETA has pushed toward a ban.
This is a victory more than a decade in the making. PETA and our international affiliates have crashed Prada's catwalks with anti-fur signs, held eye-catching demonstrations all around the world, and sent the company loads of information about the fur industry. In 2018, actor and animal rights advocate Pamela Anderson sent a letter on PETA's behalf urging Miuccia Prada to commit to leaving fur out of all future collections, and the iconic designer has finally listened.
Amer Ghazzal / Barcroft Media / Getty Images
If people in three European countries want to fight the climate crisis, they need to chill out more.
That's the conclusion of a new study from think tank Autonomy, which found that Germany, the UK and Sweden all needed to drastically reduce their workweeks to fight climate change.
Amazon Employees for Climate Justice held a press conference after the annual shareholder meeting on May 22. Amazon Employees for Climate Justice