This website uses cookies to ensure you get the best experience while browsing it. By clicking 'Got It' you're accepting these terms.
The New Keystone XL Pipeline: Jordan Cove
Apr. 28, 2015 09:45AM EST
Energy

A quiet cove at the edge of the Pacific Ocean is heir apparent to the raging debate over the Keystone XL pipeline. With a massive natural gas terminal and its own power plant, the pipeline that's proposed to end at Coos Bay is slated as one of the next lavish investments in our nation's continuing commitment to fossil fuels that propel the climate crisis.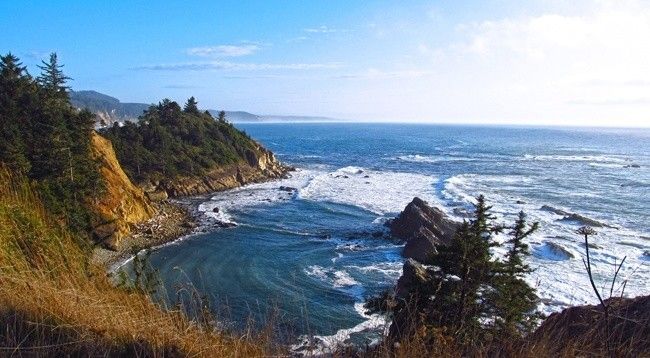 Forget the compelling mantra of "energy independence." That goal has driven the engine of mining, drilling and pumping across the coal, oil and gas fields of America ever since the Arab oil embargo of 1973. Who would disagree that we should be less-dependent on foreign oil? It drains our balance of payments, precipitates wars, and feeds the specter of terrorism. For energy independence, we sacrificed American landscapes, waterways, and communities from permafrost at Prudhoe Bay to BP blowouts on the Gulf Coast, not to mention the scourge of Appalachian mountaintop removal and the fracking of gas in pockmarked well-fields poisoning groundwater from Colorado to Pennsylvania.
But now, in a move that could define the phrase "bait-and-switch," the mantra is "export" by corporations that will profit more by selling home-grown fuel abroad than by selling it here.
For export at Jordan Cove we would slice a pipeline swath through whole mountain ranges and enclaves of ancient forests for 230 miles from the West's interior drylands to the Pacific. Crossings will put 400 streams at risk including Oregonians' cherished waters of the Klamath, Umpqua, Coquille and Rogue Rivers—all vital to endangered salmon and steelhead trout.
Coos Bay fingers through more acreage than any other West Coast estuary between the Columbia River and San Francisco. Water here pulses with Pacific tides that nourish commercial and sport fisheries renowned for generations, but 5.6 million cubic yards would be dredged from those rich waters and fertile wetlands for the berth of one gas-tanker alone.
Federal approval of this corporate project would prescribe the condemnation of private land in ranches, woodlands, and neighborhoods. Nearly 700 private parcels—not to mention the human lives and legacies attached to them—would be sliced into pieces by the pipeline route. Corporate powers would condemn this property in a way that's now criticized for even the most legitimate of public needs—let alone for the private profits of Jordan Cove's chief investor in Alberta, Canada. All this would be sacrificed for export of gas from a thousand countrysides disabled by fracking across the interior of America where toxic well-water might be expected for decades if this pipeline is built.
It's a lot to give up so that the industrial-military engine of China can thrive.
For this plan—incidentally at ground-zero of the West Coast's tsunami zone and at a seismic hotspot where earthquakes exceeding any yet recorded in America are predicted—the Federal Energy Regulatory Commission speciously gave a green light in November 2014 by ruling that "some limited adverse environmental impact...would be reduced to less-than-significant levels." Not to mention the possibility of accidents. And regarding terrorism, Chairman Lord Levene of Loyd's of London—the giant British insurer that covers natural gas facilities—said that an attack on an LNG tanker "would have the force of a small nuclear explosion."
Millions of Americans and the core of our nation's leadership—minus those members of Congress who are bankrolled by the fossil fuel industries—got the message that Keystone XL promised only more of the same in fossil fuel dependence while ignoring the fact that renewable energy has become economic. Jordan Cove and its pipeline deserve the same veto—literal and symbolic—by a nation that must change its course if we are to face a challenging future with hope for the generations to come.
Tim Palmer is the author of 24 books including Field Guide to Oregon Riversand Pacific High: Adventures in the Coast Ranges from Baja to Alaska.
Bill Bradbury is the former Oregon Secretary of State and former President of the Oregon Senate.
YOU MIGHT ALSO LIKE
New Map Shows Koch's Connection to Keystone
This Is What Epic Drought Looks Like: Lake Mead Hits Historic Low
Must-See: Obama's Key and Peele Skit at White House Correspondents' Dinner
EcoWatch Daily Newsletter
Smog over Los Angeles. Westend61 / Getty Images
After four decades of improving air quality, the U.S. has started to take a step backwards, as the number of polluted days has ticked upwards over the last two years, the Associated Press reported.
Photobos / iStock / Getty Images
Governors in Vermont and Maine signed bills on Monday that will ban plastic bags in their states next year, The Hill reported.
The Maine ban will go into effect next Earth Day, April 22, 2020. The Vermont ban, which extends beyond plastic bags and is the most comprehensive plastics ban so far, will go into effect in July 2020. The wait time is designed to give businesses time to adjust to the ban.
picture-alliance / AP Images / D. Goldman
By Daniel Moattar
Eastern Kentucky's hills are interrupted by jarring flats of bare rock: the aftermath of mountaintop removal mining, which uses explosives to destroy and harvest coal-rich peaks.
By Molly Taft
Lisa Marshall isn't your typical activist. For one thing, she's not into crowds. "I don't really like rallies," Marshall, a mom of three from upstate New York, said. "They're a little stressful — not my favorite thing."

An oil drilling site in a residential area of Los Angeles, California on July 16, 2014.
Faces of Fracking / Flickr
By Jake Johnson
A comprehensive analysis of nearly 1,500 scientific studies, government reports, and media stories on the consequences of fracking released Wednesday found that the evidence overwhelmingly shows the drilling method poses a profound threat to public health and the climate.

sonsam / iStock / Getty Images
By Grace Francese
A new Environmental Working Group (EWG) study published in Environmental Research found that nitrate, one of the most common contaminants of drinking water, may cause up to 12,594 cases of cancer per year, but that's not its only danger: It can pose unique health risks to children.
Melt water from Everest's Khumbu glacier. Ed Giles / Getty Images
EPA Administrator Andrew Wheeler signs his replacement for the Clean Power Plan. Win McNamee / Getty Images