This website uses cookies to ensure you get the best experience while browsing it. By clicking 'Got It' you're accepting these terms.


The best of EcoWatch, right in your inbox. Sign up for our email newsletter!
The Netherlands Joins Fossil Fuel Divestment Movement, Ends Public Financing for Coal
Mar. 27, 2014 07:28AM EST
This week the Netherlands announced that would join the U.S., United Kingdom and others in ending support for public financing for new coal-fired power plants is a good sign for the growing fossil fuel divestment movement.
"This is another sign that the coal industry is on its last legs," said Tim Ratcliffe, of 350.org, which is helping coordinate the global movement to divest from the fossil fuel industry. "There's a growing consensus that coal has no place in a carbon constrained world. Coal isn't just bad news for the climate, it's increasingly bad news for any financial portfolio. Institutional investors should read the writing on the wall and divest."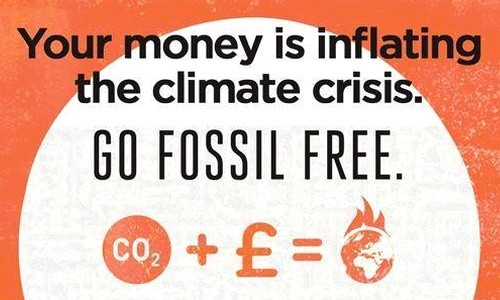 In their joint announcement, the U.S. and Netherlands stated, "We emphasize that our work to scale up climate-friendly investments in developing countries is most effective when combined with reducing public incentives for high-carbon infrastructure."
"We need to redirect the flow of capital away from carbon-intensive investments and into climate solutions," said Ratcliffe. "As value-driven institutions, universities, churches and pension funds should be leaders in helping speed up this transition."
Dutch campaigners call on the Dutch pension fund ABP, one of the largest pension funds in the world, to divest from fossil fuels. ABP's large exposure to high-carbon assets, puts the Netherlands at risk, according to a recent study by the Greens/ European Free Alliance. The largest part of ABP's investments in commodities worth €10 billion is related to oil and gas that risk turning into stranded assets.
"ABP is entrusted with our money to secure our future, not to finance an industry whose business model is based on wrecking our future," said Liset Meddens, coordinator of Fossil Free NL with 350.org. "ABP needs to recognize the financial and environmental risks of fossil fuel assets and start phasing out their investments in this dirty industry."
The Dutch pension fund would thereby follow Norway's lead. Norway has set up an expert group to see if its $840 billion oil fund (the world's largest sovereign wealth fund) should stop investing in fossil fuel companies.
Tuesday's announcement will also place a new level of scrutiny on the U.S., Netherlands, World Bank and other large investors to make sure that they are living up to their commitment to stop supporting high-carbon infrastructure. Analysis by the group Oil Change International, for example, has shown that despite its climate commitments, the World Bank actually increased its funding for fossil fuel projects between 2012 and 2013. Meanwhile, the Obama Administration is currently deliberating on whether or not approve a permit for the carbon-intensive Keystone XL pipeline.
"It would be completely hypocritical for the Obama Administration to say that it wants to reduce public support for high-carbon infrastructure and then approve the Keystone XL pipeline, which is a fuse to the largest carbon bomb on the planet, the Canadian tar sands," said Jamie Henn, 350.org strategy and communications director. "If the U.S. wants its climate commitments to be taken seriously by the international community, it needs to reject Keystone XL."
Related Content:
U.S. Coal Exports Nearly Triple Over Last Decade
Why Investing in Dirty Fuels is a Bad Idea
EcoWatch Daily Newsletter
A metal fence marked with the U.S. Border Patrol sign prevents people to get close to the barbed/concertina wire covering the U.S./Mexico border fence, in Nogales, Arizona, on Feb. 9. ARIANA DREHSLER / AFP / Getty Images
D'Bone Collector Museum head Darrell Blatchley shows plastic found inside the stomach of a Cuvier's beaked whale in the Philippines this weekend. - / AFP / Getty Images
Yet another whale has died after ingesting plastic bags. A young male Cuvier's beaked whale was found washed up in Mabini, Compostela Valley in the Philippines Friday, CNN reported. When scientists from the D' Bone Collector Museum in Davao investigated the dead whale, they found it had died of "dehydration and starvation" after swallowing plastic bags―40 kilograms (approximately 88 pounds) worth of them!
Pexels
By Jeff Turrentine
"Be careful what you wish for; you just might get it." This is something that everybody has to learn at some point. Lately, the lesson has hit home for a group of American automakers.
Art direction: Georgie Johnson. Illustrations: Freya Morgan
By Joe Sandler Clarke
"Don't expect us to continue buying European products," Malaysia's former plantations minister Mah Siew Keong told reporters in January last year. His comments came just after he had accused the EU of "practising a form of crop apartheid."

A few months later Luhut Pandjaitan, an Indonesian government minister close to President Joko 'Jokowi' Widodo, warned his country would retaliate if it was "cornered" by the EU.
Torres and his parents walk along the Rio Grande. Luis Torres / Earthjustice
By Luis Torres
For some people who live along the U.S.-Mexico border, President Trump's attempt to declare a national emergency and extend the border wall is worse than a wasteful, unconstitutional stunt. It's an attack on their way of life that threatens to desecrate their loved ones' graves.
Flooding caused by last week's bomb cyclone storm has broken records in 17 places across the state of Nebraska, CNN reported Sunday. Around nine million people in 14 states along the Mississippi and Missouri Rivers were under a flood watch, CNN meteorologist Karen Maginnis said.
A car destroyed by Cyclone Idai in Beira, Mozambique. ADRIEN BARBIER / AFP / Getty Images
At least 150 people have died in a cyclone that devastated parts of Mozambique, Zimbabwe and Malawi over the weekend, The Associated Press reported Sunday. Cyclone Idai has affected more than 1.5 million people since it hit Mozambique's port city of Beira late Thursday, then traveled west to Zimbabwe and Malawi. Hundreds are still missing and tens of thousands are without access to roads or telephones.
"I think this is the biggest natural disaster Mozambique has ever faced. Everything is destroyed. Our priority now is to save human lives," Mozambique's Environment Minister Celso Correia said, as AFP reported.