This website uses cookies to ensure you get the best experience while browsing it. By clicking 'Got It' you're accepting these terms.
The Netherlands Joins Fossil Fuel Divestment Movement, Ends Public Financing for Coal
Mar. 27, 2014 07:28AM EST
Energy
This week the Netherlands announced that would join the U.S., United Kingdom and others in ending support for public financing for new coal-fired power plants is a good sign for the growing fossil fuel divestment movement.
"This is another sign that the coal industry is on its last legs," said Tim Ratcliffe, of 350.org, which is helping coordinate the global movement to divest from the fossil fuel industry. "There's a growing consensus that coal has no place in a carbon constrained world. Coal isn't just bad news for the climate, it's increasingly bad news for any financial portfolio. Institutional investors should read the writing on the wall and divest."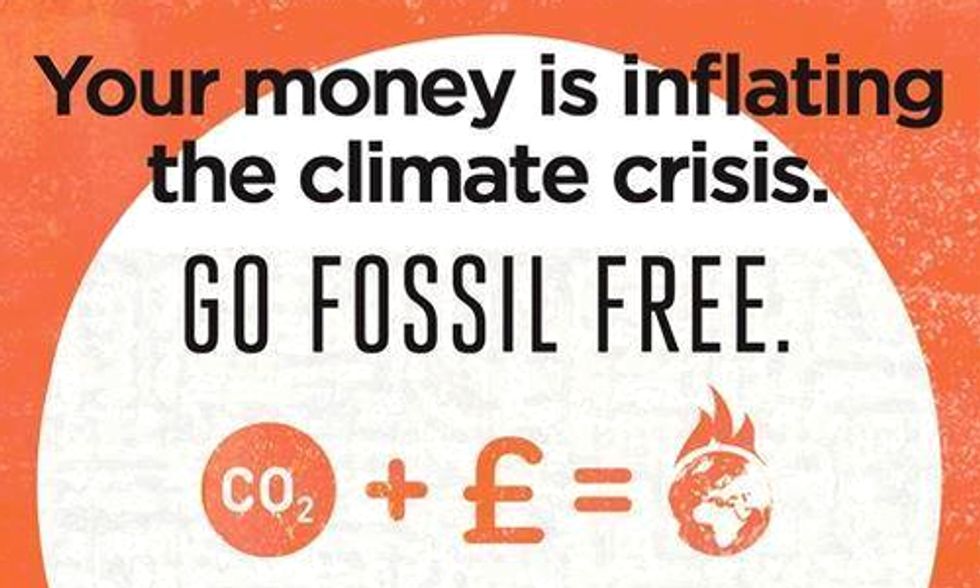 In their joint announcement, the U.S. and Netherlands stated, "We emphasize that our work to scale up climate-friendly investments in developing countries is most effective when combined with reducing public incentives for high-carbon infrastructure."
"We need to redirect the flow of capital away from carbon-intensive investments and into climate solutions," said Ratcliffe. "As value-driven institutions, universities, churches and pension funds should be leaders in helping speed up this transition."
Dutch campaigners call on the Dutch pension fund ABP, one of the largest pension funds in the world, to divest from fossil fuels. ABP's large exposure to high-carbon assets, puts the Netherlands at risk, according to a recent study by the Greens/ European Free Alliance. The largest part of ABP's investments in commodities worth €10 billion is related to oil and gas that risk turning into stranded assets.
"ABP is entrusted with our money to secure our future, not to finance an industry whose business model is based on wrecking our future," said Liset Meddens, coordinator of Fossil Free NL with 350.org. "ABP needs to recognize the financial and environmental risks of fossil fuel assets and start phasing out their investments in this dirty industry."
The Dutch pension fund would thereby follow Norway's lead. Norway has set up an expert group to see if its $840 billion oil fund (the world's largest sovereign wealth fund) should stop investing in fossil fuel companies.
Tuesday's announcement will also place a new level of scrutiny on the U.S., Netherlands, World Bank and other large investors to make sure that they are living up to their commitment to stop supporting high-carbon infrastructure. Analysis by the group Oil Change International, for example, has shown that despite its climate commitments, the World Bank actually increased its funding for fossil fuel projects between 2012 and 2013. Meanwhile, the Obama Administration is currently deliberating on whether or not approve a permit for the carbon-intensive Keystone XL pipeline.
"It would be completely hypocritical for the Obama Administration to say that it wants to reduce public support for high-carbon infrastructure and then approve the Keystone XL pipeline, which is a fuse to the largest carbon bomb on the planet, the Canadian tar sands," said Jamie Henn, 350.org strategy and communications director. "If the U.S. wants its climate commitments to be taken seriously by the international community, it needs to reject Keystone XL."
Related Content:
U.S. Coal Exports Nearly Triple Over Last Decade
Why Investing in Dirty Fuels is a Bad Idea
EcoWatch Daily Newsletter
Aerial view of Ruropolis, Para state, northen Brazil, on Sept. 6, 2019. Tthe world's biggest rainforest is under threat from wildfires and rampant deforestation. JOHANNES MYBURGH / AFP via Getty Images
By Kate Martyr
Deforestation in Brazil's Amazon rainforest last month jumped to the highest level since records began in 2015, according to government data.
A total of 563 square kilometers (217.38 square miles) of the world's largest rainforest was destroyed in November, 103% more than in the same month last year, according to Brazil's space research agency.
From January to November this year an area almost the size of the Caribbean island of Puerto Rico was destroyed — an 83% overall increase in destruction when compared with the same period last year.
The figures were released on Friday by the National Institute for Space Research (INPE), and collected through the DETER database, which uses satellite images to monitor forest fires, forest destruction and other developments affecting the rainforest.
What's Behind the Rise?
Overall, deforestation in 2019 has jumped 30% compared to last year — 9,762 square kilometers (approximately 3769 square miles) have been destroyed, despite deforestation usually slowing during November and December.
Environmental groups, researchers and activists blamed the policies of Brazil's president Jair Bolsonaro for the increase.
They say that Bolosonaro's calls for the Amazon to be developed and his weakening support for Ibama, the government's environmental agency, have led to loggers and ranchers feeling safer and braver in destroying the expansive rainforest.
His government hit back at these claims, pointing out that previous governments also cut budgets to environment agencies such as Ibama.
The report comes as Brazil came to loggerheads with the Association of Small Island States (AOSIS) over climate goals during the UN climate conference in Madrid.
AOSIS blasted Brazil, among other nations, for "a lack of ambition that also undermines ours."
Last month, a group of Brazilian lawyers called for Bolsonaro to be investigated by the International Criminal Court over his environmental policies.
Reposted with permission from DW.
The Carolina parakeet went extinct in 1918. James St. John /
CC BY 2.0
The Carolina parakeet, the only parrot species native to the U.S., went extinct in 1918 when the last bird died at the Cincinnati Zoo. Now, a little more than 100 years later, researchers have determined that humans were entirely to blame.
Pexels
Vitamin C is a very important nutrient that's abundant in many fruits and vegetables.
BLM drill seeders work to restore native grasses after wildfire on the Bowden Hills Wilderness Study Area in southeast Oregon, Dec. 14, 2018. Marcus Johnson / BLM / CC BY 2.0
By Tara Lohan
In 2017 the Thomas fire raged through 281,893 acres in Ventura and Santa Barbara counties, California, leaving in its wake a blackened expanse of land, burned vegetation, and more than 1,000 destroyed buildings.