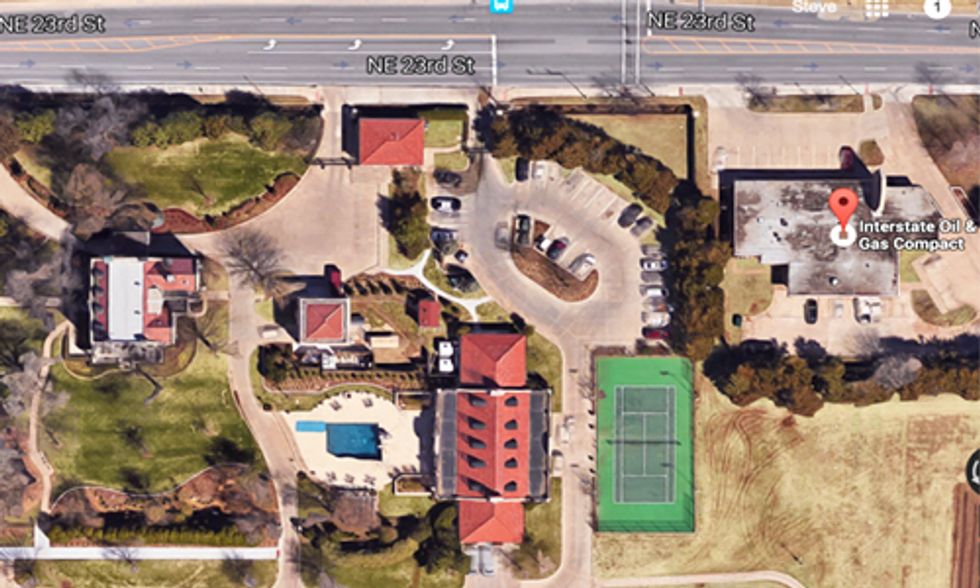 The Interstate Oil and Gas Compact Commission (IOGCC) is far from a household name, but a new investigation published by InsideClimate News' Pulitzer Prize-winning investigative reporter Lisa Song may have just put what is likely the most powerful oil and gas lobbying node you've never heard of on the map.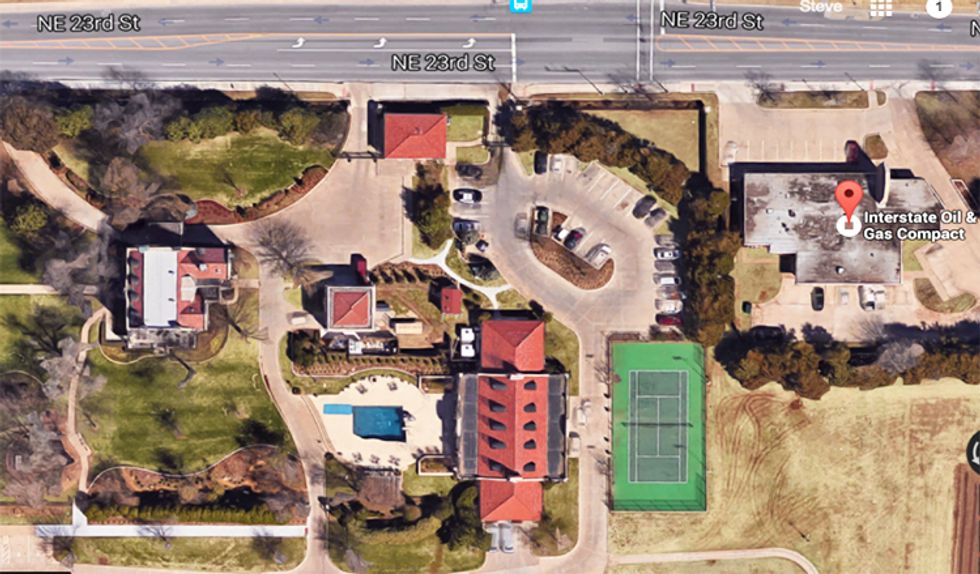 Titled, Is the IOGCC, Created by Congress in 1935, Now a Secret Oil and Gas Lobby?, the article's origins lay in the hundreds of documents obtained from open records requests and historical archives by me and Jesse Coleman, a researcher at Greenpeace USA, that are part of an ongoing investigation into IOGCC.
Song's article for the award-winning InsideClimate News reveals documents that show for the first time that it was IOGCC at the front and center and not just Halliburton, which created what many now know as the Halliburton Loophole.
That regulatory loophole exempts the oil and gas industry from U.S. Environmental Protection Agency enforcement of the Safe Drinking Water Act as applied to hydraulic fracturing ("fracking") and is seen as what opened the Pandora's Box for industrial high volume slickwater horizontal drilling in the U.S.
But before getting too far into the weeds of IOGCC's deeds, what exactly is it?
Simply put, the Interstate Oil and Gas Compact Commission is a quasi-governmental organization founded and headquartered in Oklahoma City and located on property adjacent to the Governor's Mansion and on Oklahoma state property given to the organization via a land deed.
IOGCC exists due to a 1935 act of Congress that allowed the oil-producing states to compact together, under authority of the U.S. Constitution, in an effort to conserve oil and limit what were then wasteful production practices.
All of the oil and gas producing states of the U.S. are dues-paying members, with dues paid based on production stats: the more you produce, the more money that goes into the pot. IOGCC's official members, gubernatorial appointees of each respective member state, are generally the top oil and gas regulators of each state. Caveat: sometimes Governors pick lobbyists or industry attorneys instead.
Beyond official IOGCC state representatives, governors can and often do also pick at-large IOGCC members. IOGCC has hundreds of those and many work for the oil and gas industry.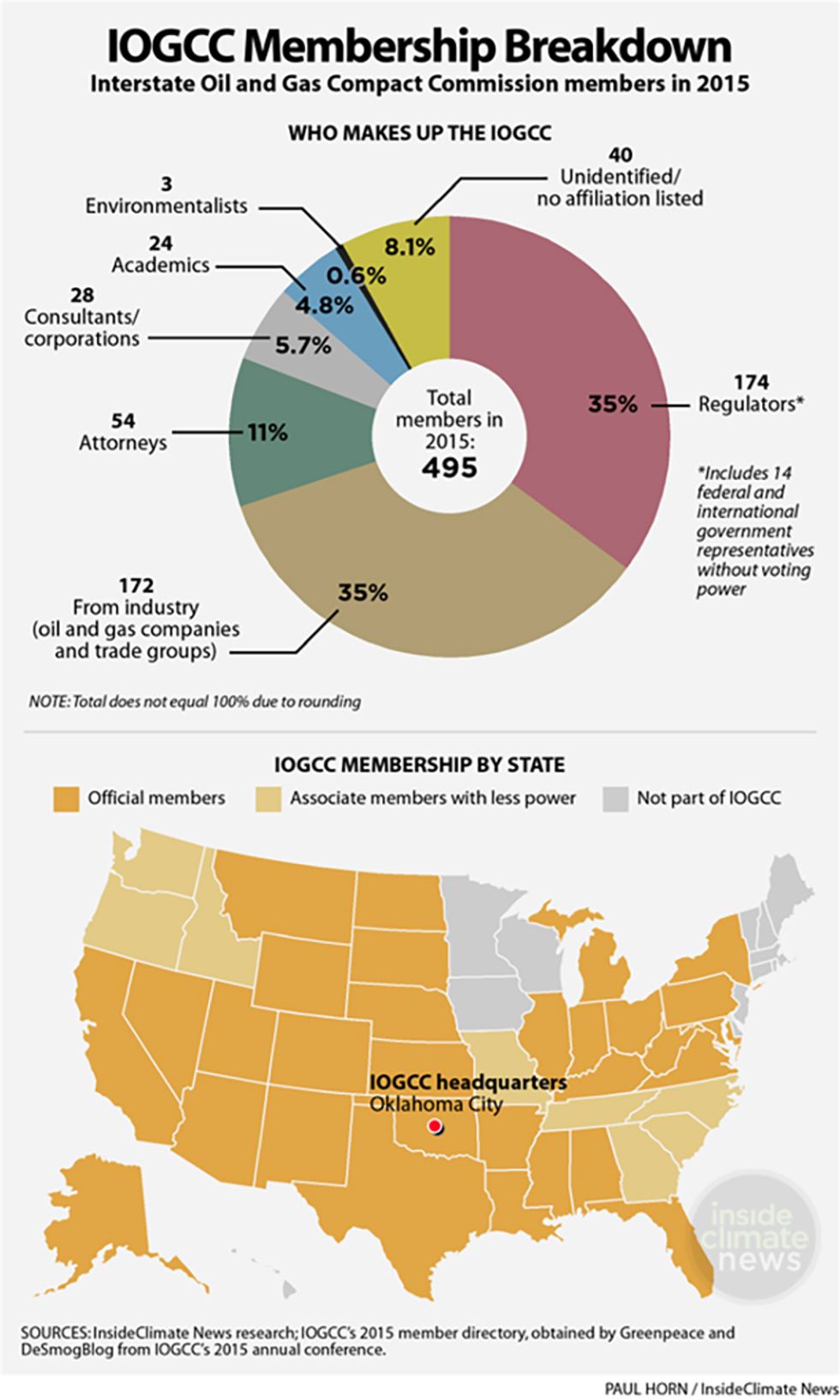 IOGCC does not file U.S. Internal Revenue Service 990 reports and does not post its budget online, so its budget details remain murky. Technically, IOGCC is not industry-funded (if you don't count the fact it's entirely funded by drilling productivity), but it's twice-annual conferences are also industry-funded and that's where a lot of the real action happens, including passage of IOGCC model resolutions.
And that action, from 1999 through 2005 as told in Song's story, included pushing for what it called a "simple fix" in a September 2005 newsletter of something it saw as broken: the pesky Safe Drinking Water Act getting in the way of fracking in the U.S.
IOGCC's anti-Safe Drinking Water Act activity continued into 2009, when it beat back against the advocacy group and congressional push to close the loophole through the FRAC Act of 2009. That year, IOGCC proudly demonstrated in its own legislative tracking document, that its model resolution to maintain the regulatory exemption status quo passed in nine states.
InsideClimate News created a graphic that shows that, like the American Legislative Exchange Council (ALEC), these bills were passed as law in a nearly copy-paste manner in those statehouses. In fact, ALEC liked the resolution so much that it adopted it as one of its own.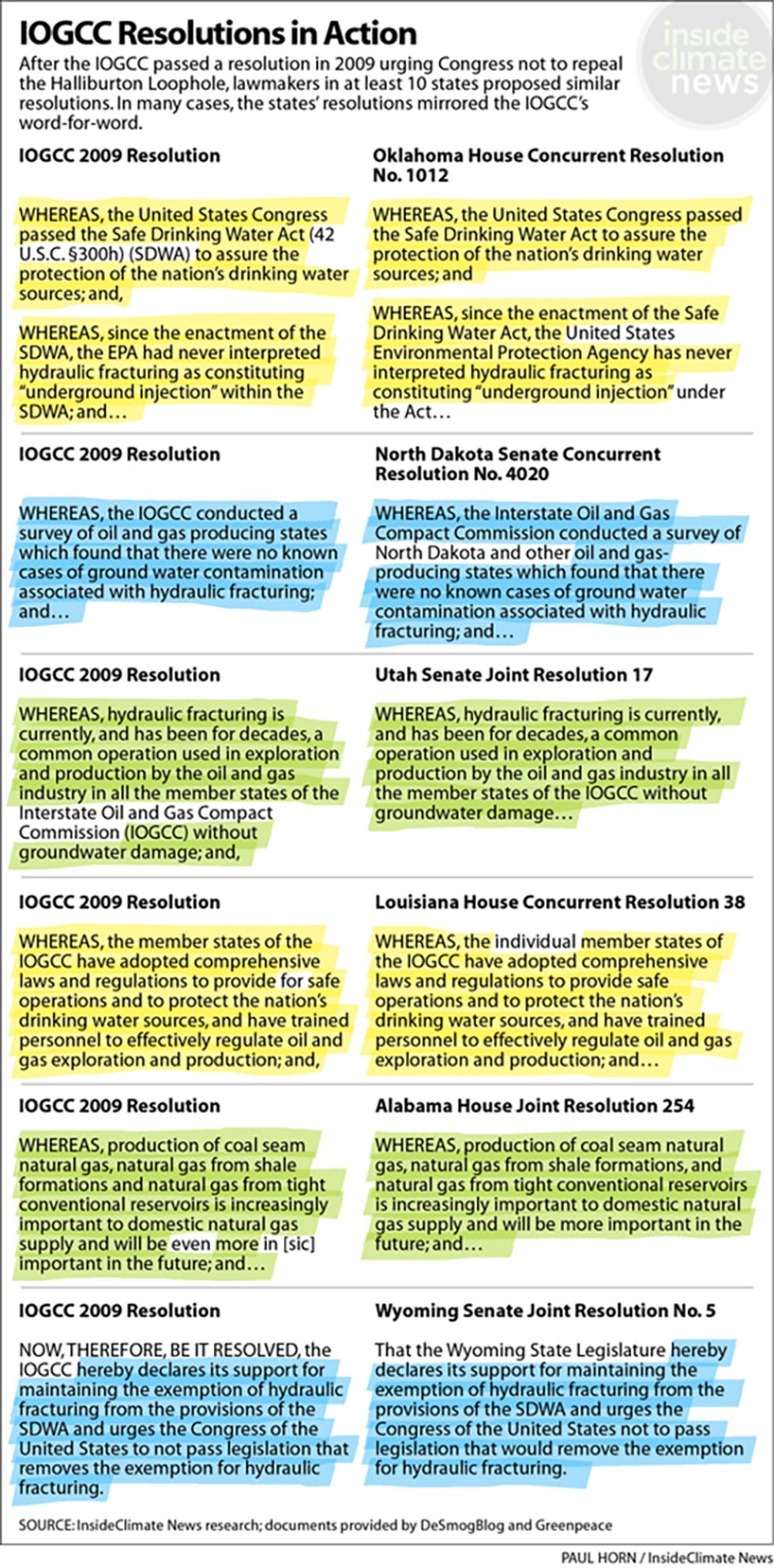 Is IOGCC Lobbying?
While the InsideClimate News article mostly centers around IOGCC's anti-Safe Drinking Water Act advocacy, numerous other examples exist—several of them touched upon within InsideClimate's piece—of IOGCC working to derail federal regulatory safeguards on the most pressing oil and gas-related issues of the day.
The stories of those efforts, the names of the people who made it happen and the victims of those efforts will receive space here soon on DeSmog.
It is fairly safe to say—based on the thousands of historical documents, court documents, documents obtained from interlibrary loan and documents obtained and reviewed from public records requests—that IOGCC has sat at the epicenter of the oil and gas industry's battle against the myriad U.S. environmental laws passed in the 1970s.
The facts raise a simple question: Is it lobbying? IOGCC told InsideClimate News it doesn't think so.
"IOGCC does not lobby," IOGCC Spokeswoman Carol Booth told InsideClimate. "It does inform and educate state regulators, federal officials, policymakers and the public at large."
IOGCC's former Washington, DC Representative (read: lobbyist) Kevin Bliss, a former industry attorney who worked at the U.S. Agency for International Development and the U.S. Department of Energy before landing the gig at IOGCC, claimed to Song that by definition IOGCC cannot lobby. Bliss, in the 2005 IOGCC newsletter published by InsideClimate News first discovered by DeSmog, gets credit along with a few others for working on the IOGCC subcommittee that inserted the Safe Drinking Water Act loophole into the Energy Policy Act of 2005.
"States don't lobby," Bliss told Song. "We were just communicating, state government to federal government."
According to lobbying disclosure records, some IOGCC member states—including California, Oklahoma, Utah and North Dakota—register to lobby the federal government on other issues.
And what about all of the IOGCC industry members and representatives, Song asked Bliss, are those the "states" too?
"As far as I was ever concerned, the only people I ever paid attention to were the state oil and gas regulators," Bliss answered. "Those were the ones that carried the punch."
Yet IOGCC's own newsletter boasts that Bliss pushed alongside fellow subcommittee member and industry attorney and Executive Michael Linn, founder of Linn Energy, to get the Safe Drinking Water Act exemption placed into the Energy Policy Act of 2005.
DOJ Weighs In
The U.S. Department of Justice didn't agree with IOGCC's assessment of its activities, according to historical documents cited in the InsideClimate piece and originally tracked down by DeSmog. Those documents center around a 1978 congressional testimony given by then-DOJ Antitrust Attorney Donald Flexner, now the namesake partner of the powerful law firm Boies, Schiller & Flexner.
In short, Flexner stated that IOGCC was no longer living up to the spirit of the original mission of its compact—conserving oil and gas—and should not receive congressional blessing to exist as a lobbyist organization.
As history would prove, Congress itself did not care quite as much about this notion and the DOJ has done nothing by way of actual enforcement or legal accountability to date as it relates to IOGCC. DeSmog has dozens more documents pertaining to this historical episode, with obvious contemporary relevance and they will be the focus of future articles on DeSmog.
Climate Denial
InsideClimate News also got IOGCC on the record to convey its organizational position on climate change, with Spokeswoman Carol Booth claiming IOGCC does not have a stance on the issue.
"We're not scientists," IOGCC's Carol Booth told Song, with Song pointing out that this talking point has become commonplace among GOP politicians asked about whether they think climate change exists and is caused by humans. "[A]nd we cannot comment on things we don't know."
DeSmog also got IOGCC on the record on climate change back in October, when IOGCC Executive Director Carl Michael Smith wrote us a letter in response to questions sent through email. As with InsideClimate News, IOGCC claimed not to have a stance on the issue.
YOU MIGHT ALSO LIKE
Bernie Sanders Calls for Nationwide Ban on Fracking
Keystone Pipeline Spill Nearly 100 Times Bigger Than Originally Estimated
Judge Denies Motions by Fossil Fuel Industry and Federal Government in Landmark Climate Change Case
Google Earth's latest feature allows you to watch the climate change in four dimensions.
EcoWatch Daily Newsletter
Researchers say there's a growing epidemic of tap water distrust and disuse in the U.S. Teresa Short / Moment Open / Getty Images
By Asher Rosinger
Imagine seeing a news report about lead contamination in drinking water in a community that looks like yours. It might make you think twice about whether to drink your tap water or serve it to your kids – especially if you also have experienced tap water problems in the past.
Why tap wins every time.
Asher Rosinger is an assistant professor of biobehavioral health, anthropology, and demography and director of the Water, Health, and Nutrition Laboratory at Penn State University.

Disclosure statement: Asher Rosinger receives funding from the National Science Foundation on an unrelated project. This work was supported by the Ann Atherton Hertzler Early Career Professorship funds, and the Penn State Population Research Institute (NICHD P2CHD041025). The funders had no role in the research or interpretation of results.
Reposted with permission from The Conversation.
A new report urges immediate climate action to control global warming. John W Banagan / Getty Images
A new report promoting urgent climate action in Australia has stirred debate for claiming that global temperatures will rise past 1.5 degrees Celsius in the next decade.
Winegrowers check vines during the burning of anti-frost candles in the Luneau-Papin wine vineyard in Le Landreau, near Nantes, western France, on April 12, 2021. SEBASTIEN SALOM-GOMIS / AFP via Getty Images
French winemakers are facing devastating grape loss from the worst frost in decades, preceded by unusually warm temperatures, highlighting the dangers to the sector posed by climate change.
"An important share of the harvest has been lost. It's too early to give a percentage estimate, but in any case it's a tragedy for the winegrowers who have been hit," said Christophe Chateau, director of communications at the Bordeaux Wine Council, told CNN.
Climate change, caused by the extraction and combustion of fossil fuels, has pushed winegrowing seasons earlier, putting crops at higher risk of cold — and wildfires supercharged by climate change also threaten American vignerons and farmworkers as well.
"I think it's good for people to understand that this is nature, climate change is real, and to be conscious of the effort that goes into making wine and the heartbreak that is the loss of a crop," Jeremy Seysses of Domaine Dujac in Burgundy's Côte de Nuits told Wine Enthusiast.
As reported by Wine Enthusiast:
Last week, images of candlelit French vineyards flooded social media. Across the country, winemakers installed bougies, or large wax-filled metal pots, among the vines to prevent cold air from settling in during an especially late frost.

With temperatures in early April as low as 22°F, and following an unseasonably warm March, this year's frost damage may be the worst in history for French winegrowers. Every corner of France reports considerable losses, from Champagne to Provence, and Côtes de Gascogne to Alsace. As a result, there will likely be very little French wine from the 2021 vintage reaching U.S. shores.
For a deeper dive:

CNN, Wine Enthusiast, France24, Eater
For more climate change and clean energy news, you can follow Climate Nexus on Twitter and Facebook, sign up for daily Hot News, and visit their news site, Nexus Media News.
From Your Site Articles
Related Articles Around the Web
A recent study focused on regions in Ethiopia, Africa's largest coffee-producing nation. Edwin Remsberg / Getty Images
Climate change could make it harder to find a good cup of coffee, new research finds. A changing climate might shrink suitable areas for specialty coffee production without adaptation, making coffee taste blander and impacting the livelihoods of small farms in the Global South.