This website uses cookies to ensure you get the best experience while browsing it. By clicking 'Got It' you're accepting these terms.
The Most Powerful Oil and Gas Lobby You've Never Heard Of
Apr. 12, 2016 08:51AM EST
Energy
The Interstate Oil and Gas Compact Commission (IOGCC) is far from a household name, but a new investigation published by InsideClimate News' Pulitzer Prize-winning investigative reporter Lisa Song may have just put what is likely the most powerful oil and gas lobbying node you've never heard of on the map.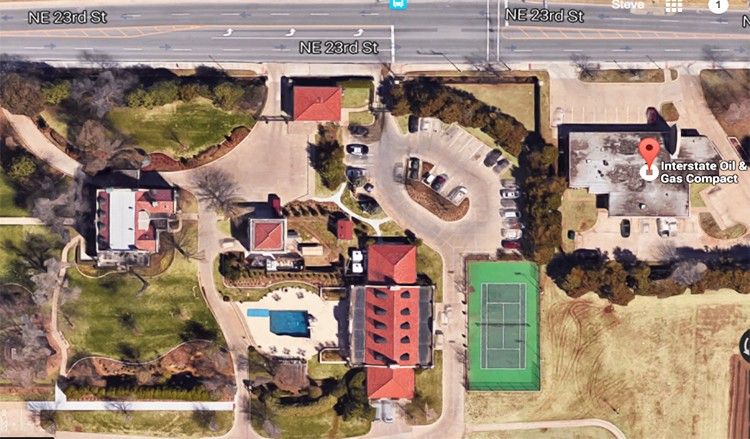 Titled, Is the IOGCC, Created by Congress in 1935, Now a Secret Oil and Gas Lobby?, the article's origins lay in the hundreds of documents obtained from open records requests and historical archives by me and Jesse Coleman, a researcher at Greenpeace USA, that are part of an ongoing investigation into IOGCC.
Song's article for the award-winning InsideClimate News reveals documents that show for the first time that it was IOGCC at the front and center and not just Halliburton, which created what many now know as the Halliburton Loophole.
That regulatory loophole exempts the oil and gas industry from U.S. Environmental Protection Agency enforcement of the Safe Drinking Water Act as applied to hydraulic fracturing ("fracking") and is seen as what opened the Pandora's Box for industrial high volume slickwater horizontal drilling in the U.S.
But before getting too far into the weeds of IOGCC's deeds, what exactly is it?
Simply put, the Interstate Oil and Gas Compact Commission is a quasi-governmental organization founded and headquartered in Oklahoma City and located on property adjacent to the Governor's Mansion and on Oklahoma state property given to the organization via a land deed.
IOGCC exists due to a 1935 act of Congress that allowed the oil-producing states to compact together, under authority of the U.S. Constitution, in an effort to conserve oil and limit what were then wasteful production practices.
All of the oil and gas producing states of the U.S. are dues-paying members, with dues paid based on production stats: the more you produce, the more money that goes into the pot. IOGCC's official members, gubernatorial appointees of each respective member state, are generally the top oil and gas regulators of each state. Caveat: sometimes Governors pick lobbyists or industry attorneys instead.
Beyond official IOGCC state representatives, governors can and often do also pick at-large IOGCC members. IOGCC has hundreds of those and many work for the oil and gas industry.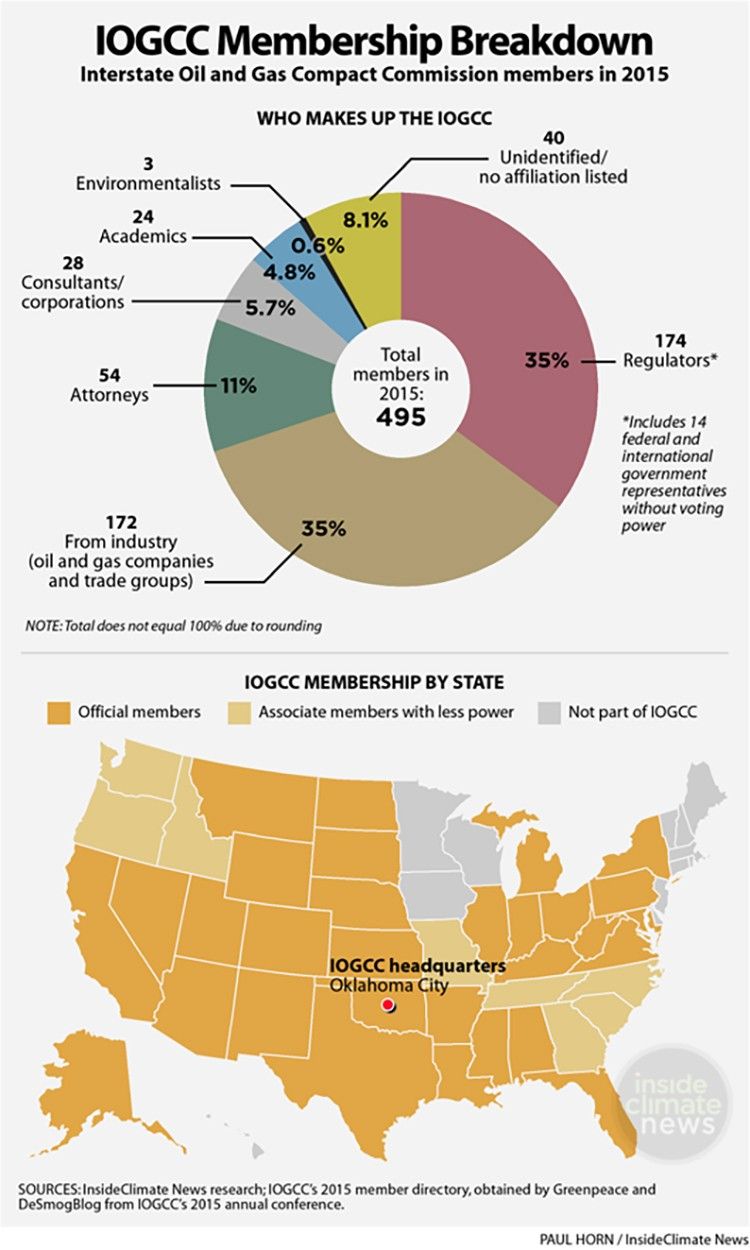 IOGCC does not file U.S. Internal Revenue Service 990 reports and does not post its budget online, so its budget details remain murky. Technically, IOGCC is not industry-funded (if you don't count the fact it's entirely funded by drilling productivity), but it's twice-annual conferences are also industry-funded and that's where a lot of the real action happens, including passage of IOGCC model resolutions.
And that action, from 1999 through 2005 as told in Song's story, included pushing for what it called a "simple fix" in a September 2005 newsletter of something it saw as broken: the pesky Safe Drinking Water Act getting in the way of fracking in the U.S.
IOGCC's anti-Safe Drinking Water Act activity continued into 2009, when it beat back against the advocacy group and congressional push to close the loophole through the FRAC Act of 2009. That year, IOGCC proudly demonstrated in its own legislative tracking document, that its model resolution to maintain the regulatory exemption status quo passed in nine states.
InsideClimate News created a graphic that shows that, like the American Legislative Exchange Council (ALEC), these bills were passed as law in a nearly copy-paste manner in those statehouses. In fact, ALEC liked the resolution so much that it adopted it as one of its own.
Is IOGCC Lobbying?
While the InsideClimate News article mostly centers around IOGCC's anti-Safe Drinking Water Act advocacy, numerous other examples exist—several of them touched upon within InsideClimate's piece—of IOGCC working to derail federal regulatory safeguards on the most pressing oil and gas-related issues of the day.
The stories of those efforts, the names of the people who made it happen and the victims of those efforts will receive space here soon on DeSmog.
It is fairly safe to say—based on the thousands of historical documents, court documents, documents obtained from interlibrary loan and documents obtained and reviewed from public records requests—that IOGCC has sat at the epicenter of the oil and gas industry's battle against the myriad U.S. environmental laws passed in the 1970s.
The facts raise a simple question: Is it lobbying? IOGCC told InsideClimate News it doesn't think so.
"IOGCC does not lobby," IOGCC Spokeswoman Carol Booth told InsideClimate. "It does inform and educate state regulators, federal officials, policymakers and the public at large."
IOGCC's former Washington, DC Representative (read: lobbyist) Kevin Bliss, a former industry attorney who worked at the U.S. Agency for International Development and the U.S. Department of Energy before landing the gig at IOGCC, claimed to Song that by definition IOGCC cannot lobby. Bliss, in the 2005 IOGCC newsletter published by InsideClimate News first discovered by DeSmog, gets credit along with a few others for working on the IOGCC subcommittee that inserted the Safe Drinking Water Act loophole into the Energy Policy Act of 2005.
"States don't lobby," Bliss told Song. "We were just communicating, state government to federal government."
According to lobbying disclosure records, some IOGCC member states—including California, Oklahoma, Utah and North Dakota—register to lobby the federal government on other issues.
And what about all of the IOGCC industry members and representatives, Song asked Bliss, are those the "states" too?
"As far as I was ever concerned, the only people I ever paid attention to were the state oil and gas regulators," Bliss answered. "Those were the ones that carried the punch."
Yet IOGCC's own newsletter boasts that Bliss pushed alongside fellow subcommittee member and industry attorney and Executive Michael Linn, founder of Linn Energy, to get the Safe Drinking Water Act exemption placed into the Energy Policy Act of 2005.
DOJ Weighs In
The U.S. Department of Justice didn't agree with IOGCC's assessment of its activities, according to historical documents cited in the InsideClimate piece and originally tracked down by DeSmog. Those documents center around a 1978 congressional testimony given by then-DOJ Antitrust Attorney Donald Flexner, now the namesake partner of the powerful law firm Boies, Schiller & Flexner.
In short, Flexner stated that IOGCC was no longer living up to the spirit of the original mission of its compact—conserving oil and gas—and should not receive congressional blessing to exist as a lobbyist organization.
As history would prove, Congress itself did not care quite as much about this notion and the DOJ has done nothing by way of actual enforcement or legal accountability to date as it relates to IOGCC. DeSmog has dozens more documents pertaining to this historical episode, with obvious contemporary relevance and they will be the focus of future articles on DeSmog.
Climate Denial
InsideClimate News also got IOGCC on the record to convey its organizational position on climate change, with Spokeswoman Carol Booth claiming IOGCC does not have a stance on the issue.
"We're not scientists," IOGCC's Carol Booth told Song, with Song pointing out that this talking point has become commonplace among GOP politicians asked about whether they think climate change exists and is caused by humans. "[A]nd we cannot comment on things we don't know."
DeSmog also got IOGCC on the record on climate change back in October, when IOGCC Executive Director Carl Michael Smith wrote us a letter in response to questions sent through email. As with InsideClimate News, IOGCC claimed not to have a stance on the issue.
YOU MIGHT ALSO LIKE
Bernie Sanders Calls for Nationwide Ban on Fracking
Keystone Pipeline Spill Nearly 100 Times Bigger Than Originally Estimated
Judge Denies Motions by Fossil Fuel Industry and Federal Government in Landmark Climate Change Case
EcoWatch Daily Newsletter
A vegan diet can improve your health, but experts say it's important to keep track of nutrients and protein. Getty Images
By Dan Gray
Research shows that 16 weeks of a vegan diet can boost the gut microbiome, helping with weight loss and overall health.
A healthy microbiome is a diverse microbiome. A plant-based diet is the best way to achieve this.
It isn't necessary to opt for a strictly vegan diet, but it's beneficial to limit meat intake.
New research shows that following a vegan diet for about 4 months can boost your gut microbiome. In turn, that can lead to improvements in body weight and blood sugar management.
Students gathered at the National Mall in Washington DC, Sept. 20. NRDC
By Jeff Turrentine
Nearly 20 years have passed since the journalist Malcolm Gladwell popularized the term tipping point, in his best-selling book of the same name. The phrase denotes the moment that a certain idea, behavior, or practice catches on exponentially and gains widespread currency throughout a culture. Having transcended its roots in sociological theory, the tipping point is now part of our everyday vernacular. We use it in scientific contexts to describe, for instance, the climatological point of no return that we'll hit if we allow average global temperatures to rise more than 2 degrees Celsius above preindustrial levels. But we also use it to describe everything from resistance movements to the disenchantment of hockey fans when their team is on a losing streak.
samael334 / iStock / Getty Images
Berries are small, soft, round fruit of various colors — mainly blue, red, or purple.
A glacier is seen in the Kenai Mountains on Sept. 6, near Primrose, Alaska. Scientists from the U.S. Geological Survey have been studying the glaciers in the area since 1966 and their studies show that the warming climate has resulted in sustained glacial mass loss as melting outpaced the accumulation of new snow and ice. Joe Raedle / Getty Images
By Mark Mancini
On Aug. 18, Iceland held a funeral for the first glacier lost to climate change. The deceased party was Okjökull, a historic body of ice that covered 14.6 square miles (38 square kilometers) in the Icelandic Highlands at the turn of the 20th century. But its glory days are long gone. In 2014, having dwindled to less than 1/15 its former size, Okjökull lost its status as an official glacier.
Members of Chicago Democratic Socialists of America table at the Logan Square Farmers Market on Aug. 18. Alex Schwartz
By Alex Schwartz
Among the many vendors at the Logan Square Farmers Market on Aug. 18 sat three young people peddling neither organic vegetables, gourmet cheese nor handmade crafts. Instead, they offered liberation from capitalism.
Hackney primary school students went to the Town Hall on May 24 in London after school to protest about the climate emergency. Jenny Matthews / In Pictures / Getty Images
Bird watching in the U.S. may be a lot harder than it once was, since bird populations are dropping off in droves, according to a new study.