The Monsanto Years: Neil Young Plays Jones Beach, Rev. Billy Opens the Show
Jul. 21, 2015 10:21AM EST
Food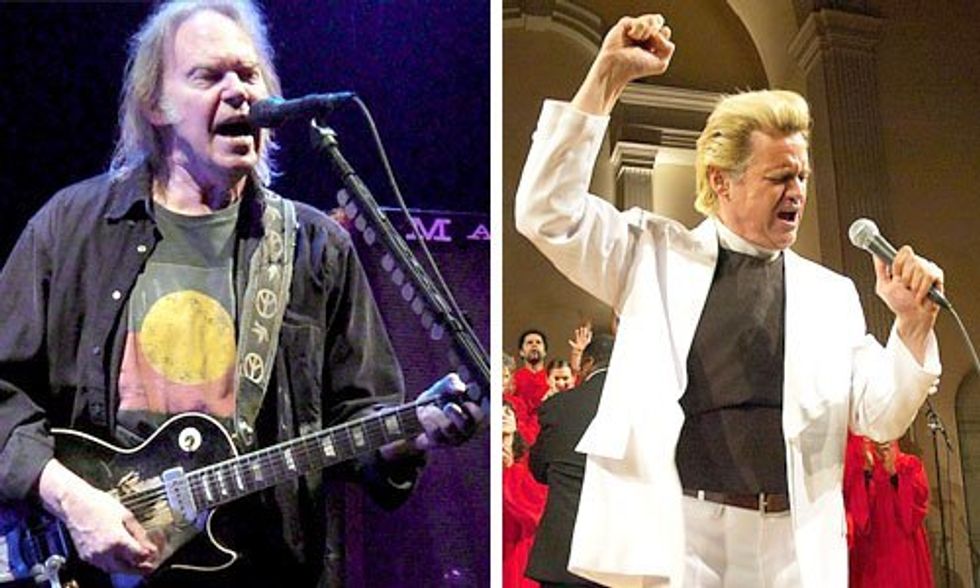 Reverend Billy and the Stop Shopping Choir will open for Neil Young tonight at the NYC-venue Jones Beach. Accompanying Young is the band "Promise of the Real," with Lukas and Micah Nelson, sons of Willie Nelson.
The concert is featuring Young's new album, "The Monsanto Years," which includes songs directed against Monsanto, Walmart, Chevron and Starbucks, which Young urged his fans to boycott last year for its part in trying to stop Vermont's GMO labeling law. Starbucks officials say they are not part of that effort. However, Young insists that the company is involved through the Grocery Manufacturers Association trade group.
Neil Young is using his musical talent to spread the word about #Monsanto and @Starbucks! http://t.co/lq5m793XKd #gmo pic.twitter.com/fjlgnGNOzL

— GMWatch (@GMWatch) May 30, 2015
I had the chance to interview Reverend Billy on the eve of the big show. Here's what he had to say:
Spear: Wow, very exciting to be opening for Neil Young. Can you share with me how this gig came about?
Rev. Bill: Neil Young is breaking an American taboo, which is that famous celebrities do not name corporations who are criminal. Neil Young with his companion Daryl Hannah is naming Monsanto, Starbucks and Walmart and their Earth-killing behavior, as we in the Church of Stop Shopping have for many years. We are gratified that they have invited us onto their stage. Earthalujah!
Spear: I know you've been working on a campaign against Monsanto for years. How did that start?
Rev. Bill: The Stop Shopping Choir are singing activists who began their life doing things like singing against the hordes of consumers at Macy's front door on Black Friday, the doorbuster ritual. We see the religions of consumerism as, obviously, an ethical problem. But it is also a spirit-sucking zombie system. Monsanto's Roundup is everywhere, and it causes cancer, birth defects and is a persistent toxin in our soil. Its toxin, glyphosate, is in our body tissue and blood. I think that anyone opposing the predations of retail companies based in the USA would eventually find their way to this criminal enterprise.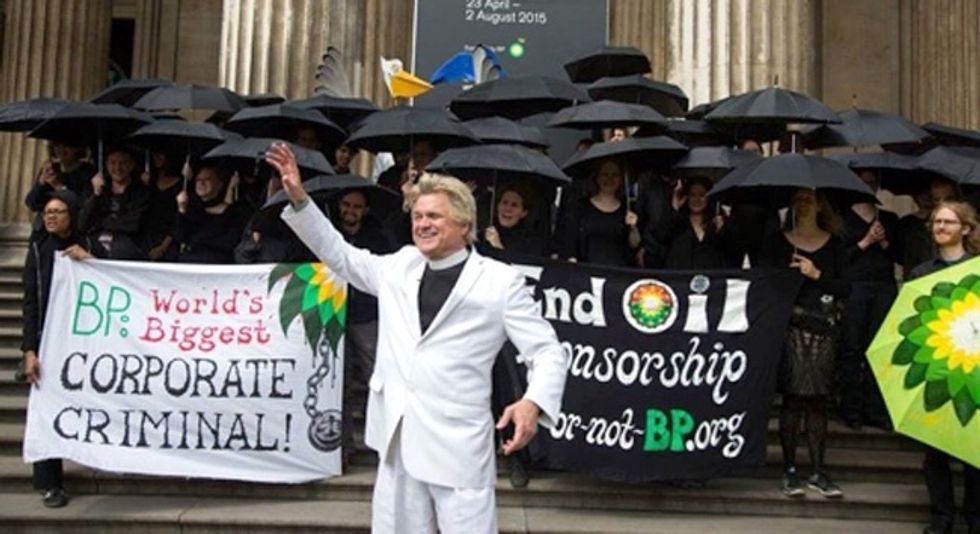 Spear: What do you think about Bill Nye's change of heart on GMOs?
Rev. Bill: Nye says he's in love with Monsanto. Well, he also made his name working for Disney. So as a pastor I have to say "be careful of the Devil." Bill Nye the Science Guy needs to go back to science and spend less time with show biz. The wildness of the biosphere is more complex and sexy than NPR. Go back to wildness, Bill. Go back to that wildness that Monsanto calls "weeds" and "pests." There is spiritual deliverance in that non-cash crop. Go back to where the science starts, Science Guy.
Spear: Do you think Americans are becoming more conscious of the food they eat and support the labeling GMOs?
Rev. Bill: We have continued to demand truth in labeling. That seems to be a locked-in intuitive position. Nothing Monsanto or Starbucks argues in court against the state of Vermont or any other truth-in-labelling entity will stop this commons sense. We should know what we eat and we think of it as a part of our First Amendment rights.
Spear: Anything else you'd like to tell EcoWatch readers?
Rev. Bill: There is a feeling in the air with this tour "The Monsanto Years." It's different when you have that engagement in the world, risky, high energy politics. From the road, Young put up $100,000 to oppose Monsanto and Starbucks in the battle of truth-in-labelling in Vermont. And he's hilariously debating Donald Trump, of course. Daryl Hannah invited radical Earth groups to greet ticket buyers at the lobby of the arenas—they call it an Eco-Village. She engaged Charris Ford to invite the First Nations activists at Idle No More, young farmers at the Greenhorns, Institute for Responsible Technology, Earth Island Institute, Move to Amend and many more. Rock matters again!  Music can create the feeling of change like nothing else.
YOU MIGHT ALSO LIKE
John Oliver's Beef With Chicken Giants May Have Impacted U.S. Policy
Brad Pitt and Bill Maher Slam Costco for Selling Eggs From Caged Hens
EcoWatch Daily Newsletter