This website uses cookies to ensure you get the best experience while browsing it. By clicking 'Got It' you're accepting these terms.
The Link Between Climate Change and Drought
Jun. 24, 2016 11:41AM EST
Climate
What's the link between climate change and drought? Find out the key facts in this post.
Of all the ways climate change inflicts harm, drought is the one people worry about most, according to a Pew Research Center survey. And it's not surprising—droughts have been drier and lasting longer in recent years thanks in part to climate change. In 2012, the central and western U.S. was hit particularly hard when 81 percent of the country was living in abnormally dry conditions, causing $30 billion in damages and putting the health and safety of many Americans at risk.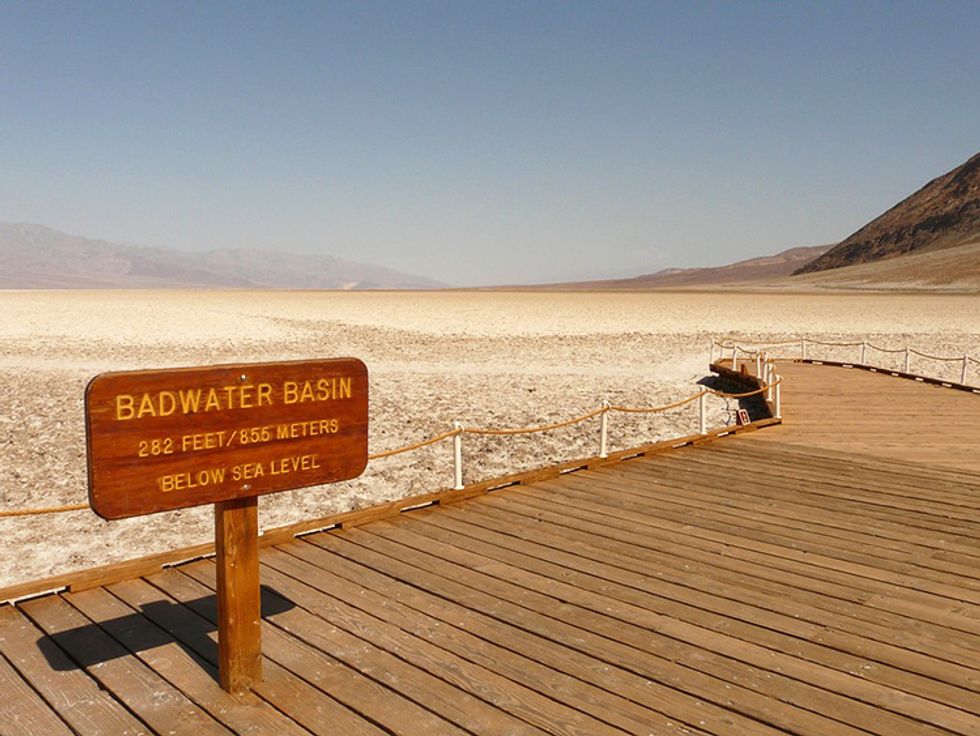 But droughts aren't only hitting the U.S. hard. Many regions in the Middle East, Asia and Africa are also experiencing higher air temperatures, drier air and more severe or frequent droughts. One recent NASA study revealed that a drought that's been affecting the eastern Mediterranean Levant region since 1998 is likely the worst in the past 900 years.
So what's the relationship between climate change and drought? What areas does drought affect most? What will happen if the planet keeps warming? In this post, we'll answer these tough questions and share key facts about climate change and drought.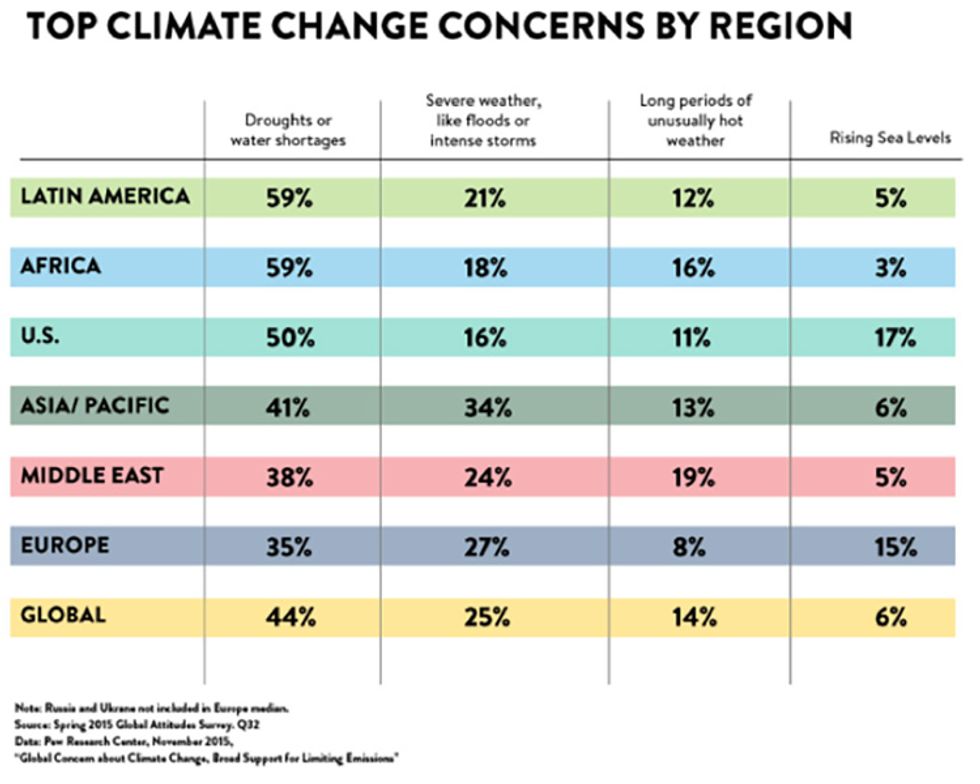 What's the Link Between Climate Change and Drought?
While droughts can have different causes depending on the area of the world and other natural factors, the majority of scientists have started to link more intense droughts to climate change. That's because as more greenhouse gas emissions are released into the air, causing air temperatures to increase, more moisture evaporates from land and lakes, rivers and other bodies of water. Warmer temperatures also increase evaporation in plant soils, which affects plant life and can reduce rainfall even more. And when rainfall does come to drought-stricken areas, the drier soils it hits are less able to absorb the water, increasing the likelihood of flooding—a lose-lose situation.
What Are Some of the Major Impacts of Drought?
It goes without saying droughts can be detrimental to the environment. But droughts also have serious consequences for people's livelihoods, affecting everything from agriculture and water supply to transportation and health. Nearly 40 percent of the world—1.3 billion people—relies on agriculture as its main source of income. So if severe droughts lead water shortages in an area dependent on agriculture, it puts the health and wellbeing not only of animals and crops at risk, but of the farmers and communities that depend on them too. To get a sense of the scale of this threat in the U.S. alone, in 2012, the US Department of Agriculture declared a natural disaster in 2,245 counties because of severe droughts. That's a lot of people and a lot of communities living with drought.
Nor is the impact limited to farming communities. As increasing drought means some crops begin to yield less, food costs spike for the rest of us and threat of shortages begins to grow in some areas.
Then there are consequences you might not immediately think about—like greater wildfires. Thanks to rising temperatures, shorter winters and longer summers, western U.S. wildfire frequency has increased by 400 percent since 1970, Damaging wildfires have occurred in recent years in places like California, Colorado, Arizona and New Mexico. That's because droughts dry out the land, killing plant life and creating tinderbox conditions. And, with less predictable rains, it's harder to stop these fires once they begin. These wildfires can leave communities and governments with millions of dollars in damages, not to mention the incalculable costs of lost plant, animal and even human life.
What Happens If the Planet Keeps Getting Warmer?
While scientists can't say with absolute certainty what will happen in specific regions as it relates to drought and climate change, the general consensus is clear: warming temperatures are likely to continue creating drier conditions over the next half century in some parts of the world, potentially reaching levels we haven't seen in some regions in modern times. In one recent study by the National Center for Atmospheric Research, researchers predict large parts of the Western Hemisphere, Africa and Asia may be threatened the most.
What Can We Do?
If we want to prevent droughts from getting worse or more frequent, we need to stop climate change and preserve our water supply. Communities shouldn't have to live with the looming threat of wildfires, food shortages and lost income because of climate change exacerbated drought. Especially when the way forward is so clear.
If our leaders take the right steps to cut the greenhouse gas emissions driving climate change and live up to the rest of their commitments in the Paris agreement, we can stay on the path to ending the crisis and help lessen the threat for longer and more dangerous droughts all around the world.
Ready to help make a difference for the future of our planet? Sign up here to get updates from the Climate Reality Project.
YOU MIGHT ALSO LIKE
The Dead Sea is Shrinking at Alarming Rate, a Record Low-Point for Earth
Drought Kills 66 Million Trees in California, Increasing Risk of Catastrophic Wildfires
Henny Penny Is Right: The Sky Is Falling
EcoWatch Daily Newsletter
In this view from an airplane rivers of meltwater carve into the Greenland ice sheet near Sermeq Avangnardleq glacier on Aug. 4 near Ilulissat, Greenland. Climate change is having a profound effect in Greenland, where over the last several decades summers have become longer and the rate that glaciers and the Greenland ice cap are retreating has accelerated. Sean Gallup / Getty Images
The rate that Greenland's ice sheet is melting surpassed scientists' expectations and has raised concerns that their worst-case scenario predictions are coming true, Business Insider reported.
An Alagoas curassow in captivity. Luís Fábio Silveira / Agência Alagoas / Mongabay
By Pedro Biondi
Extinct in its habitat for at least three decades, the Alagoas curassow (Pauxi mitu) is now back in the jungle and facing a test of survival, thanks to the joint efforts of more than a dozen institutions to pull this pheasant-like bird back from the brink.

Elizabeth Warren's Blue New Deal aims to expand offshore renewable energy projects, like the Block Island Wind Farm in Rhode Island.
Luke H. Gordon / Flickr
By Julia Conley
Sen. Elizabeth Warren expanded her vision for combating the climate crisis on Tuesday with the release of her Blue New Deal — a new component of the Green New Deal focusing on protecting and restoring the world's oceans after decades of pollution and industry-caused warming.
Former U.S. Secretary of State Rex Tillerson leaves the courthouse after testifying in the Exxon Mobil trial on Oct. 30, 2019 in New York. DON EMMERT / AFP via Getty Images
A judge in New York's Supreme Court sided with Exxon in a case that accused the fossil fuel giant of lying to investors about the true cost of the climate crisis. The judge did not absolve Exxon from its contribution to the climate crisis, but insisted that New York State failed to prove that the company intentionally defrauded investors, as NPR reported.
By Sharon Elber
You may have heard that giving a pet for Christmas is just a bad idea. Although many people believe this myth, according to the ASPCA, 86 percent of adopted pets given as gifts stay in their new homes. These success rates are actually slightly higher than average adoption/rehoming rates. So, if done well, giving an adopted pet as a Christmas gift can work out.