This website uses cookies to ensure you get the best experience while browsing it. By clicking 'Got It' you're accepting these terms.

According to the media, the 2016 Presidential campaign began in Las Vegas, Nevada last Thursday with the 7th Clean Energy Summit, an energy gab-fast honchoed by Senate Majority Leader Harry Reid, the Center for American Progress and the University of Nevada.
The opening gambit was Hillary Clinton's speech to the summit laying out the broad outlines of her energy and climate vision, immediately challenged by Kentucky Senator Rand Paul who attacked her on Fox for calling climate, not ISIS, the biggest threat facing us.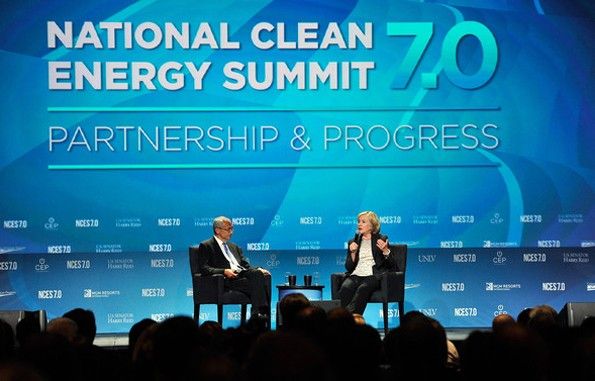 Paul's salvo is a shockingly low bar for a Presidential campaign opener, (however appalling and disruptive ISIS is, the U.S. military is easily equipped if the country chooses to crush it). We all know that things are likely to go downhill from here. That aside, Clinton's speech bears examination. She broke no new ground, unsurprisingly, since most of the energy and climate issues facing the nation are ones she either voted on in the Senate or confronted as Secretary of State. She called for the U.S. to resume its clean energy leadership, and defined climate as a must-face threat.
"The data is unforgiving," the former New York senator and first lady said to a standing room crowd "No matter what the deniers try to assert. Sea levels are rising. Ice caps are melting. Storms, droughts and wildfires are wreaking havoc."
"The threat is real but so is the opportunity."
But her framing distinguished herself from both her husband's approach and that of the Obama Administration. She placed climate solutions—the clean energy innovations that were the centerpiece of the summit—at the heart of a vision of reviving American manufacturing, and of creating "good jobs for workers without college degrees" language not often heard on a recent Presidential campaign. For a classic free trade advocate she was surprisingly cautious about the idea of oil and natural gas exports, saying they offered geopolitical promise but only if they could be managed to ensure that the U.S. kept its energy price competitive edge. Environmentalists winced at her resorting to the "bridge to a clean economy" metaphor for natural gas, but she unequivocally said "we should not drill where the risk is too great."
But the most interesting thing about her speech may be the tactics used in an apparent effort by Nevada's Republican Governor, Brian Sandoval, to draw media attention away from Clinton. Sandoval scheduled his own big news at exactly the same time in Carson City. Sandoval's announcement was that Nevada had won the multi-state competition to be the location for Tesla Motor's Gigafactory, an enormous $5 billion project to take lithium ion battery manufacturing to an entirely new level. So the news battle was clean energy vs. clean energy.
Sandoval persuaded the Nevada legislature, motivated by the 6500 manufacturing jobs the factors would create, to commit tax breaks worth $1.2 billion to land the deal.  Sandoval conceded that there were concerns about the size of the incentives—but promised that the Gigafactory "would change Nevada forever." So Nevada is now joining California, Michigan and Indiana as states that have placed major economic development bets on the electric car and its associated technologies, batteries in particular. What's striking is that these decisions were made by a mix of Republican and Democratic governors, and that Sandoval was not the only Republican seeking to land Tesla—Texas Governor Rick Perry drove to California to make his pitch.
But given the population of Nevada, this bet is by far the biggest any state has placed—every resident will eventually have $750 effectively invested in the Gigafactory and Tesla. With Nevada having (per capita) the largest renewable electricity sector in the nation, the Silver State has stepped up to the challenge that ex-President Bill Clinton made to Nevada at the second Clean Energy Summit five years ago, "to become the first self sufficient clean energy state in the nation." And, as Reid pointed out, almost all of this was made possible by a medley of federal energy policies: the production tax credit for wind, the new renewable transmission priorities that Reid and former FERC Commissioner John Wellinghoff championed, and the Republican-derided loan guarantee program under Obama's Recovery Act.
My bet is that 2016 will be the last campaign in American history in which conservatives will reflexively ignore the economic interests of their voters by routinely attacking clean energy as a left wind boondoggle. I don't say this because I expect the Koch Brothers to change the strings they attach to their campaign largesse, nor because I expect sudden twinges of conscience to sweep the Republican National Committee.
The reality is that the clean energy sector of the economy has grown so fast, and employs so many workers, that waging a war on Tesla, solar power and wind turbines is on the verge of amounting to political suicide. Not only Nevada, but must-have Republican states like Iowa and South Dakota now get more than 25 percent of their electricity from renewables. The solar industry now employs more than 140,000 workers, 50 percent more than the number of coal miners in the whole country. And by its nature, political suicide cannot become a habit.
YOU ALSO MIGHT LIKE
Responding to Bill Gates and Jigar Shah on Powering World's Poorest Economies
Fasten Your Seat Belts: Low Carbon Energy Headed Your Way
EcoWatch Daily Newsletter
The Centers for Disease Control (CDC) released new numbers that show vaping-related lung illnesses are continuing to grow across the country, as the number of fatalities has climbed to 33 and hospitalizations have reached 1,479 cases, according to a CDC update.
During the summer, the Arctic tundra is usually a thriving habitat for mammals such as the Arctic fox. Education Images / Universal Images Group via Getty Images
Reports of extreme snowfall in the Arctic might seem encouraging, given that the region is rapidly warming due to human-driven climate change. According to a new study, however, the snow could actually pose a major threat to the normal reproductive cycles of Arctic wildlife.
A fracking well looms over a residential area of Liberty, Colorado on Aug. 19.
WildEarth Guardians / Flickr
Pope Francis flanked by representatives of the Amazon Rainforest's ethnic groups and catholic prelates march in procession during the opening of the Special Assembly of the Synod of Bishops for the Pan-Amazon Region at The Vatican on Oct. 07 in Vatican City, Vatican. Alessandra Benedetti / Corbis News / Getty Images
The Catholic Church "hears the cry" of the Amazon and its peoples. That's the message Pope Francis hopes to send at the Synod of the Amazon, a three-week meeting at the Vatican that ends Oct. 27.
The crowd appears to attack a protestor in a video shared on Twitter by ITV journalist Mahatir Pasha.
VOA News /
Youtube screenshot
Some London commuters had a violent reaction Thursday morning when Extinction Rebellion protestors attempted to disrupt train service during rush hour.
Some fruit drinks may appear to be healthier, but many can have high levels of added sugars. d3sign / Moment / Getty Images
By Kristen Fischer
Though the science has shown sugary drinks are not healthy for children, fruit drinks and similar beverages accounted for more than half of all children's drink sales in 2018, according to a new report.

Donald Trump attends the opening of Red Tiger Golf Course at Trump National Doral on Jan. 12, 2015 in Doral, Florida. Johnny Louis / FilmMagic
Acting White House Chief of Staff Mick Mulvaney made two controversial announcements about the 2020 Group of Seven (G7) summit: it will be hosted at one of President Donald Trump's golf resorts in Miami and it won't feature any discussion of the climate crisis.
Farms with just one or a handful of different crops encourage fewer species of pollinating and pest-controlling insects to linger, ultimately winnowing away crop yields, according to a new study.
Up to half of the detrimental impacts of the "landscape simplification" that monocropping entails come as a result of a diminished mix of ecosystem service-providing insects, a team of scientists reported Oct. 16 in the journal Science Advances.
Monocrop palm oil plantation Honduras.
​SHARE Foundation / Flickr / CC BY-NC 2.0​
"Our study shows that biodiversity is essential to ensure the provision of ecosystem services and to maintain a high and stable agricultural production," Matteo Dainese, the study's lead author and a biologist at Eurac Research in Bolzano, Italy, said in a statement.

It stands to reason that, with declines in the sheer numbers of insects that ferry pollen from plant to plant and keep crop-eating pests under control, these services will wane as well. But until now, it hasn't been clear how monocultures affect the number and mix of these species or how crop yields might change as a result.
Aiming to solve these questions, Dainese and his colleagues pulled together data from 89 studies cutting across a variety of landscapes, from the tropics of Asia and Africa to the higher latitudes of northern Europe. They tabulated the number of pollinating and pest-controlling insects at these sites — both the absolute number of individuals and the number of species — along with an assessment of the ecosystem services the insects provided.
In almost all of the studies they looked at, the team found that a more diverse pool of these species translated into more pollination and greater pest control. They also showed that simplified landscapes supported fewer species of service-providing insects, which ultimately led to lower crop yields.
The researchers also looked at a third measure of the makeup of insect populations — what they called "evenness." In natural ecosystems, a handful of dominant species with many more individuals typically live alongside a higher number of rarer species. The team found as landscapes became less diverse, dominant species numbers dwindled and rare species gained ground. This resulting, more equitable mix led to less pollination (though it didn't end up affecting pest control).
"Our study provides strong empirical support for the potential benefits of new pathways to sustainable agriculture that aim to reconcile the protection of biodiversity and the production of food for increasing human populations," Ingolf Steffan-Dewenter, one of the study's authors and an animal ecologist at the University of Würzburg in Germany, said in the statement.
The scientists figure that the richness of pollinator species explains around a third of the harmful impacts of less diverse landscapes, while the richness of pest-controlling species accounts for about half of the same measure. In their view, the results of their research point to the need to protect biodiversity on and around crops in an uncertain future.
"Under future conditions with ongoing global change and more frequent extreme climate events, the value of farmland biodiversity ensuring resilience against environmental disturbances will become even more important," Steffan-Dewenter said.
Reposted with permission from our media associate Mongabay.
From Your Site Articles
Related Articles Around the Web