This website uses cookies to ensure you get the best experience while browsing it. By clicking 'Got It' you're accepting these terms.


The best of EcoWatch, right in your inbox. Sign up for our email newsletter!
The Latest Cosmetics Scandal: Toxic Nail Polish
Apr. 11, 2012 06:00AM EST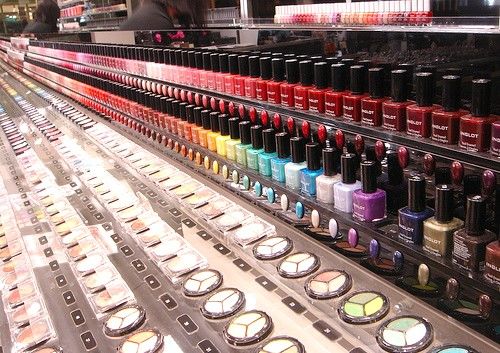 California Environmental Protection Agency's Department of Toxic Substances Control (DTSC) announced on April 10 that some nail care products typically found in many of California's estimated 48,000 nail salons and sold directly to consumers contain high levels of hazardous chemicals despite their labels claiming otherwise. These chemicals, dibutyl phthalate and toluene, have been linked to birth defects, asthma and other chronic health conditions.
Dibutyl phthalate was banned from cosmetics in Europe in 2003, which prompted consumer groups to demand that the chemical be removed from products sold in the U.S. Many top nail polish brands then began claiming their products were free of dibutyl phthalate, even labeling as such, but the DTSC tests reveal that products from brands including Sation, Dare to Wear, Chelsea, New York Summer, Paris Spicy, Sunshine, Cacie and Golden Girl actually contain high levels of the chemical.
This misbranding of nail polish is the latest in a series of scandals that have rocked the cosmetics industry, including formaldehyde in Brazilian Blowout hair straightener, lead in L'Oreal lipstick, carcinogens in Johnson's baby shampoo and mercury in skin-lightening creams.
"Consumers have had it with the current system that tolerates cosmetics companies outright lying to consumers, putting dangerous chemicals in our products, and getting away with it," said Lisa Archer, director of the Campaign for Safe Cosmetics at the Breast Cancer Fund. "It's clearer than ever that we need to overhaul our country's outdated and broken cosmetics laws to protect workers and all of us."
The House Energy and Commerce Health Subcommittee is currently debating the inclusion of cosmetics regulation in must-pass user fee authorization bills, and health advocates are urging members to ensure that any regulation they adopt is meaningful and effective. They say the regulations must include the phase-out of ingredients linked to cancer and reproductive or developmental toxicity; a safety standard that protects workers, babies and other vulnerable populations; full disclosure of ingredients; and FDA authority to recall dangerous products from the market—all of which are elements of the Safe Cosmetics Act of 2011 (H.R.2359), sponsored by Reps. Jan Schakowsky, (D-IL), Ed Markey, D-MA), and Tammy Baldwin, D-(WI).
In the case of nail polish, worker safety is of particular concern, as nail salon workers are heavily exposed. In California there are approximately 121,000 nail technicians and 284,000 cosmetologists offering nail services on a part-time basis; more than 380,000 nationwide. Women make up 96 percent of this workforce. "Many salons choose brands that do not contain toluene and dibutyl phthalate as a way to protect workers and customers from potentially harmful exposure to these chemicals," said Julia Liou of the National Healthy Nail and Beauty Salon Alliance and co-founder of the California Healthy Nail Salon Collaborative. "The fact that some manufacturers are making false claims regarding their ingredients is a major public health problem. The heath of workers who use these products day in and day out is at stake here. No worker should suffer occupational exposures and health impacts due to manufacturer misrepresentation.
For the report, DTSC sampled 25 nail care products bought from six San Francisco Bay Area locations. Of the 12 products that claimed to be free of at least one of what's known as the "toxic-trio"—toluene, dibutyl phthalate and formadlehyde, 10 contained toluene, and 4 contained dibutyl phthalate. Toluene is a neurological and a developmental toxicant that can cause headaches, dizziness, nausea, loss of short-term memory, and is proven to be toxic to a developing fetus. Both of these chemicals can impact the health of nail salon workers as well as consumers. Dibutyl phthalate can cause adverse effects on the male and female reproductive systems, as well as developmental problems in infants and children.
"Manufacturers that don't get their labels right are putting those that do in a bad light," said Debbie Raphael, DTSC director. "Manufacturers must ask themselves a basic question: 'Is it necessary to make nail care products with these ingredients?' Asking that question is a primary goal of DTSC's Safer Consumer Products Regulations," Raphael said. The regulations, scheduled to go into effect in 2012, are an effort to make selected product manufacturers analyze alternatives to toxic ingredients in their products.
"This report shows that companies are including harmful chemicals in their products, and are not being truthful about it," said Miriam Yeung of the National Health Nail and Beauty Salon Alliance. "More disturbing is that the cosmetics industry continues to be almost completely unregulated—the FDA still does not have the power it needs to keep consumers and salon workers safe. Over 40 percent of nail salon workers are Asian American women. These are hardworking women trying to make a living while providing the service that their customers want. They deserve better."
In 2006, under consumer pressure generated by the Campaign for Safe Cosmetics, leading salon nail polish manufacturer OPI agreed to remove the "toxic trio" chemicals—formaldehyde, toluene and DBP—from its nail polishes and treatments, and several other manufacturers followed suit. Yet the DTSC study highlights the fact that voluntary action on the part of industry is not backed by any kind of enforcement.
"Clearly we have a big problem. While the FDA has the responsibility to protect the public by ensuring cosmetics are safe and non-toxic, under current law it doesn't have the authority to do so," said Archer of the Campaign for Safe Cosmetics. "The DTSC study illustrates the importance of states having the right to regulate toxic chemicals to protect people's health, and that ultimately we need stronger laws at the federal level that set a bottom line of safety, no matter where you live and work."
The DTSC report can be found online by clicking here.
For more information, click here.
EcoWatch Daily Newsletter
Mark Wilson / Getty Images News
Ethics investigations have been opened into the conduct of senior Trump appointees at the nation's top environmental agencies.
The two investigations focus on Environmental Protection Agency (EPA) Administrator Andrew Wheeler and six high-ranking officials in the Department of Interior (DOI), The Hill reported Tuesday. Both of them involve the officials' former clients or employers.
"This is demonstrative of the failures at the very top of this administration to set an ethical tone," Campaign Legal Center Ethics Counsel Delaney Marsco told The Washington Post of the DOI investigation. "When people come to work for government, they're supposed to work on behalf of the public. It's a betrayal of the public trust when senior political appointees seem to give privileged access to their former employers or former clients."
Cigarette butt litter. Tavallai / CC BY-ND 2.0
By Dipika Kadaba
We've known for more than 50 years that smoking cigarettes comes with health hazards, but it turns out those discarded butts are harmful for the environment, too. Filtered cigarette butts, although small, contain dozens of chemicals, including arsenic and benzene. These toxins can leach into the ground or water, creating a potentially deadly situation for nearby birds, fish and other wildlife.
Thanasis Zovoilis / DigitalVision / Getty Images
Infants less than a year old should not be exposed to electronic screens, the World Health Organization (WHO) said on Wednesday.
Bill Pugliano / Getty Images
By Wenonah Hauter
Five years ago this week, an emergency manager appointed by then-Michigan Gov. Rick Snyder made the devastating decision to save money by switching Flint's water supply over from Detroit's water system to the Flint River. Seen as a temporary fix, the new water supply was not properly treated. High levels of lead leached from the old pipes, poisoning a generation of Flint's children, and bacteria responsible for an outbreak of Legionnaires' Disease killed more than a dozen residents.
Los Angeles-Long Beach, California is listed as the nation's smoggiest city. Pixabay
Kissing bug. Pavel Kirillov / Flickr / CC BY-SA 2.0
The Centers for Disease Control and Prevention (CDC) confirmed that the kissing bug, which can transmit a potentially deadly parasite, has spread to Delaware, ABC News reported Wednesday.
Did you know that more than a third of food is wasted or thrown away every year? And that only 25 percent of it would be enough to feed the 795 million undernourished people in the world? That's why today is Stop Food Waste Day, a chance to reflect on what you can do to waste less of the food you buy.
Stop Food Waste Day is an initiative of food service company Compass Group. It was launched first in the U.S, in 2017 and went global the year after, making today it's second worldwide celebration.