This website uses cookies to ensure you get the best experience while browsing it. By clicking 'Got It' you're accepting these terms.
The Kid Gloves Are Off for Chevron in Brazil
Mar. 21, 2012 11:33AM EST
Energy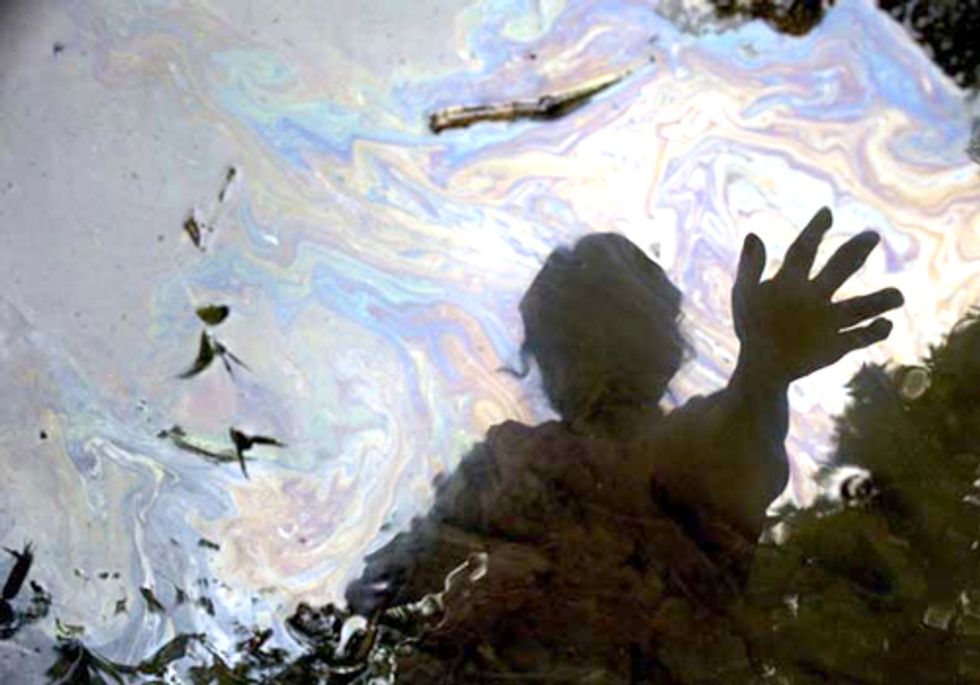 Chevron is still pursuing its desperate fight to stonewall the process of justice in Ecuador, but in Brazil the company has found that escaping a similar pollution scandal is not so easy.
On March 21, Brazilian officials are expected to file criminal charges against Chevron, alleging that the company acted irresponsibly before and after the November leak of 3,000 barrels of oil at Chevron's $3.6 billion Frade field off the coast of Rio de Janeiro.
Fabio Scliar, head of the environment unit of Brazil's federal police department, told Brazilian media this week that the deep water well "could not and should not have been drilled under the conditions presented in the area," adding that an "absurd" amount of pressure was used at the site situated off the coast of Rio de Janeiro state. "All indications are that a desire for profits led (Chevron) to take the prohibitive risk" of drilling at the site, Scliar concluded.
On March 16, a Brazilian judge barred Chevron's Brazil Chief, George Buck, and 16 other executives from leaving the country until an investigation of the company's offshore oil spills has been completed.
Chevron's longtime strategy in Ecuador—deny everything, bluster angrily and counter-attack with hundreds of lawyers—just doesn't work in Brazil.
The government's oil regulatory agency has ordered Chevron to stop drilling any new holes, although it allowed production to continue at existing wells. Federal prosecutors asked a federal court to levy an $11 billion fine on Chevron and to shut down the company's operations altogether.
On Feb. 29, a judge declined to issue a preliminary injunction shutting down the company—a move that no doubt raised Chevron executives' hopes that the company would soon be scot-free.
But lo and behold, on Friday, March 16, government officials announced that they had detected another leak coming from Chevron's wells in Frade. A kilometer-long slick was seen spreading over the ocean surface, and Chevron said frantically that it would try to capture the oil in containment devices.
This time, the Brazilian judiciary seemed to realize that the kid gloves needed to come off. Federal Judge Vlamir Costa Magalhães quickly barred the Chevron executives from leaving the country. "There is no doubt the exit of these people from the country, at this moment, would generate considerable risk to the investigation," he said.
For Chevron, the stakes are high. Brazil's offshore oil reserves are considered one of the world's untapped frontiers for oil development, potentially holding as much as 100 billion barrels of crude. The so-called pre-salt fields lie two miles below the ocean surface and another two to four miles beneath the seabed. Chevron has a 52 percent operating stake in the Frade field and has spent around $2 billion so far on its development. Brazil is seen as a big part of Chevron's announced strategy of raising its global oil output by 20 percent over the next five years.
For Brazil, these geological difficulties mean that oil companies need to show know-how and sensitivity, not a callous, "drill, baby drill" attitude. But in an industry full of bad actors, Chevron has proven itself to be beyond the pale, due its record of environmental negligence and rights violations in Ecuador and around the world.
Brazil is slowly realizing what it signed up for. Caveat emptor.
For more information, click here.
EcoWatch Daily Newsletter
The Ernest N. Morial Convention Center in New Orleans, Louisiana has been converted to a 1,000-bed field hospital for coronavirus patients to alleviate stress on local hospitals. Chris Graythen / Getty Images
An area in Louisiana whose predominantly black and brown residents are hard-hit by health problems from industry overdevelopment is experiencing one of the highest death rates from coronavirus of any county in the United States.
A woman lies in bed with the flu. marka/Universal Images Group via Getty Images
A central player in the fight against the novel coronavirus is our immune system. It protects us against the invader and can even be helpful for its therapy. But sometimes it can turn against us.
Several flower species, including the orchid, can recover quickly from severe injury, scientists have found. cunfek / iStock / Getty Images Plus
Calling someone a delicate flower may not sting like it used to, according to new research. Scientists have found that many delicate flowers are actually remarkably hearty and able to bounce back from severe injury.
A Boeing 727 flies over approach lights with a trail of black-smoke from the engines on April 9, 2018. aviation-images.com / Universal Images Group via Getty Images
With global air travel at a near standstill, the airline industry is looking to rewrite the rules it agreed to tackle global emissions. The Guardian reports that the airline is billing it as a matter of survival, while environmental activists are accusing the industry of trying to dodge their obligations.
A National Guard member works on election day at a polling location on April 7, 2020 in Madison, Wisconsin. Andy Manis / Getty Images.
ByJulia Baumel
The outbreak of COVID-19 across the U.S. has touched every facet of our society, and our democracy has been no exception.