This website uses cookies to ensure you get the best experience while browsing it. By clicking 'Got It' you're accepting these terms.
The Issue of Population is More Than a Little Radioactive
May. 23, 2012 05:30AM EST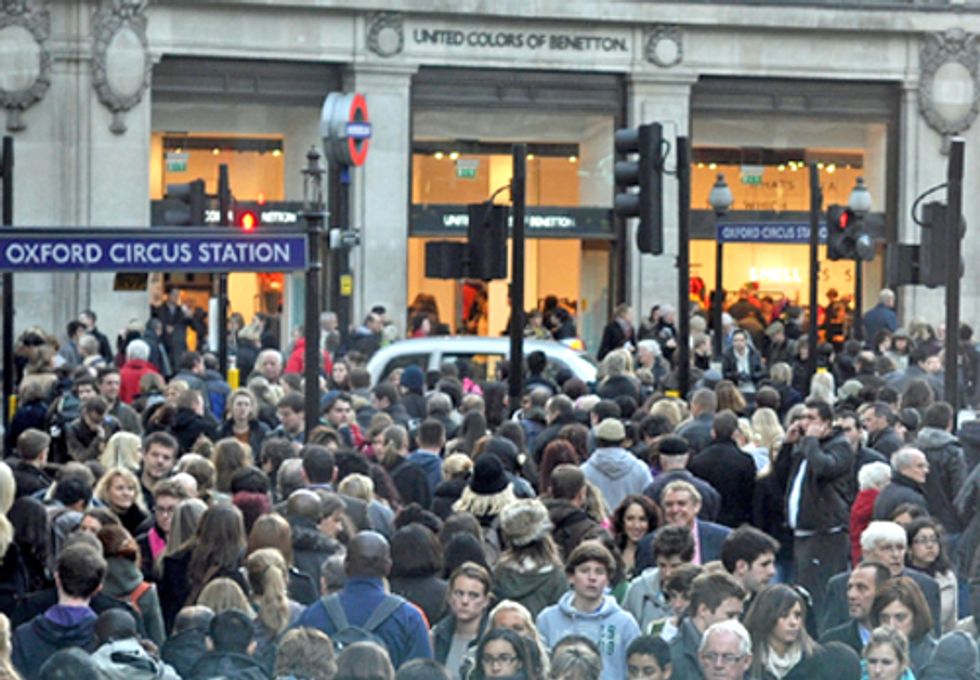 By Michael D. Lemonick
Talk to people who care about the environment and you'll hear plenty about pollution, deforestation, sustainability and climate change. What you won't hear is the word "population," unless it refers to populations of endangered species. 
But if you think about it, the Earth's booming human population is at the root of just about every environmental crisis that threatens the natural world. Last Oct. 31, Earth's population reached 7 billion people (unofficially, because there's no way to pinpoint the actual day, but it was in the ballpark). Every last one of them taps into the planet's resources as they eat, work and create waste in a myriad of different forms. By 2027 we'll be up to 8 billion, and the U.N. predicts we'll hit 9 billion in 2047.
Even now, however, the pressure on Earth's resources is already extreme, and more people will only make it worse. Deforestation and other forms of habitat destruction, for example, are mostly the result of all those billions of people clearing land for places to live and grow food. Destroy natural habitats and you throw ecosystems out of whack, to say nothing of wiping species off the planet at such an alarming rate that scientists believe we may be seeing Earth's sixth mass extinction (the previous five were caused by things like asteroid impacts or gigantic volcanic eruptions). All those billions of people burning wood and coal and oil, for heating, transportation, electricity and manufacturing, moreover, generate air pollution, including heat-trapping greenhouse gases.
Most of us never stop to think about the flip side of that equation, however: if the world had significantly fewer people, all of these strains on the planet would be much less. Two thousand years ago, the world's population stood at about 300 million people, according to the U.N., and by 500 years ago, that number had climbed to half a billion, or one fourteenth of today's population.
What if it had just stayed there? Would our current environmental problems be slashed by a factor of 14? Well, OK, probably not. Back in 1500, even the richest people had a standard of living far below what people in the U.S. have now: they had no electricity, no motorized transportation, a monotonous and not very nutritious diet. As a result, their impact on the planet was far less than what a half-billion people living at modern U.S. standards would be—and even so, the impact of pre-industrial civilization was hardly zero.
It's also true that in the modern world, the richest people consume vastly more resources, and contribute vastly more to the planet's environmental ills, than the poorest. By some estimates, fully 50 percent of all human CO2 emissions come from the richest 500 million people, while the poorest 3 billion generate a mere 7 percent. If those billions can raise their standard of living significantly, as they have every right to do, the impacts of all that consumption and those emissions will become vastly worse.
It would be simplistic, then, to put all the blame for the planet's environmental woes on population. Nevertheless, it's clear that if the Earth's population were to magically drop from 7 billion to, say, 1 billion  ("magically," because you could do it with a horrifying disease or some other catastrophe, but I'd just as soon not), most of the issues environmentalists worry about would become easier to manage, even though they'd hardly disappear.
So why aren't policymakers talking more about population? Why aren't the media reporting more about it? One reason is that it's a very touchy subject. Plenty of religious leaders have a real problem with family planning in any form, and China's infamous one-child policy has led to forced abortions, forced sterilization and, thanks to a strong preference for boys, a severe gender imbalance. In large part, it was his opposition to the excesses of the one-child policy that got Chinese activist Chen Guangcheng in trouble with authorities earlier this year.
The issue of population is, in short, more than a little radioactive. Besides, fertility rates have been dropping in recent decades thanks largely to the education of women, so the problem clearly isn't as bad as it could be. In fact, the U.N. was projecting 15 billion people by the middle of this century only a couple of decades ago, so we're moving in the right direction. But the U.N. also acknowledges that just the slightest uptick in those rates could drive the number drastically upward again. A problem that appears to have stabilized could destabilize very quickly.
That's why at least one environmental group has taken on the issue of overpopulation: last year, the Center for Biological Diversity began talking about population growth as a key factor in environmental degradation. According to an article in the New York Times, the group is, among other things, handing out condoms in packages with endangered animals on them and emblazoned with slogans including "Wrap with care, save the polar bear," and "Wear a condom now, save the spotted owl."
OK, it's a bit silly (although not as silly as this condom promo video from India), and there's nothing much we can do to reduce the population by any significant amount. But as July's World Population Day approaches, it's worth remembering that the sheer number of people on Earth makes every threat to the environment worse than it would otherwise be.
And it wouldn't be a bad thing if more of us were talking about it.
For more information, click here.
EcoWatch Daily Newsletter
By Jennifer Molidor, PhD
Climate change, habitat loss and pollution are overwhelming our planet. Thankfully, these enormous threats are being met by a bold new wave of environmental activism.
President Donald Trump mocked water-efficiency standards in new constructions last week. Trump said, "People are flushing toilets 10 times, 15 times, as opposed to once. They end up using more water. So, EPA is looking at that very strongly, at my suggestion." Trump asked the Environmental Protection Agency (EPA) for a federal review of those standards since, he claimed with no evidence, that they are making bathrooms unusable and wasting water, as NBC News reported.
(L) Rushing waters of Victoria Falls at Mosi-oa-Tunya National Park, Zimbabwe pictured in January 2018. Edwin Remsberg / VW PICS / UIG / Getty Images (R) Stark contrast of Victory Falls is seen on Nov. 13, 2019 after drought has caused a decline. ZINYANGE AUNTONY / AFP / Getty Images
Monsanto's former chairman and CEO Hugh Grant speaks about "The Coming Agricultural Revolution" on May 17, 2016.
Fortune Brainstorm E / Flickr
By Carey Gillam
Former Monsanto Chairman and CEO Hugh Grant will have to testify in person at a St. Louis-area trial set for January in litigation brought by a cancer-stricken woman who claims her disease was caused by exposure to the company's Roundup herbicide and that Monsanto covered up the risks instead of warning consumers.
A volcano erupts on New Zealand's Whakaari/White Island on Dec. 9, 2019.
Michael Schade / Twitter
A powerful volcano on Monday rocked an uninhabited island frequented by tourists about 30 miles off New Zealand's coast. Authorities have confirmed that five people died. They expect that number to rise as some are missing and police officials issued a statement that flights around the islands revealed "no signs of life had been seen at any point,", as The Guardian reported.