The Island President Released From Prison to the UK
By Brett Garling, Mission Blue
If you're planning on booking that next dive trip to the Maldives, you may want to think twice. Human rights abuses there are on the rise.
"I think it's important for tourists to know the facts of what's happening in the Maldives," Human Rights Lawyer Amal Cooney recently told NBC News. "I don't think people realize that there's a flogging taking place a kilometer away when they're sunbathing in their resort. Democracy is dead in the Maldives. I mean literally, if there were an election now there would be no one to run against the president. Every opposition leader is either behind bars or being pursed by the government through the courts."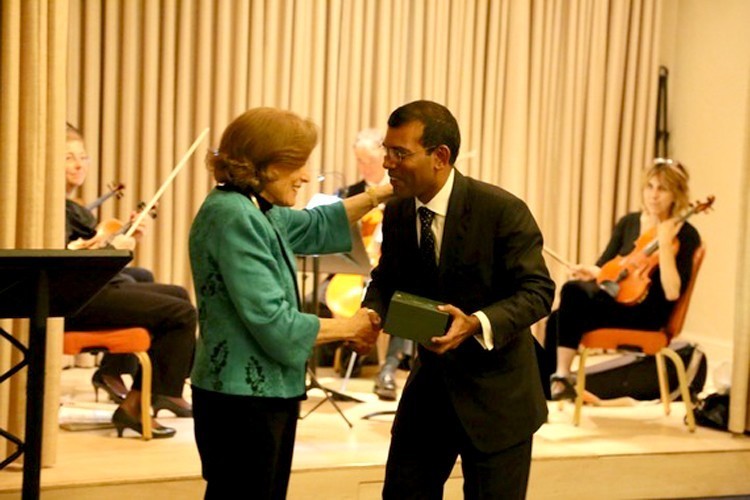 One such opposition leader is Mohamed Nasheed, the first democratically elected president of the Maldives and international champion of climate change action, who was ousted as president of the Maldives in 2012 and jailed on what Clooney calls "trumped up" terrorism charges. Nasheed was recently released to the United Kingdom to receive medical care after Clooney called publicly in Washington, DC for targeted sanctions against the current leaders of the Maldives. In Nasheed's first public statements since his release, he indicated that he would not return before the 30 day deadline set by his captors and endorsed the idea of targeted sanctions.
On Twitter, Nasheed said "Freedom, even if fleeting, gives me renewed hope. My gratitude to those who believed leads to a new determination to secure justice for all."
Nasheed is an international champion of climate change action and a recipient of the Mission Blue award, which Dr. Sylvia Earle gave him at the Blue Ocean Film Festival 2014 for his distinguished work advocating for carbon abatement in the face of sea level rise that especially threatens very low-lying nations like the Maldives.
A highlight of the film festival was the screening of the 2011 film The Island President, a feature documentary that details Nasheed's struggle to convince the world community to act on climate change and protect the impending flooding of the 1,200 islands of the Maldives. As president, Nasheed had promised to make the island nation entirely carbon-free within a decade through wind and solar energy. See below for the rich dialogue that took place between Dr. Earle and Nasheed at the Blue Ocean Film Festival in 2014.
Freedom of speech and organization is critical in the global collaboration to curb greenhouse gas emissions and fight climate change. How would a success like COP21, the climate conference in Paris last year, have been possible without the right to speak up and congregate? For those concerned with human rights abuses or climate change—or both—keep a close eye on Nasheed, the deteriorating political situation in the Maldives and the fate of low-lying island nations in the age of sea level rise. The planet and the people on it deserve better.
YOU MIGHT ALSO LIKE
14 Cases to 4 Million: 10 Things You Should Know About Zika Virus
Leonardo DiCaprio Meets With Pope Francis to Discuss Need for Immediate Action on Climate Change
The Role of Direct Action in the Battle to Slow Climate Change
Doomsday Clock Stays at Three Minutes to Midnight: At the 'Brink' of Man-Made Apocalypse