This website uses cookies to ensure you get the best experience while browsing it. By clicking 'Got It' you're accepting these terms.


The best of EcoWatch, right in your inbox. Sign up for our email newsletter!
The Inside Story of How a University Professor Quietly Collaborated With Monsanto
Feb. 01, 2016 10:36AM EST
GMO
Former University of Illinois food science professor Bruce Chassy is known for his academic gravitas. Now retired nearly four years, Chassy still writes and speaks often about food safety issues, identifying himself with the full weight of the decades of experience earned at the public university and as a researcher at the National Institutes of Health. Chassy tells audiences that before he retired in 2012, he worked "full time" doing research and teaching.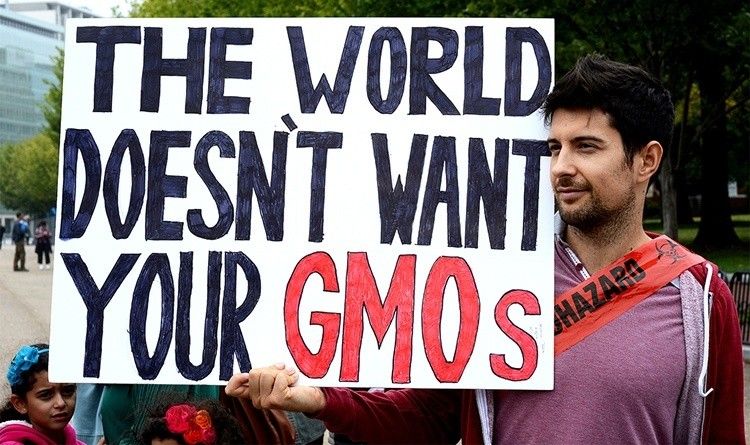 What Chassy doesn't talk much about is the other work he did while at the University of Illinois—promoting the interests of Monsanto Co., which has been trying to overcome mounting public concerns about the genetically engineered (GMO) crops and chemicals the company sells. He also doesn't talk much about the hundreds of thousands of dollars Monsanto donated to the university as Chassy was helping promote GMOs or Monsanto's secretive role in helping Chassy set up a nonprofit group and website to criticize individuals and organizations who raise questions about GMOs.
But emails released through Freedom of Information Act requests show that Chassy was an active member of a group of U.S. academics who have been quietly collaborating with Monsanto on strategies aimed at not just promoting biotech crop products, but also rolling back regulation of these products and fending off industry critics. The emails show money flowing into the university from Monsanto as Chassy collaborated on multiple projects with Monsanto to counter public concerns about genetically modified crops (GMOs)—all while representing himself as an independent academic for a public institution.
A New York Times article by Eric Lipton published last September laid bare the campaign crafted by Monsanto and other industry players to use the credibility of prominent academics to push the industry's political agenda. That New York Times article focused primarily on University of Florida academic Kevin Folta, chairman of the university's Horticultural Sciences Department and Folta's work on behalf of Monsanto. But an examination of recently released email exchanges between Monsanto and Chassy show new depths to the industry efforts.
The collaborations come at a critical juncture in the U.S. regarding GMO public policy. Mandatory GMO labeling is set to take effect in Vermont on July 1; Congress is wrestling over a federal labeling law for GMOs; and several other states are seeking their own answers to rising consumer demand for transparency about this topic.
Many consumer and environmental groups want to see more restrictions and regulation on GMO crops and the glyphosate herbicide many know as Roundup, which is used on GMOs. But the companies that market the crops and chemicals argue their products are safe and there should be less regulation, not more. Monsanto's roughly $15 billion in annual revenue comes almost exclusively from GMO crop technology and related chemicals.
Amid the furor, the revelations about corporate collaboration with public university scientists to promote GMOs have sparked a new debate about a lack of transparency in the relationships between academics and industry.
Chassy has said he did nothing unethical or improper in his work supporting Monsanto and the biotech crop industry. "As a public-sector research scientist, it was expected ... that I collaborate with and solicit the engagement of those working in my field of expertise," Chassy said.
Still, what you find when reading through the email chains is an arrangement that allowed industry players to cloak pro-GMO messaging within a veil of independent expertise and little, if any, public disclosure of the behind-the-scenes connections.
Critical Collaborations 
Emails About Money 
The emails also discuss money.
Continued Close Ties 
The close ties between Monsanto and Chassy continued past Chassy's retirement in June 2012 from the university. Through 2013 and 2014 Chassy frequently appeared as an "independent expert" on the GMO Answers website, a pro-GMO site funded by Monsanto and other agribusiness giants. In that role, he answered questions and concerns about GMOs.
Chassy also has continued to operate Academics Review, publishing critical articles about individuals and organizations, including the World Health Organization's cancer experts, that report information unfavorable for the GMO crop industry. (I was the subject of at least two such attacks in 2014. Chassy objected to my presentation of both sides of the GMO safety debate in one Reuters article and objected to a second Reuters article that detailed the findings of a USDA report that found both benefits but also concerns associated with GMOs.)
When asked about its interactions with Chassy, Monsanto has said that there is nothing improper with its "engagements" with "public sector experts" and that such collaborations help educate the public on important topics. The university also has said it sees nothing wrong with the relations. A university spokeswoman said Chassy has "strong scientific credibility." She also said that Monsanto has given the university at least $1.9 million in the last five years.
But others familiar with the issues say the lack of transparency is a problem.
"These revelations regarding the connections are very important," George Kimbrell, senior attorney with the Center for Food Safety, said. "The basic disclosure that some academics and other 'neutral' commentators in the public sphere are actually paid operatives/working directly with the chemical industry rightly alarms the public, as they are being misled."
Revelations similar to these involving University of Florida Professor Kevin Folta's connections to Monsanto did spark a public backlash after emails showed Folta received an unrestricted $25,000 grant and told Monsanto he would "write whatever you like." Folta said in a Jan. 18 blog that he no longer works with Monsanto because of the heated backlash.
Both Chassy and Folta have repeatedly written or been quoted in news articles that failed to disclose their connections to Monsanto and the GMO industry. In a recent example, Chassy has co-authored a series of articles that argue GMO labeling is a "disaster in waiting," again with no disclosure of his collaboration with GMO developer Monsanto. His co-author is Jon Entine, founder of the PR firm ESG MediaMetrics, whose clients have included Monsanto, a connection Entine does not include in the article.
The revelations in the emails about Chassy, Folta and other assorted academics leave many questions about who to trust and how to trust information critical to understanding our evolving food system. With food labeling issues at the forefront of debate, it's time for more transparency.
YOU MIGHT ALSO LIKE
Michael Moore: 10 Things They Won't Tell You About the Flint Water Tragedy, But I Will
Will Denmark Become the World's First 100% Organic Country?
8 Battleground States in the GMO Food Labeling Fight
Monsanto to Cut 3,600 Jobs as Public Protests Continue to Stymie Profits
EcoWatch Daily Newsletter
Pxhere
By Richard Denison
Readers of this blog know how concerned EDF is over the Trump EPA's approval of many dozens of new chemicals based on its mere "expectation" that workers across supply chains will always employ personal protective equipment (PPE) just because it is recommended in the manufacturer's non-binding safety data sheet (SDS).
By Grant Smith
From 2009 to 2012, Gregory Jaczko was chairman of the Nuclear Regulatory Commission, which approves nuclear power plant designs and sets safety standards for plants. But he now says that nuclear power is too dangerous and expensive — and not part of the answer to the climate crisis.
A lake in Rocky Mountain National Park. Brett Walton / Circle of Blue
By Brett Walton
When Greg Wetherbee sat in front of the microscope recently, he was looking for fragments of metals or coal, particles that might indicate the source of airborne nitrogen pollution in Rocky Mountain National Park. What caught his eye, though, were the plastics.
Gabriele Holtermann Gorden / Pacific Press / LightRocket / Getty Images
In a big victory for animals, Prada has announced that it's ending its use of fur! It joins Coach, Jean Paul Gaultier, Giorgio Armani, Versace, Ralph Lauren, Vivienne Westwood, Michael Kors, Donna Karan and many others PETA has pushed toward a ban.
This is a victory more than a decade in the making. PETA and our international affiliates have crashed Prada's catwalks with anti-fur signs, held eye-catching demonstrations all around the world, and sent the company loads of information about the fur industry. In 2018, actor and animal rights advocate Pamela Anderson sent a letter on PETA's behalf urging Miuccia Prada to commit to leaving fur out of all future collections, and the iconic designer has finally listened.
Amer Ghazzal / Barcroft Media / Getty Images
If people in three European countries want to fight the climate crisis, they need to chill out more.
That's the conclusion of a new study from think tank Autonomy, which found that Germany, the UK and Sweden all needed to drastically reduce their workweeks to fight climate change.
Amazon Employees for Climate Justice held a press conference after the annual shareholder meeting on May 22. Amazon Employees for Climate Justice
An artist's rendering of the recomposition facility. MOLT Studios
Washington became the first U.S. state to legalize human composting Tuesday, offering residents a more environmentally friendly way to dispose of their remains, AFP reported.
Mr.TinDC / Flickr / CC BY-ND 2.0
Many nutrients are essential for good health.