The Hot New Trend Home-Based Businesses Are Loving
Mar. 16, 2016 10:12AM EST
Business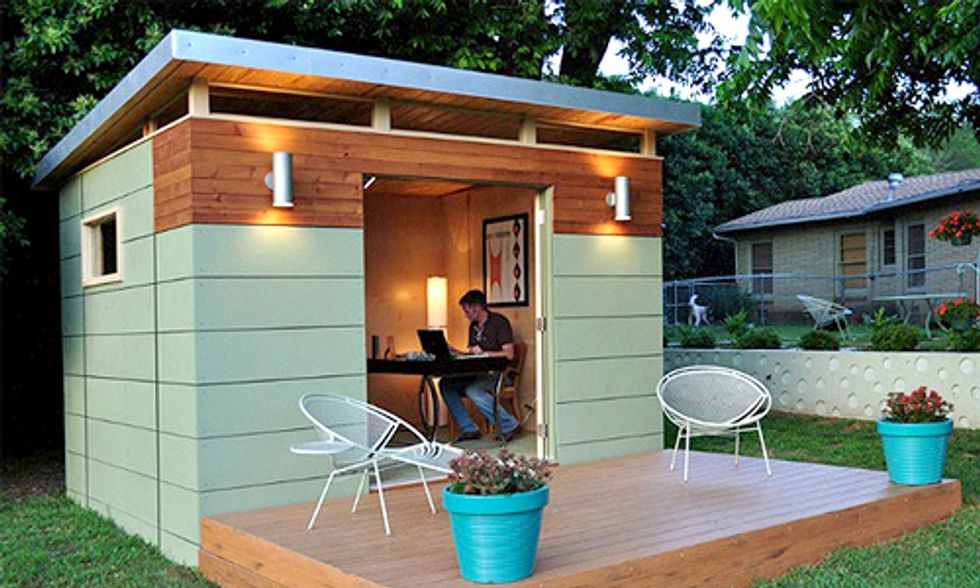 With a growing number of Americans working from home, "shedquarters" are a new home design trend that lets you work right from the convenience of your backyard.
According to Global Workplace Analytics' research, 50 percent of the U.S. workforce holds a job that's at least partially compatible with telework, and another 80-90 percent of folks saying they'd like to work from home at least part time. Coupled with that, a recovering economy means independent businesses and start-ups are popping up with higher frequency, making it likely that we'll see more and more shedquarters dotting the country's backyards.
A shedquarter is appealing because they are space-efficient, highly customizable, easy to install and potentially costs less than carving out a whole new room in your house. Many modern design companies and DIY builders are creating these cozy outdoor extensions for a range of uses, including a home office, artist's studio, a guest room—and, yes, storage space. Take a tour of some of our favorite shedquarters.
1. Sett Studio
The Austin-based designers create sustainable, pre-fabricated and site-built homes.
"Built with Structurally Insulated Panels (SIPs), [the studios] deliver maximum energy efficiency, minimal material waste, minimize labor costs and provide a beautiful and purposeful space that will add flexibility to your current living and/or working space," the company says.
This 96-square-foot backyard studio by @SettStudio proves that small can be magical. http://t.co/N8u28ljUsH http://t.co/1DSdr1cdoQ

— Austin Home Magazine (@Austin Home Magazine)1430316873.0
2. Modern-Shed
Lighter Side of Real Estate notes that the Seattle-based company creates flat-packed, pre-fabricated structures with a basic 8×10-foot shed starting at $6,900. Modern-Shed uses eco-friendly building materials such as denim insulation which contains 85 percent post-industrial recycled fibers; a GreenGrid roof, which is a modular vegetative roof system that reduces energy costs, regulates structure temperature and helps manage rainwater runoff; they also partner with a solar panel company for their off-grid customers.
The benefits of working from home https://t.co/GBMSBBIGtZ https://t.co/j8EpwLRssm

— Modern-Shed (@Modern-Shed)1454961532.0
A Modern-Shed inside the @LightArtSeattle space. http://t.co/IurRaSdokp

— Modern-Shed (@Modern-Shed)1405642931.0
For those of you who like to DIY, this lovely shedquarter was built by San Antonio, Texas couple Daniel and Vanessa Hayes.
"Together, we got pretty tired of our temporary offices and the clutter that inevitably takes over," Daniel wrote. "We decided that an actual office was not only necessary to keep the peace, but also to keep our sanity so, we built our own!"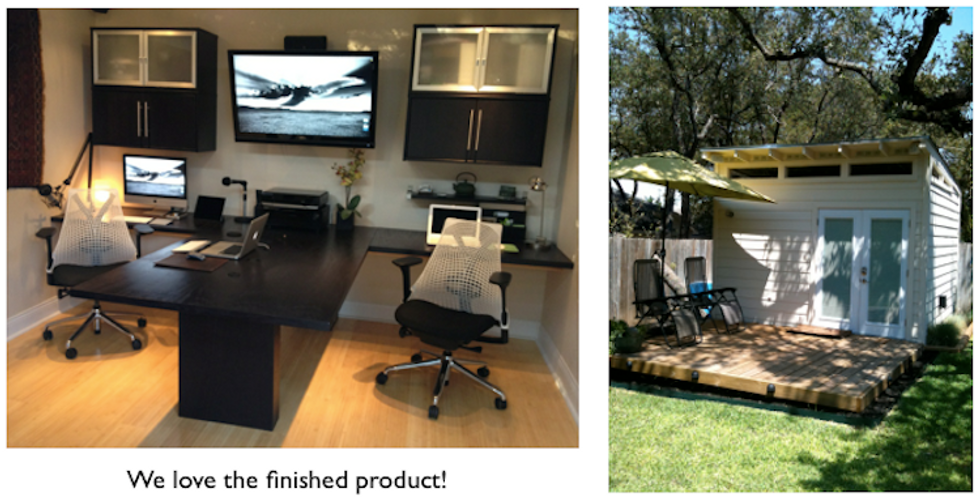 "It's hard to express how truly happy we are with the results. The office is a great place to work and lets us separate 'work' from 'home,' yet is only steps away from our back door." Photo credit: Simple Life Together
4. Kanga Room
The premium tiny home builder's backyard studios come in three styles: modern, country cottage and bungalow. The basic package is an 8×8-foot shed that starts around $5,900 and you can on add on features such as a bathroom, kitchenette or a front porch for additional cost.
5. MetroPrefab
Designed by David Ballinger, this $8,000, 9x13-foot MetroSHED ships to the contiguous 48 states and is delivered flat packed, with full assembly instructions and all necessary fasteners. No building experience is necessary to set it up.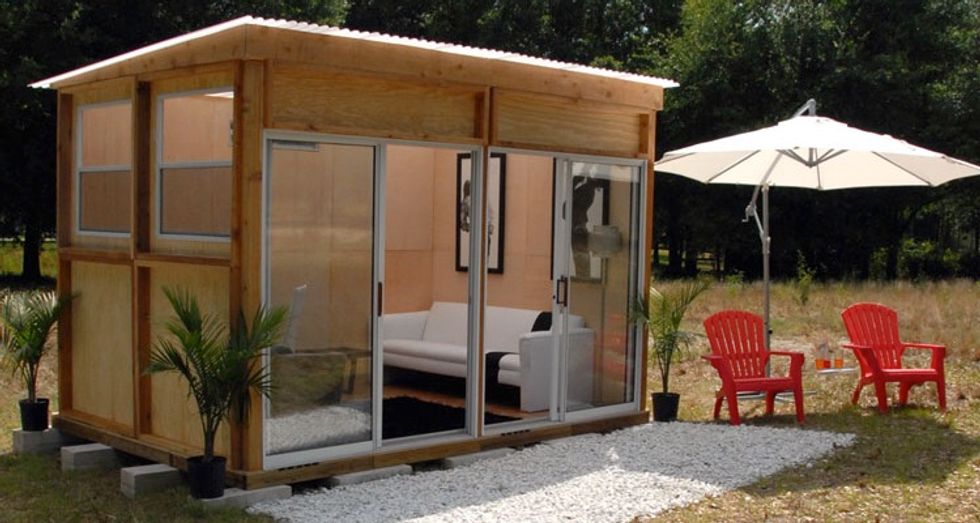 Photo credit: MetroPrefab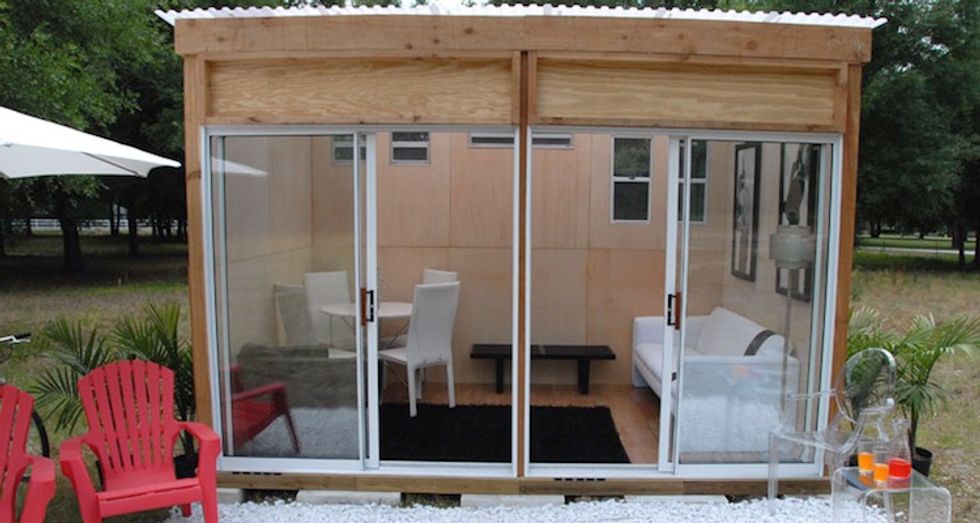 Photo credit: MetroPrefab
The Chico, California-based company's stylish pre-fab units can be assembled by their team in your yard or business in just one day.
"These forts for grown-ups are not only uber stylish but practical too," the company boasts on Facebook. "The units carry a strong modern flair and stand in stark contrast to the typical cottage design that is typical of most sheds and small spaces in today's market."
YOU MIGHT ALSO LIKE
Take a Tour of Facebook's Massive 9-Acre Rooftop Park
Shipping Containers Are Becoming 'Home, Sweet Home' All Over the World
Cities Unleash Secret Underground Weapon to Become Clean Energy Powerhouses
Want to Get Off the Grid and Live in Harmony With Nature? Build an Earthship
EcoWatch Daily Newsletter
Recent Stories from EcoWatch