This website uses cookies to ensure you get the best experience while browsing it. By clicking 'Got It' you're accepting these terms.
The Guardian Exposes Fossil Funded Groups Coordinating Renewable Energy Attacks
May. 09, 2012 09:05AM EST
Climate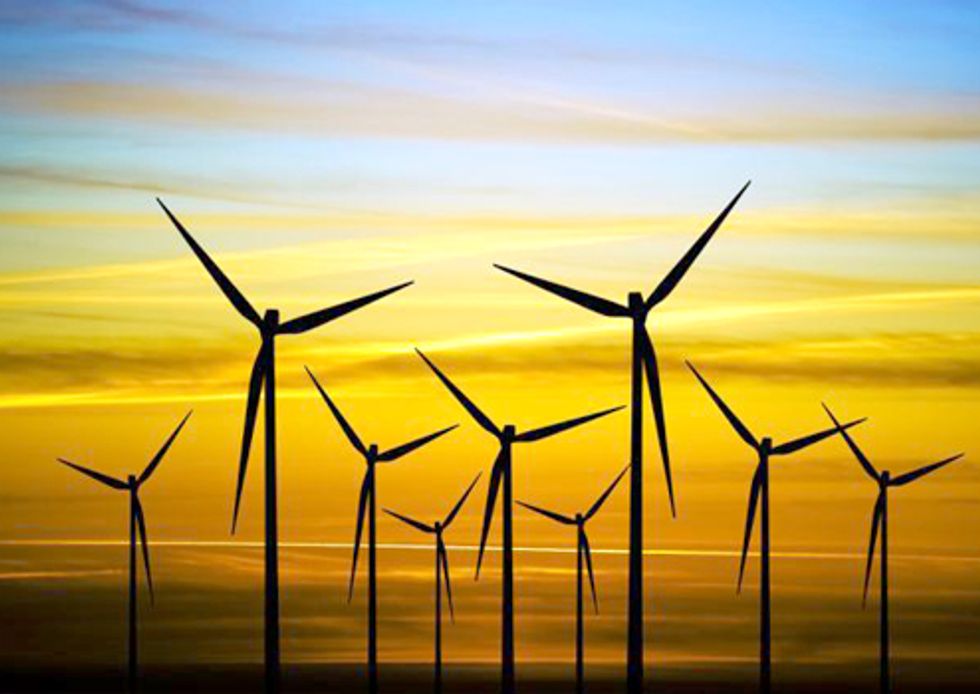 By Steve Horn
Ever wonder why a blooming green energy industry has faced such harsh opposition? Now, as the old adage goes, "the cat's out of the bag."
On May 8 The Guardian revealed the network of fossil-funded groups coordinating the ongoing onslaught of attacks on renewable energy, particularly wind power. A memorandum passed to The Guardian from the Checks and Balances Project details the organizations and personnel acting as ringleaders to build an astroturf echo chamber of clean energy critics.
Guardian reporter Suzanne Goldenberg writes in "Conservative think tanks step up attacks against Obama's clean energy strategy":
"A number of rightwing organisations, including Americans for Prosperity, which is funded by the billionaire Koch brothers, are attacking Obama for his support for solar and wind power. The American Legislative Exchange Council (ALEC), which also has financial links to the Kochs, has drafted bills to overturn state laws promoting wind energy."
A confidential memo seen by The Guardian and obtained by DeSmogBlog "advises using 'subversion' to build a national movement of wind farm protesters," explained Goldenberg.
That memo was crafted by the American Tradition Institute (ATI). ATI was the right-wing think-tank behind the lawsuit to obtain University of Virginia climatologist Michael Mann's "ClimateGate" emails. 
DeSmogBlog has covered ALEC's assault on renewable energy previously.
Other gold in the memo, as relayed by Goldenberg:
"[A] national PR campaign aimed at causing 'subversion in message of industry so that it effectively because so bad that no one wants to admit in public they are for it.'"
"[S]etting up 'dummy businesses' to buy anti-wind billboards, and creating a 'counter-intelligence branch' to track the wind energy industry.  
"[C]alls for spending $750,000 to create an organisation with paid staff and tax-exempt status dedicated to building public opposition to state and federal government policies encouraging the wind energy industry."
The memo was authored by John Droz Jr., an ATI Senior Felllow. Droz runs the website "Wind Power Facts" and is a climate change denier, on the record saying:
Is Global Warming a scientifically resolved matter? No. There is some very convincing evidence (and scientists) that indicate that there is such a thing as Global Warming. But there are some very qualified scientists (with good evidence) that suggest just the opposite. More importantly, statements often appearing in the media like 'the majority of scientists' believe in Global Warming, are meaningless. First of all, no legitimate survey has ever been done, and secondly, science is not about the number of people who advocate a position.
Furthermore, Droz is registered as a speaker at this year's Heartland Institute (of DeSmogBlog's "Heartland Exposed" fame) "Denial-a-Palooza" event.
"These documents show for the first time that local Nimby anti-wind groups are co-ordinating and working with national fossil-fuel funded advocacy groups to wreck the wind industry," Gabe Elsner, Checks and Balances co-director told The Guardian.
The story as a whole is well worth the read. Stay tuned for more coverage on the topic by DeSmogBlog, as well. 
For more information, click here.
EcoWatch Daily Newsletter
A sign marks the ground covering TransCanada's Keystone I pipeline outside of Steele City, Nebraska on April 21, 2012. Lucas Oleniuk / Toronto Star via Getty Images

The company behind the controversial and long-delayed Keystone XL pipeline announced it would proceed with the project Tuesday, despite concerns about the climate impacts of the pipeline and the dangers of transporting construction crews during a pandemic.
Penguins are seen near the Great Wall station in Antarctica, Feb. 9, days after the continent measured its hottest temperature on record at nearly 65 degrees Fahrenheit. Xinhua / Liu Shiping / Getty Images
By Richard Connor
Scientists have recorded Antarctica's first documented heat wave, warning that animal and plant life on the isolated continent could be drastically affected by climate change.
The Athos I tanker was carrying crude oil from Venezuela when a collision caused oil to begin gushing into the Delaware River.
U.S. Department of the Interior
A case that has bounced around the lower courts for 13 years was finally settled yesterday when the U.S. Supreme Court upheld a lower court decision, finding oil giant Citgo liable for a clean up of a 2004 oil spill in the Delaware River, according to Reuters.
The buildings of downtown Los Angeles are partially obscured in the late afternoon on Nov. 5, 2019, as seen from Pasadena, California, a day when air quality for Los Angeles was predicted to be "unhealthy for sensitive groups." Mario Tama / Getty Images
The evidence continues to build that breathing dirty air is bad for your brain.
Wave power in Portugal. The oceans' energy potential is immense. Luis Ascenso, via Wikimedia Commons
By Paul Brown
The amount of energy generated by tides and waves in the last decade has increased tenfold. Now governments around the world are planning to scale up these ventures to tap into the oceans' vast store of blue energy.