This website uses cookies to ensure you get the best experience while browsing it. By clicking 'Got It' you're accepting these terms.


The best of EcoWatch, right in your inbox. Sign up for our email newsletter!
The Guardian Exposes Fossil Funded Groups Coordinating Renewable Energy Attacks
May. 09, 2012 08:05AM EST
Climate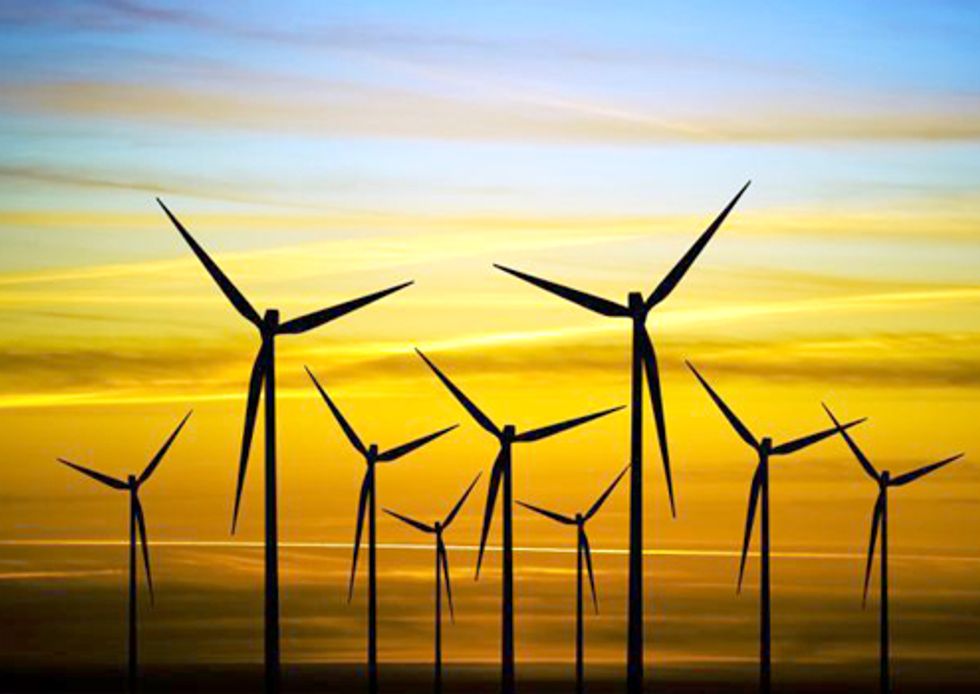 By Steve Horn
Ever wonder why a blooming green energy industry has faced such harsh opposition? Now, as the old adage goes, "the cat's out of the bag."
On May 8 The Guardian revealed the network of fossil-funded groups coordinating the ongoing onslaught of attacks on renewable energy, particularly wind power. A memorandum passed to The Guardian from the Checks and Balances Project details the organizations and personnel acting as ringleaders to build an astroturf echo chamber of clean energy critics.
Guardian reporter Suzanne Goldenberg writes in "Conservative think tanks step up attacks against Obama's clean energy strategy":
"A number of rightwing organisations, including Americans for Prosperity, which is funded by the billionaire Koch brothers, are attacking Obama for his support for solar and wind power. The American Legislative Exchange Council (ALEC), which also has financial links to the Kochs, has drafted bills to overturn state laws promoting wind energy."
A confidential memo seen by The Guardian and obtained by DeSmogBlog "advises using 'subversion' to build a national movement of wind farm protesters," explained Goldenberg.
That memo was crafted by the American Tradition Institute (ATI). ATI was the right-wing think-tank behind the lawsuit to obtain University of Virginia climatologist Michael Mann's "ClimateGate" emails. 
DeSmogBlog has covered ALEC's assault on renewable energy previously.
Other gold in the memo, as relayed by Goldenberg:
"[A] national PR campaign aimed at causing 'subversion in message of industry so that it effectively because so bad that no one wants to admit in public they are for it.'"
"[S]etting up 'dummy businesses' to buy anti-wind billboards, and creating a 'counter-intelligence branch' to track the wind energy industry.  
"[C]alls for spending $750,000 to create an organisation with paid staff and tax-exempt status dedicated to building public opposition to state and federal government policies encouraging the wind energy industry."
The memo was authored by John Droz Jr., an ATI Senior Felllow. Droz runs the website "Wind Power Facts" and is a climate change denier, on the record saying:
Is Global Warming a scientifically resolved matter? No. There is some very convincing evidence (and scientists) that indicate that there is such a thing as Global Warming. But there are some very qualified scientists (with good evidence) that suggest just the opposite. More importantly, statements often appearing in the media like 'the majority of scientists' believe in Global Warming, are meaningless. First of all, no legitimate survey has ever been done, and secondly, science is not about the number of people who advocate a position.
Furthermore, Droz is registered as a speaker at this year's Heartland Institute (of DeSmogBlog's "Heartland Exposed" fame) "Denial-a-Palooza" event.
"These documents show for the first time that local Nimby anti-wind groups are co-ordinating and working with national fossil-fuel funded advocacy groups to wreck the wind industry," Gabe Elsner, Checks and Balances co-director told The Guardian.
The story as a whole is well worth the read. Stay tuned for more coverage on the topic by DeSmogBlog, as well. 
For more information, click here.
EcoWatch Daily Newsletter
A school in Queensland, Australia sent a note home to parents asking them to send their children with extra water bottles since its water supply has run dry, according to the Australian Broadcasting Corporation (ABC).
European Commission President Ursula von der Leyen delivers a press statement on the European Green Deal at the EU headquarters in Brussels, Belgium on Dec. 11, 2019. Xinhua / Zheng Huansong via Getty Images
The European Commission introduced a plan to overhaul the bloc's economy to more sustainable, climate-conscious policies and infrastructure, with the goal of being carbon-neutral by 2050, according to CNBC.
Young activists shout slogans on stage after Greta Thunberg (not in the picture) took part in the plenary session during the COP25 Climate Conference on Dec. 11 in Madrid, Spain. Pablo Blazquez Dominguez / Getty Images
By Andrea Germanos
Young activists took over and occupied the main stage at the COP25 climate conference in Madrid, Spain Wednesday and demanded world leaders commit to far more ambitious action to address the ecological emergency.
A NASA image showing the ozone hole at its maximum extent for 2015. NASA Goddard Space Flight Center
The Montreal Protocol, a 1987 international treaty prohibiting the production of chlorofluorocarbons (CFCs) to save the ozone layer, was the first successful multilateral agreement to successfully slow the rate of global warming, according to new research. Now, experts argue that similar measures may lend hope to the climate crisis.
Police in Wales are in the midst of an unusual investigation: the sudden death of more than 200 starlings.