The Green Car Guide of 2015
Feb. 05, 2015 01:35PM EST
Business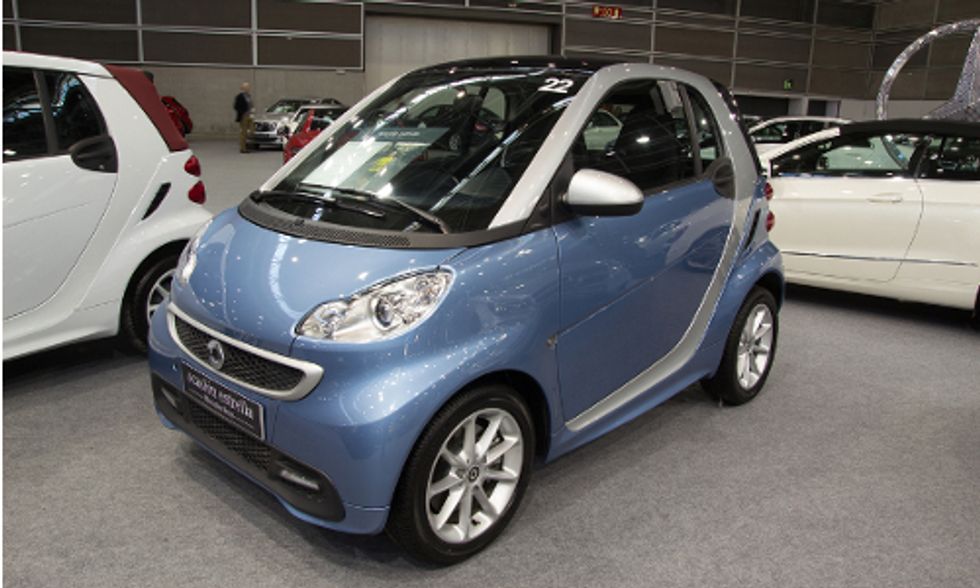 The mission of GreenCars.org, a website sponsored by the American Council for an Energy-Efficient Economy (ACEEE), is to help consumers learn whether the car they're thinking of buying is environmentally friendly. One way they do that is through their annual "greenest" and "meanest" ratings, which was released today for the model year 2015.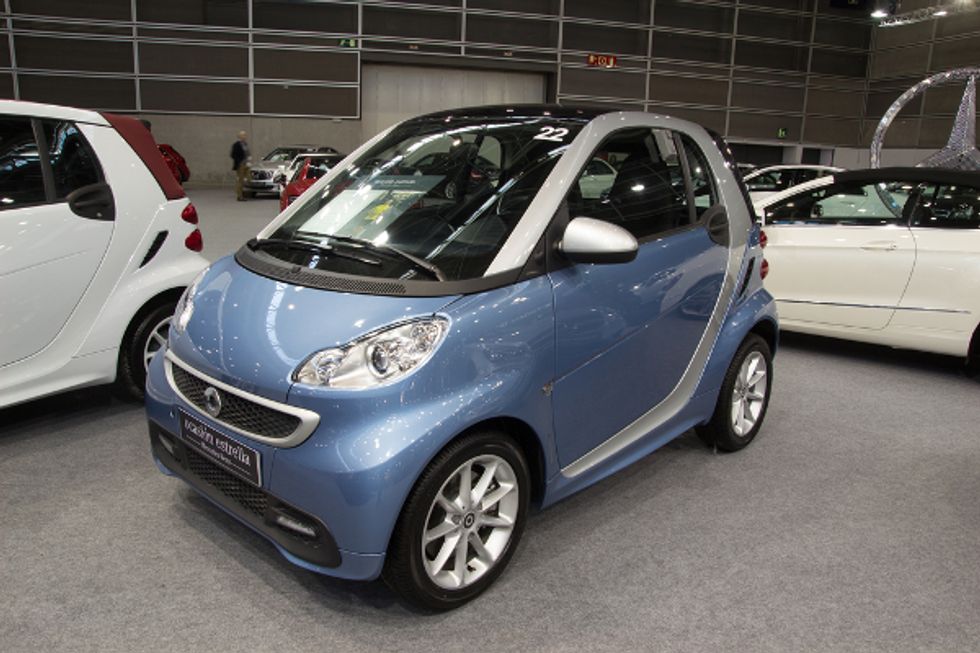 Photo credit: Shutterstock
"We analyze automakers' test results for fuel economy and emissions as reported to the U.S. Environmental Protection Agency (EPA) and the California Air Resources Board, along with other specifications reported by automakers," they explain. "We estimate pollution from vehicle manufacturing, from the production and distribution of fuel and from vehicle tailpipes. We count air pollution, such as fine particles, nitrogen oxides, hydrocarbons and other pollutants according to the health problems caused by each pollutant. We then factor in greenhouse gases (such as carbon dioxide) and combine the emissions estimates into a Green Score that runs on a scale from 0 to 100."
That vehicles are still a major source of damage to the environment is shown by the fact that the top vehicle scored 61, with an average score of 37, and the worst vehicle scoring a dismal 17.
The winners' list is no surprise. It's dominated by electric plug-in vehicles, which claimed six of the top 12 including slots 1, 2 and 3, 5 and 6. The little sub-subcompact, the Mercedes-Benz Smart Fortwo electric drive convertible/coupe, snagged the top spot, followed Chevy Spark EV and the Fiat 500E. The Nissan Leaf (5), the Toyota Prius Plug-In Hybrid (6) and the Ford Focus Electric (11) also finished in the top 12. That list also included four hybrids, one conventional car (the Mitsubishi Mirage) and the Honda Civic Natural Gas, the only consumer car available powered by natural gas.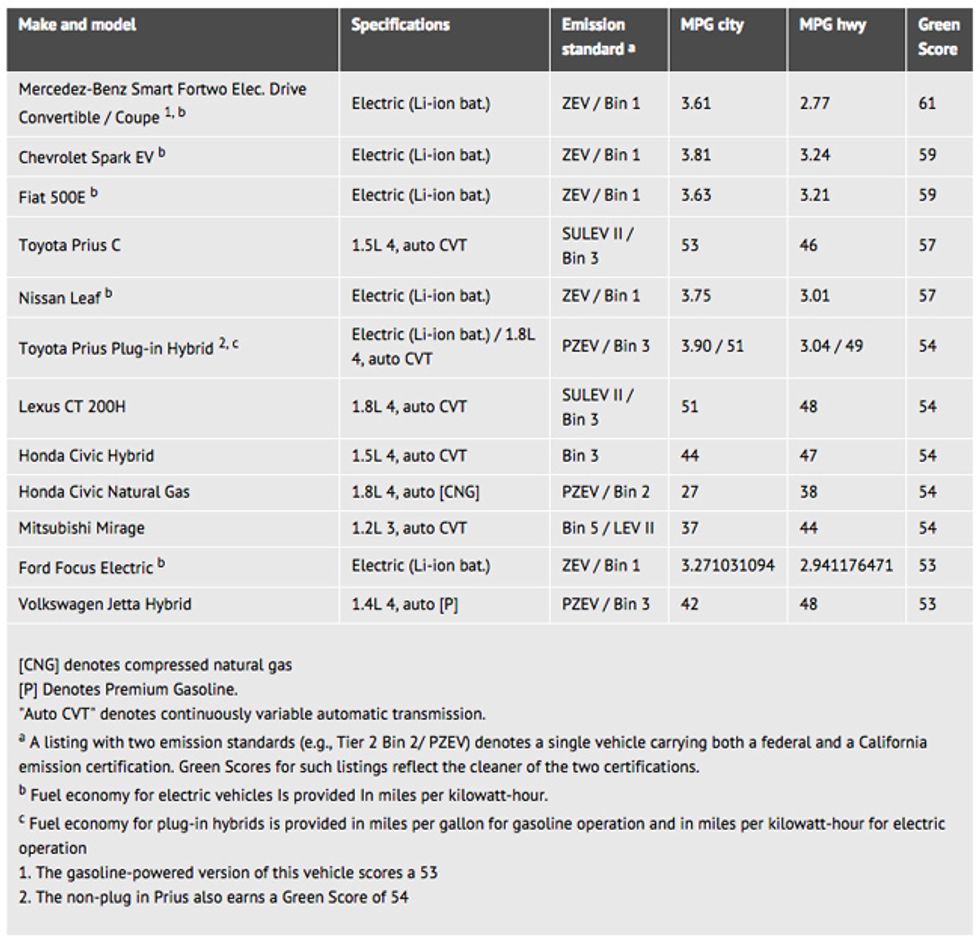 "As the electric vehicle market continues to develop, we're seeing a number of different options from a variety of automakers, including several from American manufacturers," said ACEEE lead vehicle analyst Shruti Vaidyanathan.
The Greener Choices list also identifies practical options among the top widely available, automatic transmission, petroleum-fueled models, which includes trucks and SUVs. Domestic manufacturers claimed five of the 12 Greener Choices spots.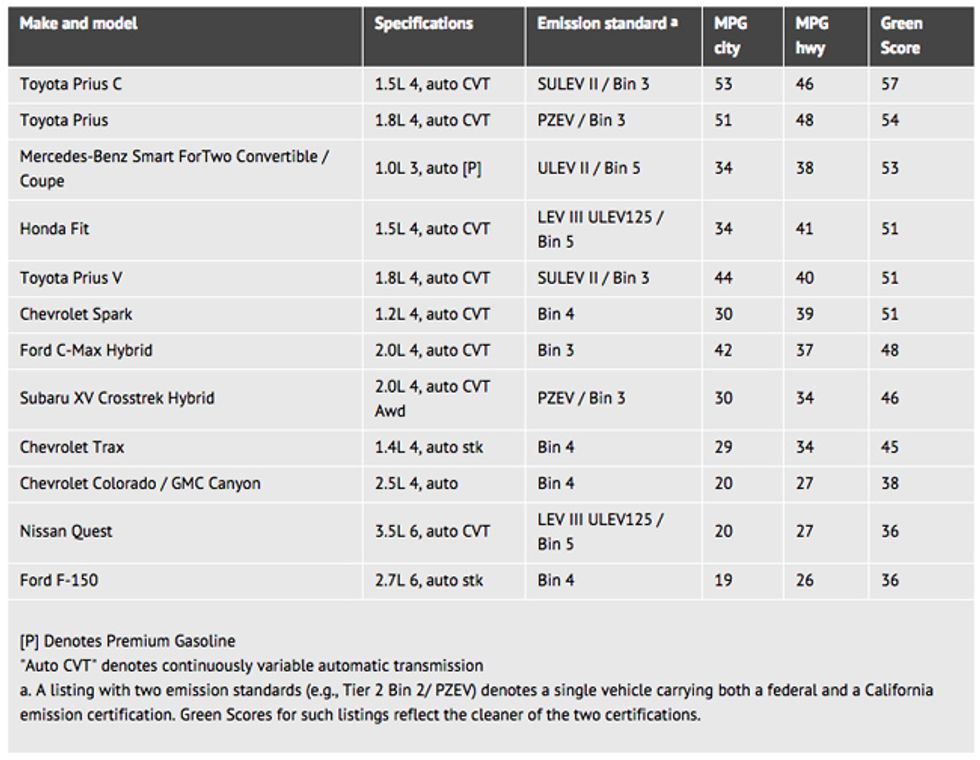 The "meanest" car in terms of environmental impact is the Ram 2500, the only vehicle to rate a score of 17. But if it's really terrible gas mileage you're looking for, you can't go wrong with the #3 car on the list, the Bugatti Veyron. With its average mileage of 8 in the city and 15 on the highway—figures that were once routine for consumer cars—it earns a score of 15. But with a price tag that can soar above $2 million, it's probably not on your shopping list anyway.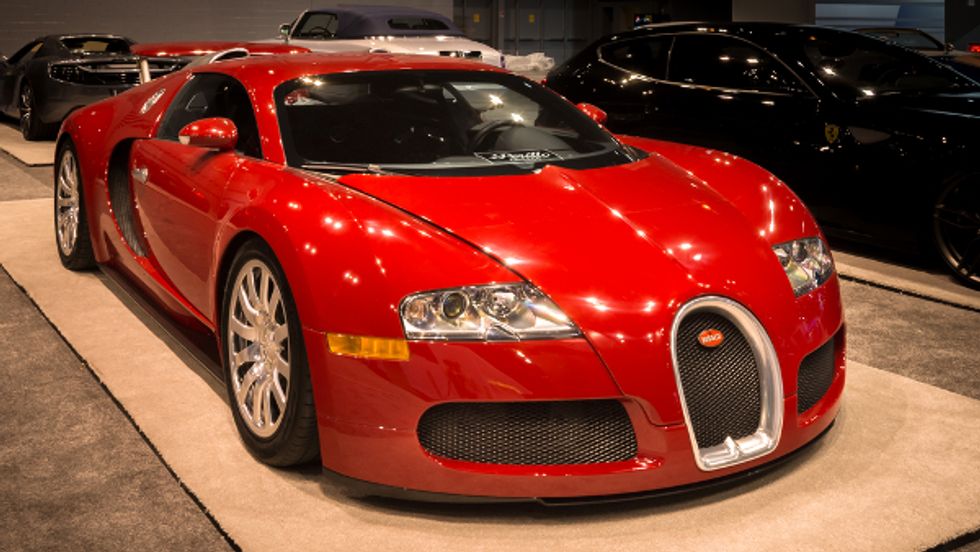 Photo credit: Shutterstock
You are also not likely to be test-driving many of other cars on the "meanest" list. Given their cost, most are rarities on the road, limiting the climate-damaging capacity. With their prices all topping $100,000—some by a lot—you're unlike to see cars like the Bentley Mulsanne (4), the Mercedes-Benz G 63 AMG (5), the Mercedes-Benz G550 (6), the Rolls-Royce Phantom Drophead Coupe (7), the Lamborghini Aventador Roadster (8) and the Ferrari FF (11) cruising around your neighborhood.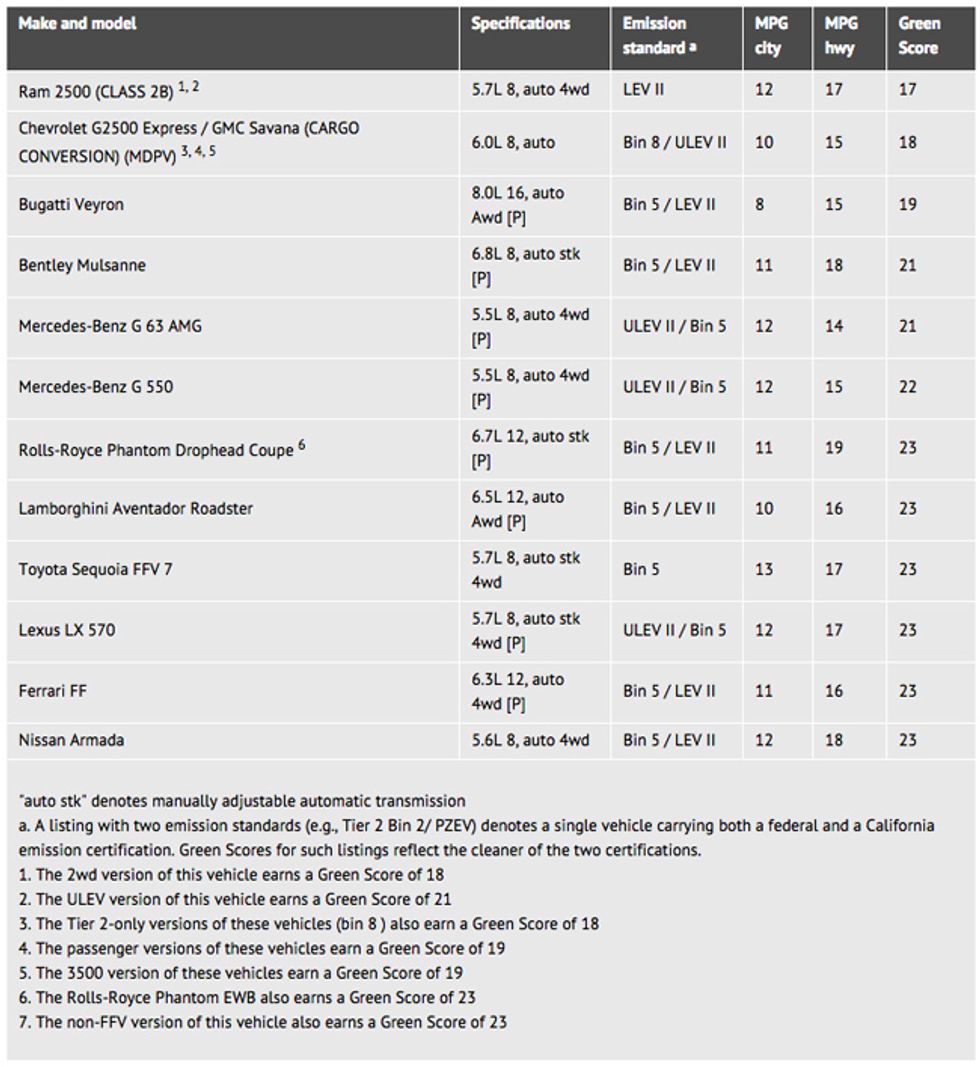 Alas, the Ram 2500, while not cheap, does fit many family budgets. You can snag this environmentally unfriendly car for under $40,000. The Smart Fortwo electric, on the other hand, starts at around $25,000. But the conventional model Smart Fortwo, which starts at less than $14,000, only missed the list because its electric counterpart was on it.
GreenCars.org's site is searchable by vehicle model, class and year going back to 2000. In addition to its ranking and score, it lists emission standard, fuel economy, fuel costs, health effects, carbon dioxide emissions and overall environmental impact for each vehicle.
"Buying green does more than fulfill your own personal commitment to protect the environment," says GreenCars.org. "Naturally each greener choice by an individual consumer reduces pollution directly. But the market is also a give-and-take between consumers and manufacturers. As more and more consumers buy green, automakers will increasingly view environmentally friendly design as an opportunity rather than an obligation. Then they will be motivated to invest even more in improved technology, and even more green cars and trucks will be available in the years ahead."
YOU MIGHT ALSO LIKE
8 States Pave Road For 3.3 Million Electric Vehicles by 2025
10 Must-See Electric Cars at this Year's International Auto Show
EcoWatch Daily Newsletter
Recent Stories from EcoWatch