The 'Great Burning Man Plague of 2015'
Aug. 22, 2015 09:59AM EST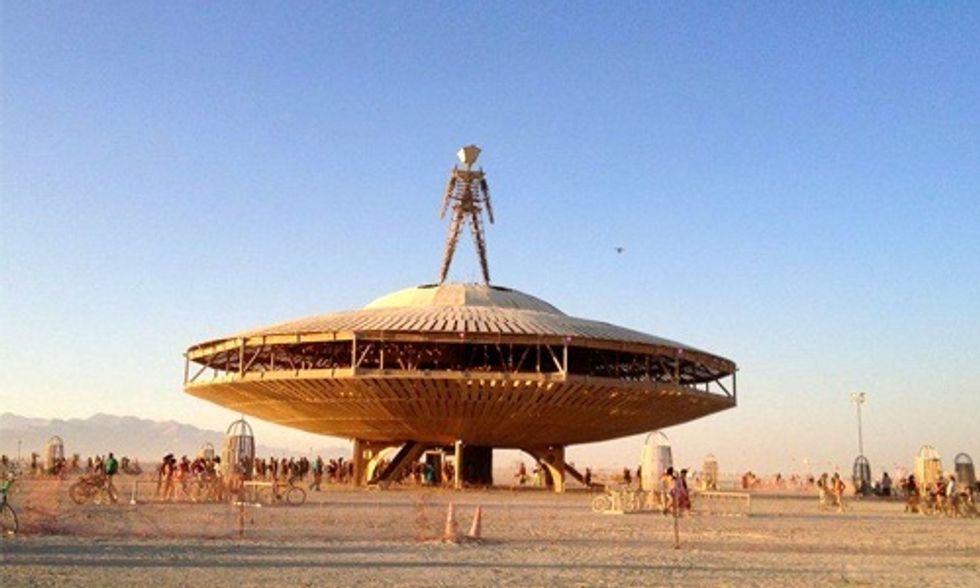 '''It's being called the "great Burning Man plague of 2015." And no it's not all the wealthy tech elite who have been accused of ruining the ethos of the festival. It's a bug infestation. The Twitterverse has been abuzz (pun fully intended) leading up to the annual "burn," and earlier this week one of the organizers, John Curley, confirmed the bug rumors on the Burning Man blog.
A plague of insects is really harshing the vibe at Burning Man. http://t.co/9eoYOfo1hH pic.twitter.com/71H1GopQUL

— Smithsonian Magazine (@SmithsonianMag) August 21, 2015
First, for those who aren't familiar, Burning Man is a week-long annual event that began in San Francisco in 1986 and migrated to the Black Rock Desert in northern Nevada. At its most basic, the event is described as an experiment in community, art, radical self-expression and radical self-reliance. But if you listen to a festivalgoer, that is just the beginning of what the annual event really is. Burners—as they call themselves—wax poetic about "the mind-altering experience of Burning Man."
The festival has become massive, turning out some 60,000 people (making the Black Rock's population swell to more than Nevada's state capital for a week). Whether you think the festival is just "all dusty hippies and Silicon Valley tech bros at a giant desert rave" or a radical experiment in anti-capitalist ecotopia living, one thing is for sure. This year, the festival has a serious bug problem.
"You may have seen the bug rumors on the internet," wrote Curley. "We are here to tell you that they are all true. Well maybe not all of the rumors, but the bugs are real. They're everywhere. They bite. They crawl all over you. They get up and in you."
Photograph taken two nights ago. Black Rock playa. #Bugs #burningman #BRC2015 pic.twitter.com/75sK7MiKXZ

— Bryan Warner (@BryanWarner775) August 19, 2015
Are dead bugs MOOP? Burning questions for @BurningMan 2015 pic.twitter.com/4oSpG7fQAo

— Champagne Lounge (@CLoungebrc) August 18, 2015
Curley explains what they think has caused the infestation: "Due to unseasonably wet weather, the grass on the hills is unusually verdant, and that's resulted in more bugs showing up in the desert than usual. There are green beetles called stink bugs (so-called because they emit a coriander-like odor when disturbed), mosquitos, and gnat-like seed bugs called Nysius. One entomologist reports that they might be causing skin irritations not because they're biting, but because they've likely been eating mustard seed, which has been proliferating in the region recently, and the mustard oil irritates the skin when the bugs are smashed."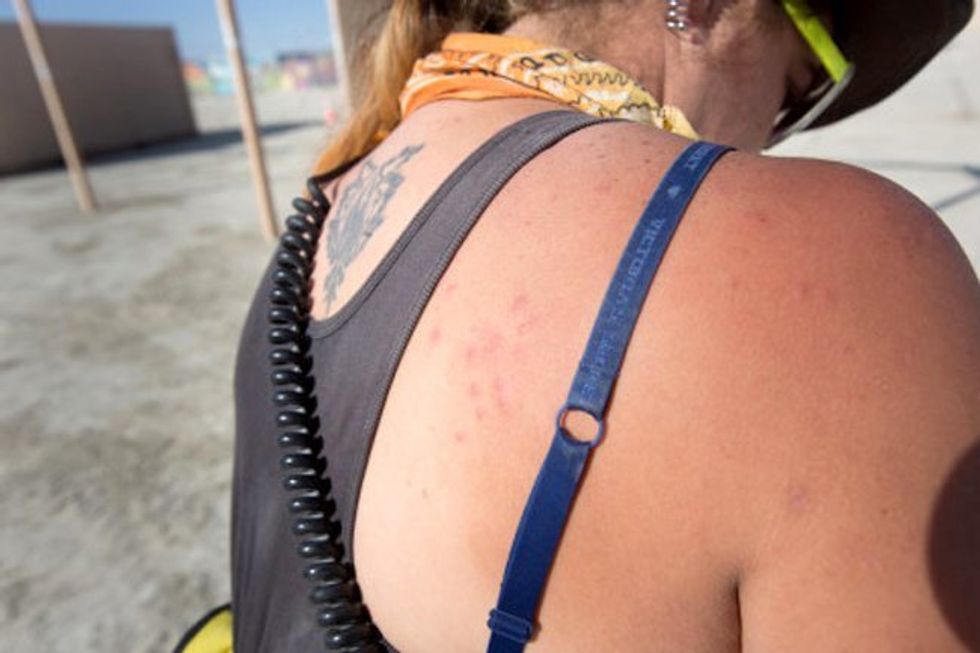 He is quick to downplay the bug problem, saying "these bugs are more of a mild nuisance than a full-blown infestation that should cause any major concern with Burning Man participants." Desert bugs, including species of Nysius, tend to move in massive swarms looking for food and water. "Desert species are prone to boom/bust cycles," entomologist Alex Wild told Gizmodo. "[They] may just be passing through." For some insight into the media hype about the bugs, Chris Taylor at Mashable has a great piece on why everyone needs to "chill out."
So who else is freaked out by the great #BurningMan Plague of 2015? http://t.co/iVsOHPnct1 pic.twitter.com/Q4vkfAeG13

— ☞ Chris Messina ☜ (@chrismessina) August 19, 2015
Bugs on the playa this year. Not normal. Shouldn't a dust storm knock them out? Like Burningman wasn't gross enough. pic.twitter.com/pkLrdUy25q — khloe morris (@khloestarr) August 18, 2015
Organizers and the tens of thousands of participants who will descend on "the Playa," as the area is called, are hoping that Wild is right. Burning Man officially begins August 30 and runs through Sept. 7.
YOU MIGHT ALSO LIKE
World's First Solar Powered Airport Has Arrived
Back-to-School Warning: Head Lice Now Resistant to Treatment in 25 States
The Drought in California Is So Bad the Ground Is Literally Sinking
EcoWatch Daily Newsletter
Related Articles from EcoWatch