This website uses cookies to ensure you get the best experience while browsing it. By clicking 'Got It' you're accepting these terms.
The Future of U.S. Fisheries: An Ecosystem-Based Approach
May. 07, 2013 02:37PM EST
Climate
By Lee Crockett
Fishing for shad on the Potomac River at Fletcher's Boathouse is a spring tradition for many Washington-area anglers, including me. As a food source for larger fish, birds of prey and other animals, shad provide a great example of the interconnectedness of nature—which for decades hasn't received enough attention from fisheries managers.
Although we've made remarkable progress toward ending overfishing and restoring depleted populations, we have been missing the bigger picture by focusing on individual species—the marine version of missing the forest for the trees. Managers need to take a more thorough look at the current impacts of fishing on entire marine ecosystems and new broader threatsfacing our oceans.
Hundreds of fishermen, conservationists, managers and ocean experts from around the country are gathered in Washington, DC May 7-9 for a summit hosted by the National Oceanic and Atmospheric Administration and the regional fishery councils. The conference, Managing Our Nation's Fisheries 3, will provide a rare opportunity for stakeholders to discuss an array of fishery issues facing our nation. My hope is that this discussion will build on past achievements and identify new ways to better meet remaining and future challenges.
The Magnuson-Stevens Fishery Conservation and Management Act, the bedrock law governing U.S. fisheries, is up for debate and amendment in Congress. This conference will formally launch the reauthorization discussion.
In the 1960s and 1970s, fishing by large foreign vessels in U.S. waters brought many valuable commercial species to the brink of collapse. The Act's passage in 1976 pushed out the foreign fleet, promoted the U.S fleet and put the nation's ocean fish populations under U.S. control. This was strong progress. Unfortunately, domestic overfishing soon replaced the overexploitation by foreign vessels. Along with this came damage to ocean ecosystems from indiscriminate industrial fishing practices. So Congress strengthened the law in 1996 by calling for an end to overfishing, the restoration of depleted fish populations, the protection of important fish habitats and the minimization of the catching and killing of nontarget ocean wildlife. Regrettably, overfishing remained a particular problem, which Congress addressed by amending the act again in 2006.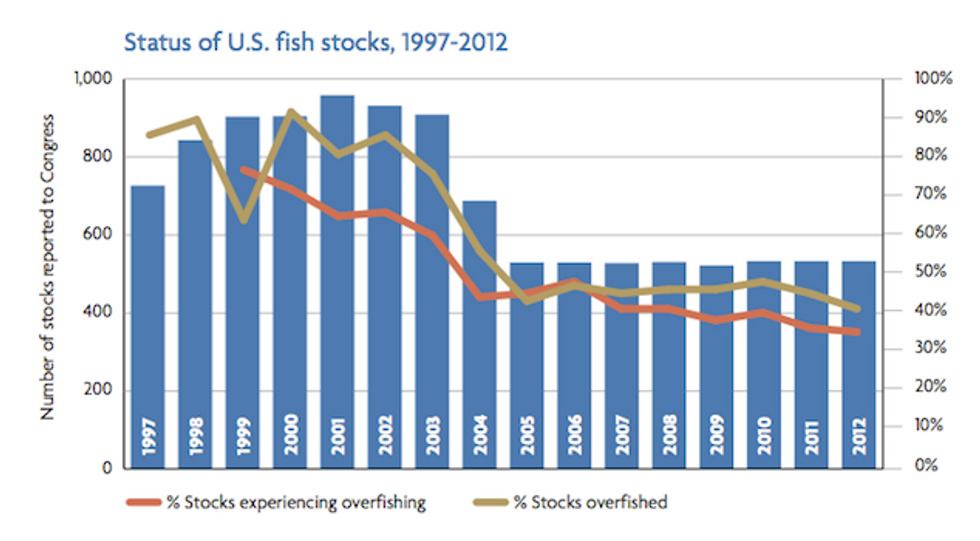 After decades of hard work and innovation, the U.S. now boasts one of the best fisheries management systems in the world: with science-based catch limits designed to end overfishing on all federally managed species and 32 previously depleted species rebuilt to healthy levels since 2001. These hard-won successes are profiled in Pew's new report, The Law That's Saving American Fisheries: The Magnuson-Stevens Fishery Conservation and Management Act.
While we have made significant progress protecting and restoring individual species over the past two decades, there's still much work to be done. As far back as 1996, Congress recognized that ending overfishing was just the beginning of sustainable fisheries management and it added amendments to Magnuson-Stevens to address the cumulative effects of fishing on marine ecosystems.
We now need to do more to ensure healthy oceans by protecting essential forage fish, small prey species that our valuable fish populations rely upon and by reducing the effects of destructive fishing practices on habitats. Finally, we need to rethink how we broadly manage our oceans, in order to minimize the effects of individual decisions on the ecosystem. Doing so can help safeguard our gains while allowing us to handle new global threats to our oceans, including warming waters and ocean acidification.
Visit EcoWatch's BIODIVERSITY page for more related news on this topic.
EcoWatch Daily Newsletter
A new report spotlights a U.N. estimate that at least 275 million people rely on healthy coral reefs. A sea turtle near the Heron Island in the Great Barrier Reef is seen above. THE OCEAN AGENCY / XL CATLIN SEAVIEW SURVEY
In a new report about how the world's coral reefs face "the combined threats of climate change, pollution, and overfishing" — endangering the future of marine biodiversity — a London-based nonprofit calls for greater global efforts to end the climate crisis and ensure the survival of these vital underwater ecosystems.
Half of the extracted resources used were sand, clay, gravel and cement, seen above, for building, along with the other minerals that produce fertilizer. Cavan Images / Cavan / Getty Images
The world is using up more and more resources and global recycling is falling. That's the grim takeaway from a new report by the Circle Economy think tank, which found that the world used up more than 110 billion tons, or 100.6 billion metric tons, of natural resources, as Agence France-Presse (AFP) reported.
By Gero Rueter
Heating with coal, oil and natural gas accounts for around a quarter of global greenhouse gas emissions. But that's something we can change, says Wolfgang Feist, founder of the Passive House Institute in the western German city of Darmstadt.

By George Citroner
Recent research finds that official government figures may be underestimating drug deaths by half.
Researchers estimate that 142,000 people died due to drug use in 2016.
Drug use decreases life expectancy after age 15 by 1.4 years for men and by just under 1 year for women, on average.
Government records may be severely underreporting how many Americans die from drug use, according to a new study by researchers from the University of Pennsylvania and Georgetown University.
Water coolers in front of shut-off water fountains at Center School in Stow, MA on Sept. 4, 2019 after elevated levels of PFAS were found in the water. David L. Ryan / The Boston Globe via Getty Images
In a new nationwide assessment of drinking water systems, the Environmental Working Group found that toxic fluorinated chemicals known as PFAS are far more prevalent than previously thought.