The Future of Offshore Wind in the U.S.
Sep. 23, 2013 03:25PM EST
Energy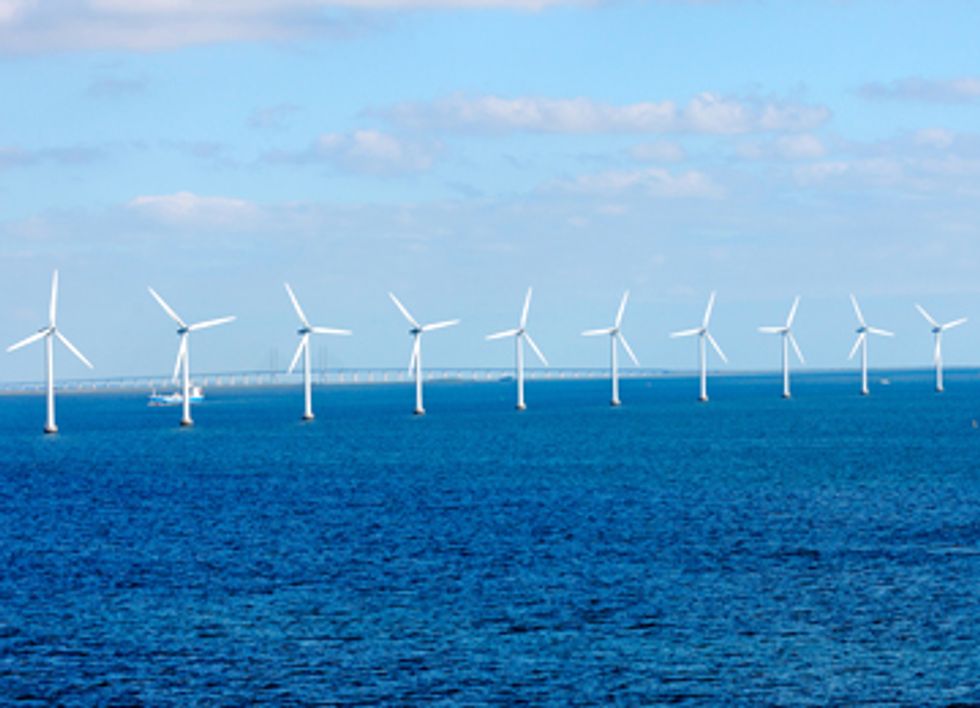 By Dave Levitan
In June, after years of offshore wind power projects being thwarted in the U.S., the first offshore wind turbine began spinning off the U.S. coast. The turbine was not a multi-megawatt, 400-foot behemoth off of Massachusetts, Rhode Island, New Jersey, or Texas—all places where projects had long been proposed. Rather, the turbine was installed in Castine Harbor, ME, rising only 60 feet in the air and featuring a 20-kilowatt capacity—enough to power only a few homes.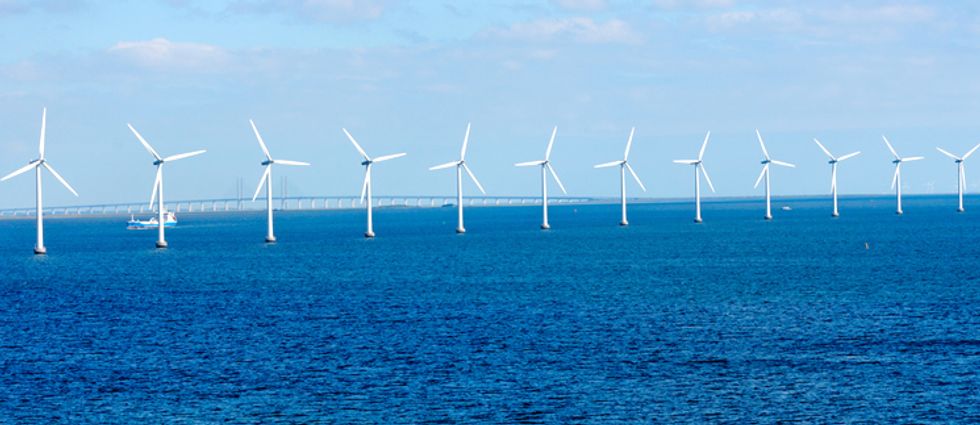 Photo courtesy of Shutterstock
But it was a turbine—finally. Offshore wind power in the U.S. has struggled mightily to rise from the waves, even as other renewable energy industries have steadily grown. The country now has more than 60,000 megawatts of onshore wind, but still just the lone offshore turbine, a pilot project run in part by researchers at the University of Maine. Meanwhile, Europe has left the U.S. far behind, installing its first offshore turbine in 1991 and growing rapidly in the past decade. To date, the countries of the European Union have built 1,939 offshore turbines with 6,040 megawatts of capacity.
Is the U.S. offshore wind industry finally about to get off the ground? Offshore wind carries impressive electricity-generating potential, and several projects seem poised to get underway. But energy analysts say the industry still faces daunting hurdles, most notably the higher cost of building offshore wind farms, the expense of connecting them to the onshore grid and the lack of the comprehensive government incentives and renewable energy targets that have been crucial in fostering the growth of Europe's offshore wind energy sector.
On the positive side, the infamous Cape Wind project, mired in legal battles for more than a decade, hopes to start construction next year. With plans to construct 130 turbines in the shoals between Nantucket and Cape Cod, Cape Wind has faced enormous legal struggles because of opposition from local residents concerned that the turbines would mar the region's beauty and harm seabird populations. But its legal battles are now largely behind it, and Cape Wind has power-purchase agreements in place. The wind farm's developer, Jim Gordon, says the project will eventually be capable of supplying about 75 percent of the electricity needs of Cape Cod, which has a year-round population of 215,000.
Meanwhile, the Obama administration and the U.S. Department of the Interior have been aggressively moving to streamline permitting processes for offshore wind farms, and this summer completed the first two auctions for large offshore parcels for wind development off the East Coast. Rhode Island-based Deepwater Wind—owned in part by investment firm D.E. Shaw and by First Wind, a Boston-based developer—won the first-ever offshore wind auction held by a division of the Interior Department known as the Bureau of Ocean Energy Management (BOEM). With its winning $3.8 million bid, Deepwater Wind now holds the wind power rights to 165,000 acres off the coasts of Rhode Island and Massachusetts.
"We believe that site is the single best site for offshore wind in the U.S.," says Deepwater CEO Jeffrey Grybowski, citing the powerful and consistent winds and access to markets in four states—Massachusetts, Rhode Island, Connecticut and New York. Though the exact number will depend on how much power it can sell to utilities, Deepwater Wind hopes to install roughly 200 turbines that could generate more than 1,000 megawatts, enough to power about 400,000 homes.
A second BOEM auction took place in early September for a 112,799-acre parcel off the coast of Virginia, this time won by Virginia Electric and Power Company. The planned wind farm could grow as big as 2,000 megawatts. Auctions for sites off of Maryland, New Jersey and Massachusetts are expected to be held in the next year.
"The more projects we get in the water, the more that will accelerate the development of the industry," says Chris Long, the manager of offshore wind and siting policy at the American Wind Energy Association. "You need to build projects in order to continue innovations, to drive down costs, to achieve scale and achieve experience. Getting this first round of projects in the water will certainly help to accelerate the development of the industry."
At this point, it appears that the first commercial offshore wind installation to begin operating in the U.S. will be Block Island Wind Farm, being developed by Deepwater Wind. Sited about three miles from Block Island—itself about 15 miles off the coast of Rhode Island—the wind farm will feature five mammoth turbines, each capable of generating six megawatts. The proposed Block Island installation has the advantage of sitting in state rather than federal waters, easing permitting issues. Grybowski, says permitting is all but finished for that project and construction should start next year.
Despite these developments, many analysts are skeptical about the near-term future of offshore wind, especially considering the uncertainty surrounding federal financial support.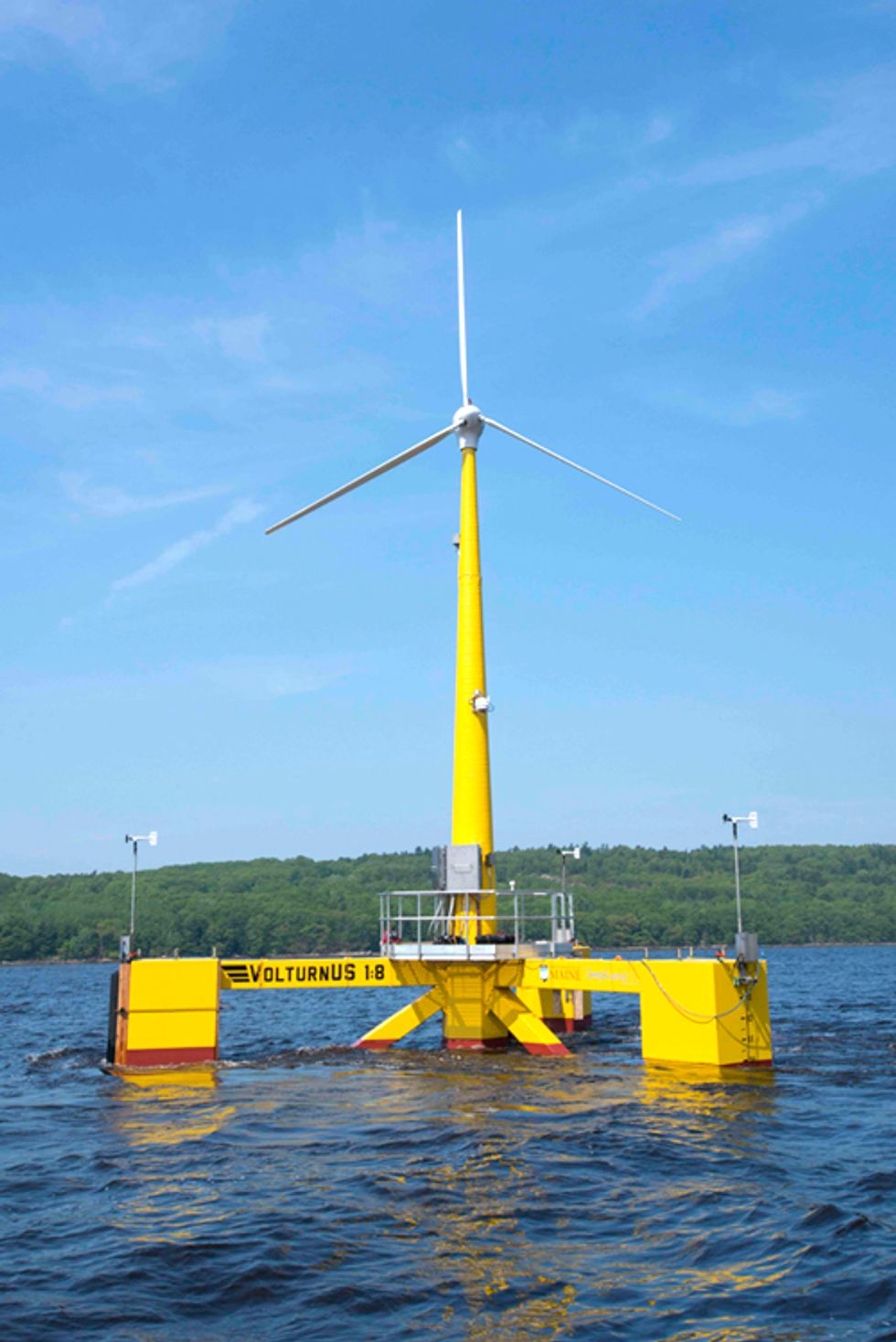 "Some kind of policy incentive is needed in order to promote offshore wind, since its cost is still far above the market price of electricity," says Bruce Hamilton, director of energy practice at the consulting firm Navigant.
Right now, the offshore wind investment tax credit is the only federal incentive, and it is set to expire at the end of 2013 after a one-year extension. It allows developers to take a tax credit on 30 percent of capital expenditures related to a wind project, but construction would have to start this year. Several U.S. senators earlier this year introduced the Incentivizing Offshore Wind Power Act, which would attempt to stabilize the year-to-year policy, but that legislation is likely to die in committee.
"We will [likely] continue to have a stop-start policy at the federal level, since that is what we have experienced for the last couple of decades," Hamilton says.
The uncertainty of federal funding has taken a toll on the proposed Atlantic City Wind Farm off the coast of New Jersey, which would feature five turbines totaling 25 megawatts of capacity. The company behind the project, Fisherman's Energy, was founded by commercial fishermen intent on both developing wind energy and maintaining a strong fishing industry in the region. But the New Jersey Public Utilities Commission is balking at a potential multi-million dollar taxpayer hit if federal funding for the project disappears.
A major problem at this point is the high cost of offshore wind. Because of the difficulty of building wind turbines offshore and connecting them to the power grid, the price of electricity generated offshore along the U.S. East Coast is expected to be more than 15 cents per kilowatt hour, or several times the cost of producing electricity with coal or natural gas, according to a 2012 report by the U.S. National Energy Technology Laboratory. Those costs are expected to fall as more offshore wind farms are built and connected by an offshore grid. Another U.S. report says that a reasonable goal for offshore wind prices would be 10 cents per kilowatt hour by 2020 and seven cents per kilowatt hour by 2030.
A major project, backed by Google, is planned to link offshore wind farms along the U.S. East Coast to power consumers onshore. The Atlantic Wind Connection is a transmission "backbone" designed to let multiple offshore wind projects essentially plug in to undersea cables as they come online. The first phase, a cable that will stretch the length of the New Jersey coast and be capable of carrying 3,000 megawatts of electricity, is scheduled to begin construction in 2016. The rest of the "backbone" would extend down the coast past Delaware and Maryland, stretching to the coast of Virginia. Along with Google, the project is funded by such companies as Bregal Energy, Marubeni Corporation, and a Belgian transmission company, Elia.
Long, of the American Wind Energy Association, and others are confident that the initial phase of offshore projects will illustrate to policy makers the attraction of offshore wind power. Onshore wind, after all, is often plagued by siting issues, with nearby residents complaining about the sight and sound of large turbines. Most U.S. offshore projects are now proposed far enough off the coast that they will be essentially invisible—a lesson learned from the "viewshed" controversy surrounding Cape Wind.
Proponents hope that the start of several offshore projects will encourage more federal and state support and will serve as a reminder that there is a lot of energy just a few miles off the beach.
"The East Coast is the Saudi Arabia of offshore wind, because there is enough energy there to provide the entire U.S. with electricity if it was fully developed," says Matt Huelsenbeck, a marine scientist and offshore wind expert with the non-profit group Oceana. The National Renewable Energy Laboratory, part of the Department of Energy, puts the onshore and offshore U.S. wind energy potential at 4,150 gigawatts, around four times the entire electricity requirements of the U.S. The Northeast and mid-Atlantic coasts in particular are windy spots with water depths that make development feasible.
The U.S. has no national renewable energy target, but 29 states and Washington, DC, have adopted their own. Northeastern states like Massachusetts and Rhode Island have been aggressively pursuing renewables, and there is now legislation in New Jersey and Maryland specifically targeting offshore wind development.
Kevin Jones, deputy director of the Institute for Energy and the Environment at the University of Vermont Law School, says he is optimistic about the development of offshore wind, especially in the Northeast, in part because there are so few other options for renewables in the region and the opposition to onshore wind continues to grow.
"If natural gas prices remain low I think the offshore industry is going to need public policy support rather than federal subsidy, but it can happen if the Northeastern states work together to achieve economies of scale," says Jones. That collaboration could include states collectively mandating that utility companies purchase a set amount of electricity from offshore wind farms.
Still, the progress in Europe is a clear reminder of how far the U.S. has to go, a gap that Huelsenbeck attributes to "a failure of our federal government to really back clean energy over the last few decades in a very powerful and consistent way."
The European Union is on target to generate 20 percent of its electricity from renewable sources by 2020, and targets as high as 40 percent are being considered for 2030. In 2014 alone, close to two gigawatts of offshore wind—enough to power more than a million households—are likely to be installed in the EU, with the United Kingdom and Denmark leading the way.
Visit EcoWatch's RENEWABLES page for more related news on this topic.
——–

Protestors stage a demonstration against fracking in California on May 30, 2013 in San Francisco, California. Justin Sullivan / Getty Images
The bill, SB467, would have prohibited fracking and other controversial forms of oil extraction. It would also have banned oil and gas production within 2,500 feet of a home, school, hospital or other residential facility. The bill originally set the fracking ban for 2027, but amended it to 2035, The AP reported.
"Obviously I'm very disappointed," State Sen. Scott Wiener (D-San Francisco), one of the bill's two introducers, told the Los Angeles Times. "California really has not done what it needs to do in terms of addressing the oil problem. We have communities that are suffering right now, and the Legislature has repeatedly failed to act."
The bill was introduced after California Gov. Gavin Newsom said he would sign a fracking ban if it passed the legislature, though his administration has continued to issue permits in the meantime, Forbes reported. Newsom has also spoken in favor of a buffer zone between oil and gas extraction and places where people live and learn, according to the Los Angeles Times. The latter is a major environmental justice issue, as fossil fuel production is more likely to be located near Black and Latinx communities.
Urban lawmakers who want California to lead on the climate crisis supported the bill, while inland lawmakers in oil-rich areas concerned about jobs opposed it. The oil and gas industry and trade unions also opposed the bill.
This opposition meant the bill failed to get the five votes it needed to move beyond the Senate's Natural Resources and Water Committee. Only four senators approved it, while Democrat Sen. Susan Eggman of Stockton joined two Republicans to oppose it, and two other Democrats abstained.
Eggman argued that the bill would have forced California to rely on oil extracted in other states.
"We're still going to use it, but we're going to use it from places that produce it less safely," Eggman told The AP. She also said that she supported the transition away from fossil fuels, but thought the bill jumped the gun. "I don't think we're quite there yet, and this bill assumes that we are," she added.
Historically, California has been a major U.S. oil producer. Its output peaked in 1986 at 1.1 million barrels a day, just below Texas and Alaska, according to Forbes. However, production has declined since then making it the seventh-most oil-producing state.
Still, California's fossil fuel industry is at odds with state attempts to position itself as a climate leader.

"There is a large stain on California's climate record, and that is oil," Wiener said Tuesday, according to The AP.
Wiener and Democrat co-introducer Sen. Monique Limón from Santa Barbara vowed to keep fighting.
"While we saw this effort defeated today, this issue isn't going away," they wrote in a joint statement. "We'll continue to fight for aggressive climate action, against harmful drilling, and for the health of our communities."
From Your Site Articles
Related Articles Around the Web
EcoWatch Daily Newsletter
EXTREME-PHOTOGRAPHER / E+ / Getty Images
By Brett Wilkins
As world leaders prepare for this November's United Nations Climate Conference in Scotland, a new report from the Cambridge Sustainability Commission reveals that the world's wealthiest 5% were responsible for well over a third of all global emissions growth between 1990 and 2015.
The report, Changing Our Ways: Behavior Change and the Climate Crisis, found that nearly half the growth in absolute global emissions was caused by the world's richest 10%, with the most affluent 5% alone contributing 37%.
"In the year when the UK hosts COP26, and while the government continues to reward some of Britain's biggest polluters through tax credits, the commission report shows why this is precisely the wrong way to meet the UK's climate targets," the report's introduction states.
The authors of the report urge United Kingdom policymakers to focus on this so-called "polluter elite" in an effort to persuade wealthy people to adopt more sustainable behavior, while providing "affordable, available low-carbon alternatives to poorer households."
The report found that the "polluter elite" must make "dramatic" lifestyle changes in order to meet the UK's goal — based on the Paris climate agreement's preferential objective — of limiting global heating to 1.5°C, compared with pre-industrial levels.
In addition to highlighting previous recommendations — including reducing meat consumption, reducing food waste, and switching to electric vehicles and solar power — the report recommends that policymakers take the following steps:
Implement frequent flyer levies;
Enact bans on selling and promoting SUVs and other high polluting vehicles;
Reverse the UK's recent move to cut green grants for homes and electric cars; and
Build just transitions by supporting electric public transport and community energy schemes.
"We have got to cut over-consumption and the best place to start is over-consumption among the polluting elites who contribute by far more than their share of carbon emissions," Peter Newell, a Sussex University professor and lead author of the report, told the BBC.
"These are people who fly most, drive the biggest cars most, and live in the biggest homes which they can easily afford to heat, so they tend not to worry if they're well insulated or not," said Newell. "They're also the sort of people who could really afford good insulation and solar panels if they wanted to."
Newell said that wealthy people "simply must fly less and drive less. Even if they own an electric SUV, that's still a drain on the energy system and all the emissions created making the vehicle in the first place."
"Rich people who fly a lot may think they can offset their emissions by tree-planting schemes or projects to capture carbon from the air," Newell added. "But these schemes are highly contentious and they're not proven over time."
The report concludes that "we are all on a journey and the final destination is as yet unclear. There are many contradictory road maps about where we might want to get to and how, based on different theories of value and premised on diverse values."
"Promisingly, we have brought about positive change before, and there are at least some positive signs that there is an appetite to do what is necessary to live differently but well on the planet we call home," it states.
The new report follows a September 2020 Oxfam International study that revealed the wealthiest 1% of the world's population is responsible for emitting more than twice as much carbon dioxide as the poorest 50% of humanity combined.
Reposted with permission from Common Dreams.

From Your Site Articles
Related Articles Around the Web
The saguaro cactus extracts carbon from the atmosphere. Thomas Roche / Getty Images
By Paul Brown
It may come as a surprise to realize that a plant struggling for survival in a harsh environment is also doing its bit to save the planet from the threats of the rapidly changing climate. But that's what Mexico's cactuses are managing to do.
Research published in the journal The Science of Nature shows that desert soils supporting a high density of cactus contain large quantities of stored bio-minerals (minerals produced by living organisms), formed by the action of the plants in extracting carbon dioxide from the atmosphere.
Not only that. Cactuses can also be harvested, processed and turned into a form of leather used to make fashion accessories like purses and wallets.
These two attributes have been turned into a successful business by a Mexican/American company, CACTO. It claims to be the first "carbon negative fashion company in the Americas" − in other words, its activities remove more carbon from the atmosphere than it creates in making and marketing its products.
No Animals Involved
This is a bold claim in an industry struggling with its poor environmental record. According to McKinsey and Co. the worldwide fashion industry emits about the same amount of greenhouse gases as France, Germany and the United Kingdom combined. But CACTO gives Mexico's cactuses special treatment.
CACTO's products are vegan and so allow a growing class of consumers to buy leather objects that are made without any animal products.
The research into the ability of cactus to extract carbon from the atmosphere and store it was carried out on one cactus species, the saguaro (Carnegiea gigantea), which can grow to 40 feet.
It is native to the Sonoran desert in Arizona and the Mexican state of Sonora, and shares with all other cactus varieties the same abilities for dealing with carbon. This has proved a bonus for CACTO because cactuses are the most numerous plants in Mexico.
CACTO's plantations are organic, fed by rainwater, free of herbicides and pesticides, and renewable, and after the ears, or leaves; of the cactus are harvested, the plant grows a replacement in six to eight months. This regeneration allows repeat harvesting. The leaves are then sun-dried to avoid using any electricity. The company's products (available only in green or black) are on sale in more than 100 countries.
CACTO was founded by Jesus Chavez, a climate campaigner, and was designed to have sustainability as a guiding principle at the core of its operation. The entire production cycle is closely monitored by its staff, from the sourcing of materials to production, packaging, distribution and shipping.
Through a partnership with a Swiss non-profit organisation, On a Mission, CACTO says its staff have measured and offset 150% of its CO2 emissions through sustainable reforestation worldwide.
The measurement and offsetting process will take place every six months for the next 10 years. Through several emergent partnerships, the company says it aims to offset at least 1000% of the emissions it generates by the end of 2021.
Engaging Entrepreneurs
Jesus Chavez said: "If we want to succeed in reaching net zero carbon emissions well before 2050 and avoid the worst consequences of climate change, we must all work in concert in whatever capacity we are able to.
"Industries across the board need to benefit from existing technology and offsetting programs to become carbon-negative, and to invest in new research and innovation to reach that goal faster. The decisions we make this decade will determine the fate of humanity for centuries to come. It is up to us now."
He said customers around the world wanted alternatives to materials that increased pollution and to unethical manufacturing processes.
CACTO hopes to inspire a new generation of entrepreneurs to make clear what has been evident to specialists for decades, that decoupling emissions from economic growth is not only feasible, but is the smartest, fastest and most responsible way to grow. Mexico's cactuses bear a heavy responsibility on their ears − or leaves − or branches.
Reposted with permission from Climate News Network.
Lower Granite Dam is obstructing salmon along the Snake River in Washington. Greg Vaughn / VW PICS / Universal Images Group / Getty Images
Climate change, activities that contribute to it, and dams pose grave threats to America's rivers, according to American Rivers.
The annual report ranks the county's 10 rivers most endangered by human activity that also have a critical decision point coming in the next year that could change the river's fate.
Four dams are choking the Snake River — earning it the top spot in the report — obstructing salmon and posing an existential threat to Native American tribes in the region who depend on the fish for food, culture and their identities.
Advocates are calling on President Biden to remove the federal dams and revitalize the river and its ecosystem.
Toxic coal ash pollutes the Lower Missouri, which also is experiencing an increase in climate-driven flooding, putting it second on the list, while Iowa's Raccoon River, at number nine, faces threats from industrial agriculture.
Between them are rivers befouled by sewage, polluted or threatened by mining, and otherwise dammed or mismanaged.
"Rivers are among the most degraded ecosystems on the planet, and threats to rivers are threats to human health, safety and survival," American Rivers head Tom Kiernan said.
"If we want a future of clean water and healthy rivers everywhere, for everyone, we must prioritize environmental justice."
For a deeper dive:
The Guardian, USA Today, Mother Jones, Reuters, E&E
For more climate change and clean energy news, you can follow Climate Nexus on Twitter and Facebook, sign up for daily Hot News, and visit their news site, Nexus Media News.

Radiation-contaminated water tanks and damaged reactors at the Fukushima Daiichi nuclear power plant on Feb. 25, 2016 in Okuma, Japan. Christopher Furlong / Getty Images
Japan will release radioactive wastewater from the failed Fukushima nuclear plant into the Pacific Ocean, the government announced on Tuesday.
The water will be treated before release, and the International Atomic Energy Agency said the country's plans were in keeping with international practice, The New York Times reported. But the plan is opposed by the local fishing community, environmental groups and neighboring countries. Within hours of the announcement, protesters had gathered outside government offices in Tokyo and Fukushima, according to NPR.
"The Japanese government has once again failed the people of Fukushima," Greenpeace Japan Climate and Energy Campaigner Kazue Suzuki said in a statement. "The government has taken the wholly unjustified decision to deliberately contaminate the Pacific Ocean with radioactive wastes."
The dilemma of how to dispose of the water is one ten years in the making. In March 2011, an earthquake and tsunami in northeastern Japan killed more than 19,000 people and caused three of six reactors at the Fukushima Daiichi nuclear power plant to melt down, The New York Times explained. This resulted in the biggest nuclear disaster since Chernobyl, and the cleanup efforts persist more than a decade later.
To keep the damaged reactors from melting down, cool water is flushed through them and then filtered to remove all radioactive material except for tritium. Up until now, the wastewater has been stored on site, but the government says the facility will run out of storage room next year. Water builds up at 170 tons per day, and there are now around 1.25 million tons stored in more than 1,000 tanks.
The government now plans to begin releasing the water into the ocean in two years time, according to a decision approved by cabinet ministers Tuesday. The process is expected to take decades.
"On the premise of strict compliance with regulatory standards that have been established, we select oceanic release," the government said in a statement reported by NPR.
Opposition to the move partly involves a lack of trust around what is actually in the water, as NPR reported. Both the government and Tokyo Electric Power Co., which operates the plant, say that the water only contains tritium, which cannot be separated from hydrogen and is only dangerous to humans in large amounts.
"But it turned out that the water contains more radioactive materials. But they didn't disclose that information before," Friends of the Earth Japan campaigner Ayumi Fukakusa told NPR. "That kind of attitude is not honest to people. They are making distrust by themselves."
In February, for example, a rockfish shipment was stopped when a sample caught near Fukushima tested positive for unsafe levels of cesium.
This incident also illustrates why local fishing communities oppose the release. Fish catches are already only 17.5 percent of what they were before the disaster, and the community worries the release of the water will make it impossible for them to sell what they do catch. They also feel the government went against its promises by deciding to release the water.
"They told us that they wouldn't release the water into the sea without the support of fishermen," fishery cooperative leader Kanji Tachiya told national broadcaster NHK, as CBS News reported. "We can't back this move to break that promise and release the water into the sea unilaterally."
Japan's neighbors also questioned the move. China called it "extremely irresponsible," and South Korea asked for a meeting with the Japanese ambassador in Seoul in response.
The U.S. State Department, however, said that it trusted Japan's judgement.
"In this unique and challenging situation, Japan has weighed the options and effects, has been transparent about its decision, and appears to have adopted an approach in accordance with globally accepted nuclear safety standards," the department said in a statement reported by The New York Times.
But environmentalists argue that the government could have found a way to continue storing waste.
"Rather than using the best available technology to minimize radiation hazards by storing and processing the water over the long term, they have opted for the cheapest option, dumping the water into the Pacific Ocean," Greenpeace's Suzuki said.
From Your Site Articles
Related Articles Around the Web