This website uses cookies to ensure you get the best experience while browsing it. By clicking 'Got It' you're accepting these terms.
The Food Movement Speaks With One Voice—Occupy Our Food Supply
Feb. 24, 2012 11:50AM EST
GMO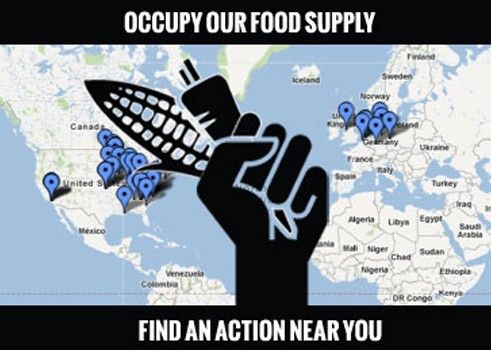 On Feb. 27, an unprecedented alliance of more than 60 Occupy groups and 30 environmental, food and corporate accountability organizations will join together for Occupy our Food Supply, a global day of action resisting the corporate control of food systems.
The call to Occupy our Food Supply, facilitated by Rainforest Action Network, is being echoed by prominent thought leaders, authors, farmers and activists including the Indian environmentalist Vandana Shiva, Food Inc.'s Robert Kenner, music legend Willie Nelson, actor Woody Harrelson, and authors Michael Pollan, Raj Patel, Anna Lappe, Gary Paul Nabhan, and Marion Nestle, among others. (See quotes in release below). The central theme uniting this diverse coalition is a shared sense of urgency to resist the corporate consolidation of food systems and create socially and environmentally just local solutions.
"Nothing is more important than the food we eat and the family farmers who grow it," said Willie Nelson, founder and president of Farm Aid. "Corporate control of our food system has led to the loss of millions of family farmers, destruction of our soil, pollution of our water and health epidemics of obesity and diabetes. We simply cannot afford it. Our food system belongs in the hands of many family farmers, not under the control of a handful of corporations."
From Brazil, Hungary, Ireland, and Argentina to dozens of states in the U.S., thousands of people will be participating in the Feb. 27 global day of action.  Participants will be reclaiming unused bank-owned lots to create community gardens; hosting seed exchanges in front of stock exchanges; labeling products on grocery store shelves that have genetically engineered ingredients; building community alliances to support locally owned grocery stores and resist Walmart megastores; and protesting food giants Monsanto and Cargill.
"Occupy our Food Supply is a day to reclaim our most basic life support system—our food—from corporate control. It is an unprecedented day of solidarity to create local, just solutions that steer our society away from the stranglehold of industrial food giants like Cargill and Monsanto," said Ashley Schaeffer, Rainforest Agribusiness campaigner with Rainforest Action Network (RAN).
Never have so few corporations been responsible for more of our food chain. Of the 40,000 food items in a typical U.S. grocery store, more than half are now brought to us by just 10 corporations. Today, three companies process more than 70 percent of all U.S. beef—Tyson, Cargill and JBS. More than 90 percent of soybean seeds and 80 percent of corn seeds used in the U.S. are sold by just one company—Monsanto. Four companies are responsible for up to 90 percent of the global trade in grain. And one in four food dollars is spent at Walmart.
The overwhelming support for Occupy our Food Supply underscores the unity between farmers, parents, health care professionals, human rights activists, food justice advocates and food lovers around the world who are increasingly viewing their concerns as different manifestations of the same underlying problem—a food system structured for short term profit instead of the long term health of people and the planet.
Supporting groups include—Bay Localize, Berkeley Association for Animal Advocacy, Biosafety Alliance, California Food and Justice Coalition, Chiapas Support Committee, Family Farm Defenders, Food Democracy Now, Food First, National Family Farms Coalition, PAN (Pesticide Action Network), Pesticide Watch, Planting Justice, Organic Consumers Association, Occupy Big Food, Occupy Claremont, Occupy Cargill, Occupy DC, Occupy Delaware, Occupy Denver, Occupy Farms, Occupy for Animal Rights, Occupy Fort Lauderdale, Occupy Food, Occupy Gardens Toronto, Occupy Jacksonville, Occupy Maine, Occupy MN/Seeds of Change, Occupy Monsanto, Occupy Philly (Occupy Vacant Lots), Occupy Portland, OWS-Food Justice, OWS Puppets, OWS Sustainability, Occupy Santa Cruz, Occupy SF Environmental Justice Working Group, and Occupy the Food System- Oakland, among many others.
For the full list of supporters and more information on the events planned for Occupy our Food Supply, click here.
Vandana Shiva, Indian physicist and internationally renowned activist, adds—"Our food system has been hijacked by corporate giants from the seed to the table. Seeds controlled by Monsanto, agribusiness trade controlled by Cargill, processing controlled by Pepsi and Philip Morris, retail controlled by Walmart—is a recipe for Food Dictatorship. We must Occupy the Food system to create Food Democracy."
Raj Patel, activist, academic and author of The Value of Nothing, reflects—"It's hard for us to imagine life without food corporations because they've made our world theirs. Although we think food companies make food for us, in almost every way that matters, we—and our planet—are being transformed to suit food companies. From their marketing to children and exploitation of workers to environmental destruction in search of profit, the food industry represents one of the most profound threats to sustainability we face today."
Occupy Wall Street's Sustainability and Food Justice Committees issued this statement in support of #F27—"On Monday, February 27th, 2012, OWS Food Justice, OWS Sustainability, Oakland Food Justice & the worldwide Occupy Movement invite you to join the Global Day of Action to Occupy the Food Supply. We challenge the corporate food regime that has prioritized profit over health and sustainability. We seek to create healthy local food systems. We stand in Solidarity with Indigenous communities, and communities around the world, that are struggling with hunger, exploitation, and unfair labor practices." 
"On this day, in New York City, community gardeners, activists, labor unions, farmers, food workers, and citizens of the NYC metro area, will gather at Zuccotti Park at noon, for a Seed Exchange, to raise awareness about the corporate control of our food system and celebrate the local food communities in the metro area." 
Marion Nestle, professor and author of What to Eat and Food Politics: How the Food Industry Influences Nutrition and Health, said—"While the food industry digs in to fight public health regulations, the food movement will continue to attract support from those willing to promote a healthier and more sustainable food system. Watch for more young people going into farming and more farmers' markets, farm-to-school programs, school meal initiatives, and grassroots community efforts to implement food programs and legislate local reforms. There is plenty of hope for the future in local efforts to improve school meals, reduce childhood obesity, and make healthier food more available and affordable for all."
Rukaiya Rofiq, director of the human rights organization Yayasan SETARA Jambi in Indonesia, said—"It is encouraging to see Americans connecting the dots between the food choices they make at a grocery store and the serious impacts those choices have here in Southeast Asia. When an additive like palm oil is used to make cheap crackers and cookies it gives companies a green light to expand palm plantations at all costs which is why we see community member homes bulldozed when they fight expansion, Indigenous land rights ignored, and natural rainforests completely decimated. Invisible companies like Cargill, who are profiting off the backs of Indonesians, must be held accountable in the countries they call home." 
Michael Ableman, farmer and founder of the Center for Urban Agriculture in Goleta, California, said—"We are focusing on what we are for, as much as what we are against. We are re-occupying our soils with life and fertility and our communities with good food. We are working to rebuild the real economy, one based on soil and seeds and sunlight and individuals and communities growing together."
For more information, click here.
EcoWatch Daily Newsletter
A vegan diet can improve your health, but experts say it's important to keep track of nutrients and protein. Getty Images
By Dan Gray
Research shows that 16 weeks of a vegan diet can boost the gut microbiome, helping with weight loss and overall health.
A healthy microbiome is a diverse microbiome. A plant-based diet is the best way to achieve this.
It isn't necessary to opt for a strictly vegan diet, but it's beneficial to limit meat intake.
New research shows that following a vegan diet for about 4 months can boost your gut microbiome. In turn, that can lead to improvements in body weight and blood sugar management.
Students gathered at the National Mall in Washington DC, Sept. 20. NRDC
By Jeff Turrentine
Nearly 20 years have passed since the journalist Malcolm Gladwell popularized the term tipping point, in his best-selling book of the same name. The phrase denotes the moment that a certain idea, behavior, or practice catches on exponentially and gains widespread currency throughout a culture. Having transcended its roots in sociological theory, the tipping point is now part of our everyday vernacular. We use it in scientific contexts to describe, for instance, the climatological point of no return that we'll hit if we allow average global temperatures to rise more than 2 degrees Celsius above preindustrial levels. But we also use it to describe everything from resistance movements to the disenchantment of hockey fans when their team is on a losing streak.
samael334 / iStock / Getty Images
Berries are small, soft, round fruit of various colors — mainly blue, red, or purple.
A glacier is seen in the Kenai Mountains on Sept. 6, near Primrose, Alaska. Scientists from the U.S. Geological Survey have been studying the glaciers in the area since 1966 and their studies show that the warming climate has resulted in sustained glacial mass loss as melting outpaced the accumulation of new snow and ice. Joe Raedle / Getty Images
By Mark Mancini
On Aug. 18, Iceland held a funeral for the first glacier lost to climate change. The deceased party was Okjökull, a historic body of ice that covered 14.6 square miles (38 square kilometers) in the Icelandic Highlands at the turn of the 20th century. But its glory days are long gone. In 2014, having dwindled to less than 1/15 its former size, Okjökull lost its status as an official glacier.
Members of Chicago Democratic Socialists of America table at the Logan Square Farmers Market on Aug. 18. Alex Schwartz
By Alex Schwartz
Among the many vendors at the Logan Square Farmers Market on Aug. 18 sat three young people peddling neither organic vegetables, gourmet cheese nor handmade crafts. Instead, they offered liberation from capitalism.
Hackney primary school students went to the Town Hall on May 24 in London after school to protest about the climate emergency. Jenny Matthews / In Pictures / Getty Images
Bird watching in the U.S. may be a lot harder than it once was, since bird populations are dropping off in droves, according to a new study.