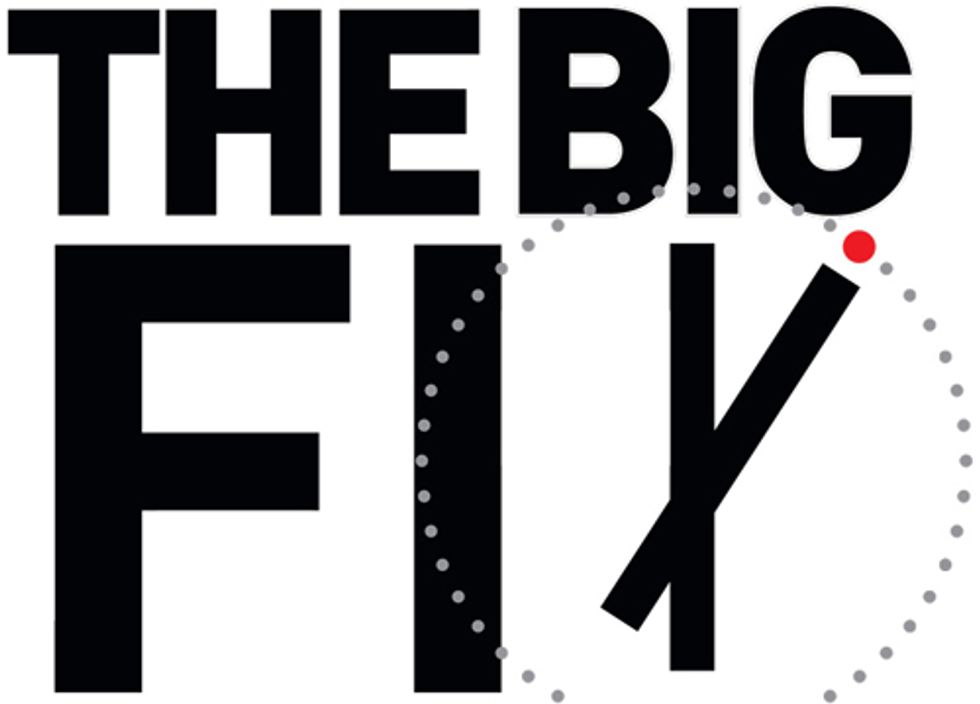 I had the pleasure of seeing The Big Fix documentary recently and am so grateful to filmmakers Rebecca and Josh Tickell, and the other people involved in making the film. Most of us have a good idea of what our addiction to fossil fuels is doing, but it is critical that we have people like these filmmakers who are brave enough to put their money and lives on the line to expose injustice and speak the truth about the issues that are affecting our communities and waterways.   
In response to the Deepwater Horizon disaster, Waterkeeper Alliance began our Save Our Gulf initiative to work with our Gulf Waterkeepers who are on the frontlines of this disaster. We have Waterkeepers across Florida, Alabama, Louisiana, and Texas working together to protect their communities and waterways, ensure transparent information, and fight for full accountability by BP and others responsible for this disaster. 
We love the Gulf Coast's white sand beaches, marshes, waters and communities that depend on them. So, it was a relief for us to hear from BP and the federal government the summer of 2010 that the oil from the spill in the Gulf of Mexico was gone. Well, it wasn't and it took a lot of nerve on their part to mislead the public so badly.  Since April 2010, BP has sprayed nearly 2 million gallons of dispersants into the Gulf, adding a poisonous brew of chemicals to the 172 million gallons of toxic oil that spilled, turning the Gulf into Frankenstein's laboratory.
Something struck me at the beginning of this documentary when the filmmakers were on the beach and they noticed that things seemed very controlled and that something was hidden. I can assure you they were correct. That feeling closely paralleled our experience in Mobile, Alabama at the beginning of May 2010.  For the greater part of a week, we tried to get our local Waterkeepers integrated into the Incident Command System (ICS), which provides mechanisms for emergency management and response. We were seeking to incorporate our Gulf Waterkeepers in the ICS because they have intimate local knowledge that is critical to decision making and because they can be sure that important information gets out to the public. Importantly, FEMA's own guidelines provide for nongovernmental organizations (NGOs) to be integrated into the process.
Well, that doesn't mean that NGOs will be integrated—at least not right away at the Mobile Incident Command; not if it was up to the BP security goons. We were repeatedly kept out of the command center, shadowed by guards, and, at times, surrounded by security guards using intimidation tactics. Without question, as discussed in The Big Fix, BP completely controlled the message and completely controlled the situation. The Waterkeepers on the frontlines were systematically shut out, though they hold the key to understanding their local waterways. Our federal government was spineless.
At the end of The Big Fix, the filmmakers discussed that many believe the well continues to leak. I can't confirm that, but you can be sure there are oil discharges happening in the Gulf. In the vacuum of constructive communication and collaboration between NGOs and government agencies, Waterkeeper Alliance recently formed the Gulf Monitoring Consortium with SkyTruth and SouthWings, each using skills with remote sensing data, aerial patrols and on-the-water patrols to look for leaking oil.
In October 2011, Waterkeeper and several of our Gulf Waterkeeper partners filed notice of a Clean Water Act lawsuit against Taylor Energy for an oil production platform and associated wells in the Gulf that were damaged in Hurricane Ivan in 2004. Based on data reviewed by SkyTruth and the federal government's records, the Taylor rig has been leaking oil every day since Hurricane Ivan. The leakage rate from these wells recently appears to be in the range of 100-400 gallons per day. If they've been leaking at that rate since Hurricane Ivan, that's a total of 210,000-840,000 gallons of oil, as of June 21, 2010. With all of the voracious drilling, surely there are multiple sites leaking into OUR Gulf. 
There remain opportunities for our government to stand up for us:
• The Gulf needs a comprehensive, long-term monitoring program.  Stop pretending that the oil from the disaster is gone and do us a favor by testing our seafood using more than someone's nose for a sniff test.
• Our government needs to work with community leaders to find long-term, sustainable solutions for recovery and restoration.
• The Oil Spill Commission recommendations must be implemented in order to ensure a higher level of safety in offshore drilling.
• The people of the Gulf need and deserve proper diagnosis, treatment and medical monitoring.
• Citizen participation must be a high priority for Gulf restoration.
• The Clean Water Act penalties that BP must pay should be dedicated to the Gulf Coast for environmental restoration.
• And for the leaders of the Gulf, this is an opportunity to restore and rebuild sustainably for a clean future. Our federal government should fully support this endeavor.
These are just a few of the many things that our government—a party complicit in this disaster—should do for the Gulf. They say corporations are people now.  If you wreaked this kind of public health, environmental and economic havoc on our nation, what do you think would happen to you?
Go see The Big Fix, get mad and take action.  You can learn more at www.saveourgulf.org.  
EcoWatch Daily Newsletter
Recent Stories from EcoWatch