This website uses cookies to ensure you get the best experience while browsing it. By clicking 'Got It' you're accepting these terms.
The Financialization of Nature Is a New Battle Based on Old Tricks
Apr. 26, 2012 08:45AM EST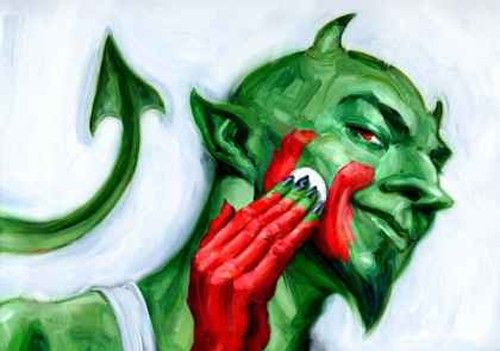 By Rich Bindell
Last week, in a small conference room in Washington, D.C., connected by video link to attendees in New York, Italy and elsewhere, members of several consumer and environmental advocacy groups held a roundtable discussion on a growing global trend that pits people and corporations against each other in a battle over public resources. The topic is one that you'll probably be hearing more about in the near future, especially with Rio+20 in June, which will focus on the so-called "green economy." If you really think about it, you've most likely seen evidence of it already: the financialization of nature.
The Institute for Policy Studies hosted several groups with sponsors including Corporate Accountability International, Food & Water Watch, Friends of the Earth-U.S., Heinrich Boell Foundation, Institute for Agriculture and Trade Policy, Maryknoll Office for Global Concerns, and Public Citizen, many of whom have been working to protect public resources for years. The mood of folks around the room was one of concern, but it was reassuring to see the unification of experienced advocates.
With climate change now a harsh reality, it's already having a profound impact on the availability of the natural resources from which all human beings benefit. Along with the challenge of meeting the needs of a growing global population with potentially fewer resources is the threat of losing control over those resources to private interests.
Multi-national corporations have been positioning themselves to strategically cast monetary value onto shared natural resources for years. But this time, they are putting a new spin on old tricks. Where private investors once collaborated with governments and international agencies to create new markets for things like food and energy, they are now focused on doing so for water, land, carbon, species, habitats and biodiversity—so called "ecosystem services."
Brace yourselves, and prepare to defend your public resources against major financial institutions as they seek to take advantage of the scarcity of such resources by profiting from them in new markets. This commodification of things that we often take for granted—resources that sustain life—is taking place throughout the world, and major investors have already gotten started on convincing the public that it's acceptable to put a market price on resources that currently exist in the public domain. Just take a look at the bottled water industry for a great example.
Savvy marketers are calling it a "green economy," but it's more like a greenwashed economy. It embodies the soul of an industry that would displace citizens from their trailer park village in Pennsylvania in order to access a withdrawal facility so Aqua America can provide oil and gas companies with water for fracking. It falsely empowers big polluters to buy and sell credits offering the "right" to pollute our water and air, but it's really just an incentive to continue business as usual.
It also serves up the horrific reminder, as UN Special Rapporteur on the Human Right to Safe Drinking Water and Sanitation, Catarina de Albuquerque said, that even in the U.S., "the richest economy in the world, there are still people lacking access to safe, affordable water and sanitation." From communities in California's San Joaquin Valley (see the first video) who have to purchase bottled water because their wells are contaminated to Lowndes County, Alabama where residents face jail time if they can't afford to buy new sanitation systems.
As we prepare to fight against the financialization of nature, we face combatants who are armed with extensive supplies of money and power. But communities have power too. We have the power of information sharing, voting, and uniting to protect what we recognize as shared resources for all human beings. As we ramp up our new Common Resources program, you will see how the financialization of nature is a topic that connects all of our issue areas together.
For more information, click here.
EcoWatch Daily Newsletter
People carry children on a flooded street in Almoradi, Spain on Sept. 13. JOSE JORDAN / AFP / Getty Images
Large food companies are following in the footsteps of fast-food restaurants such as Burger King and KFC by offering meat alternatives. Getty Images
By Elizabeth Pratt
Hormel, Kellogg's, and Kroger are among the large companies now planning to offer "fake meat" products at grocery stores.
Experts say the trend toward plant-based meats coincides with consumers' desires to eat less meat.
However, experts urge consumers to closely check package labels as a product isn't necessarily healthy just because it's described as plant-based.
In grocery stores and fast-food outlets around the U.S., a revolution is taking place.
Colombia rainforest. Marcel Oosterwijk / CC BY-SA 2.0
Many of us think of the Amazon as an untouched wilderness, but people have been thriving in these diverse environments for millennia. Due to this long history, the knowledge that Indigenous and forest communities pass between generations about plants, animals and forest ecology is incredibly rich and detailed and easily dwarfs that of any expert.
picture-alliance / Newscom / R. Ben Ari
By Wesley Rahn
Plastic byproducts were found in 97 percent of blood and urine samples from 2,500 children tested between 2014 and 2017, according to a study by the German Environment Ministry and the Robert Koch Institute.

Pexels
Medically reviewed by Daniel Bubnis, MS, NASM-CPT, NASE Level II-CSS
Hot yoga has become a popular exercise in recent years. It offers many of the same benefits as traditional yoga, such as stress reduction, improved strength, and flexibility.
Lara Hata / iStock / Getty Images
By SaVanna Shoemaker, MS, RDN, LD
Rice is a staple in many people's diets. It's filling, inexpensive, and a great mild-tasting addition to flavorful dishes.
An image of the trans-alaskan oil pipeline that carries oil from the northern part of Alaska all the way to valdez. This shot is right near the arctic national wildlife refuge. kyletperry / iStock / Getty Images Plus
The Trump administration has initialized the final steps to open up nearly 1.6 million acres of the protected Alaskan National Wildlife Refuge to allow oil and gas drilling.