This website uses cookies to ensure you get the best experience while browsing it. By clicking 'Got It' you're accepting these terms.
The Farmer Who Stopped Planting GMO Crops
Dec. 11, 2013 01:44PM EST
Food
By s.e. smith
You might think this is the time of year when things are calm on the farm, but just the opposite is true. While the fields are quiet and the farming equipment is quietly tucked away in the barn, it's time to select the crops for next year and determine what's being planted where.
Choosing crops, however, isn't just about deciding to grow carrots, peas or corn (or, more accurately, corn, wheat, or soy), but what kind of any given crop a farmer wants to produce: sweet corn vs. high-starch corn, for example, depending on what's likely to sell best in the coming year. Furthermore, the farmer needs to make another critical decision: genetically modified organisms (GMOs) or non-GMOs?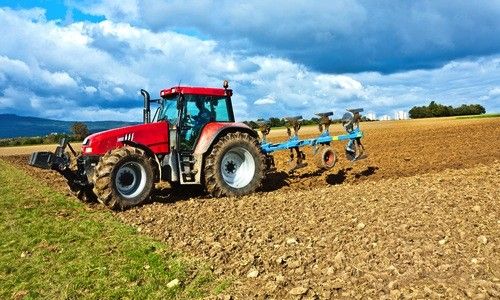 Shutterstock
For some farmers, it's an easy choice. Some are actively trying to avoid GMO crops to obtain specialty certifications and the premium price that comes with them, while others may be seeking to produce crops more sustainably and ethically. Others prefer GMO crops for a variety of reasons, including perceived ease of harvesting, specific desired traits and contracts with seed companies.
There's a serious drawback to growing with GMO seeds, though: They tend to be extremely costly. Biotechnology companies need to recoup their research and development costs, which requires high prices for seed and related specialty products such as specially formulated herbicides and pesticides. Farmers who pay these premiums can get locked into a merry-go-round with the biotech company, finding themselves trapped with GMO crops or reluctant to change.
That was certainly the case with Chris Huegerich, a farmer in Iowa who started out growing with GMO seeds because his father had embraced the technology and didn't see any other way to grow. Initially, the crops performed extremely well, but in recent years, Huegerich had noticed a decline in yields and performance as pests and weeds became resistant. So he decided to run an experiment, planting part of his fields last year with conventional seeds. He immediately noticed a difference: they were cheaper to buy and cheaper to grow, and the yield was higher, too. In 2013, he repeated the experiment, converting an even higher percentage of his acreage to non-GMO planting, and he was similarly pleased by the result.
Considerable consumer pressure already has played a significant role in attitudes about GMO crops. As more and more consumers demand food labeling and specifically seek out GMO-free products, companies in turn are asking their supplying farmers to consider planting with conventional seeds. This is combined with a growing realization that GMO crops may not be as miraculous as previously believed when it comes to pest resistance and pairing with herbicides for weed control is leading some farmers to do the same thing Huegerich did, questioning the value of GMOs and giving conventional seeds a go.
One of the things that's particularly interesting about these cases is that the farmers involved are not necessarily pushing for organic certification or even aiming for consumers who prefer GMO-free products. They're just finding that non-GMOs work better for their needs, illustrating that sometimes, a revolution can come from a surprising corner.
If farmers continue to turn away from GMOs, biotech companies will have to scramble even harder to come up with new products and persuasive sales techniques. And even that may not be enough. In this case, a persuasive economic argument for working with non-GMO crops is emerging from multiple perspectives—those of consumers and farmers alike—and it may prove to be a tipping point for the industry.
Visit EcoWatch's GMO page for more related news on this topic.

EcoWatch Daily Newsletter
Extreme weather events supercharged by climate change in 2012 led to nearly 1,000 more deaths, more than 20,000 additional hospitalizations, and cost the U.S. healthcare system $10 billion, a new report finds.
Giant sequoia trees at Sequoia National Park, California. lucky-photographer / iStock / Getty Images Plus
A Bay Area conservation group struck a deal to buy and to protect the world's largest remaining privately owned sequoia forest for $15.6 million. Now it needs to raise the money, according to CNN.
This aerial view shows the Ogasayama Sports Park Ecopa Stadium, one of the venues for 2019 Rugby World Cup. MARTIN BUREAU / AFP / Getty Images
The Rugby World Cup starts Friday in Japan where Pacific Island teams from Samoa, Fiji and Tonga will face off against teams from industrialized nations. However, a new report from a UK-based NGO says that when the teams gather for the opening ceremony on Friday night and listen to the theme song "World In Union," the hypocrisy of climate injustice will take center stage.
Vera_Petrunina / iStock / Getty Images Plus
By Wudan Yan
In June, New York Times journalist Andy Newman wrote an article titled, "If seeing the world helps ruin it, should we stay home?" In it, he raised the question of whether or not travel by plane, boat, or car—all of which contribute to climate change, rising sea levels, and melting glaciers—might pose a moral challenge to the responsibility that each of us has to not exacerbate the already catastrophic consequences of climate change. The premise of Newman's piece rests on his assertion that traveling "somewhere far away… is the biggest single action a private citizen can take to worsen climate change."

Volunteer caucasian woman giving grain to starving African children.
Bartosz Hadyniak / E+ / Getty Images
Food will be scarce, expensive and less nutritious," CNN warns us in its coverage of the UN's new "Climate Change and Land" report. The New York Times announces that "Climate Change Threatens the World's Food Supply."
By Adam Vaughan
Two-thirds of people in the UK think the amount people fly should be reined in to tackle climate change, polling has found.
Climate Week NYC
On Monday, Sept. 23, the Climate Group will kick off its 11th annual Climate Week NYC, a chance for governments, non-profits, businesses, communities and individuals to share possible solutions to the climate crisis while world leaders gather in the city for the UN Climate Action Summit.
By Pam Radtke Russell in New Orleans
Local TV weather forecasters have become foot soldiers in the war against climate misinformation. Over the past decade, a growing number of meteorologists and weathercasters have begun addressing the climate crisis either as part of their weather forecasts, or in separate, independent news reports to help their viewers understand what is happening and why it is important.