This website uses cookies to ensure you get the best experience while browsing it. By clicking 'Got It' you're accepting these terms.


The best of EcoWatch, right in your inbox. Sign up for our email newsletter!
The Farmer Who Stopped Planting GMO Crops
Dec. 11, 2013 01:44PM EST
Food
By s.e. smith
You might think this is the time of year when things are calm on the farm, but just the opposite is true. While the fields are quiet and the farming equipment is quietly tucked away in the barn, it's time to select the crops for next year and determine what's being planted where.
Choosing crops, however, isn't just about deciding to grow carrots, peas or corn (or, more accurately, corn, wheat, or soy), but what kind of any given crop a farmer wants to produce: sweet corn vs. high-starch corn, for example, depending on what's likely to sell best in the coming year. Furthermore, the farmer needs to make another critical decision: genetically modified organisms (GMOs) or non-GMOs?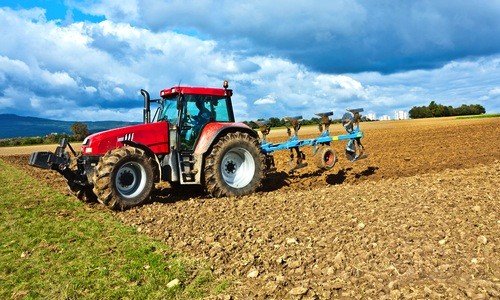 Shutterstock
For some farmers, it's an easy choice. Some are actively trying to avoid GMO crops to obtain specialty certifications and the premium price that comes with them, while others may be seeking to produce crops more sustainably and ethically. Others prefer GMO crops for a variety of reasons, including perceived ease of harvesting, specific desired traits and contracts with seed companies.
There's a serious drawback to growing with GMO seeds, though: They tend to be extremely costly. Biotechnology companies need to recoup their research and development costs, which requires high prices for seed and related specialty products such as specially formulated herbicides and pesticides. Farmers who pay these premiums can get locked into a merry-go-round with the biotech company, finding themselves trapped with GMO crops or reluctant to change.
That was certainly the case with Chris Huegerich, a farmer in Iowa who started out growing with GMO seeds because his father had embraced the technology and didn't see any other way to grow. Initially, the crops performed extremely well, but in recent years, Huegerich had noticed a decline in yields and performance as pests and weeds became resistant. So he decided to run an experiment, planting part of his fields last year with conventional seeds. He immediately noticed a difference: they were cheaper to buy and cheaper to grow, and the yield was higher, too. In 2013, he repeated the experiment, converting an even higher percentage of his acreage to non-GMO planting, and he was similarly pleased by the result.
Considerable consumer pressure already has played a significant role in attitudes about GMO crops. As more and more consumers demand food labeling and specifically seek out GMO-free products, companies in turn are asking their supplying farmers to consider planting with conventional seeds. This is combined with a growing realization that GMO crops may not be as miraculous as previously believed when it comes to pest resistance and pairing with herbicides for weed control is leading some farmers to do the same thing Huegerich did, questioning the value of GMOs and giving conventional seeds a go.
One of the things that's particularly interesting about these cases is that the farmers involved are not necessarily pushing for organic certification or even aiming for consumers who prefer GMO-free products. They're just finding that non-GMOs work better for their needs, illustrating that sometimes, a revolution can come from a surprising corner.
If farmers continue to turn away from GMOs, biotech companies will have to scramble even harder to come up with new products and persuasive sales techniques. And even that may not be enough. In this case, a persuasive economic argument for working with non-GMO crops is emerging from multiple perspectives—those of consumers and farmers alike—and it may prove to be a tipping point for the industry.
Visit EcoWatch's GMO page for more related news on this topic.

EcoWatch Daily Newsletter
Aerial view of the explosion site of a chemical factory on March 22 in Yancheng, Jiangsu Province of China. Caixin Media / VCG / Getty Images)
At least 47 people have died in an explosion at a plant in Yancheng, China Thursday run by a chemical company with a history of environmental violations, Sky News reported.
A fishmonger in Elmina, a fishing port in the Central Region of Ghana. Environmental Justice Foundation
By Daisy Brickhill
Each morning, men living in fishing communities along Ghana's coastline push off in search of the day's catch. But when the boats come back to shore, it's the women who take over.
Pexels
By Sam Nickerson
Links between excess sugar in your diet and disease have been well-documented, but new research by Harvard's School of Public Health might make you even more wary of that next soda: it could increase your risk of an early death.
The study, published this week in the American Heart Association's journal Circulation, found that drinking one or two sugar-sweetened beverages (SSBs) each day — like sodas or sports drinks — increases risk of an early death by 14 percent.
Tyson Foods is recalling approximately 69,093 pounds of frozen chicken strips because they may have been contaminated with pieces of metal, the U.S. Department of Agriculture (USDA) Food Safety and Inspection Service (FSIS) announced Thursday.
The affected products were fully-cooked "Buffalo Style" and "Crispy" chicken strips with a "use by" date of Nov. 30, 2019 and an establishment number of "P-7221" on the back of the package.
"FSIS is concerned that some product may be in consumers' freezers," the recall notice said. "Consumers who have purchased these products are urged not to consume them. These products should be thrown away or returned to the place of purchase."
Environmental exposure to pesticides, both before birth and during the first year of life, has been linked to an increased risk of developing autism spectrum disorder, according to the largest epidemiological study to date on the connection.
The study, published Wednesday in BMJ, found that pregnant women who lived within 2,000 meters (approximately 1.2 miles) of a highly-sprayed agricultural area in California had children who were 10 to 16 percent more likely to develop autism and 30 percent more likely to develop severe autism that impacted their intellectual ability. If the children were exposed to pesticides during their first year of life, the risk they would develop autism went up to 50 percent.
The ExxonMobil Torrance Refinery in Torrance, California.
waltarrrr / Flickr
ExxonMobil could be the second company after Monsanto to lose lobbying access to members of European Parliament after it failed to turn up to a hearing Thursday into whether or not the oil giant knowingly spread false information about climate change.
The call to ban the company was submitted by Green Member of European Parliament (MEP) Molly Scott Cato and should be decided in a vote in late April, The Guardian reported.
Bernie Sanders holds his first presidential campaign rally at Brooklyn College on March 02 in Brooklyn, New York. Kena Betancur / VIEWpress / Corbis. Getty Images
Bernie Sanders has become the first contender in the crowded 2020 Democratic presidential primary field to pledge to offset all of the greenhouse gas emissions released by campaign travel, The Huffington Post reported Thursday.