This website uses cookies to ensure you get the best experience while browsing it. By clicking 'Got It' you're accepting these terms.
The End of Fossil Fuels is Near
Dec. 14, 2015 11:18AM EST
Climate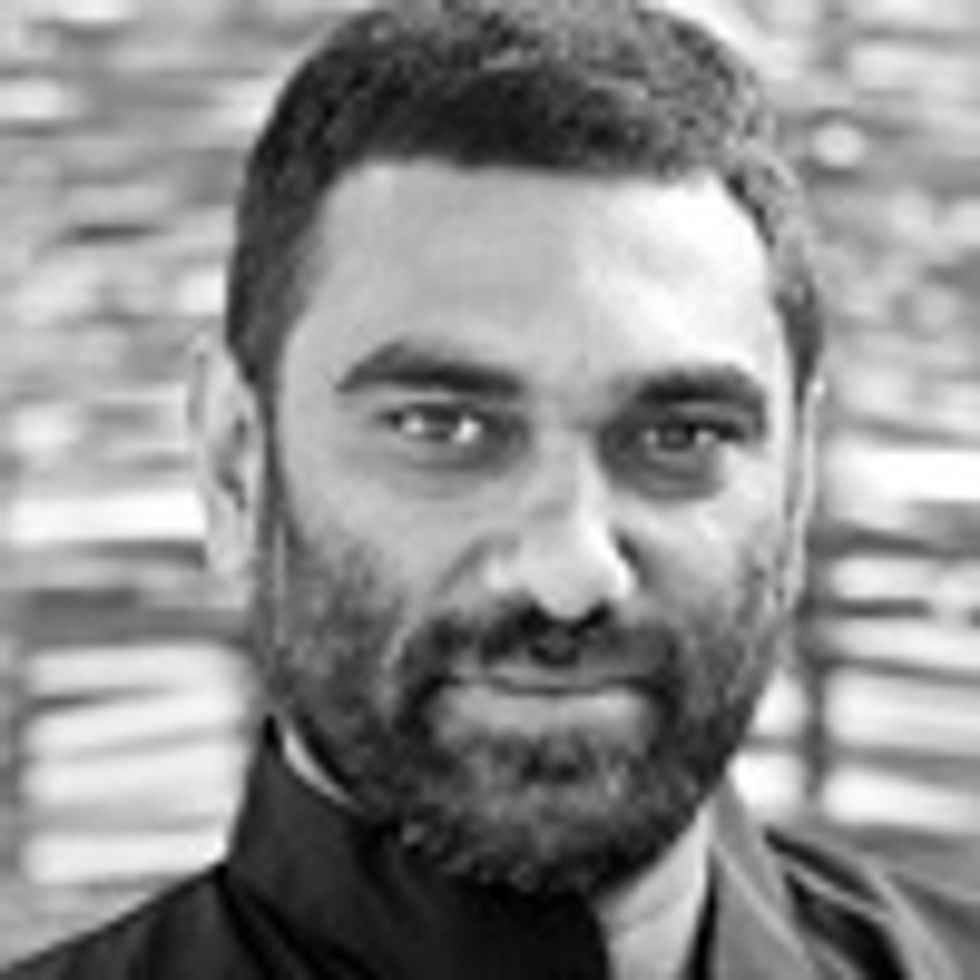 The wheel of climate action turns slowly, but in Paris it has turned. There's much in this deal that frustrates and disappoints me, but it still puts the fossil fuel industry squarely on the wrong side of history.
Parts of this deal have been diluted and polluted by the people who despoil our planet, but it contains a new temperature limit of 1.5 degrees. That single number and the new goal of net zero emissions by the second half of this century, will cause consternation in the boardrooms of coal companies and the palaces of oil-exporting states and that is a very good thing. The transition away from fossil fuels is inevitable.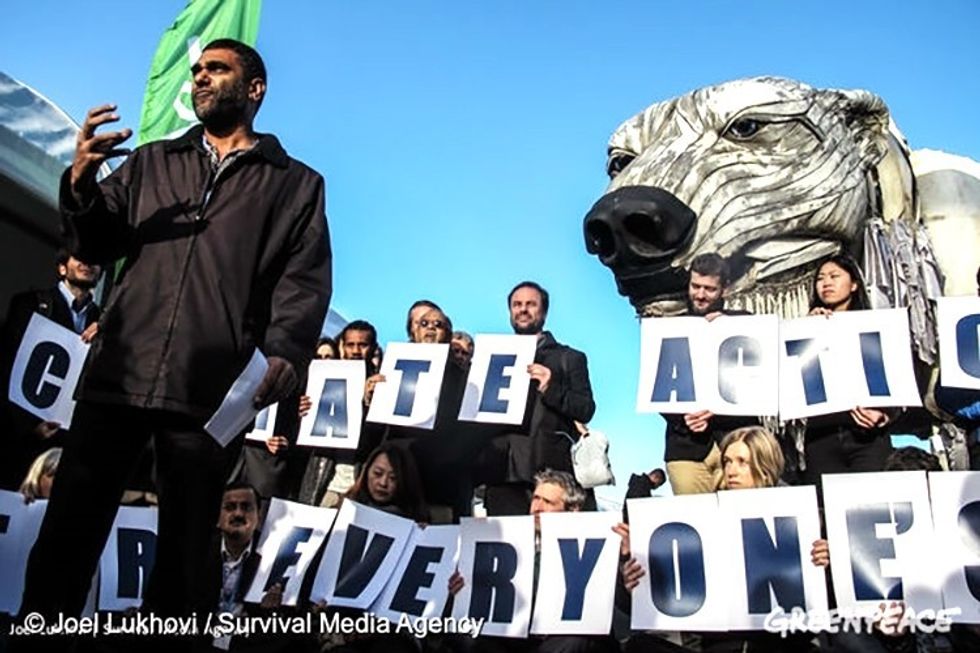 Now comes our great task of this century. How do we meet this new goal? The measures outlined simply do not get us there. When it comes to forcing real, meaningful action, Paris fails to meet the moment. We have a 1.5 degree wall to climb, but the ladder isn't long enough. The emissions targets outlined in this agreement are simply not big enough to get us to where we need to be.
There is also not enough in this deal for the nations and people on the frontlines of climate change. It contains an inherent, ingrained injustice. The nations which caused this problem have promised too little to help the people on the frontlines of this crisis who are already losing their lives and livelihoods for problems they did not create.
This deal won't dig us out the hole we're in, but it makes the sides less steep. To pull us free of fossil fuels we are going to need to mobilize in ever greater numbers. This year the climate movement beat the Keystone XL tar sands pipeline, we kicked Shell out of the Arctic and put coal into terminal decline. We stand for a future powered by renewable energy and it is a future we will win.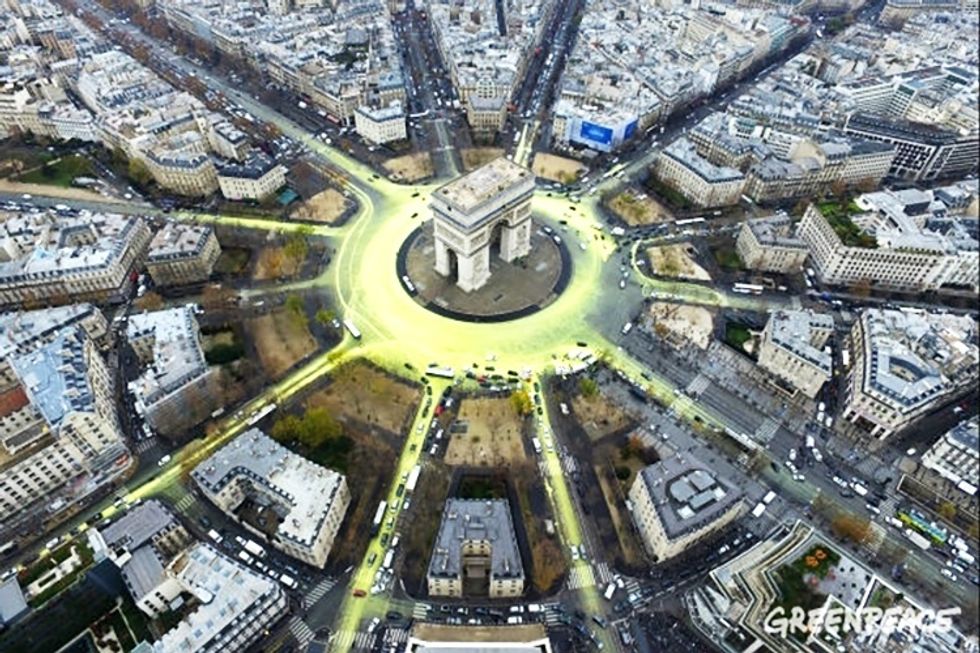 This is why our efforts have never been confined to these conference halls. Just as we've carried our messages of justice, equity and environmental protection into the venues of the climate negotiations and echoed the collective demand to speed the end of fossil fuels to the faces of our leaders, we will continue to raise our voices long after these talks are over.
We came to the COP with hope. Not a hope based on the commitments we wished our leaders would make, but a hope built on movements that we have built together with many others. Together we are challenging the fossil fuel oligarchy, we are ushering in the era of solutions and we are moving the political benchmark of what is possible.
While our political leaders walk, our movements run and we must keep running.
From the High Arctic to Brazil, from the Alberta tar sands to Indonesia's peatlands, from the Gulf of Mexico to the Mediterranean we will stand against those faceless corporations and regressive governments that would risk our children's future.
We will push our beautifully simple solution to climate change—100 percent renewable energy for all—and make sure it is heard and embraced. From schoolyards in Greece, to the streetlights of India, to small Arctic communities like Clyde River in Canada, we will showcase the clean, renewable solutions that are already here and pressure our governments to make them available for everyone, fast.
Finally, we will stand with those communities on the front lines of this struggle. They are the leaders of this movement. They are the ones facing the rising seas, the superstorms and the direct effects of our governments' collective inaction. We will amplify their voices so the world is forced to hear our call for change.
In 2016 we—the entire climate movement—will escalate the fight. Together we will show the world that if our governments won't act to stop the carbon bullies, then we will.
History is waiting in the wings and we're standing on the right side of it.
YOU MIGHT ALSO LIKE
President Obama: Paris Climate Agreement a 'Turning Point for the World'
12 Key Takeaways From the Paris Climate Talks
World Leaders Agree to Historic Global Climate Agreement
10,000+ Took to the Streets in Paris Pledging Escalated Actions in the Fight for Climate Justice
EcoWatch Daily Newsletter
Pro-environment demonstrators on the streets of Washington, DC during the Jan. 20, 2017 Trump inauguration.
Mobilus In Mobili
/ Flickr /
CC BY-SA 2.0
By Dr. Brian R. Shmaefsky
One year after the Flint Water Crisis I was invited to participate in a water rights session at a conference hosted by the US Human Rights Network in Austin, Texas in 2015. The reason I was at the conference was to promote efforts by the American Association for the Advancement of Science (AAAS) to encourage scientists to shine a light on how science intersects with human rights, in the U.S. as well as in the context of international development. My plan was to sit at an information booth and share my stories about water quality projects I spearheaded in communities in Bangladesh, Colombia, and the Philippines. I did not expect to be thrown into conversations that made me reexamine how scientists use their knowledge as a public good.
Mt. Rainier and Reflection Lake on Sept. 10, 2015. Crystal Geyser planned to open a bottling plant near Mt. Rainier, emails show.
louelke - on and off / Flickr
Bottled water manufacturers looking to capture cool, mountain water from Washington's Cascade Mountains may have to look elsewhere after the state senate passed a bill banning new water permits, as The Guardian reported.
Large storage tank of Ammonia at a fertilizer plant in Cubatão, Sao Paulo State, Brazil. Luis Veiga / The Image Bank / Getty Images
The shipping industry is coming to grips with its egregious carbon footprint, as it has an outsized contribution to greenhouse gas emissions and to the dumping of chemicals into open seas. Already, the global shipping industry contributes about 2 percent of global carbon emissions, about the same as Germany, as the BBC reported.
At high tide, people are forced off parts of the pathway surrounding DC's Tidal Basin. Andrew Bossi /
Wikimedia
The Jefferson Memorial in Washington, DC overlooks the Tidal Basin, a man-made body of water surrounded by cherry trees. Visitors can stroll along the water's edge, gazing up at the stately monument.
But at high tide, people are forced off parts of the path. Twice a day, the Tidal Basin floods and water spills onto the walkway.
Lioness displays teeth during light rainstorm in Kruger National Park, South Africa. johan63 / iStock / Getty Images
Ahead of government negotiations scheduled for next week on a global plan to address the biodiversity crisis, 23 former foreign ministers from various countries released a statement on Tuesday urging world leaders to act "boldly" to protect nature.