This website uses cookies to ensure you get the best experience while browsing it. By clicking 'Got It' you're accepting these terms.
The End of Cheap Water
Jul. 01, 2013 03:36PM EST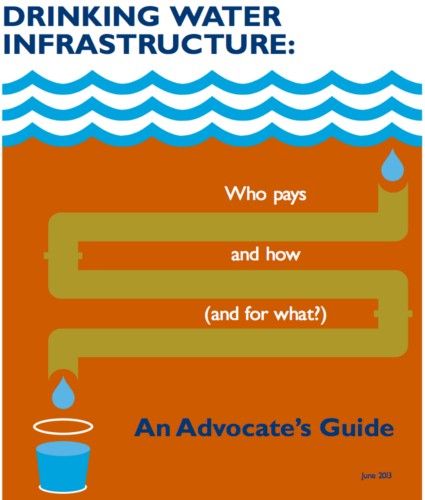 The costs of rebuilding our nation's water infrastructure are jaw dropping: estimates range from $300 billion to $1 trillion needed over the next 30 years. Add in the cost to develop new water supplies, treatment plants and transmission systems to accommodate growth—$20 billion for new reservoirs and pipelines in North Texas, $7 billion for a pipeline in Las Vegas—and the numbers really start to make the mind reel.
Investing in our nation's infrastructure and water security is a necessity. But what we invest in is a choice we should not take lightly—not when the costs are so high. While it's become a platitude that Americans pay too little for water to care how much they use, the reality is that the costs of water services are outpacing the cost gains of every other basic service—faster than electricity, faster than solid waste, faster even than cable television.
And while many of us can afford it, in some communities, the cost of clean drinking water strains the bounds of affordability. A study by the University of North Carolina found that low-income households are paying as much as 8 percent of annual income for water services.
Everyone in America should have access to clean, affordable drinking water and sanitation services. But in an era of fiscal constraint, this means we need to be smarter about the way we provide these services and realistic about the true cost of sticking with the legacy systems we have inherited.
More efficient use of water will have to part of the solution. In the U.S., around one-third of the clean drinking water we treat each day is used to water lawns. This proportion is as high as 70 perecent in some areas. Energy prices are rising, and with it, the cost of treating and moving that water. This is unsustainable, environmentally and financially.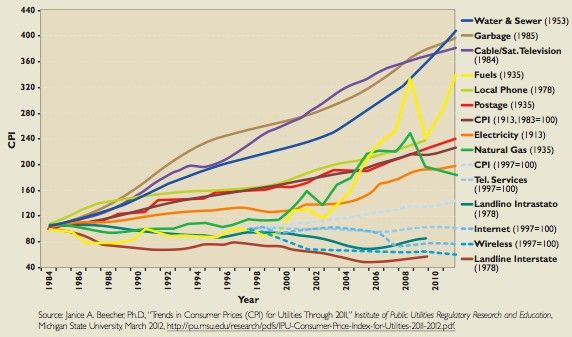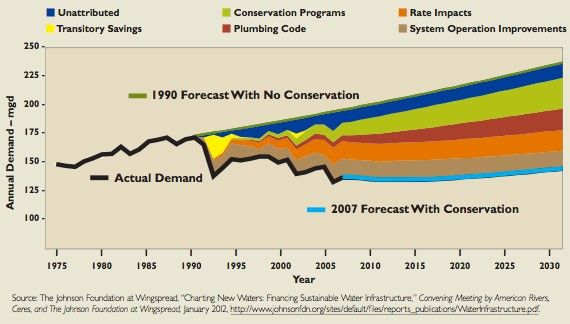 The good news is, we can choose to use water more efficiently, and to protect the affordability of clean drinking water for generations to come. But advocates have to make this solution a reality by educating themselves about the financial constraints water systems face in maintaining the infrastructure and the debt acquired by their predecessors, and by supporting their political leaders to lay the pathway toward equitable and sustainable water services.
A new report by American Rivers looks to shape a sustainable water future for communities across the U.S. It provides a shared foundation of knowledge for advocates of all stripes to cooperate in stewarding their communities' most critical infrastructure, so that Americans always enjoy the best water money can buy, without breaking the bank.
Visit EcoWatch's WATER page for more related news on this topic.

EcoWatch Daily Newsletter
By Simon Evans
During the three months of July, August and September, renewables generated an estimated total of 29.5 terawatt hours (TWh), compared with just 29.1TWh from fossil fuels, the analysis shows.
A demonstrator waves an Ecuadorian flag during protests against the end of subsidies to gasoline and diesel on Oct. 9 in Quito, Ecuador. Jorge Ivan Castaneira Jaramillo / Getty Images
Protesters block the road outside Mansion House in London during an XR climate change protest. Gareth Fuller / PA Images via Getty Images
Protestors marched outside the Prudential Center in Newark, New Jersey on Monday, August 26, during the MTV Video and Music Awards to bring attention to the water crisis currently gripping the city. Karla Ann Cote / NurPhoto / Getty Images
By Will Sarni
It is far too easy to view scarcity and poor quality of water as issues solely affecting emerging economies. While the images of women and children fetching water in Africa and a lack of access to water in India are deeply disturbing, this is not the complete picture.
Pexels
Mice exposed to nicotine-containing e-cigarette vapor developed lung cancer within a year.
More research is needed to know what this means for people who vape.
Other research has shown that vaping can cause damage to lung tissue.
A new study found that long-term exposure to nicotine-containing e-cigarette vapor increases the risk of cancer in mice.
Demonstrators with The Animal Welfare Institute hold a rally to save the vaquita, the world's smallest and most endangered porpoise, outside the Mexican Embassy in DC on July 5, 2018. SAUL LOEB / AFP / Getty Images
Six months: That's how much time Mexico now has to report on its progress to save the critically endangered vaquita porpoise (Phocoena sinus) from extinction.
Pexels
It may seem innocuous to flush a Q-tip down the toilet, but those bits of plastic have been washing up on beaches and pose a threat to the birds, turtles and marine life that call those beaches home. The scourge of plastic "nurdles," as they are called, has pushed Scotland to implement a complete ban on the sale and manufacture of plastic-stemmed cotton swabs, as the BBC reported.
Air conditioners, like these in a residential and restaurant area of Singapore city, could put a massive strain on electricity grids during more intense heatwaves. Taro Hama @ e-kamakura / Moment / Getty Images
By Tim Radford
Scientists in the U.S. have added a new dimension to the growing hazard of extreme heat. As global average temperatures rise, so do the frequency, duration and intensity of heatwaves.