This website uses cookies to ensure you get the best experience while browsing it. By clicking 'Got It' you're accepting these terms.
The Down-to-Earth Solution to Climate Change
Dec. 30, 2015 09:51AM EST
Climate

After helping build New Chapter into a leading natural vitamin and supplement company, Tom Newmark decided to take on a bigger challenge: climate change, which is the biggest threat facing the world today. Newmark co-founded The Carbon Underground, a non-profit organization, to help educate the world about the ability of healthy soils to reverse climate change, and to encourage the adoption of regenerative organic agriculture on farms and grasslands to restore a healthy climate.
Research conducted by the Rodale Institute in the U.S., the Research Institute of Organic Agriculture in Switzerland and the Louis Bolk Institute in the Netherlands has found that organic farming methods are effective at removing carbon dioxide (CO2)—the primary greenhouse gas responsible for climate change—from the atmosphere.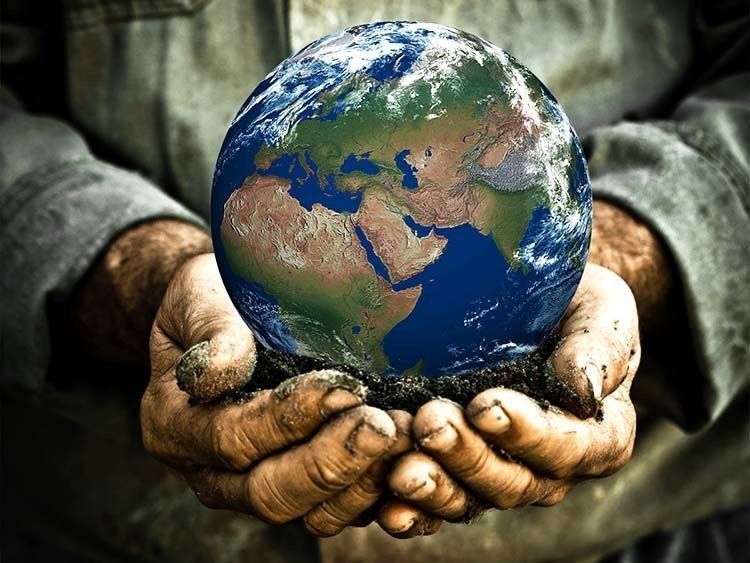 We fail to confront the reality that it is the agricultural malpractice of current farming and ranching systems that contribute to more than half of human-caused CO2 emissions. Photo credit: Shutterstock
The Carbon Underground is coordinating global research to demonstrate the potential of sustainable agriculture and land management to sequester carbon and mitigate climate change.
I recently interviewed Tom Newmark, who is also the founder of Sacred Seeds and co-owner of Finca Luna Nueva, a Demeter-certified biodynamic hotel and farm in Costa Rica that is conducting carbon sequestration research.
Q. Tell me more about The Carbon Underground.
A. Larry Kopald and I co-founded The Carbon Underground in 2013. We have a history of involvement in environmental organizations and we're inspired by the heroic work many NGOs are doing to mitigate our climate crisis. But we were frustrated that most environmentalists don't discuss a very inconvenient truth: merely reducing the rate of CO2 emissions won't reverse climate change. The global concentration of carbon dioxide in the atmosphere has already reached 400 parts per million (ppm) and it's climbing rapidly. Scientists believe that 350 ppm is the "safe" upper limit of CO2 in the earth's atmosphere.
For the survival of humanity, we've got to do more than just slow down the rate of the disaster—we've got to reverse it.
Q. What are the sources of CO2?
A. It's coming from a variety of sources including burning of fossil fuels, such as coal, oil and natural gas and from agriculture. But people don't focus on agriculture. They say that we need to switch to wind and solar energy. And, of course, we should transition from a fossil fuel-based energy system to clean energy. But we fail to confront the reality that it is the agricultural malpractice of current farming and ranching systems that contribute to more than half of human-caused CO2 emissions. Food and textile production are contributing billions of tons of CO2 each year.
The worst part of the challenge is that if we were to stop all CO2 emissions into the atmosphere—not one new molecule—that won't do anything to abate the climate crisis. We are already over 400 ppm and we need to get back to 350 ppm. Ideally we would like to get back to the pre-industrial era levels of 275 ppm.
Q. What will be the result of 400 ppm carbon levels in the atmosphere?
A. We are looking at existential threats to the continuity of life as we know it. Ecologists will say that life will get progressively worse, harsh and unfavorable. A two-degree centigrade temperature increase will change life in the oceans as we know it. That amount of extra heat destroys life in the ocean. This will not be the planet that any human has recognized.
Q. What do you see as the solution to this crisis?
A. The only thing we can do and absolutely must do is to take CO2 out of the atmosphere. How do we do that? Some people suggest a machine that could suck out all the CO2. Let's suppose you could suction 100 billion tons of CO2 from the atmosphere, which is the amount you need to reduce CO2 to 350 ppm. Where would you put 100 billion tons of CO2? Pump it into the ocean or into caves like some reverse fracking? It is magical thinking that technology will save us. Such a machine doesn't exist and the expense would be unimaginable.
So what will we do? There is a technology that exists today that will suck excess CO2 out of the atmosphere. That technology is called photosynthesis. When I look outside my office window I see plants. Through photosynthesis, plants convert sunlight, CO2 and water to carbohydrates and oxygen. Plants are sucking tens of billions of tons of CO2 and creating plant sugars/carbohydrates. Some plant sugars we eat and some pass through the plant and get converted into humus, soil organic matter. This isn't rocket science. This is a biological fact.
The soil itself is the largest available sink for CO2. There is more carbon in the soil than in the atmosphere and every blade of grass and tree on the earth.
The bad news is that by ripping up the soil through industrial agriculture abuse, we've put excess CO2 into the atmosphere.
The good news is that if we farm and ranch in harmony with carbon cycles, we can put carbon back in the soil—quickly. Scientists say that we can get back to 350 ppm in 10 years. All we have to do is increase soil organic matter in all grasslands on the planet by one percent. That is all we need to do to bring it back to 350 ppm. Nature can fix this problem that humans have created.
Q. What needs to be done?
A. To every environmentalist lamenting that we have 400 ppm, I ask "What is your plan?" It's not enough to be upset that we have too much CO2. No rational person can disagree that we have a crisis on the planet. Climate change threatens life on the planet as we know it.
We have a plan that is tested and economically feasible. The plan is regenerative agriculture and it is ready to be implemented. It is shovel-ready.
Q. A recent study found that large-scale organic farms actually increased greenhouse gas emissions. What is your reaction to that?
A. At the heart of that paper lays a condemnation of industrial agriculture—monoculture, deep tilling and chemical warfare against soil microorganisms.
The National Organic Program is currently silent on soil health and carbon sequestration. It could have required organic farms to at least preserve or to build soil organic matter—but it didn't.
Organic agriculture is immeasurably better than its synthetic chemical counterpart, but we now need to push organic growers to adopt regenerative practices.
Q. What about GMO technology?
A. When people debate the GMO [genetically modified organism] issue, saying it is dangerous because of health hazards and glyphosate use, I suggest we also ask "what will it do with respect to saving our planet?" We need to pose the carbon challenge to every agricultural system. What agricultural system best puts CO2 back into the earth? Is it a monoculture where soil is poisoned with pesticides and chemical fertilizers? Or is it biological and regenerative?
GMO technology does more destruction because GMOs are invariably used in the industrial, monoculture environment. We know what the climate will look like with that system. GMO-monoculture agriculture will lead us off the cliff of existence.
I know that regenerative agriculture, whether you call it biodynamic or organic, is incredibly effective at removing CO2 from the atmosphere and making the soil more productive. Organic agriculture feeds the planet with more nourishing food and can sequester the carbon we need.
YOU MIGHT ALSO LIKE
5 Reasons 2015 Was One of the Most Important Years in Decades
Meet This Third-Generation Farmer Who Converted His 1,400 Acres to Growing Organic Food
10 Foods That Could Disappear Because of Climate Change
Agrichemical Industry 'Attack Dog' Hired to Discredit Teenage Anti-GMO Activist
EcoWatch Daily Newsletter
A glacier is seen in the Kenai Mountains on Sept. 6, near Primrose, Alaska. Scientists from the U.S. Geological Survey have been studying the glaciers in the area since 1966 and their studies show that the warming climate has resulted in sustained glacial mass loss as melting outpaced the accumulation of new snow and ice. Joe Raedle / Getty Images
By Mark Mancini
On Aug. 18, Iceland held a funeral for the first glacier lost to climate change. The deceased party was Okjökull, a historic body of ice that covered 14.6 square miles (38 square kilometers) in the Icelandic Highlands at the turn of the 20th century. But its glory days are long gone. In 2014, having dwindled to less than 1/15 its former size, Okjökull lost its status as an official glacier.
Members of Chicago Democratic Socialists of America table at the Logan Square Farmers Market on Aug. 18. Alex Schwartz
By Alex Schwartz
Among the many vendors at the Logan Square Farmers Market on Aug. 18 sat three young people peddling neither organic vegetables, gourmet cheese nor handmade crafts. Instead, they offered liberation from capitalism.
Hackney primary school students went to the Town Hall on May 24 in London after school to protest about the climate emergency. Jenny Matthews / In Pictures / Getty Images
Bird watching in the U.S. may be a lot harder than it once was, since bird populations are dropping off in droves, according to a new study.
Amazon CEO Jeff Bezos announces the co-founding of The Climate Pledge at the National Press Club on Sept. 19 in Washington, DC. Paul Morigi / Getty Images for Amazon
The day before over 1,500 Amazon.com employees planned a walkout to participate in today's global climate strike, CEO Jeff Bezos unveiled a sweeping plan for the retail and media giant to be carbon neutral by 2040, 10 years ahead of the Paris agreement schedule.
For the past seven years, the Anishinaabe people have been facing the largest tar sands pipeline project in North America. We still are. In these dying moments of the fossil fuel industry, Water Protectors stand, prepared for yet another battle for the water, wild rice and future of all. We face Enbridge, the largest pipeline company in North America, and the third largest corporation in Canada. We face it unafraid and eyes wide open, for indeed we see the future.
The climate crisis often intensifies systems of oppression. Rieko Honma / Stone / Getty Images Plus
By Mara Dolan
We see the effects of the climate crisis all around us in hurricanes, droughts, wildfires, and rising sea levels, but our proximity to these things, and how deeply our lives are changed by them, are not the same for everyone. Frontline groups have been leading the fight for environmental and climate justice for centuries and understand the critical connections between the climate crisis and racial justice, economic justice, migrant justice, and gender justice. Our personal experiences with climate change are shaped by our experiences with race, gender, and class, as the climate crisis often intensifies these systems of oppression.