This website uses cookies to ensure you get the best experience while browsing it. By clicking 'Got It' you're accepting these terms.
'The Day After Tomorrow' Ice Age Scenario Could Be Possible, Researchers Say
Oct. 16, 2015 11:38AM EST
Two separate and very different studies have confirmed a climate paradox—that global warming and a slowdown in the Atlantic Ocean currents could trigger climate change and bring a prolonged chill in Europe.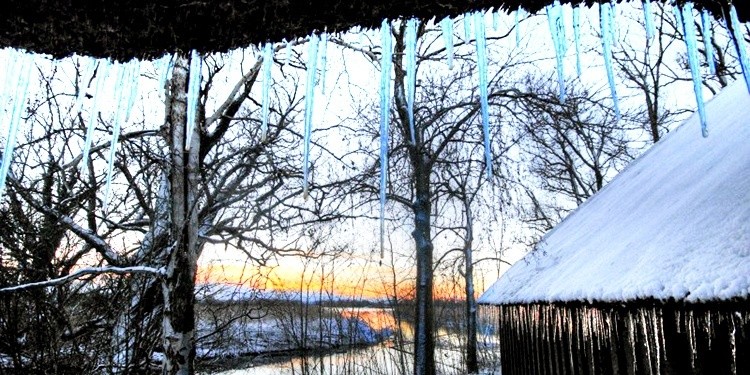 Icicles glisten as the sun sets in Denmark. Photo credit: Teralaser / Flickr
One researcher argues that not only could it happen, it must have happened every 1,500 years or so during the last Ice Age and that the transitions were complete within one to two centuries.
Another scientist has used the latest climate model to test what would happen if the Atlantic current slowed or collapsed during a period of global warming. He found that for 20 years the planet would cool, rather than continue to warm. And then global warming would resume.
Julia Gottschalk, an Earth scientist at Cambridge University and her colleagues report in Nature Geoscience that they examined links between ocean circulation and alternating cold and warm periods that ended 12,000 years ago—long before human civilization began to increase the carbon dioxide content in the atmosphere and trigger global warming.
Climate Machine
The ocean phenomenon in question is known to climate scientists as the Atlantic Meridional Overturning Circulation (AMOC). The Gulf Stream that delivers surface tropic warmth to the North Sea and Scandinavia is part of this global climate machine, also sometimes referred to as the Atlantic Conveyor because it returns cold dense water along the ocean bottom towards the Equator and the Southern Ocean.
By looking at evidence from fossilized plankton and from ice cores, the Cambridge team pieced together a story of alternating Ice Age climate change independent of humans. As sea surfaces got warmer, icebergs broke off the Northern hemisphere ice sheets and large amounts of fresh water entered the oceans.
The circulation slowed rapidly, sea ice formed around Greenland and the northern hemisphere got colder again. The link between sluggish ocean circulation and rapid climate change could be seen, again and again, in the Ice Age sediments. The surprise was the speed at which such changes happened.
At least two studies this year have already raised the possibility of an Atlantic ocean circulation slowdown—driven by global warming—that could have costly consequences for Europe. So confirmation from the past is also important for climate scientists concerned with the future.
"Recent results suggest that the overturning circulation in the Atlantic has faced a slowdown during the last few decades," Dr. Gottschalk says. "We are only beginning to understand what it would mean for global climate should this trend continue, as predicted by some climate models."
Abrupt Collapse
And at least one climate model makes precisely such a prediction. Sybren Drijfhout, professor in physical oceanography and climate physics at the University of Southampton's National Oceanography Center, writes in the journal Scientific Reports that he simulated the probability of an abrupt collapse of the AMOC phenomenon, as a consequence of manmade greenhouse warming.
This was the event that triggered climate disaster in the 2004 Hollywood movie The Day After Tomorrow. And although Professor Drijfhout's paper does not cite the movie, he did use an advanced climate model to test the scientific premise on which the film was based.
He reports that the simulations show that if global warming and a collapse of AMOC occur simultaneously, the planet may cool, rather than warm, for about 20 years. Thereafter, global warming will resume as if AMOC had never collapsed. Within 40 years, the Earth would be warming at present rates.
This cooling is unlikely to involve the sudden, catastrophic glaciation in Europe and North America that provided part of the Hollywood spectacle. But it could certainly affect local European temperatures for a few decades.
"Near the eastern boundary of the North Atlantic (including the British Isles), it takes more than a century before temperature is back to normal," Professor Drijfhout says.
YOU MIGHT ALSO LIKE
Interactive Map Shows 414 U.S. Cities Already Locked Into Catastrophic Sea Level Rise
Rolling Stone's Jeff Goodell Shares Insights Into Obama's Climate Strategy
Melting of Antarctic Ice Shelves Could Double by 2050, Dramatically Increasing Sea Level Rise
AleksandarNakic / Getty Images
By Kate Murphy
No matter the time of year, there's always a point in each season when my skin decides to cause me issues. While these skin issues can vary, I find the most common issues to be dryness, acne and redness.

David Woodfall / The Image Bank / Getty Images
By Sam Nickerson
The U.S. Environmental Protection Agency (EPA) in April 2018 proposed relaxing standards related to how it assesses the effects of exposure to low levels of toxic chemicals on public health.
Now, correspondence obtained by the LA Times revealed just how deeply involved industry lobbyists and a controversial, industry-funded toxicologist were in drafting the federal agency's proposal to scrap its current, protective approach to regulating toxin exposure.
Steve Irwin poses with a three foot long alligator at the San Francisco Zoo on June 26, 2002. Justin Sullivan / Getty Images
February 22 is the birthday of conservationist and beloved TV personality "Crocodile Hunter" Steve Irwin, who would have been 57 years old today.
Irwin's life was tragically cut short when the barb from a stingray went through his chest while he was filming in 2006, but his legacy of loving and protecting wildlife lives on, most recently in a Google Doodle today honoring his birthday.
Left: Youtube / Screenshot, Right: alle12 / Getty Images
By Dan Nosowitz
That video showed the extrusion of a bubblegum-pink substance oozing into a coiled pile, something between Play-Doh, sausage and soft-serve strawberry ice cream. Branded "pink slime"—the name came from an email sent by a USDA microbiologist in 2002—this stuff was actually beef, destined for supermarkets and fast-food burgers.
Climate activist Greta Thunberg addresses the European Commission on Feb. 21 in Brussels, Belgium. Sylvain Lefevre / Getty Images
By Julia Conley
Sixteen-year-old climate action leader Greta Thunberg stood alongside European Commission President Jean-Claude Juncker Thursday in Brussels as he indicated—after weeks of climate strikes around the world inspired by the Swedish teenager—that the European Union has heard the demands of young people and pledged a quarter of $1 trillion budget over the next seven years to address the crisis of a rapidly heating planet.

In the financial period beginning in 2021, Juncker said, the EU will devote a quarter of its budget to solving the crisis.