This website uses cookies to ensure you get the best experience while browsing it. By clicking 'Got It' you're accepting these terms.
The Climate Costs of Offshore Oil Drilling
Jun. 10, 2016 12:09PM EST
When the U.S. government refuses to include the costs of climate change in its environmental assessments, we're the ones that pay.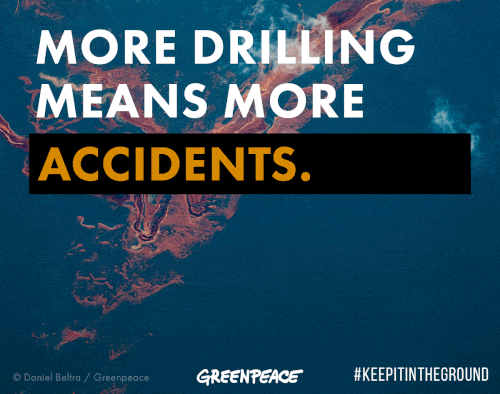 A new report from Greenpeace USA and Oil Change International shows that President Obama's plan to expand offshore oil and gas drilling will lead to an increase in global carbon dioxide emissions—and those emissions will impose billions in social costs that we'll all be stuck paying for.
More Drilling Leads to Increased Carbon Emissions
The report, The Climate Change Costs of Offshore Oil Drilling, uses the government's own oil production estimates and finds that the Obama administration's proposed 2017-2022 Five-Year Program for offshore oil leasing could lead to increased emissions of 850 million metric tons of carbon dioxide over roughly 50 years. That's equivalent to the emissions from 3.6 million cars on the road over that same time period.
Of this total, about half of the emissions—440 million metric tons—would come from expanded drilling in the Arctic Ocean and another 384 million would come from the Gulf of Mexico. The report builds on the findings of a recent study by the Stockholm Environment Institute, which found that phasing out the leasing of federal lands to fossil fuel companies could significantly reduce global greenhouse gas emissions.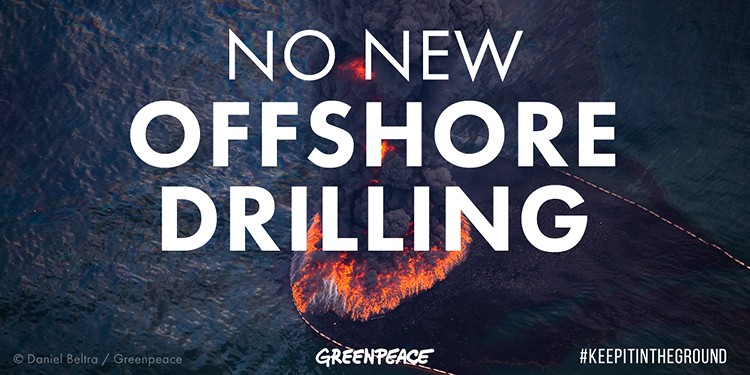 And, unsurprisingly, this increase in emissions comes at a high cost to you and me. Using the government's official estimates for the Social Cost of Carbon, we found that the offshore drilling program would impose net social costs of between $59 billion and $179 billion over the next 50 years.
In his final few months in office, President Obama is looking to cement his legacy as a climate champion, building on advancements like the Clean Power Plan and the Paris climate agreement. Expanding offshore drilling would do the exact opposite, but there is still time for the president to reverse course and put a halt to new offshore oil leasing.
Here's why he should.
What is the Social Cost of Carbon, Anyway?
Our daily lives are connected to the climate in ways both obvious and subtle and for that reason carbon pollution dumped into the atmosphere will cost us in a variety of ways.
For one, climate change is already a significant threat to human health. More frequent heat waves, droughts, changing infectious disease patterns and air pollution will lead to increased risk of illness, more premature deaths and higher health costs.
Similarly, climate change will impact our food systems by changing temperature and rainfall patterns and affecting crop yields. Changes in food production will be costly for farmers and consumers—and could be devastating for the planet's poorest inhabitants.
And as sea-levels continue to rise, coastal governments will have to spend tax dollars to guard against floods and storm surges. The U.S. recently saw its first relocations due to climate change, where a native tribe in Louisiana is in the process of moving from its traditional lands to higher ground because of erosion and rising sea levels. A number of Alaskan Native villages are in similar predicaments, but have not yet secured the necessary funds to resettle.
These climate change costs represent a stealth tax that we are already paying and which is set to increase rapidly in the years to come. Fossil fuel companies make their profits by off-loading these costs onto the rest of us. You won't see this tax at the gas pump, but we are paying it nonetheless.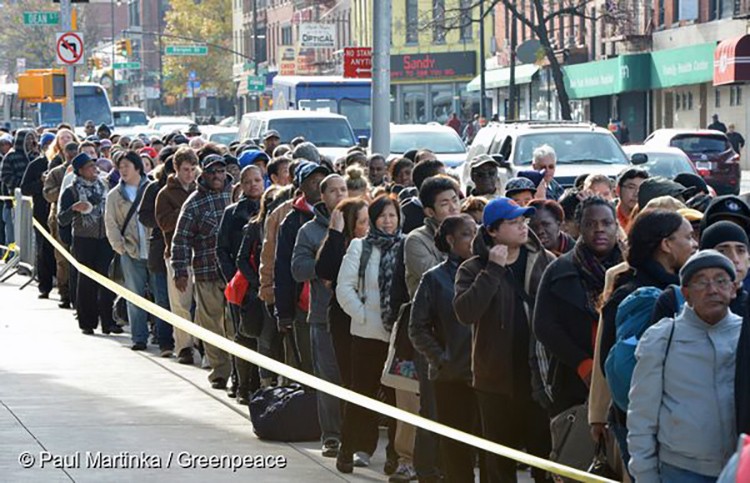 The U.S. government has started to come up with a system to tally up these climate impacts. The official government Social Cost of Carbon estimates calculate the costs of emitting one metric ton of carbon dioxide in a given year. The costs inexorably rise over time as the planet's climate system becomes more and more stressed. These official numbers almost certainly underestimate the true costs of climate change, but they are a useful benchmark.
The First Step is Admitting You Have a Problem
But just because the government has these handy estimates doesn't mean it's using them.
In its Environmental Impact Statement for the proposed offshore drilling program, the Bureau of Ocean Energy Management (BOEM) doesn't calculate the social costs associated with greenhouse gas emissions. It doesn't even admit that expanding oil and gas leasing will lead to higher global emissions.
Science says it should.
If you add up the climate-related social costs associated with burning the oil that would be pumped under the proposed offshore plan, they may be larger than the net economic benefits gained from selling that oil. The omission of these downstream costs is a fundamental flaw in BOEM's environmental assessment.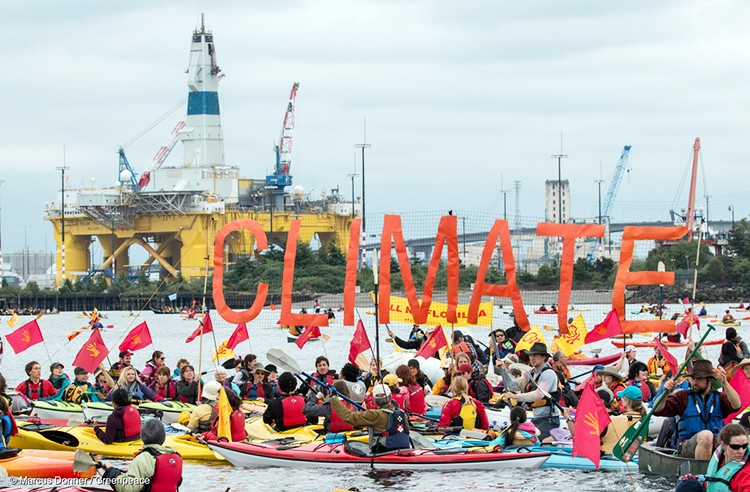 This is even more evidence that expanded offshore oil drilling is a bad bet for the climate and people everywhere. The time has come for President Obama to keep federal fossil fuels in the ground and end oil leasing in the Arctic and in the Gulf of Mexico—raise your voice before the public comment period closes on June 16.
YOU MIGHT ALSO LIKE
Kids Get Their Day in Court: 21 Youth Sue U.S. Government in Landmark Climate Lawsuit
Alaska Is Having Hottest Year Since Records Began
Arctic, Greenland Stuck in Feedback Loop of Melting
Solar Added More New Capacity Than Coal, Natural Gas and Nuclear Combined
KarinaKnyspel / iStock / Getty Images
2018 saw a number of studies pointing to the outsized climate impact of meat consumption. Beef has long been singled out as particularly unsustainable: Cows both release the greenhouse gas methane into the atmosphere because of their digestive processes and require a lot of land area to raise. But for those unwilling to give up the taste and texture of a steak or burger, could lab-grown meat be a climate-friendly alternative? In a first-of-its-kind study, researchers from the Oxford Martin School set out to answer that question.
Three scissor-tailed flycatcher fledglings in a mesquite tree in Texas. Texas Eagle / CC BY-NC 2.0
By Gary Paul Nabhan
President Trump has declared a national emergency to fund a wall along our nation's southern border. The border wall issue has bitterly divided people across the U.S., becoming a vivid symbol of political deadlock.
PeopleImages / E+ / Getty Images
By Daniel Ross
Hurricane Florence, which battered the U.S. East Coast last September, left a trail of ruin and destruction estimated to cost between $17 billion and $22 billion. Some of the damage was all too visible—smashed homes and livelihoods. But other damage was less so, like the long-term environmental impacts in North Carolina from hog waste that spilled out over large open-air lagoons saturated in the rains.
Hog waste can contain potentially dangerous pathogens, pharmaceuticals and chemicals. According to the state's Department of Environmental Quality, as of early October nearly 100 such lagoons were damaged, breached or were very close to being so, the effluent from which can seep into waterways and drinking water supplies.
This picture taken on May 21, 2018 shows discarded climbing equipment and rubbish scattered around Camp 4 of Mount Everest. Decades of commercial mountaineering have turned Mount Everest into the world's highest rubbish dump as an increasing number of big-spending climbers pay little attention to the ugly footprint they leave behind. DOMA SHERPA / AFP / Getty Images
China has closed its Everest base camp to tourists because of a buildup of trash on the world's tallest mountain.