This website uses cookies to ensure you get the best experience while browsing it. By clicking 'Got It' you're accepting these terms.
The 'Careful, Thoughtful' Approach to Indian Point Is to Shut It Down Now
Apr. 07, 2016 09:03AM EST
Energy
In 2007, when Hillary Clinton was New York's junior senator, she sagely observed that a "steady drumbeat of problems has eroded public confidence in Indian Point," the twin-reactor nuclear power plant just outside New York City.
In the time since Clinton left New York to become Secretary of State, Indian Point has become far more dangerous and the supply of energy available to replace it has grown sufficiently to enable its safe and affordable closure. Against this backdrop, when Sec. Clinton was asked recently what to do about Indian Point, she cited her long-standing concerns on plant safety and call for a "careful, thoughtful" approach.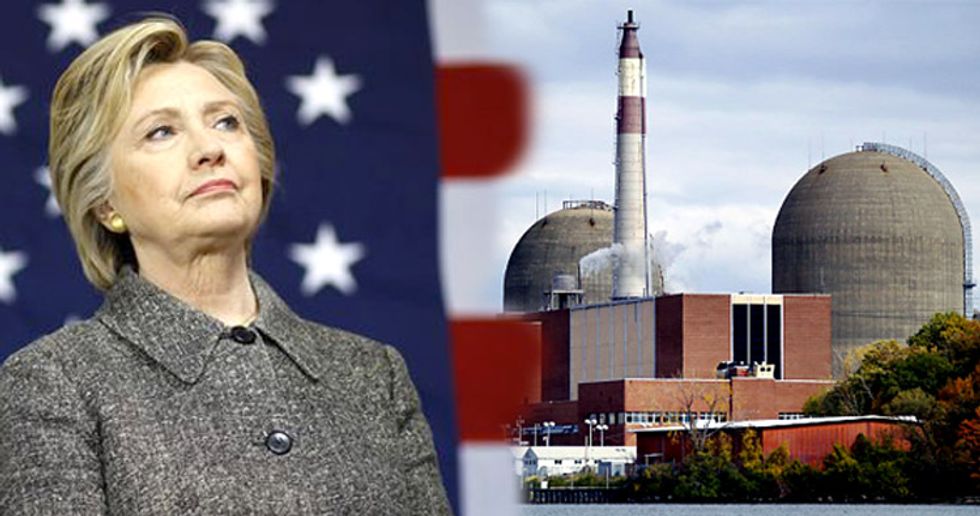 Given the facts on the ground, the careful, thoughtful approach to Indian Point is to close it.
New York's Governor, Andrew Cuomo, recently put it best when he observed that Indian Point can no longer operate "in a manner that protects public safety and the environment." The record of accidents, malfunctions and mishaps at Indian Point in just the last year is astonishing and unprecedented.
Late last month, 227 of the 832 bolts that hold the inner walls of the reactor core together were found to be missing or damaged. The plant's owner, Entergy, in a report to the U.S. Nuclear Regulatory Commission (NRC) admitted this to be a condition that "significantly degrades plant safety." Indeed, this damage to Indian Point Reactor 2's core is four times worse than any similar problem ever seen at any other American nuclear reactor and experts believe that it could result in a lack of structural stability in the reactor.
And, we're just getting started, folks. In February, radioactivity in the groundwater near the plant spiked more than 100,000 percent after a leak from a refueling system. Also in February, the same reactor with all those degraded bolts temporarily lost cooling capacity, due to a series of electrical problems.
Other problems since May 2015: a transformer explosion and major oil spill; a water pump failure, which set off one of the plant's seven unplanned shutdowns in the past 12 months; a blocked drain, causing temporary flooding in the "switchgear" room that contains key plant safety equipment; and, a power failure affecting control rods in Reactor 3, caused by bird droppings shorting out a power line at the plant.
The NRC has reported that one of Indian Point's reactors has the highest risk of all the country's reactors of being damaged by an earthquake and a study commissioned by the U.S. Department of Defense shows that Indian Point is incredibly vulnerable to acts of terrorism. Tens of millions of people live within the reach of an Indian Point nuclear disaster. An evacuation would be practically impossible and emergency responses have been found to be largely futile.
We understand that malfunctions can happen at any power plant, but they are happening with disturbing frequency at Indian Point. Its age is problematic and the licenses for its two reactors expired in 2013 and 2015; the NRC is still weighing whether to renew them. This is the same NRC that Barack Obama, in 2007, called a "moribund agency" that was a captive of the industry it regulated.
It still looks that way today. The NRC apparently accepts the word of Indian Point's operator, Entergy, that basic safety and environmental cleanup measures aren't necessary, even after the latest mishaps. The commission even permits Indian Point to evade its own safety standards requiring that the electrical cables that control emergency reactor shutdowns have insulation that would last 60 minutes in a fire—giving the plant an exemption after finding that this insulation lasted just 27 minutes.
In view of the astonishingly bad track record Indian Point has compiled, it's no surprise that a 2015 poll in the Lower Hudson Valley found that a majority of respondents do not trust the plant's safety or its operator, despite the thousands of supportive votes that were sent right from Entergy's own computer server.
The good news is: we have enough power capacity to permit the immediate closure of Indian Point. Indian Point is able to generate just more than 2,000 megawatts of electricity or about 10 percent of peak summer demand in the New York metropolitan area. In the past two years, we've added an additional 1,500 megawatts of energy capacity from other sources: existing electricity surpluses in New York State, recently restored power generation from plants in the Hudson Valley and New York City, together with transmission improvements in the power grid in the lower Hudson Valley and targeted energy efficiency gains by Con Edison.
And, according to the New York Independent System Operator, a nonprofit agency charged with managing the state's electricity market, downstate load forecasts for this summer have dropped by about 500 megawatts, since previous estimates in 2015, due to increases in solar power installations, energy efficiency and demand-side management.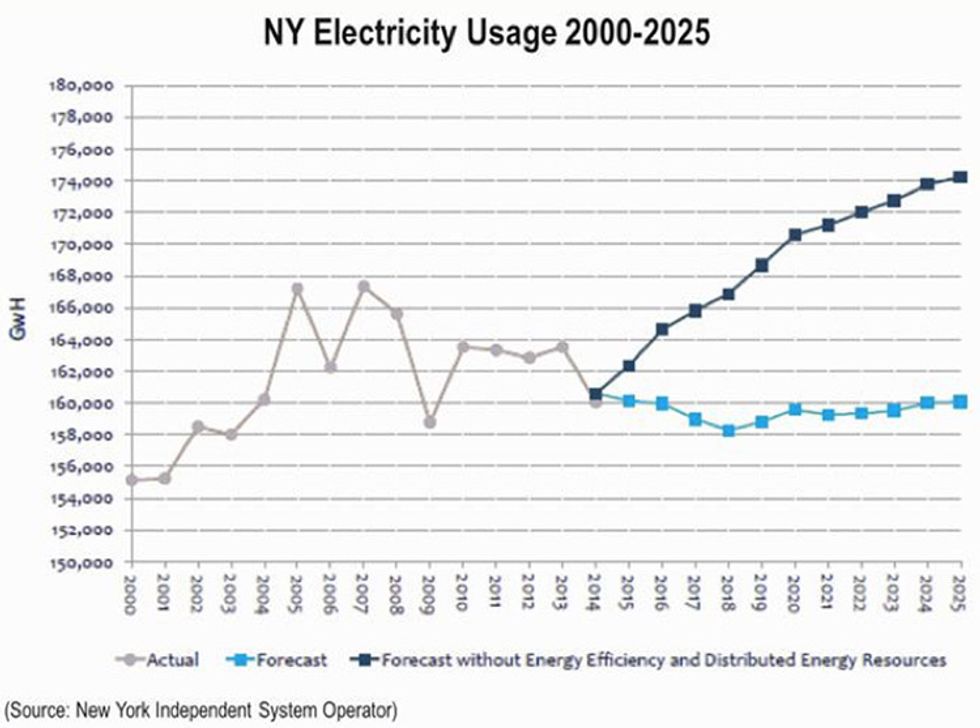 Projections for future electricity demand have declined sharply in recent years.
In short, we can close Indian Point now and reliably keep the lights on. In the future, new efficiency and renewable energy projects will drive still greater savings, thanks to $5 billion in planned energy investments by the state.
And, the cost will be minimal. In 2012, we reported that it would cost the average household less than $15 per year to transition to safe, sustainable energy. Last month, Con Edison Solutions contracted to supply up to 90,000 homes in Westchester with wind, solar and hydropower at prices that will be at least $21 per year lower than what these homes are currently paying for nuclear or fossil fuel energy.
As with her evolving position on fracking, it's time for Secretary Clinton to get tougher on Indian Point. In view of just how dangerous Indian Point has become and how readily available replacement energy has become, closing Indian Point is just the "careful, thoughtful" thing to do.
YOU MIGHT ALSO LIKE
20 Cities Leading America's Solar Revolution
Hundreds Rally Asking Gov. Cuomo to Deny the Constitution Pipeline
How Much Money Has Hillary Clinton's Campaign Taken From the Fossil Fuel Industry?
John Oliver Slams Donald Trump for Unfathomable Comments on Nuclear Weapons
EcoWatch Daily Newsletter
Aerial view of Ruropolis, Para state, northen Brazil, on Sept. 6, 2019. Tthe world's biggest rainforest is under threat from wildfires and rampant deforestation. JOHANNES MYBURGH / AFP via Getty Images
By Kate Martyr
Deforestation in Brazil's Amazon rainforest last month jumped to the highest level since records began in 2015, according to government data.
A total of 563 square kilometers (217.38 square miles) of the world's largest rainforest was destroyed in November, 103% more than in the same month last year, according to Brazil's space research agency.
From January to November this year an area almost the size of the Caribbean island of Puerto Rico was destroyed — an 83% overall increase in destruction when compared with the same period last year.
The figures were released on Friday by the National Institute for Space Research (INPE), and collected through the DETER database, which uses satellite images to monitor forest fires, forest destruction and other developments affecting the rainforest.
What's Behind the Rise?
Overall, deforestation in 2019 has jumped 30% compared to last year — 9,762 square kilometers (approximately 3769 square miles) have been destroyed, despite deforestation usually slowing during November and December.
Environmental groups, researchers and activists blamed the policies of Brazil's president Jair Bolsonaro for the increase.
They say that Bolosonaro's calls for the Amazon to be developed and his weakening support for Ibama, the government's environmental agency, have led to loggers and ranchers feeling safer and braver in destroying the expansive rainforest.
His government hit back at these claims, pointing out that previous governments also cut budgets to environment agencies such as Ibama.
The report comes as Brazil came to loggerheads with the Association of Small Island States (AOSIS) over climate goals during the UN climate conference in Madrid.
AOSIS blasted Brazil, among other nations, for "a lack of ambition that also undermines ours."
Last month, a group of Brazilian lawyers called for Bolsonaro to be investigated by the International Criminal Court over his environmental policies.
Reposted with permission from DW.
The Carolina parakeet went extinct in 1918. James St. John /
CC BY 2.0
The Carolina parakeet, the only parrot species native to the U.S., went extinct in 1918 when the last bird died at the Cincinnati Zoo. Now, a little more than 100 years later, researchers have determined that humans were entirely to blame.
Pexels
Vitamin C is a very important nutrient that's abundant in many fruits and vegetables.
BLM drill seeders work to restore native grasses after wildfire on the Bowden Hills Wilderness Study Area in southeast Oregon, Dec. 14, 2018. Marcus Johnson / BLM / CC BY 2.0
By Tara Lohan
In 2017 the Thomas fire raged through 281,893 acres in Ventura and Santa Barbara counties, California, leaving in its wake a blackened expanse of land, burned vegetation, and more than 1,000 destroyed buildings.