The Car of the Future Will Be All Electric and Self-Driving
There's a lot of buzz these days about autonomous or self-driving cars. Major tech and car companies like Google, Ford, Mercedes-Benz and Apple are all jumping on board with these cars of the future, either with plans to create self-driving vehicles, or with vehicles in the testing stages almost ready for the road.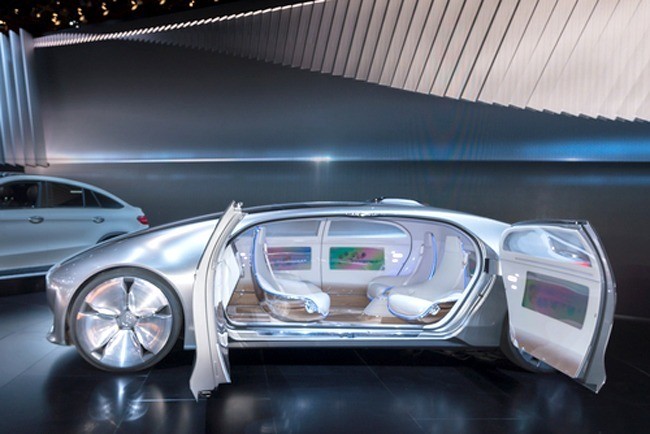 The Mercedes-Benz F015 Luxury in Motion is an electric, autonomous, concept car that debuted at this year's North American International Auto Show. Steve Lagreca / Shutterstock.com
And there's a reason for this—humans are terrible drivers. Unfortunately, we drink, we snooze, we text, we tweet, we eat, we apply make-up and we chat on the phone all while barreling around at high speeds behind the wheel of a moving vehicle. In the U.S., 30,000 people die from automobile accidents every year, and world wide, traffic crashes are the primary cause of death for people aged 15-24. Human error is a terrifying thing when it occurs at high speeds, and the visionaries for these futuristic cars are looking to eliminate it.
Autonomous cars do the driving for you, meaning that both able-bodied and many people with disabilities will enjoy the independence of having a car. A stroke sufferer who can no longer drive will be able to get behind the wheel and live a more independent life. An elderly person who lost a license will be able to gain some independence back. Nearly one in five people have a disability and 45 percent of disabled people in the U.S. still work, and these cars stand to make their lives easier, allowing them to travel with ease.
And the advantages go far beyond accessibility and cutting down traffic accidents: they will be good for our environment too. All of these new autonomous cars are powered by electricity, not gasoline. Electric vehicles (EVs) are already cleaner than standard cars just by using today's electricity sources to power them, and they'll only get cleaner over time as we move toward a 100 percent clean energy grid. This means lower oil use, lower greenhouse gas emissions and higher air quality.
Also, many of these autonomous cars will be shared. Companies are investing in car sharing and using smartphone apps that let people summon cars effortlessly, matching the pattern preferred by many millennials. From 2007 to 2011, the number of cars purchased by people aged 18 to 34 fell almost 30 percent. Instead, millennials are opting for car sharing options such as Zipcar and Car to Go. And this makes sense considering 95 percent of a car's lifetime is spent parked. According to Alan Woodland, executive director of the Car Sharing Association, around 1 million people now car share—four times as much as just four years ago. Considering the benefits, that's understandable—it's far more convenient for those in many areas. Instead of owning one type of car, sharing allows one to use the car that best fits current needs. Going to the grocery store? Order a car with trunk space.
Car sharing not only takes cars off the road and helps eliminate congestion and air pollution, but also reduces the need for parking lots, garages and gas stations. Also, imagine a future in which people use a shared autonomous car to get from their home to a transit station, take a train or electric bus to a stop near their office and use a bike-share or their own two feet to make the last leg of the journey.
These are the many reasons why we're keeping autonomous vehicles on our radar.
However, there's still a long way to go. Google's model only goes 25 miles per hour, meant only for short residential trips. These cars can't drive in the snow or heavy rain, and there's a variety of complex situations they don't process well, like construction zones and hesitant pedestrians.
If we have any hope of getting to these futuristic "Jetson's" cars, we need to scale up the innovative, green vehicles already available. The EVs of today, while not autonomously-driven, come in all shapes, sizes and price points. Some are meant for long distances, like the Tesla and the plug-in hybrids on the market, and some are meant for shorter distances, like the Nissan Leaf; but when driven by a licensed driver, these cars have the ability to take on heavy rain, snow and construction sites. As high-tech marvels, they're also really fun to drive.
We need to make EVs more well-known, affordable and accessible. We need to increase the number of charging stations at workplaces, multi family homes, and in disadvantaged communities. We can't wait until self-driving vehicle technology is ready for the public for us to start making the switch to electric cars—we need to continue our advocacy efforts on increasing access to the people-driven EVs currently on the market.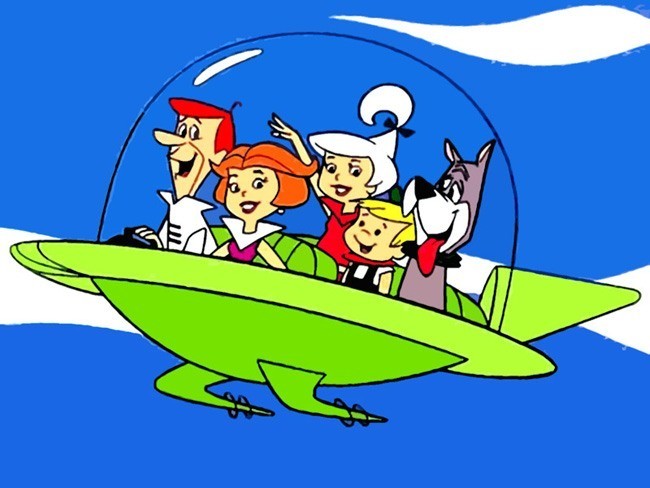 If we have any hope of getting to these futuristic "Jetson's" cars, we need to scale up the innovative, green vehicles already available.
By advocating for policies that support a responsible EV-driven future, promoting autonomous vehicles when they hit the market and promoting person-driven EVs on the market now, we can set up a smart infrastructure that supports all EVs. Because the sooner we switch from gasoline-powered cars to electric-powered cars, the sooner we decrease our oil use and greenhouse gas emissions, and better protect our planet—and the sooner we can live like we're George and Jane Jetson—but ideally with more trees.
YOU MIGHT ALSO LIKE
Sunlight Striking Earth's Surface in Just One Hour Delivers Enough Energy to Power World Economy for Entire Year
Elon Musk: 'We've Dramatically Increased the Power Capability' of the Tesla Powerwall
Mark Ruffalo to Jon Stewart: We Have a 50-State Plan to Power America on 100% Renewable Energy
By Itai Vardi
A recent intensification in protests against Williams Partners' planned Atlantic Sunrise pipeline in Pennsylvania prompted a state senator to propose legislation aimed at limiting demonstrations.
Last month, Pennsylvania Sen. Scott Martin (R-Norman) announced his intention to introduce legislation that would pass the costs of law enforcement responding to protests onto the demonstrators. Martin also helped introduce a different bill that would criminalize protests at natural gas facilities.
Keep reading...
Show less
Black Shogun / iStock
The Federal Energy Regulatory Commission (FERC) released its Final Environmental Impact Statement Friday for the Mountain Valley Pipeline, a controversial 303-mile pipeline that would carry two billion cubic feet of fracked gas per day from West Virginia through Virginia.
Keep reading...
Show less
Falcon PEV
The so-called "first and last mile" problem is one of the biggest hurdles with public transportation. How do you encourage more people to take Earth-friendlier commutes when their homes are miles away from the train or bus station?
One solution, as this Estonian electric scooter company proposes, is to simply take your commute with you—literally. Tallinn-based Stigo has developed a compact e-scooter that folds to the size of a rolling suitcase in about two seconds.
Keep reading...
Show less
Connect4Climate
[Editor's note: I'm still in shock after hearing the news that Lucia Grenna passed away in her sleep last week. When we first met in April of 2014 at a Copenhagen hotel, I was immediately taken by here powerful presence. We spent the next couple days participating in a Sustainia climate change event where Lucia presented her audacious plans to connect people to the climate issue. I had the chance to partner with Lucia on several other projects throughout the years and work with her incredible Connect4Climate team. I was always in awe of her ability to "make the impossible possible." Her spirit will live on forever. — Stefanie Spear]
It is with a heavy heart that Connect4Climate announces the passing of its founder and leading light, Lucia Grenna. Lucia passed peacefully in her sleep on June 15, well before her time. We remember her for her leadership and extraordinary ability to motivate people to take on some of the greatest challenges of our time, not least climate change.
Keep reading...
Show less
Jun. 23, 2017 07:29PM EST
Wikimedia Commons
By Stacy Malkan
Neil deGrasse Tyson has inspired millions of people to care about science and imagine themselves as participants in the scientific process. What a hopeful sign it is to see young girls wearing t-shirts emblazoned with the words, "Forget princess, I want to be an astrophysicist."
Keep reading...
Show less
Jun. 23, 2017 01:57PM EST
www.youtube.com
By Andy Rowell
Any day now we will truly witness climate change in action. Within days at worst, maybe weeks at best, scientists predict that a huge section of the Larsen C ice shelf in Antarctica will break off into the ocean, in what is called a major "carving" event.
Keep reading...
Show less
Jun. 23, 2017 02:27PM EST
www.youtube.com
President Trump visited Cedar Rapids, Iowa on June 21 to speak to a large crowd in the U.S. Cellular Center at a political rally organized by his campaign.
As Trevor Noah noted during The Daily Show episode last night (starts at 2:25), the real reason Trump has these rallies is to "get back in front of his loyal crowds and feed of their energy." Noah believes that "Trump supporters are so on board with their dude he can say anything and they'll come along for the ride."
Keep reading...
Show less
Jun. 23, 2017 07:50PM EST
The Kamuthi solar plant in the southern Indian state of Tamil Nadu.
The rapid growth in renewable energy continues to put a dent in the demand for coal.
Coal India, the world's biggest coal mining company and producer of 82 percent of the country's coal, announced the closure of 37 mines that are financially "unviable."
Keep reading...
Show less
Jun. 23, 2017 06:42PM EST
www.youtube.com
By Katie O'Reilly
Two years ago—long before coal became one of the most dominant and controversial symbols of the 2016 presidential election—Bloomberg Philanthropies approached production company RadicalMedia with the idea of creating a documentary exploring the U.S. coal mining industry. Last spring, they brought on Emmy-nominated director Michael Bonfiglio, tasked with forging a compelling story out of the multitudes of facts, statistics and narratives underlying the declining industry.
Keep reading...
Show less


Get EcoWatch in your inbox