This website uses cookies to ensure you get the best experience while browsing it. By clicking 'Got It' you're accepting these terms.


The best of EcoWatch, right in your inbox. Sign up for our email newsletter!
The Car of the Future Will Be All Electric and Self-Driving
Jun. 17, 2015 09:13AM EST
Business
There's a lot of buzz these days about autonomous or self-driving cars. Major tech and car companies like Google, Ford, Mercedes-Benz and Apple are all jumping on board with these cars of the future, either with plans to create self-driving vehicles, or with vehicles in the testing stages almost ready for the road.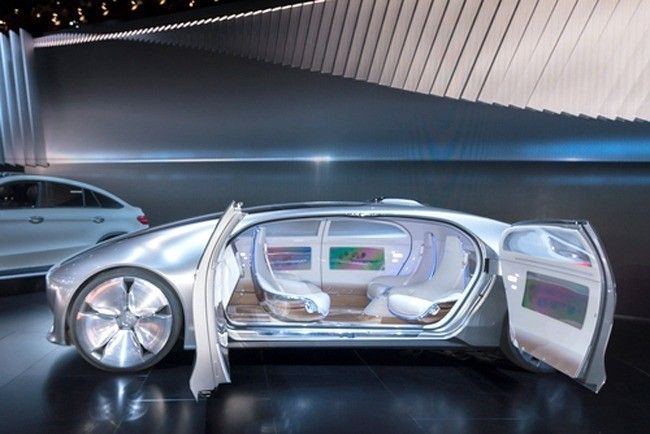 The Mercedes-Benz F015 Luxury in Motion is an electric, autonomous, concept car that debuted at this year's North American International Auto Show. Steve Lagreca / Shutterstock.com
And there's a reason for this—humans are terrible drivers. Unfortunately, we drink, we snooze, we text, we tweet, we eat, we apply make-up and we chat on the phone all while barreling around at high speeds behind the wheel of a moving vehicle. In the U.S., 30,000 people die from automobile accidents every year, and world wide, traffic crashes are the primary cause of death for people aged 15-24. Human error is a terrifying thing when it occurs at high speeds, and the visionaries for these futuristic cars are looking to eliminate it.
Autonomous cars do the driving for you, meaning that both able-bodied and many people with disabilities will enjoy the independence of having a car. A stroke sufferer who can no longer drive will be able to get behind the wheel and live a more independent life. An elderly person who lost a license will be able to gain some independence back. Nearly one in five people have a disability and 45 percent of disabled people in the U.S. still work, and these cars stand to make their lives easier, allowing them to travel with ease.
And the advantages go far beyond accessibility and cutting down traffic accidents: they will be good for our environment too. All of these new autonomous cars are powered by electricity, not gasoline. Electric vehicles (EVs) are already cleaner than standard cars just by using today's electricity sources to power them, and they'll only get cleaner over time as we move toward a 100 percent clean energy grid. This means lower oil use, lower greenhouse gas emissions and higher air quality.
Also, many of these autonomous cars will be shared. Companies are investing in car sharing and using smartphone apps that let people summon cars effortlessly, matching the pattern preferred by many millennials. From 2007 to 2011, the number of cars purchased by people aged 18 to 34 fell almost 30 percent. Instead, millennials are opting for car sharing options such as Zipcar and Car to Go. And this makes sense considering 95 percent of a car's lifetime is spent parked. According to Alan Woodland, executive director of the Car Sharing Association, around 1 million people now car share—four times as much as just four years ago. Considering the benefits, that's understandable—it's far more convenient for those in many areas. Instead of owning one type of car, sharing allows one to use the car that best fits current needs. Going to the grocery store? Order a car with trunk space.
Car sharing not only takes cars off the road and helps eliminate congestion and air pollution, but also reduces the need for parking lots, garages and gas stations. Also, imagine a future in which people use a shared autonomous car to get from their home to a transit station, take a train or electric bus to a stop near their office and use a bike-share or their own two feet to make the last leg of the journey.
These are the many reasons why we're keeping autonomous vehicles on our radar.
However, there's still a long way to go. Google's model only goes 25 miles per hour, meant only for short residential trips. These cars can't drive in the snow or heavy rain, and there's a variety of complex situations they don't process well, like construction zones and hesitant pedestrians.
If we have any hope of getting to these futuristic "Jetson's" cars, we need to scale up the innovative, green vehicles already available. The EVs of today, while not autonomously-driven, come in all shapes, sizes and price points. Some are meant for long distances, like the Tesla and the plug-in hybrids on the market, and some are meant for shorter distances, like the Nissan Leaf; but when driven by a licensed driver, these cars have the ability to take on heavy rain, snow and construction sites. As high-tech marvels, they're also really fun to drive.
We need to make EVs more well-known, affordable and accessible. We need to increase the number of charging stations at workplaces, multi family homes, and in disadvantaged communities. We can't wait until self-driving vehicle technology is ready for the public for us to start making the switch to electric cars—we need to continue our advocacy efforts on increasing access to the people-driven EVs currently on the market.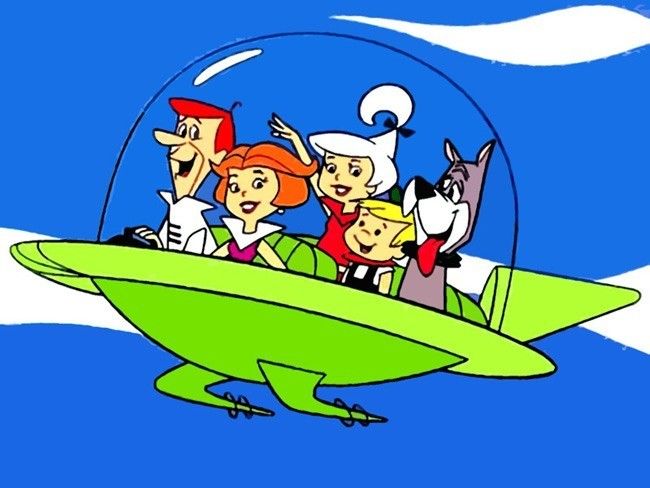 If we have any hope of getting to these futuristic "Jetson's" cars, we need to scale up the innovative, green vehicles already available.
By advocating for policies that support a responsible EV-driven future, promoting autonomous vehicles when they hit the market and promoting person-driven EVs on the market now, we can set up a smart infrastructure that supports all EVs. Because the sooner we switch from gasoline-powered cars to electric-powered cars, the sooner we decrease our oil use and greenhouse gas emissions, and better protect our planet—and the sooner we can live like we're George and Jane Jetson—but ideally with more trees.
YOU MIGHT ALSO LIKE
Sunlight Striking Earth's Surface in Just One Hour Delivers Enough Energy to Power World Economy for Entire Year
Elon Musk: 'We've Dramatically Increased the Power Capability' of the Tesla Powerwall
Mark Ruffalo to Jon Stewart: We Have a 50-State Plan to Power America on 100% Renewable Energy
EcoWatch Daily Newsletter
Sesame, three months old, at Seal Rescue Irleand.
Screenshot / Seal Rescue Ireland Instagram
On Friday, Seal Rescue Ireland released Sesame the seal into the ocean after five months of rehabilitation at the Seal Rescue Ireland facility. Watch the release on EcoWatch's Facebook.

Beer packs of Guinness will now come in a cardboard box. Diageo

By Jordan Davidson
Guinness is joining the fight against single use plastic. The brewer has seen enough hapless turtles and marine life suffering from the scourge of plastic.
fstop123 / iStock / Getty Images Plus
At EcoWatch, our team knows that changing personal habits and taking actions that contribute to a better planet is an ongoing journey. Earth Day, happening on April 22, is a great reminder for all of us to learn more about the environmental costs of our behaviors like food waste or fast fashion.
To offer readers some inspiration this Earth Day, our team rounded up their top picks for films to watch. So, sit back and take in one of these documentary films this Earth Day. Maybe it will spark a small change you can make in your own life.
Maskot / Getty Images
People of all ages are spending more of their day looking at their phones, computers and television screens, but parents now have another reason for limiting how much screen time their children get — it could lead to behavioral problems.
Rapper and comedian Lil Dicky released a 7-minute climate change awareness song and video today, ahead of Earth Day on Monday, with proceeds going to the Leonardo DiCaprio Foundation.
Pexels
By Eoin Higgins
The New York City Council passed the world's "largest single carbon reduction effort that any city, anywhere, has ever put forward" on Thursday afternoon, marking a major milestone in the fight against the climate crisis.
Jason Momoa speaking at the 2018 San Diego Comic Con International, for "Aquaman" on July 21, 2018.
Gage Skidmore / Flickr
From Khal Drogo in Game of Thrones to Aquaman, some of actor Jason Momoa's most iconic roles have been linked to the beard he has worn since 2012.
But on Wednesday he decided it was "time to make a change," for himself and for the planet. A video posted on Instagram showed him beginning to shave his beard in a bid to raise awareness about plastic pollution, the Huffington Post reported.
IMF Managing Director Christine Lagarde (L) and broadcaster and natural historian David Attenborough take part in a discussion on nature and the economy in Washington, DC, April 11. MANDEL NGAN / AFP / Getty Images