This website uses cookies to ensure you get the best experience while browsing it. By clicking 'Got It' you're accepting these terms.
The Book the Fracking Industry Doesn't Want You to Read
Jun. 07, 2016 07:36AM EST
Energy
My new book, Frackopoly: The Battle for the Future of Energy and the Environment will be released this week and I want to tell you why I wrote it.
In the 1990s, I worked on a project to promote renewable energy. Even then, renewables were ready. They were cost-effective and along with energy efficiency technologies, we were poised to make the transition.
But, the fossil fuel industry used its immense power to stop the necessary progress from happening.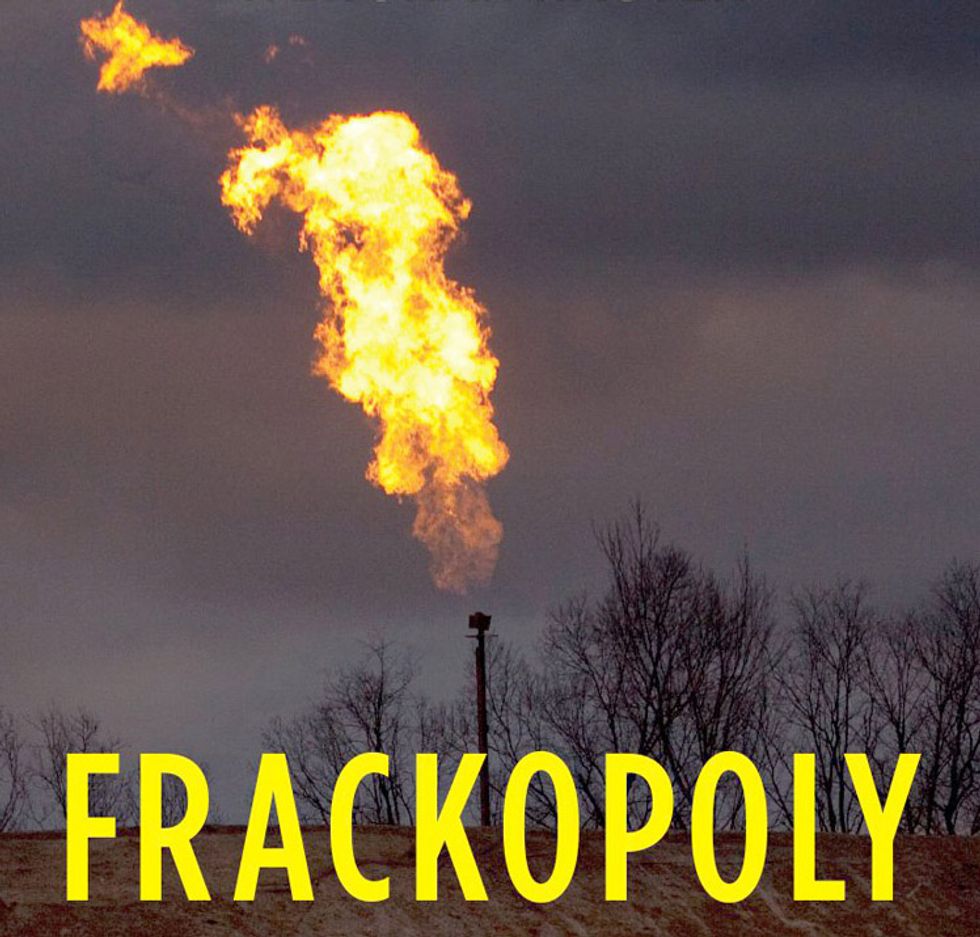 When we started getting calls about fracking at Food & Water Watch several years ago and then embarked on a major campaign to ban fracking, I was shocked when we looked at the amount of electricity coming from solar and wind energy. The technology is ready and the price is right, but the rules are rigged against the quick transition that we must make. In 2015, just barely over 5 percent of the electricity used in the nation is from wind and solar power.
In the meantime, frontline communities are becoming sacrifice zones where people are sick from toxic water and poisoned air from fracking. Life on Earth is threatened if we don't take dramatic action to save our global climate from chaos. Yet, even though we must take action to keep fossil fuels in the ground, billions of dollars are being sunk into another 40 years of fossil fuel infrastructure.
Although we face great challenges, I still have great hope for the future. A new generation of activists are demanding an end to the status quo and they are fighting for a ban on fracking and a swift transition to clean energy. Activists of all age groups are tired of settling for what's politically possible today and they are fighting for the future they want for the next generation.
But, as Machiavelli famously said, "Anyone wishing to see what is to come should examine what has been." Our current crisis is more than 100 years in the making and I wanted to tell the story of how we reached the point that we are at today. It's been and continues to be an epic battle with villains, heroines and heroes. It's a David and Goliath tale about how the fossil fuel industry perverted and shaped energy policy and corrupted our democracy.
I set out on a journey that took much of my time over the last several years. I learned that in many ways, the story of the Frackopoly is much like what happened in the agribusiness and food industry, which I wrote about in my earlier book, Foodopoly.
The stories are similar in some ways. Over the past century, a handful of powerful interests have conspired to avoid the laws designed to keep them from becoming too politically powerful and dominating a single industry. They captured our regulatory bodies and elected officials and they destroyed the set of policies that had been developed over time to protect people and the environment.
Frackopoly tells the story and it is a road map for the changes we need to make to create a sustainable energy future. The market alone is not going to get us where we need to go. We are going to have to keep increasing the size and political power of the incredible grassroots movement that has risen up from communities all across the country to demand that we ban fracking and keep fossil fuels in the ground.
In the years since I started writing the book, we've seen victory after victory as our movement grows (and even more since it's gone to print earlier this year). We've won in New York, we're winning in Maryland and we've helped protect communities across the country.
We put together this video to give a taste of what you'll find in Frackopoly:
And if you want an even bigger sneak peek, here's a recording of a conversation I had last week with a group of Food & Water Watch members and activists.
I decided when I embarked on this project that I was going to tell the whole story even if that invites attacks from the industry and their friends.
I hope you'll read Frackopoly—and above all, I hope this book will inspire and inform people who are concerned about fracking and show that we can win if we come together and fight it.
YOU MIGHT ALSO LIKE
Oil Train Derails in Columbia River Gorge, Rally Calls for Ban on 'Bomb Trains'
Nuclear Industry Worldwide Faces Escalating Battle to Keep Aging Reactors Running
Follow the Money: Republican Attorneys General Attack on the Clean Power Plan
Sanders Touts Fracking Ban as Clinton Pushes Renewables Plan Just Days Before California Primary
EcoWatch Daily Newsletter
A harbour seal on an ice floe in Glacier Bay, Alaska. A new study shows that the climate crisis has warmed waters, changing ecosystems and crippling sea ice growth. Janette Hill / robertharding / Getty Images Plus
Doctors report that only 1 in 4 children are getting the recommended 60 minutes of physical activity per day. Ronnie Kaufman / DigitalVision / Getty Images
By Dan Gray
Pediatricians are being urged to start writing "exercise prescriptions" for the children they see in their office.
A First Nations protester walks in front of a train blockade in Tyendinaga, near Belleville, Ontario, Canada on Feb. 21, 2020. LARS HAGBERG / AFP via Getty Images
An indigenous rail blockade that snarled train travel in Canada for more than two weeks came to an end Monday when police moved in to clear protesters acting in solidarity with another indigenous community in British Columbia (B.C.), which is fighting to keep a natural gas pipeline off its land.
A rainbow snake, a rare reptile spotted in a Florida county for the first time in more than 50 years, seen here on July 5, 2013.
Kevin Enge / FWC Fish and Wildlife Research Institute / Flickr
A Florida hiker recently stumbled across a slithering surprise — a rare snake that hadn't been spotted in the area for more than 50 years.
We need our government to do everything it can to stop PFAS contamination and exposure from wreaking havoc in communities across the country. LuAnn Hun /
Unsplash
By Genna Reed
The EPA announced last week that it is issuing a preliminary regulatory determination for public comment to set an enforceable drinking water standard to two of the most common and well-studied PFAS, PFOA and PFOS.
This decision is based on three criteria:
PFOA and PFOS have an adverse effect on public health
PFOA and PFOS occur in drinking water often enough and at levels of public health concern;
regulation of PFOA and PFOS is a meaningful opportunity for reducing the health risk to those served by public water systems.